DJ History commissions Trax re-edits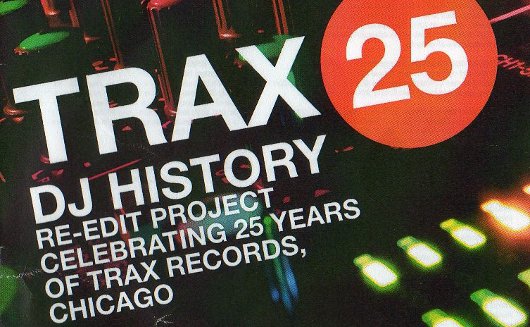 The tireless chaps at DJ History have called on the likes of JD Twitch, Andy Blake, Greg Wilson and Mark Broom to re-edit classic Trax material to celebrate the 25th anniversary of the influential Chicago house imprint.

Optimo man JD Twitch (who recently compiled a superb featured chart for Juno Plus) will turn his hand to "Pump Up Chicago" by Mr Lee, while Wilson has edited Adonis's seminal "No Way Back". Meanwhile we hope that Andy Blake's reinterpretation of Willie Wonka's jackin' "What Is House" is a sprawling epic in the same mold as his recent Cave Paintings material. It's also of little surprise to see the names Kink and Neville Watson getting in on the action, with the producer's style heavily indebted to the raw analogue jack of Chicago. A couple of lesser known producers are also givent he chance to shine, including Bleepfunk, aka Graham Fletcher from Newbury, and Misha and Rohan (R&R&S), from Australia.
DJ History is the brainchild of music boffins Bill Brewster and Frank Broughton, who jointly penned the highly influential book Last Night A DJ Saved My Life. They have also commissioned other texts relating to the history of dance music, and also preside over a very fertile online forum, which played a pivotal role in the Trax compilation coming to fruition.
Here's what Bill had to say about the new compilation: "Obviously, the thought of getting our hands on Trax, made our palms sweaty with excitement. The fact that there were few mutli-tracks remaining and most of the original master tapes had either been wiped or lost was a shame, but it also meant that the producers who worked on the project would have to be resourceful, eking out juice from limited resources (we like to think that was in the spirit of the original Trax recordings, which were themselves often lo-fi)."
The compilation will be released on January 17.
Tracklisting:
CD1
1. Virgo 4 – Take Me Higher (Ray Mang Re-edit)
2. Farley "Jackmaster" Funk – Farley Knows House (PPF 03. Jack For Daze Dub)
4. Frankie Knuckles – It's A Cold Cold World (Hotel Motel Re-edit)
5. Adonis – Rockin' Down The House (Toby Tobias & 06. Hardway Bros Re-edit)
6. Mr Fingers – Washing Machine (Swag's Ariston Re-edit)
7. Master C&J – Dub Love (Mark Broom Re-touch)
8. Ralphi Rosario – You Used To Hold Me (Justin Harris Respectful Redo)
9. Willie Wonka – What Is House (Andy Blake Re-edit)
10. Jack Frost – Clap Me (Kink Cover Version)
11. Jamie Principle – Waiting On My Angel (Leftside Wobble Re-edit)
CD2
1. Virgo – R U Hot Enough (R&R&S Re-edit)
2. Jamie Principle – Baby Wants To Ride (Bubba & T.Bone's Still Believing Re-edit)
3. Kevin Irving – Children Of The Night (Disco Bloodbath Re-edit)
4. Mr Fingers – Can You Feel It (John Daly Re-edit)
5. Mr Lee – Pump Up Chicago (JD Twitch Re-edit)
6. Pierre's Pfantasy Club – Fantasy Girl (Bleepfunk's Acid Sweatbox Remix)
7. Spanky – Acid Bass (Neville Watson Re-edit)
8. Ron Hardy – Sensation (Richard Sen Re-edit)
9. Robert Owns – Bring Down the Walls (Leo Zero Re-edit)
10. Adonis – No Way Back (Greg Wilson Re-edit)
11. Master C&J – Face It (Leftside Wobble Re-edit)