Get Physical turns 8 with compilation
Iconic Berlin imprint Get Physical will release an 8th anniversary compilation in October, featuring 19 tracks mixed by label stalwart Thomas Schumacher.
There are seven hitherto unreleased tracks in the mix, including the debut release from M.A.N.D.E.A.R., a collab between the M.A.N.D.Y boys and Matthew Dear. Elsewhere there are contributions from Lee Curtiss, Italoboyz and Damian Lazarus among others.
Founded in 2002 by M.A.N.D.Y, Booka Shade and DJ T., GPM has delivered classic mixes from the likes of Dixon, Modeselektor and Chateau Flight via the in house Body Language series, as well as regular excursions into rising sounds via the Full Body Workout compilations. Booka Shade's Movements remains one of the labels high points and perhaps encapsulates the GPM sound perfectly – a cocktail of bouncy, funky and deep minimal house that is full of warmth
Check out the tracklisting and artwork below. Get Physical 8th Anniversary Compilation will hit the shelves on October 29.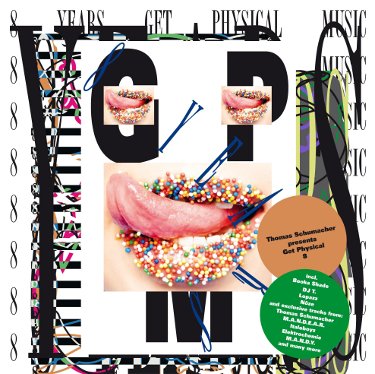 Tracklisting:
1. M.A.N.D.E.A.R – Buddies
2. Lee Curtiss – The Disco Dub
3. Delete aka Sergio Muñoz – Lunchbox
4. Andy Cato – Bassline Track
5. Noa Siano – Deep Down
6. Kris Wadsworth – It's Time
7. Thomas Schumacher – You Got Me
8. Emerson Todd vs Tim Green – Make Me
9. Steed Lord – You (Keine Musik Remix)
10. Elektrochemie vs. Tiger Stripes – Pleasure Seeker vs. Me & I
11. Italoboyz – Stand Clear
12. Booka Shade – Teenage Spaceman (Booka In Space Remix)
13. Nôze – Kitchen (Pop Version)
14. Damian Lazarus – After Rave Delight
15. Raz Ohara And The Odd Orchestra – The Burning (Desire)
16. DJ T. – Gorilla Hug (Nicolas Jaar Remix)
17. Nôze – You Have To Dance (Mathias Kaden's Mouthacapellapolka Remix)
18. Lopazz – Wasted Days
19. Adultnapper vs M.A.N.D.Y. – 201