Juno Podcast: Deep House 38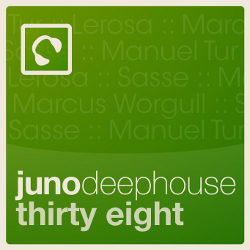 Our deep house podcast is getting older and wiser – we're now up to number 38 – but the tunes are as fresh and warm as ever.
We think Mike Huckaby summed it up better than most when he said "deep house is about warm colourful sounds, emotional chords and melodies that strike a feeling of peace within the listener." Right on Mike.
As always, you can subscribe to the podcast for free in iTunes here, buy the tracks from Juno Download here or stream/download it via the Soundcloud player below. Enjoy.
Tracklising:
2. Kez Ym: Natural- Tokyo Connection EP – Yore
3. Lerosa: One Year Friends – Enclave Recordings
4. Manuel Tur: Toothbrush – So Sound US
5. Zed Bias: Show Some Appreciation (feat Jenna G) – Development
6. Presence feat Shara Nelson: Sense Of Danger (Jonno & Tommo dub) Juno
7. Kabuki: Just Hold On (Marcus Worgull deep house mix) – V Recordings
8. Shane Watcha: The Morning After The Night Before (Bloody Mary remix) – Zombie Soundsystem
9. Damon Vallero: Dove Terrain – Downstream