Mount Kimbie announce tour dates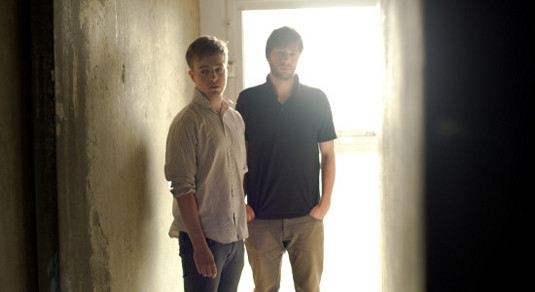 UK duo Mount Kimbie have added four new shows to their upcoming European tour, with extra dates in Germany and Italy announced.

The duo, signed to Scuba's Hotflush label, will release their debut album Crooks & Lovers on July 19.
Despite their affiliation with Hotflush, they are reluctant to be pigeon holed as dubstep, and will no doubt be thrilled at sharing the stage recently with acts like the xx (in Paris) and Caribou (in London), both of whom happily eschew genre categorization.
They are also set to play at a number of festivals, including London' s Field Day, Iceland's Airwaves, Poland's Unsound and the Isle of Wight's Bestival.
Full tour dates below:
JULY
05. Jul 2010 Alcatraz/ Milan, ITALY – the XX support
06. Jul 2010 Cavea-Auditorium Parco della Musica/ Rome, ITALY – the XX support
09. Jul 2010 Berghain/ Berlin, GERMANY
10. Jul 2010 Golden Pudel/ Hamburg, GERMANY
22. Jul 2010 10 Days Off/ Ghent, BE
24. Jul 2010 Centre Pompidou/ Metz, FRANCE
31. Jul 2010 Field Day/ London, GB
AUGUST
13. Aug 2010 Recyclart/ Brussels, BE
14. Aug 2010 Satta Outside Festival/ LITHUANIA
21. Aug 2010 Strom Festival/ Copenhagen, DENMARK
26. Aug 20101 E-Werk/ Koln, GERMANY – the XX support
27. Aug 2010 Tonhalle/ Munich, GERMANY – the XX support
SEPTEMBER
10. Sep 2010 Bestival (date TBC)/ Isle of Wight, GB
18. Sep 2010 Numusic/ Oslo, NORWAY
OCTOBER
15. Oct 2010 Iceland Airwaves/ Airwaves Festival, ICELAND
24. Oct 2010 Unsound festival/ Krakow, POLAND