Hundreds Attend 6 Music Protest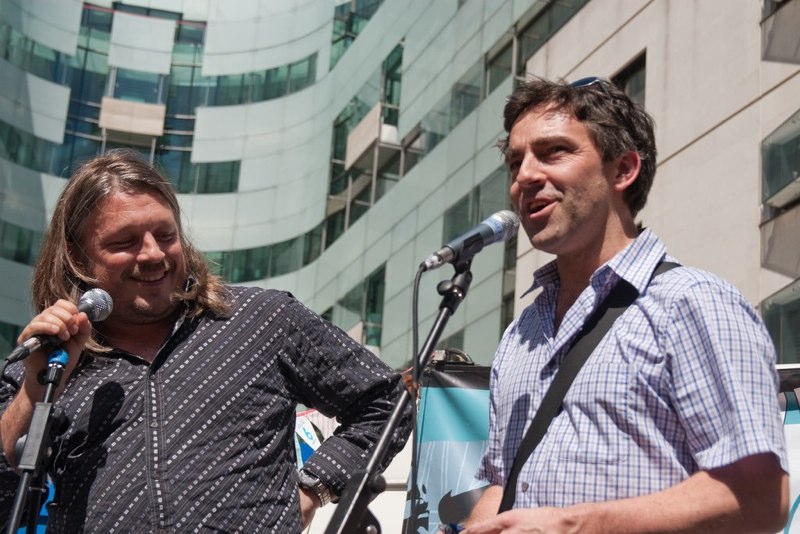 The current heat wave throughout London did little to deter some 500 protestors and celebrity supporters from a day of rallying against the proposed closure of the BBC Radio stations 6 Music and Asian Network outside Auntie's Broadcast House yesterday.
6 Music allows a platform for esteemed DJs such as Erol Alkan and Andy Weatherall to premiere new dance music away from the play listing constraints of the more commercial big sister Radio 1.
Affable stand up comedian Ed Byrne, a regular panellist on one of the BBC's lynchpin comedy shows Mock the Week, was among the more famous faces to entertain the crowd, with 6 Music DJs such as Steve Lamacq reading out messages of support from the likes of Damon Albarn and La Roux to rapturous applause.
The decision of Mark Thompson, the BBC director general, to shut down these stations in spite of the vital airplay they give to independent music seems increasingly ham fisted in light of protests such as yesterdays, with devotees travelling down to London from across the country to add their voice.
It would be hard to imagine similar scenes if Thompson had decided to can less than sterling BBC3 programmes such as Snog, Marry, Avoid or The WAG Stories in an effort to cut budget costs.
Today (Tuesday, May 25) is the last day of the BBC Trust's public consultation on the Corporation's strategic review, which proposes the cutting of 6, that other incredibly important radio service the Asian Network, and a raft of other BBC services. You have until 5pm today to submit your views, which you can do here.