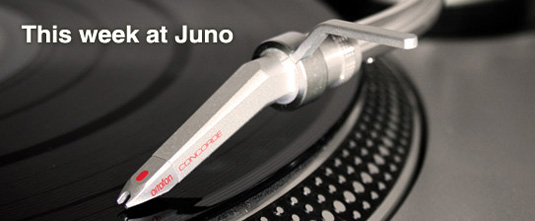 Finally it's starting to feel like Spring at Juno Plus, with follow-ups on disco heavyweights like In Flagranti and podcasts with a selection of goodies in the Breakbeat and Minimal veins

We're a bit jealous of those who made it out to Miami this week where WMC overtook the beaches, but at least we were able to forget our grudges and give out free tickets to the sold out Crosstown Rebels show, Hot Cakes vs Stanton Sessions, Cr2 and Compost parties, and Ovum's 15th birthday party to celebrate with Josh Wink.
Back here, we got an exclusive chat with Dirtybird J Phlip as our new One To Watch, whilst former owners of The End, London's Layo & Bushwacka! no less gave us a Featured DJ Chart before their next big Shake It party. Codek's In Flagranti spoke to us about their provocative sounds and the Juno lot reviewed the new Autechre album, Pale the Kid, and Mashed Up Funk compilation.
We hope you heard about the BPitch Control competition for Jahcoozi and the new venue setting up CAMP in East London with a host of new upcoming DJs and bands to fill their Basement. Whilst on top of all that we got DFA's Shit Robot's cream of the crop in a Top Ten, and you can check the new Minimal 33 and Breakbeat 5 podcast as mixed by Richie Balboa here.