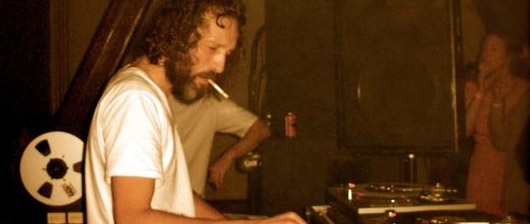 Why has DJ Harvey been hot property for the best part of two decades? Is it his effusive and laid back manner, his eclectic sets, his decision to leave the UK for pastures new? Having just released the much-hyped Locussolus EP on International Feel, and a remix of Dirty Jesus classic "Don't Fuck With My Shit" on Juno Records, Harvey's showing no signs of slowing down (or speeding up, for that matter). Oh, and he's got a brand new Green Card. We spoke to him from his Los Angeles home about his return to Blighty, working with Rwandan refugees and remixing indie bands.

You finally got your Green Card as a US citizen. Congratulations are in order…
Thankyou! It's really nice, I'm now free from my self-imposed exile. I can get back out and on the road again now.
What are your plans then? Any tours on the cards?
I'm not sure exactly. I want to play in every nightclub I've played in before. Plus I'm probably off to Japan, Australia, New Zealand, Bali… I've never been to Australia, but now there are all kinds of suggestions. It's all happening, I can assure you.
And what about the festival circuit?
I'm totally down for some festivals too. I'm not sure if we can confirm anything yet, there's a bunch of stuff that may happen at the moment.
You've just released a remix package of "Don't Fuck With My Shit" which also features Black Cock partner Gerry Rooney. Do you think the two of you could work on projects together again in the future?
Gerry is in London, I live in LA, and sending files back and forth can be very difficult, so it depends on the response. If people go nuts for it, we might do some more. As I said it's difficult to do long distance production, it's nice to be in the same room as the person you are working with, so there are no definite plans to do more at this stage.
"It's hard enough with new music, now I just play the blue record and the sliver record. I can't read what's on the sleeve!"
Tell us about your Locussolus release on the Uruguayan label International Feel. It caused almost unprecedented excitement in the underground…
There will be at least three singles, that's the deal, although it may end up as an album. I am excited about the response it has got so far, it's mostly been very positive.
Is it something you'd ever translate into a live show?
I might mime along while a CD plays, like everyone else does!
Are you working on any other new productions at the moment?
I'm working on all kinds of bits and pieces. There's the Map of Africa project, but my main focus at the moment is a remix for a pop rock band, the name escapes me at the moment. It's quite good though (laughs).
Tell me about the Rwandan Ice Cream project– that sounds very rewarding.
It is amazing. Basically a group of Rwandan Holocaust survivors came to New York to learn how to make ice cream, and they brought their drums with them. They are part of an all-female drum band, and I've produced a CD for them. The proceeds are going to Rwandan charities so it's been an absolute honour to work with them.
"It will be great to get back to Blighty… I hope to be playing regularly on both sides of the pond"
Do you get back to Hawaii very often these days, or are you permanently based in LA?
Yes a little bit, I was there for New Year's Eve. The 39 Hotel is having its five year anniversary this year…for me it's a dream come true, and I know I'm very lucky. You know, not everyone can get to Hawaii but everyone can wear the t-shirt.
How do you access music this days, are you still a crate digger?
I don't do a lot of digging these days, people give me a lot of music, a lot of friends and contemporaries are making fantastic music. Thomas and Eric at Golf Channel, the Wurst guys, there's a good community out there. It's hard enough for me with new music, now I just play the blue record and the sliver record, I can't read what's on the sleeve (laughs). But the scene is healthy and there's good music coming from all corners of the globe. Oh, and feel free to send your music to music4djharvey@gmail.com and I'll have a listen and maybe spin it.
Have you been DJing in the States much? We heard Todd Terry is playing again in New York…
I have been pretty busy in the US, playing at a lot of parties. The largest focus on what I do is basically preaching to the converted, you know. I haven't seen Todd DJ much since the Ministry of Sound days, but do I bump into him every now and then, and we exchange polite waves!
You sound like you are enjoying DJing as much as ever – are you?
I still basically get the same buzz, it's an adrenaline rush. It's my job, it's what I do.
And what does the future hold for DJ Harvey? Will you be returning to the UK any time soon?
Back into the world at large, more of the same really. This year, I'll be back in Blighty for sure. I've had a bunch of  offers so it will be great to get back. I hope to be playing regularly on both sides of the pond.
Interview: Aaron Coultate