DJ & Studio Equipment: Pioneer CDJ-2000 review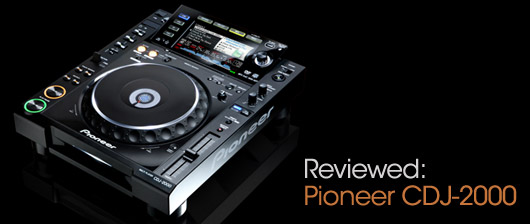 The CDJ-2000 is the latest model in Pioneer's famed range of CD decks, and was until recently shrouded in rumour and secrecy. Well the secret is out – and the CDJ-2000s boast a whole range of upgrades geared towards changing the face of DJing as we know it. Juno's Ben Daly gives a comprehensive review of one of the hottest items on the planet.

The new CDJ-2000 multi-format player from Pioneer is one of the most anticipated DJ products this year, but can this new Pro-grade digital DJ deck justify all the hype?
In terms of styling, the CDJ-2000 looks very slick, with the casing consisting of a mixture between shiny and matt plastic. Pioneer seem to have gone for a more retro, blocky appearance, with the shape being slightly more reminiscent of the now prehistoric CDJ-500's of old, rather than the curvier CDJ-800 or CDJ-1000s.
When switched on, the CDJ-2000 takes a couple of seconds to boot up before it's ready to go and takes the same amount of time after inserting a disc before it's ready to play. When a track is played from a disc, the CDJ-2000 creates a wave display of the track on the huge colour LCD screen on the unit. The wave display takes approximately 30 seconds to create, which seems like quite a while considering some DJ's mix a new track every couple of minutes (although the wave display on the CDJ-1000 also took roughly 30 seconds to create, so it shouldn't cause too many problems). When playing a track from an SD card or external USB device, the wave display is only created bit-by-bit as the track plays, which could be an issue for people who rely heavily on this visual reference.
The buttons, switches, rotary knobs and tempo fader all have that solid, reassuring feel that we've come to expect from Pioneer, as does their acclaimed Jog Dial, which seems to separate Pioneer from the competition by a yard. The Jog Dial is illuminated, and flashes when a track has 30 seconds or less playing time left, which is a rather useful feature Pioneer have added. The display on the CDJ-2000 is well-laid out, clear and, quite frankly, huge. The display being angled is a nice touch and when the player is placed on a flat surface (rather than at an angle like in many clubs) is much easier to read than that of the other Pioneer players (excluding the DVJ-1000).
The CDJ-2000 is multi-format player and is compatible with most audio file types (MP3, AAC, WAV & AIFF) via CD, DVD, SD card and USB memory devices. However, it wasn't able to play, or even recognise, FLAC files which may be a concern for users of this format but shouldn't bother others. On the subject of file formats, it's also worth bearing in mind that, although the CDJ-2000 has a DVD logo on the unit, it will only load audio files from audio DVD discs and won't play video of any kind.
The 'Tag Track' feature is useful for being able to see what's already been played so you don't end up playing the same track twice in a set. Alternatively, it's just a good way of looking back on a set to see what you played that night.
The CDJ-2000 also ships with the new Rekordbox music database management software, which Pioneer developed in conjunction with Mixvibes. Rekordbox's interface is simple, well laid out and rather stylish. After importing your music collection into Rekordbox, Loop Points and Hot Cues (up to three) can be created, deleted, edited and saved to a USB device or SD card for later use on the CDJ-2000. This is a great way of preparing tracks prior to your set and I can see this becoming popular with DJ's who are keen to exploit all the creative possibilities of the CDJ-2000.
Of all the features on the CDJ-2000, a personal favourite has to be the Needle Search™/Needle Drop ribbon, a fantastic touch sensitive bar which, when you scroll a finger along, instantly skips through the track playing. Some people may wonder why this is so great but it saves precious time holding your finger on the track search button until you find the right point from which to play the track.
The CDJ-2000 also functions as a MIDI controller (connected via USB socket on the rear) for native control of DVS (digital vinyl systems) or to control other MIDI parameters in software that can send and receive MIDI data via USB.
In the official Pioneer promotional video for the CDJ-2000, images of Ableton Live, Serato Scratch Live and Traktor Pro are displayed when the MIDI capabilities of the player are talked about, so it seemed appropriate to test its function using these three pieces of software. With Ableton Live in MIDI Learn mode, the software did recognize the player as a USB MIDI device, however was unable to assign controls to it. The software indicated that MIDI was being received from the CDJ-2000, but refused to assign it to anything in Ableton. I can only assume this minor teething problem is due to the fact that the product is new and as yet, not fully supported within Ableton. In fact, Serato Scratch Live didn't recognize the CDJ-2000 at all, but I'm sure this will also be rectified in the near future.
Traktor Scratch Pro was in fact the only software of the three that worked with the CDJ-2000. Once assigned, the CDJ-2000 worked well with Traktor and the full potential of using the player as a MIDI controller was revealed. In terms of other professional MIDI controllers on the market offering the same level of functionality, the EKS Otus is a major contender. However, at around £500, isn't exactly a cheap option. Pioneer's CDJ-400 can also be used as a MIDI controller, and at £628.99 is far cheaper than the CDJ-2000, so may be worth considering.
Using a regular LAN cable (which is provided in the package), the Pro DJ Link feature of the CDJ-2000 (2-4 players can be connected together to load tracks from only one device to all of them) worked incredibly well and was very simple and straightforward to setup. Connecting a USB device to one of the players and loading the same track to both players, posed no problems whatsoever.
All-in-all the CDJ-2000 is a fantastic product and should keep Pioneer reigning supreme in the DJ CD player market. This product is very much suited to more advanced DJs who will exploit its potential as a MIDI controller or load tracks from an external SD card or USB device.
At nearly £3000 for a pair, it's not cheap, but you can't really be blamed for sacrificing that new car or holiday for Pioneer's latest offering – it really is that good.
Review: Ben Daly