We select 10 of the best contemporary hardware and digital drum machines currently on the market, with models from Elektron, Dave Smith Instruments, Korg, Teenage Electronics and more.
An increase in the number of new synthesizers being designed and built over the past few years is only matched by the number of new drum machines coming onto the market. No doubt swelled by the second-hand market in classic Roland TR-808 and TR-909 units, companies have been rushing to create new models to suit all price points, with the recent demand for analogue gear leading to some interesting drum machines combining the best of old and new technology. In this list we pick out ten of the best contemporary drum machines currently on the market, both analogue and digital, going from Teenage Engineering's handy pocket operators, Korg's diminutive, affordable Volca Beats and a Jomox percussion synthesiser all the way up to Roland's revamped TR-8 and Dave Smith's high-end Tempest.
Korg have been at the forefront of portable musical equipment from the very start, and the past few years have only seen the Japanese company stepping up their game. The Volca series are a group of three miniature synths with built in sequencers designed to help you create music away from your computer. Sitting next to the bass and keys units in the line is this beats version, which takes its cue from classic analogue beatboxes, fusing that with the ethos of Korg's Electribe design to create a miniature analogue drum machine brimming with possibilities. There are two sound engines; an analogue engine for the kick, snare, open hats, closed hats, low tom and high tom sounds as well as a PCM engine for clave, cowbell, ago go and clap sounds, all of which are fully editable. The 16 step sequencer is based on the classic Korg Electribe sequencer and includes features for warping your sequences such as stutter, roll and active step functions.
The Volca Beats is battery powered with the option of a 9V AC adapter and in addition it includes a sync I/O for chaining different Volca instruments together, including Korg's Monotribe. There is also MIDI in for use with your DAW or external clocking device, and the main audio output is through a headphone mini jack port. Those who like to use touchscreen interfaces may be intrigued to hear that it is also possible to sync all of the Volca units wirelessly using the SyncKontrol app for iPhone. With competition in the miniature drum machine market heating up, its unrivaled affordability makes Korg's Volca Beats well placed to be the leader of the pack.
More info/Buy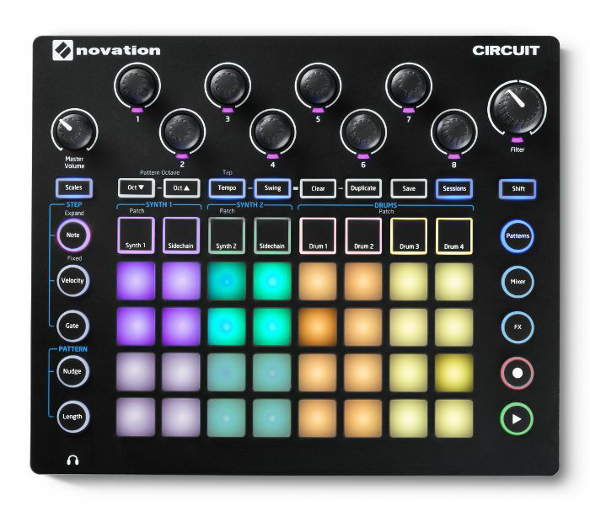 Novation Circuit Grid Based Groovebox
Drawing from both the Launchpad series of controllers and UltraNova synthesizers, Novation have combined technologies to create a user-friendly groovebox that is deceptively versatile. This four-by-eight grid of performance pads allows you to either step sequence or play in real time, and on top of that it is possible to tweak your creations in real time using the eight knobs that can be mapped to various effects and parameters as macro controls. Furthermore, it's possible to record your tweaks in real time, adding a further dimension to your creations. Connectivity options include MIDI I/O and MIDI over USB (but not audio) as well as a pair of 1/4" TRS jack outputs for the audio. This configuration allows you to incorporate the Novation Circuit into a studio set up, either with a computer or in a live rig that uses MIDI.
With the Novation Circuit you get dual polyphonic synth engines with six voice polyphony as well as the four part drum parts consisting of a kick, snare and two percussion elements that can be chosen from the 64 on board presets. One of the biggest draws of the Circuit is the fact it works completely independently of a computer. Everything is on board including a mini speaker for users caught by inspiration on the move, and to facilitate this the entire Groovebox can also be powered by batteries. For modern intuitive music making at a deceptively affordable price, the Circuit from Novation will no doubt unlock the door to "on the fly" music creation for many.
More info/buy
Teenage Engineering & Cheap Monday PO12 Pocket Operator Rhythm Drum Machine
The PO12 Rhythm from Teenage Engineering and clothing brand Cheap Monday is the size of a handheld calculator and fits in your pocket. This micro drum machine is part of a series of connectible miniature synths that include a PO14 sub bass synth and a PO16 factory synthesizer. The three miniature synths can be linked and synced using an innovative jack mechanism that also manages to handle the audio from all three units at the same time. The PO12 drum machine includes 16 sounds that include a kick drum, snare, hats and various percussion sounds and blips and bleeps. All of the sounds can be modified to suit the needs of your sequence and the unit includes a set of sixteen different sound effects that can be used for individual sounds or as global effects.
There is quite a lot of control available on a unit without much space. With sixteen performance buttons, a basic LCD display for visual feedback, two mini rotary knobs and six function buttons there are plenty of ways to maximize the unit's flexibility such as recording parameter locks that allow you to program filter changes or effects sends into your sequences. A lot of the PO12's functional features are accessed using combinations of pushing the shift button whilst holding down various secondary function controls, so be prepared for a quick look at the manual until you get comfortable. Two AAA batteries power the unit, which is in line with the Pocket Operators ethos of fun mobile beat creation. A world of possibility that literally fits in your pocket.
More info/buy
Bleep Labs Drum Machine with MIDI
If you want a drum machine of the bleeping electronic variety and you are considering experimenting with circuit bending at a later date, then you might want to take a closer look at the Bleep labs Drum Machine with MIDI. At first this quirky drum machine came in kit form and required you to solder it together yourself. Now with a single MIDI input, it comes fully operational powered by a 9V battery. Sporting two knobs and four performance pads (one for each drum sound) as well as play, record, tap and shift buttons; diving head first into a frenzied beat making session would seem to be what Bleep Labs are inviting us to do.
The sounds are exactly how you imagine; lo-fi, blip-like percussion tones that include kick, tom, clap and a snare. The knobs control pitch of the tom and snare, and whilst recording your own sequences it is possible to record any changes in pitch to your sequence. The extended functions of this unit means you need to get used to holding down various combinations with the shift key. The audio comes from a 1/8" mini jack type output in mono. There is plenty of scope to bend and discover new sounds with this unit as it's possible to turn the machine into hyper noise 30xx mode that allows you to really crunch the drum out of recognition. The MIDI input adds a modicum of controllability if you are not a fan of the small performance buttons, and while the Bleep Labs Drum Machine with MIDI is not the most versatile of instruments, it's unlimited fun.
More info/buy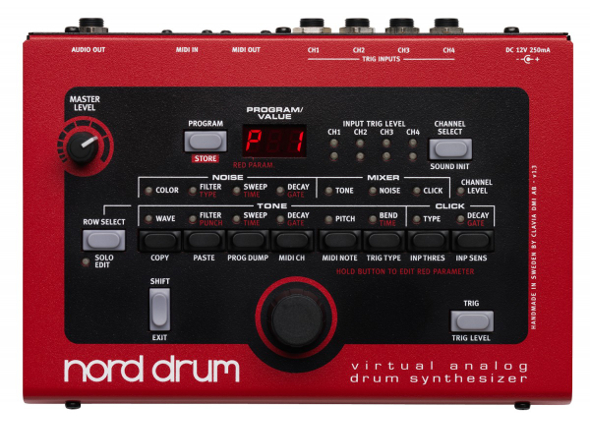 Nord Drum 2 Percussion Synthesizer
Sporting six individual channels, the Nord Drum 2 is a drum synthesiser built on analogue modelling. As with all Nord instruments, there is a certain kind of organic aesthetic to the basic drum sounds found on this drum machine. Each sound is made up of three main elements: the tone element that consists of resonant, subtractive or frequency modulation synthesis, the noise element of the sound which can be anything from piercing high filtered white noise sounds all the way down to smooth whooshes or even granulated noises, and the click element which helps to give your creation the desired amount of attack. In addition, each channel has its own EQ, distortion and repeat, for delay type effects.
Connection possibilities include MIDI I/O, including CC numbers, and if you are of the mind you can use the Nord Drum 2 with the free Nord Beat sequencer app for iPad. There are six standard trigger inputs on the back panel that allow you to control the Nord Drum 2 with pads of your choice, or you can use the Nord Pad connected to the Nord Drum 2 via a single Ethernet cable, turning the unit into a stripped back electronic drum machine. The comprehensive editing features, which allow you to edit sounds individually or as part of a group are the icing on the cake.
More info/Buy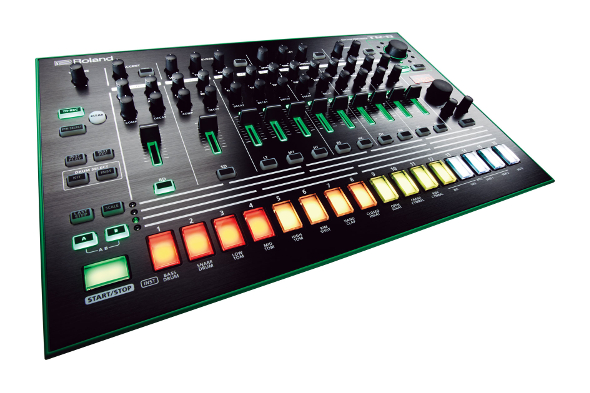 One of the most eagerly anticipated drum machines of recent times is the Aira TR-8 from Roland. Modelling the layout and sound of the TR-8 on both the original TR-808 and TR-909 is a clever move by Roland, whose iconic drum machines have set a high benchmark for all future imitators. The TR-8 features a sizable 16 kits made up of 11 instruments, all of which are easily tweaked on the front panel with tuning and decay knobs, with the kick and snare patches featuring attack and compression controls. The level of each drum sound is controlled by robust faders, and with the green backlighting live performers will find it easy to control the TR-8 in darkened club environments.
Being a performance-based drum machine, all of the main features of this unit are accessed from the front panel with no sub-menus to dive through, with simple 'in-the-moment' control among the unit's key advantages. Building on the original TR-808 and 909 machines, the Aira TR-8 includes reverb, delay, accent and a scatter control which gives you the option of warping your creations using ten different variants. You can use MIDI I/O to clock other units to the TR-8, or vice versa, and with a headphone output, left and right main outputs, two assignable outputs as well as stereo external inputs, there are plenty of routing options here to keep the veterans busy for years to come.
More info/Buy
This analog drum synthesiser with built-in sequencer from German boutique synth company Jomox, includes the unique possibility of importing your own samples via MIDI sample dump. This beat box also makes use of both analog and digital sound sources with kick, snare, low tom and high tom making up the analog part, and hi-hat, clap, rim, crash and ride all coming in crunchy 8 bit with analogue shaping for the envelopes. This means that although not all the sounds are analog, they can be manipulated in the same way, making for good continuity for the user. There are 16 endless encoders that are used to edit sounds with an LED next to each one to indicate what element is being edited.
The built-in step sequencer gives you the option of running a continuous 32 step sequence or two 16 step sequences as an A and a B sequence. There are two multi-mode filters that can be controlled by built in LFOs, while it's also possible to sequence the filter cutoff using the 16 push encoders, just as you might in an old modular sequencer. These encoders can also control the signal for four externally controlled instruments over MIDI, making the XBASE 999 a very powerful drum machine and sequencer indeed. Another handy addition is the inclusion of a separate output for each track. If you are new to drum machine sequencers, the basic operation of this unit is simple to pick up, and for veterans there is plenty here to keep advanced users busy.
More info/Buy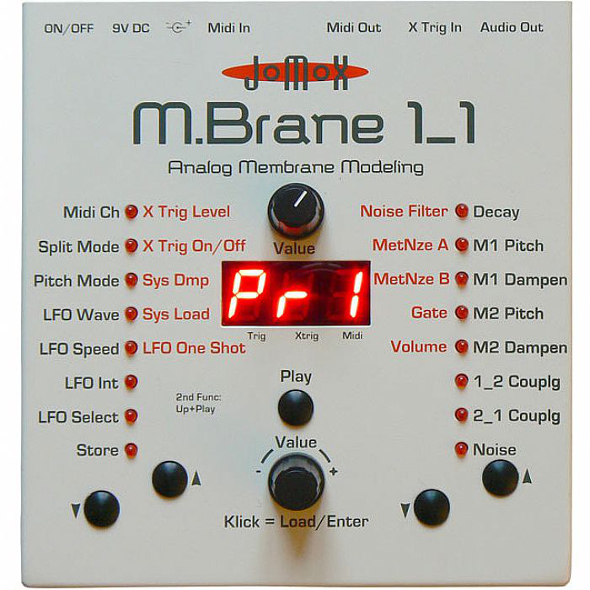 Jomox MBrane 11 Analogue Percussion Synth
The creative engineering behind the Jomox brand have successfully steered its way to creating a percussion synthesizer that can mimic the sound of acoustic drums. Here, we are introduced to their T Bridge oscillator that works like a band pass filter, but without getting caught up in the technicalities of this machine, it's been gaining fans in the electronic music making fraternity for some time. A simple noise and metal noise generator teamed with envelope manoeuvrability allows users to create striking snare, bell, tom and bongo sounds.
Programming the MBrane 11 is done by scrolling through a series of pages on the front panel that is clearly marked by a LED, and parameters can be changed using the data wheel. If drum synthesis feels like a complicated first step then you can always scroll through the myriad of presets (of which there are 110) until you find what you need (and work it from there). Visual feedback comes from a three-digit display and for those looking for some sturdy connection options the MBrane has MIDI I/O plus an external trigger port. This drum machine functions in mono, which is serviced by a single ¼" TRS jack and the signal path is completely analogue; adding extra synthesis appeal.
More info/buy
Combining both analogue drum sounds with highly malleable samples gives users of the Elektron Analog Rytm Drum Machine a unique and flexible approach to rhythm creation. As with most drum machines, the Elektron features an intuitive step sequencer for the immediate creation of rhythms. Its eight analogue voices can be assigned to up to 12 tracks that include the possibility to layer with your own samples. Each track also includes an analogue multi-mode filter, analogue overdrive and an LFO and with assignable outputs, MIDI I/O and USB, the variety of connection possibilities is truly open. In addition, the Analog Rytm from Elektron includes 12 backlit performance pads that are both velocity and pressure sensitive.
Also included in this machine is an effects send section that offers you a delay and a reverb, which gives your creations an added professional veneer. Used in tandem with the compressor and distortion available on the main output, you can quickly turn your beats into a professionally finished article. As with all Elektron machines, there is a strong live performance element to the workflow, with a performance mode which allows you to shape your sequences and manipulate your beats in whatever manner you wish, using the eight dedicated parameter knobs. The Analog Rytm Drum Machine from Elektron is a tool with a lot of depth and although beginners may find the learning curve steep, once the basic functions have been learned, a deeply rewarding production emerges.
More info/Buy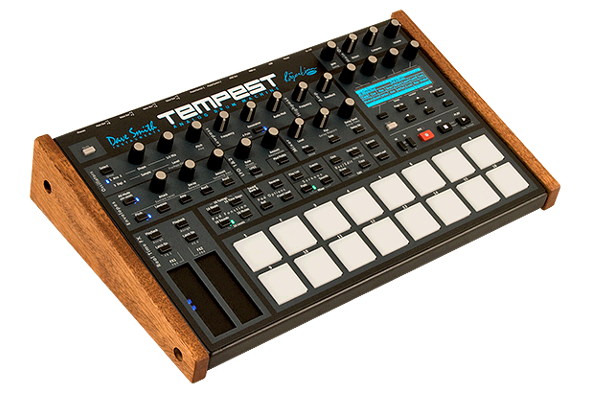 Dave Smith Instruments – Tempest
Two giants of the synth world, namely Dave Smith and Roger Linn, put their heads together to design this stunningly expressive drum machine and workstation. Anyone familiar with Dave Smith's Mopho synthesizer will be at ease with this feature-packed performance drum machine that includes six voices. The Tempest has a very similar architecture to the Mopho keyboard, with two analogue oscillators and two digital oscillators dedicated to each individual voice. It has been very much designed as a tool for live performance, with several different viewpoints and methods of inputting rhythms, including a TR-808-style step sequencer and a real time record mode. The main control feature comes in the form of 16 high quality backlit performance pads that are velocity sensitive. Along with an array of encoders for parameter control, there are also two assignable touch strips, and it is possible to record parameter changes in real time using either.
Each voice also carries a classic low pass filter with the famous Curtis chip built in, a high pass filter, analogue VCA with feedback, five ADSR envelopes, two LFO's and a near immeasurable set of modulation routings. The variety of different work flows is truly staggering and includes the ability to mute voices on the fly and even play pitched material using the pads. The flexible connections around the back include main stereo outs, six individual audio outputs for each voice, MIDI I/O and USB. The professional finish of this instrument is second to none and with the two biggest names in synth and drum machine design at the helm it would have to be. If you are looking for a one stop, all in one, beat creation workstation with performance possibilities then look no further than the Tempest from Dave Smith Instruments.
More info/Buy