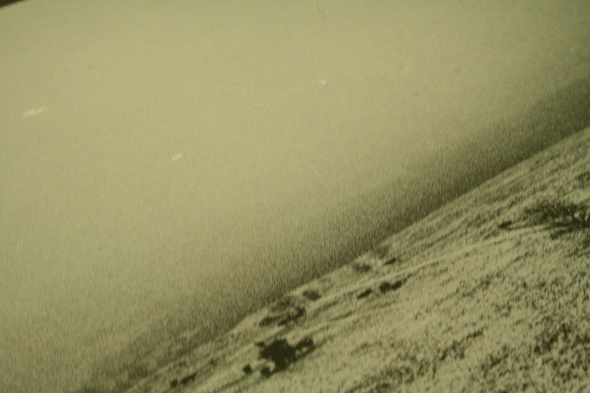 After his All Caps release helped announce his presence to the world, Guy Evans is now in the rather pleasant position of having a wealth of archive material the likes of which are being lapped up by those with a taste for classic UK techno and a love of genuine provenance. That all these tracks have been sat gathering dust on cassette tapes for decades only adds to the esoteric charm, and as long as the music mined remains this worthy then may the vinyl issues continue unabated.
Nord Records have been on a more modernist mission thus far with their releases, dealing with artists such as DJ Spider and Samuel André Madsen over the past few years of releases, but now they're committing a choice selection of Evans old jams to a double pack vinyl release, which is a move of conviction if ever there was one. All the better for us as listeners, as it means there's a decent amount of space afforded within the eight tracks to hear a little more of what Evans was capable of at the time, even within the confines of a limited home studio set up.
"CDS90 (A6)" especially stands out with its high-pressure electro-techno concoction coming on like a funky Model 500 off-cut with a strong dose of eccentricity running through its veins. The wild breakdown into hiccupping vocals, the psyched-out synth squelches, the manic drum chops; it all feeds into a truly astounding brew. "AS54 (B1)" meanwhile pushes even further out into experimental electro territory with some jittery drums frittering themselves away over a particularly rude low-end throb before whipping into a forthright and pumping electro jam that proceeds to undo itself at the seams.
It's quite interesting to note that two of the tracks are tagged with the word "Acid" alongside their tape and track number identifiers. One would expect to hear the usual rigmarole of acid house contained within, but there's something different about the way Evans approached the style. "AS54 Acid (A2)" in particular shows a strange mixture of blissful techno pads and squelchy 303 lines, with a progressive, composed quality to the track that usually evades a lot of acid-centric music.
There is one serene moment to be savoured as well. "BASF Chrome (A6)" with its celestial pad tones, crystalline chimes and more measured techno thrust makes for a charming end to the album, but by and large this is a collection designed to showcase the tougher end of the DJ Guy spectrum. Just take one listen to "AS54 (A3)" with its uncompromising drums pumping their way to infinity, every kinked snare and hooked groove seeming like a particularly prescient future echo of what would happen when techno and dubstep crossed over some ten years later.
It is of course interesting and indeed impressive to be aware of what limitations Evans had when he made these tracks, but they shouldn't define the music, and nor do they need to justify it. In the attention to detail, creative flair and unbridled energy of his creations, Evans said more than enough for these tracks to stand up to anything contemporary. Sure the mix might be a little muddy and a straight-to-tape take doesn't leave much room for fine-tuning frequency balances, but that's all very much secondary to the ideas, and those run leagues ahead of what many could do with much more convenient means these days.
Oli Warwick
Tracklisting:
A1. CDIIF Tape Side (B1)
A2. AS54 (A3)
B1. CDS90 (A6)
B2. AS54 (B1)
C1. BX90 (A4)
C2. AS54 Acid (A4)
D1. AS54 Acid (A2)
D2. BASF Chrome (A6)