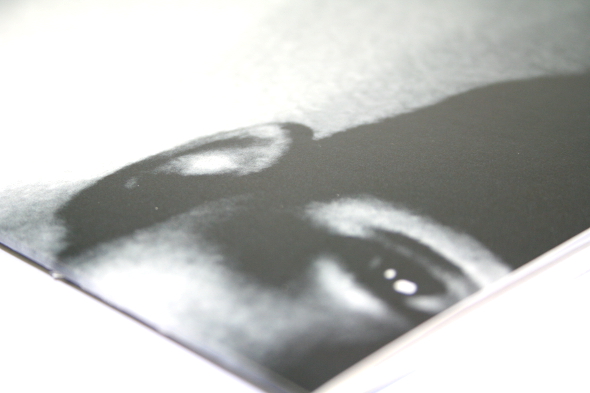 When Soren Jahan's debut LP as René Audiard dropped on Supply Records in 2012, it's safe to say to it didn't get the recognition it deserved. As an exercise in dub techno it pointed the way for more imagination to be fed into the genre, while equally displaying a creative flair within the realms of minimal aesthetics that had long been absent from so many 'stripped-down' producers' works. Since then Jahan has risen a little in prominence, not least for his involvement with Blank Slate and a healthy spread of projects under different aliases, in different places. This self-titled album for Berlin label The Double R is in fact comprised of music that was finished many years ago, and has since been waiting in the wings for the right opportunity to be unleashed. As such it's hard to evaluate it in terms of artistic evolution, but rather needs to be taken on face value as a stand-alone body of work.
What is apparent from the opening opus "Laci" is that this is set to be an intriguing and immersive ride, as ten minutes of pristine, glassy drones and a deeply submerged kick transport you into a chilling and utterly magnificent meditation. There's not a whisper of the current trend for creative distortion, but instead sumptuous and dynamic tones that curl and flux around each other with poise, even as they feel shapeless and unpredictable.
Elsewhere, those aforementioned minimal references come through more clearly, echoing some of Jahan's Blank Slate work in the use of organic tones arranged in ever-shifting patterns while keeping the progression of the track slow and steady. "Saint-Malo" is an exercise in patience to rival the titans of minimal, but crucially it never feels stale or static. In the warmth of the sound sources and the playful programming the effect is an enchanting one. "Snow" too extols the virtues of reduction, here using the most delicate touches of found sound and piano to shape out the heart within the track's fragile construction.
At other times the slender beats move towards a more micro-house flavour, as on the charmingly dusty "Too Late" with its distantly romantic croons and wistful piano fitting around a crisp rhythmic shuffle. "Glass" too has a keenly defined funk about it, even as more of those melancholic instrumental tones come drifting in from far away, evoking nostalgic images as they envelop you.
Indeed there is a soporific quality to the whole album as it seeps out over elongated running times with ample space for tracks to unfurl unhurriedly. With all those sepia-toned musical elements floating in amongst the finely chiseled electronics, it's an album that easily slides under your skin, yet it's also a diverse listening experience. There are notable tracks that reverberate with the energy of well-rounded synth lines, as on the arpeggiated thrum of "Karadag" or the playful squelch of "Bel Loc". These sounds may come across stark in contrast to certain elements on the LP, but the distinct tones end up welded to Jahan's specific creative vision until they become another addictive trait in collection of moreish sonics.
In truth, one suspects this album came together as a collection of individual works rather than a flowing, complete whole, but of course there is no rule that states an album should be one unified concept, and in this case it hardly matters. Each track stands proud as a worthwhile artistic statement, at turns brimming with inventiveness while able to realise stylistic tropes with impeccable flair. When he wants to do a slinky minimal house beat, Jahan can do it better than most, and when he wants to match it with bit-crushed textures and whispers of found sound he makes it sound like no-one else.
Oli Warwick
Tracklisting:
1. Laci
2. Saint-Malo
3. Bloom
4. Glass
5. Too Late
6. Birkut
7. Karadag
8. Snow
9. Bel Loc
10. Patience Of The Spider