Veronica Vasicka in discussion with Richard Brophy on how New York City informs the spirit of her Minimal Wave and Cititrax labels.  In a hotel lobby in central Dublin on a rainy February night, Veronica Vasicka sits and sips an orange juice. Noise and general merriment wafts down from the crowded bar upstairs, where Irish and Welsh rugby fans are congregating to good-naturedly rib each other ahead of the next day's international match in Dublin. In contrast to the boisterous, boozy exchanges, Veronica's manner is understated and low-key, but so far removed from her immediate surroundings that she could be on a different planet. The New York DJ and Minimal Wave label owner is in Dublin to perform at the Forza Italo night – renamed temporarily to Forza Wave in honour of her visit – as part of a short European tour that includes dates in Belfast and Hamburg's Golden Pudel. Like the inspiration for the Forza club, Vasicka can trace most of her current activities back to the '80s, from the music that she documents on Minimal Wave to her approach to curating and releasing music. Whereas Forza is modelled on Italo from Rimini and other European clusters, Vasicka's hometown shaped her labels.  She recalls growing up in New York during the late '80s, a time when the city was radically different. "I was 14 in 1989 – that was the tail end of the Limelight and some really great clubs like the Pyramid," she explains. "There were some great underground parties, there were bands playing and you'd hear new wave, EBM and industrial and it was all under the umbrella term indie/alternative, there was no minimal synth or coldwave. It was a really interesting time and I feel lucky to have been there during that period. The city was still covered in graffiti and it was before all those changes took place, before it became a police state. It was a wild time and everything was freer, anything goes. "I worked at a record store in high school and I remember there was a kid who lived on my block on the walk home," she adds. "I'd see this kid sitting on the stoop and he had safety pins through his lips and nose and face. To me that was just like normal, there was this sub-culture that existed in the city and it was acceptable in a way."
The safety pin kid Veronica mentions was living near her family home on East 88th Street, an affluent if somewhat conservative enclave. She recalls that not many of the residents shared her or safety pin boy's love of counter-culture. "It was actually pretty hard there because it was quite conservative, so I stood out. That was the thing – seeing the kid with the safety pins, I felt a connection, like there are other people like me in the neighbourhood. I'd sneak out of the house at night and go downtown to the clubs and then come back, go to school the next day." Despite the late nights, Veronica got through school and ended up studying photography at art school in Rhode Island. In tandem with her formal work, she also had access to a dark room from the age of 14, and followed in that proud '80s tradition of making mixtapes, with one key difference: she was also designing the inlays. "During that time I was making a lot of mixtapes and cutting up photographs, turning them into collages for the inlays. There was always this connection, I didn't even think twice about it, it came naturally," she believes. Veronica brings her own visual art talent to bear on both Minimal Wave and Cititrax, but New York, with its transient, diverse population and culture also leaves an indelible mark. Veronica believes that neither label could "exist as they do anywhere else" due to this diversity. "I mean, I went through a lot of musical phases, I wasn't just into new wave, I was into hardcore, electro, I even had a classic rock phase. I went to see the Rolling Stones when I was 12 or 13. My friend's mom was a single mom. She was going on a date and she invited us along because her date had some extra tickets." It wasn't just New York that helped define Minimal Wave and Cititrax. Veronica's restless quest to document, package and release music that few others know about is as important to their development; her approach to tracking down artists she admires is best illustrated by the story about how she ended up photographing Genesis P Orridge. "As a teenager I was obsessed with him, so when I came back from art school, he was one of the first people I tracked down," she explains. "There was this industrial music conference going on at the Lincoln Center. It was one of the most surreal things because here was this conservative concert hall and Blixa [Bargeld] from Einstuerzende Neubauten was there and Genesis and a bunch of others were there too. I didn't have a ticket because they were over 200 dollars. I went to the guard and said 'my friend is upstairs speaking as part of the panel, can I please go?' And then he radioed upstairs and they said 'OK, let her in'. Somehow, I don't know how, but it happened. I went in and asked him [Genesis P Orridge] for an interview for a magazine called Index which was run by the artist Peter Halley. Index was a combination of music, art and fashion and it was a real NY magazine, a bit like Interview. I photographed him [Genesis] in my childhood bedroom." Veronica says that shooting the former Throbbing Gristle member was "the big turning point where I combined music and art", but her day to day work was still a struggle as she continued to assist on shoots for fashion and commercial photography. In her spare time, Vasicka was spending a lot of time in record stores, looking for obscure records and trying to figure out how to tie together her visual and musical passions.
"I'd sneak out of the house at night and go downtown to the clubs and then come back, go to school the next day."
"After school I thought that I had to do something with this degree, but I spent a lot of time in stores. I was really into searching for records, but never felt it could be put to practical use. This was a hobby, fun, I was really into these weird records," she explains. Then she was presented with the opportunity to help set up East Village Radio and the transition "happened very naturally. I evolved from doing photography to working at the radio station and that was a big turning point". Vasicka started her own radio show in 2003 and set up Minimal Wave two years later, dedicated to showcasing the obscure '80s records that she was collecting and playing. The label started in style with the great, forgotten synth sounds of Oppenheimer Analysis' Oppenheimer Analysis, which contains "The Devils Dancers" and "Cold War". With their deadpan vocals, nagging refrains and naïve synth melodies, both tracks resonated with new generations, 20 years after their original release. Veronica had tracked them down the old-fashioned way, by writing a letter. "Andy (Oppenheimer) is a nuclear weapons specialist. To this day, he's on the BBC," she explains. "When you read the lyrics for "Cold War" and "The Devil's Dancers", it makes sense what he was singing about." Minimal Wave isn't the only label reissuing obscure synth music, but it was one of the first to provide a platform for artists who didn't get noticed first time round. Veronica feels that a lot of the "most interesting stuff is the timeless music that sounds like it could have been made at any period". One such timeless act was In Aeternam Vale, an '80s trio from France. A more recent addition to the Minimal Wave roster, the label has put out three EPs and two albums by the act. Vasicka first became aware of the act's teased out proto-techno through a split release on the Invasion Planete label.
"I kept seeing the name and found them online. I asked how much music they had and we just started emailing," she recalls. "They sent me 200 unreleased tracks in 2006 and I started getting into it. There was such a range of music. Later on I revisited some of the music and it was like pure techno tracks, they were really ahead of their time for the '80s. At the time, a lot of these artists were sending tracks back and forth to each other through the mail," she explains. Veronica had favoured the old school approach of finding music in dusty record stores, but admits that the methods have changed. "There was a turning point: I remember in 2006 looking for artists and finding nothing and then checking a few years later and their music had been re-released by labels," she says. Does she feel that the internet has made it easier to find music – or, due to the daunting amount of information technology makes available, is her ability to filter and document obscure music more important than before? "Sure, it makes it a lot easier, but the challenge is that you have to be more specific about what you are looking for because everyone is so easily accessible. It's different now and it is a little overwhelming sometimes; a lot of times I find a contact for someone but I won't write them for years because I don't have a concept for them," Vasicka states. She also feels that reissuing old records has a 'new-found appeal' precisely because it isn't digital. "It's very hand made and DIY. That has an effect, people are grasping for that," she believes. In spite of her past spent hunting in record stores, Vasicka sourced the first release on her other label, Cititrax, through online contact. While Minimal Wave represents a particularly European aesthetic, releases on Cititrax are more playful and don't fit into tightly defined narratives. "I've always been into more than one style of music and I felt a bit confined because Minimal Wave is so specific. I wanted to put out other stuff, so Cititrax was for everything else that didn't fit in," she explains. Certainly it would be hard to imagine the debut Cititrax release, Dance Party Album, by Z-Factor fitting in on Minimal Wave. A collaboration between Jesse Saunders and Vince Lawrence, the proto-house album kickstarted Cititrax in 2008. Vasicka explains: "It was a record I had been hunting and looking for forever and never found. One day I was looking at eBay and saw it. I thought 'I can't buy this release, it's selling for 500 dollars', so I wrote to the seller who was from Chicago and eventually, I got in touch with Jesse Saunders.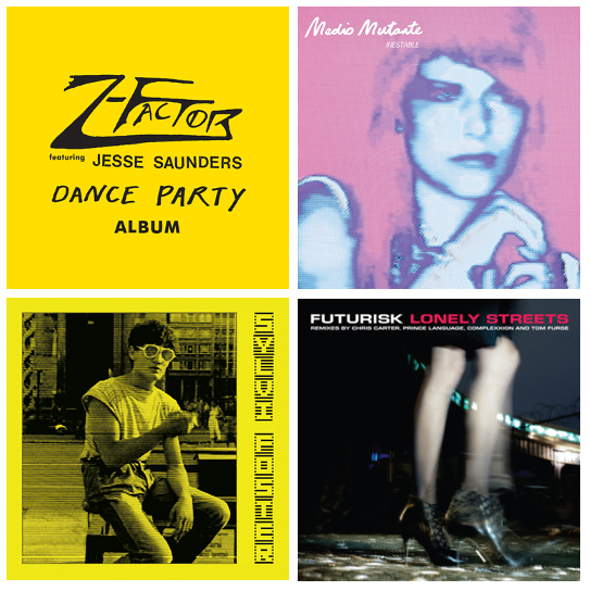 "I talked to him [Saunders] about reissuing the record. At first he asked for this crazy sum, but I brought him down! We finally agreed on what was fair and it was really fun to work on the release. I really enjoy all parts of the process and I did the artwork for Z-Factor. The interesting thing was there was no original master left so we had to master from the vinyl. I spent three weeks doing this and at the end of it I couldn't believe it sounded like a clean record!" Another artist from the same generation that Cititrax have released is Sylvi Foster, a late '70s /early '80s Italo producer. Veronica agrees that releasing Foster's If Are You on Cititrax was 'totally random, but I'm a hardcore Italo fan, so that's how it came about'. Nonetheless, she says that Foster was 'really surprised that I wanted to put out these tracks. I asked for more, but that was it'. The label has also released remixes of minimal wave/punk band Futurisk's Lonely Streets, which sounds like it would be more at home on Minimal Wave. Originally from London, Jeremy 'Futurisk' Kolosine moved with his family to Florida in 1980, when he was 18. As Veronica outlines, from this point, his life story gets interesting "When he moved to Florida, he started this synth band, Futurisk, and they were influenced by Kraftwerk and punk . When I first got their first 7" Army Now I was so obsessed with it. When I got in touch, Jeremy still had the masters and they were recorded by the same guy who recorded Santana! It was so random. The production quality was very good for one of these obscure bands – it doesn't happen very often.". In a neat twist to the Minimal Wave/Cititrax saga, Veronica was able to call on Chris Carter, the former colleague of her old acquaintance Genesis P Orridge, to remix Futurisk,  which she says was the fulfilment of a life-long ambition. For the most part though, Cititrax draws on new acts, who are either friends of the label owner or have got in touch through the radio show. Texan trio Medio Mutante, who sound like they could be the in-house band in '80s Dallas club Starck, initiated contact by sending on a tape of one of their former bands. "We stayed in touch and later they sent me this music and made this amazing record," she explains. On other occasions, Veronica reached out to a band. This happened once she heard The KVB's contribution to a Downwards compilation. "They reminded me of Joy Division. I ended up getting a lot of older, unreleased tracks and compiled the album (Immaterial Visions) in that way. They ended up going with a few other labels, and they are so young, I don't think I would want to limit them, but I would put out more stuff," she says, adding that "it was hard to do a remix for a band that is completely unknown. Nobody really knew them so that was a bit of a hard sell".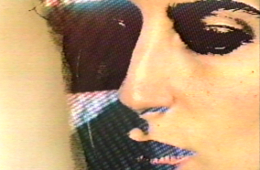 Cititrax also draws on the contemporary musical rumblings of New York. Having released an album from Innergaze (Aurora Halal and Steve Summers) and the Streetwalker project from L.I.E.S. artist Beau Wanzer and White Car's Elon Katz, it has recently started a new series of releases from NYC mainstay Doug Lee's new An-i project, and plans to release an album from Shawn O'Sullivan's and Katie Rose's Further Reductions project. "Innergaze were recording these songs and sent them to me for the radio show and that's how that one came about," Veronica explains, very matter of fact, adding: "There is really no plan, it's very spontaneous. These are just friends of mine, if I love what they're doing, then I'll want to put it out." However, she is also quick to point out that the An-i project is being planned as a series of releases. "I was so interested in what Doug was doing with An-i because he was taking such a turn from before. I remember playing weird '80s electronic stuff and him not knowing what it was but going into the studio and a lot of his tracks being inspired by that music. I love the idea that Cititrax is for young artists inspired by old music but not replicating it, consuming it and creating something different". The notion of the label or collective as a place to nurture artistic talent stretches back beyond Warhol's Factory and is ingrained in New York's cultural DNA. Is this concept still feasible in a city that has become increasingly sanitised by rising property prices, creeping gentrification and bottle-service clubs? "Yeah, there were a lot of great parties for years, but it's different now. There are a lot of great parties, but there's not one specific event," Veronica says, but adds: "I'm inspired every day in New York and I think a lot of people are too –  that old school feeling is still there somehow. Nowadays, the artists live further out, in places like Jersey, Queens and parts of Brooklyn." Vasicka herself runs the labels as a full-time job with input from an assistant two days a week – "I do most of it myself so it's a ton of work" – and balances label management with touring, which typically involves four dates over 10 days. The one constant in New York is her Sunday night radio show on East Village Radio, where she gets the opportunity to showcase artists like Kontravoid, a masked Canadian producer who released on Cititrax, and who has also drummed for Crystal Castles "and a bunch of other indie bands". Kontravoid's release as well as the remixes of The KVB release from Shifted, Regis and Silent Servant see Cititrax push into the same space as Silent Servant and the new Jealous God release from Oliver Ho under his Broken English Club guise. What does she make of this crossover? "I loved what Kontravoid was doing, mixing live drums and electronics and I think the boundaries have been blurred between the two (new wave and techno).  Silent Servant has ended up becoming a good friend. He was buying records from Minimal Wave back in 2007 and the way he fuses techno with new wave is amazing," she says. Vasicka sifts through a lot of demos and takes care not to dismiss anything out of hand. "I get a lot of demos that aren't bad but that don't fit the labels. People write saying 'hey I'm doing this tech-house project and maybe you'd be interested in putting it out.' (laughs), but sometimes some really interesting stuff comes my way." To illustrate her point, she talks about the most recent Cititrax release, Bruta Non Calculant's album World In A Tear. The work of Alexandre Gand, who used to make electro as Le Syndicat Electronique in the early '00s, and his brother, Tear is folksy and gentle and not what one would expect from a Cititrax release. "People kept saying it's a techno label and this is so mellow. Because of Alex's background, this record was really surprising for me. It's this really mellow, easy to listen to record. When he first sent the tracks to me and asked me to release them, I listened to it and thought this is really boring, I don't think I want to do this. Then the next day I listened again and I was like this is boring, but it's kinda cool. Every day after that I listened to it, and I couldn't stop until after two weeks. I was obsessed with this music (laughs) and thought OK, I wanna put this out. I guess it unfolded in this weird way. It was the total opposite of the An-i record, I heard it once and knew I wanted to release it."
In addition to all of this Cititrax activity, Minimal Wave is gearing up for its next release, Soma Holiday's Shake Your Molecules. Produced by Jay Burnett, one of Arthur Baker's protégés, it was originally released in 1984, but has been remastered from the original tapes. "We have these dub versions and two other tracks that never came out and all these amazing photos," Veronica enthuses. "The same engineer did a 12" with Adam (Yauch) from the Beastie Boys called Drum Machine around the same time; it's this cult collectible record and you can hear the production is the same as Soma Holiday. It's new wave that was influenced by hip-hop and electro – very danceable, very New York." With all of her knowledge of A&R, mastering and design, it is strange that Vasicka has never released her own music. The fact that she has been collecting and playing synths for years makes the absence of any original Vasicka material even odder. "I recorded a lot of stuff for years, but this year there is going to be a release under a different name, of recordings I did in the late '90s and early '00s. It's going to be on Downwards and we've still to figure out the name," she explains. "I was just going through some of the stuff with Karl and we felt it could come out right now, it's actually very Downwards-esque," Veronica feels. With that she finishes her orange juice and heads back to the club to present her music to another city. Interview by Richard Brophy