10 Best: Mixers For Home Studios 2020
We pick ten of the best options for those looking for an affordable mixing desk for a home studio, including models from Soundcraft, Midas and Behringer.
With the growing popularity of hardware setups in dance music production, mixing analogue signals is now a key part of many home studios. The easiest solution is usually a small mixer, providing a hands-on way to sum the outputs of your synths, drum machines and samplers.
Here we run through ten of our favourite options, from ultra-basic models through to fully featured consoles with digital effects, built-in USB interfaces and even multi-track recording.
Note that almost all of the mixers on our list are available in other sizes and channel counts, so if you like the features of a particular model but need more inputs, be sure to check the models higher up the same range.
At the most basic level, an audio mixer is a way to combine two or more signals into one. In the case of musical recordings, that almost always means a stereo output these days, with mono mixers largely consigned to history, barring a tiny handful of exceptions. Allen & Heath's baby Zed6 is about as simple as it gets, with a four-channel design based around two mono line/mic/guitar inputs plus a further two stereo inputs. There's very basic two-band EQ for adjusting the tone of channels, plus balance controls to pan the sounds left and right.
The Zed6 is a lot more basic than the bigger models in the range (which goes all the way up to a mighty Zed-436), with obvious cost-cutting and space-saving features such as rotary controls for channel level rather than faders. Nevertheless, it's a good solution for small setups. At this kind of size and simplicity, it really comes down to personal choice whether a mixer gives the best workflow. Mixing signals in the box might make more sense for some people, so we'd also suggest checking out our 10 Best Audio Interfaces list.
More info/buy
Another basic model in a very similar vein to the Zed6, the popular Multimix 4 looks almost identical at first glance, but there are a couple of key differences that might justify the small step up in price. Firstly, there's a built-in USB interface that allows you to record the mix directly into a computer without the need for a separate interface. There's also a very basic built-in digital effects section, with a dedicated level control on each channel to determine the amount of each signal that gets sent, plus a knob to select from 15 different programs (all the basics like reverb, delay and chorus).
This is still very simple stuff, but it's all you need for a basic hardware setup like a single synth, a groovebox and maybe a mic or a guitar. It goes without saying that bigger studio setups require higher channel counts, but these budget four-channel mixers have always been popular for those who prefer a minimalist approach.
More info/buy
There's a bit of a step up in price as we move to higher channel counts, but it's immediately obvious just how much more capable mixers are at the higher price point. Yamaha's MG10XU is a good example: nominally a 10-channel design, it's packed with features that you don't find on the smaller, cheaper models like the budget Allen & Heath or Alesis: three-band EQ, 48V phantom power for condenser microphones, audio in and out over USB, more extensive digital effects. Just a glance at the front panel of the MG10XU is enough to see that there's a lot more going on here, and the end result is a mixer that's capable of handling medium-sized hardware setups or band recordings with ease.
The only real downside is that the main level controls are still on rotary knobs – as they are with the A&H and Alesis – rather than the faders that you'd expect to find on bigger mixers. It does make balancing mixes a little less intuitive and tactile, but if you can live with the compromise it does offer a lot for the money, with decent sound quality and plenty of versatility thanks to its effects and bundled Cubase AI recording software.
More info/buy
Best known for their affordable products, Behringer offer a huge range of mixers. The Xenyx X2222 is a real sweet spot in the range, offering pro-level features at an amazingly affordable price point. You'll find a total of 12 channel, with the last 4 being stereo inputs. Once again there are digital effects, but there are also a few features that we haven't seen yet on the models we've listed: semi-parametric EQ, with an adjustable frequency control for the mid band; aux sends to hook up external hardware effects; 60mm channel faders. Effects can also be edited, as opposed to the presets typically found on cheaper models.
Are there any downsides? Generally speaking, you sacrifice a little bit of build quality and outright sound quality when you cram more features into a cheaper unit, but the Xenyx still rates pretty well on both points. If you need a lot of features on a budget, it's a very strong offering.
More info/buy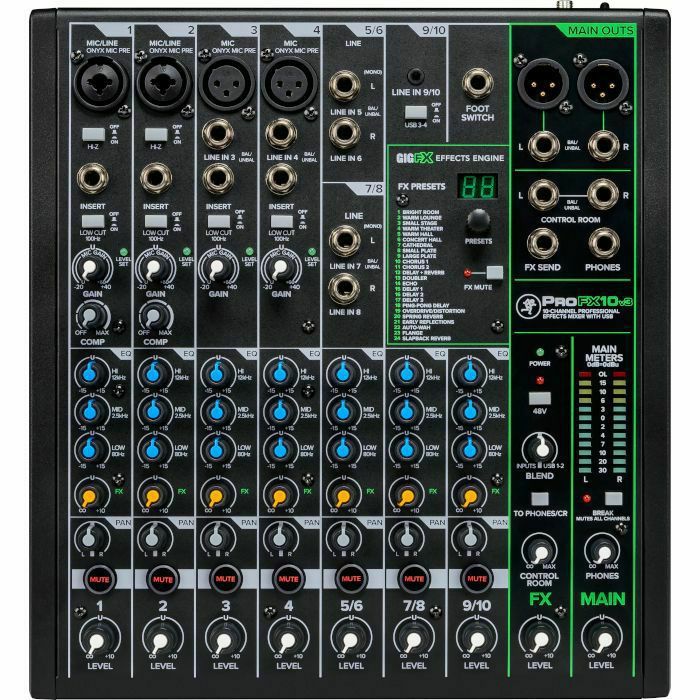 Some of the brands on our list specialise in smaller mixers, while others offer home studio models as part of a much bigger range. Mackie falls into the latter category, having produced full-size studio mixers since the late 80s before launching smaller, more affordable options. The ProFX v3 range is the latest incarnation of the brand's digital mixer range, intended primarily for live applications but just as effective in the studio.
The 10 represents great value for money, with four mono channels and three stereo. There's three-band EQ, good quality digital effects and bundled ProTools First and Waveform OEM software to get you started with the mixer's built-in USB interface. All in all, a very solid package for the money.
You can read our full review of the slightly larger Mackie ProFX 12 v3 here.
More info/buy
Midas is now part of the same Music Tribe group that includes Behringer, but the UK brand has been specialising in analogue mixers since the 1970s. Despite superficial similarities to the X2222 from its sister brand, the DM16 employs a very different design philosophy; both are mid-sized mixers at affordable prices, but the DM16 is resolutely analogue as opposed to the X2222's digital approach. Purists still favour the analogue approach in high-end studio mixers (which can easily cost tens of thousands of pounds) and the same theory can be applied to home studio mixers.
With 12 mono channels plus two stereo, the DM16 is big enough to be versatile for most applications. There are high-quality Midas preamps on the 12 mono channels, three-band semi-parametric EQ, aux sends and 60mm faders. Being analogue, you don't get a built-in USB interface or digital effects, but we think the compromise is worth it if you prioritise sound quality.
More info/buy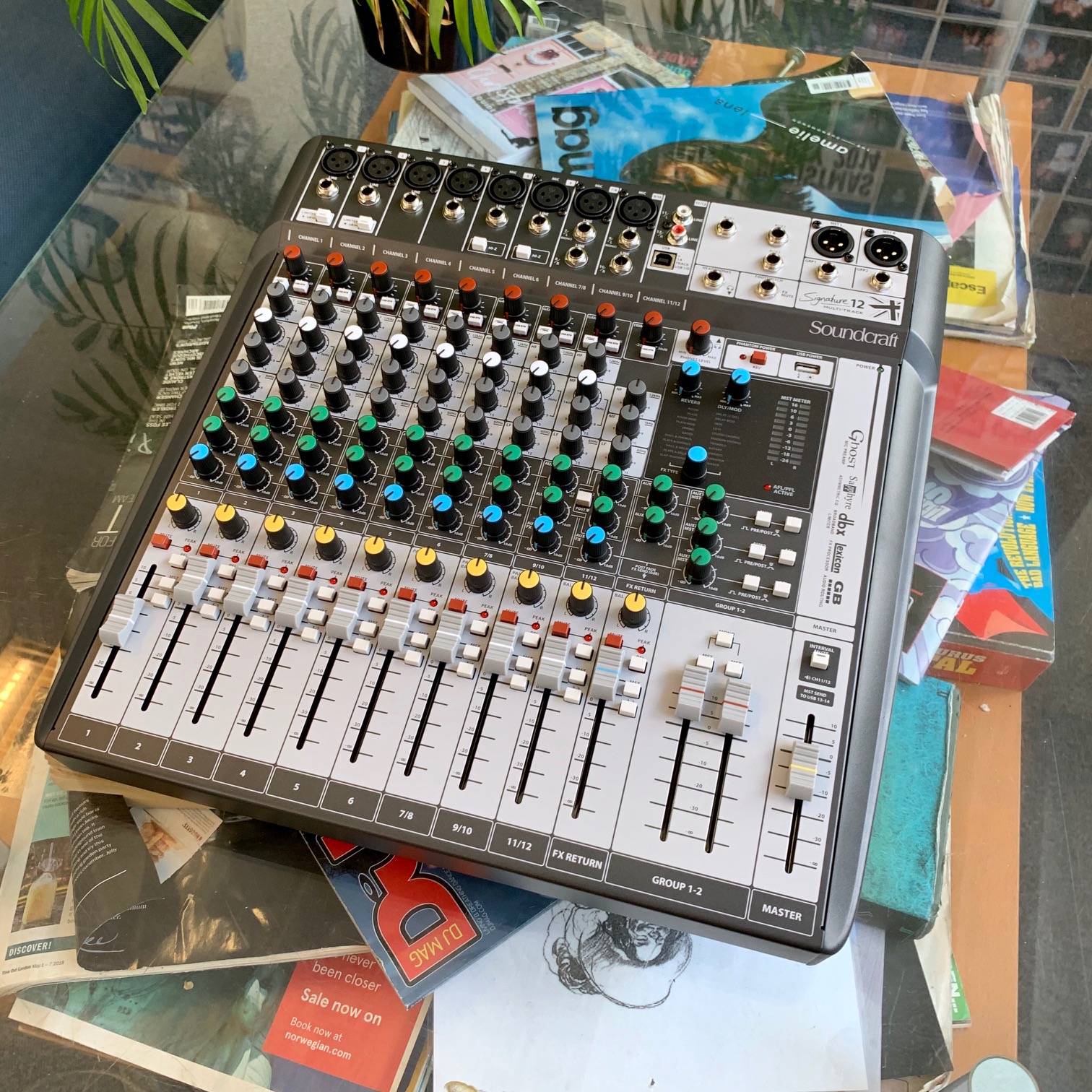 Another British analogue specialist with a history dating back to the 70s, Soundcraft bears a lot of similarities to Midas. The Signature 12 MTK is a rough equivalent of the DM16, but there are a few notable differences that justify the step up in price.
The big selling point here is that the Signature 12 MTK is a kind of hybrid mixer, with an analogue heart complemented by digital features. So, in addition to the 12 channels (eight mono plus two stereo) with three-band semi-parametric EQ you'll also find digital effects and a built-in USB interface. It's a 'best of both worlds' scenario, combining the quality analogue summing Soundcraft are known for with the convenience and versatility of digital features.
More info/buy
Roland's Aira MX1 is probably the most unusual mixer on our list, offering quite a different approach to the more conventional brands. Roland have made a few mixers over the years, mostly under their Boss sub-brand, but the MX-1 takes the most specialist approach, aimed specifically at users of the brand's Aira and Boutique ranges of synths, drum machines and effects. The MX-1 links up nicely to other Roland equipment, allowing the mixer to act as a central hub and sync effects with sequencers on other gear, but it also offers a range of analogue and digital inputs allowing you to connect any other equipment you have.
Assuming you own at least one or two bits of Roland gear, the MX-1 is well worth a look; it's a unique approach that really does bring the best out of the Aira and Boutique instruments. A very clever solution.
More info/buy
Falling somewhere between a live mixer and a recording console, the StudioLive series from PreSonus represents an interesting middle ground. The built-in SD card slot allows you to record directly to a stereo file, making this a good choice for anyone who jams their tracks live in real time, without the need to go back and edit later. However, if you need the added versatility of multi-track recording the mixer also functions as an 18×4 audio interface, allowing you to record to the bundled Studio One software (or any other DAW of your choice).
With eight mono channels plus four stereo there are plenty of inputs to play with, all mixed in analogue before hitting the digital converters if required. A real multi-purpose mixer that allows you to work in whichever way suits you best.
More info/buy
Our final selection represents something a little different to the norm. Tascam's greatest contribution to home recording was the iconic PortaStudio range of cassette-based multi-track recorders, which made it cheaper and easier for musicians to record their work. The Model 24 is the spiritual successor to that idea: it's an analogue mixer first and foremost, but it also includes a digital multi-track recorder, making it an all-in-one solution for home studios.
Even as a mixer alone, the Model 24 is impressive, with a huge channel count, 100mm long-throw faders and versatile routing. Add the ability to record and process everything in a single box and you've got a versatile, user-friendly solution without the need for a computer.
More info/buy