10 Best: Mini Synths 2021

Small synths don't necessarily have to be basic. Some might look like toys, but even the smallest box can pack a mighty punch. We've rounded up ten of our favourite miniature options, from budget Korg analogue through to compact-but-mighty instruments from the likes of Moog and Teenage Engineering.
In this category you'll find everything from simple analogue instruments to complex semi-modular designs, via weirdo digital hybrids and unassuming modules that punch way above their weight. In no particular order, here are our favourites…
If we had to pick one product range which has had the biggest impact on the music tech scene over the last decade, the Korg Volca series would be a strong contender. Sure, there have been compact synths on the market for years – maybe even as far back as the 1971 EMS Synthi, depending on your definition of 'compact' – but the Japanese brand's affordable range of mini instruments changed the game when they were released in 2013.
The formula was fiendishly simple: various flavours of proper synth (and drum) circuitry in the same cheap-and-cheerful form factor, usually analogue, and always with a built-in sequencer. The Volcas proved that it was possible to pack big functionality into small boxes, and did so at very affordable price points. Before the Volca series, it was easy to dismiss small and cheap synths as toys, but those preconceptions have surely shifted in large part thanks to the Volca range.
The series has expanded substantially since the initial release of the Volca Bass (an analogue acid box at heart, but capable of much more) and Keys (polyphonic analogue). You'll find everything from samplers to drum machines, but for our purposes here the focus is squarely on synths, so we'd plump for the Volca Bass. A modern classic.
More info/Buy
The original Roland TB-303 might be considered the definitive mini synth. The story has become part of electronic music folklore… Launched in 1981 as a bass guitar-style accompaniment aimed at organ players and guitarists, the 303 was a painfully limited synth that failed to sound anything like the instrument it was supposed to imitate. Nevertheless, it grabbed the attention of Chicago producers who realised in the mid 80s that this cheap, unloved box could be used and abused to create the distinctive sound of what became known as acid house.
Roland finally acknowledged the public demand for a modern 303 with the release of the Aira TB-3 in 2014, but in our opinion the Boutique TB-03 takes things to another level. It's a digital version of the original analogue 303, based around Roland's ACB (Analogue Circuit Behaviour) technology.
You probably already know what to expect here: simple but devastatingly effective synth sounds, ideal for house and techno. It might not be the most versatile instrument on the market, but it's one of the best choices for classic acid sounds.
More info/Buy
The Waldorf brand might not be a household name like Roland or Moog, but it deserves the same kind of respect. As one of the key players in the 80s market, Waldorf drew on the work of digital synth innovator Wolfgang Palm to push the boundaries of wavetable synthesis. The company's earlier synths became synonymous with bold, precise bass and complex, shifting pads.
The polyphonic Blofeld module was launched in 2007, as something of a comeback following a few years of financial instability. That makes it one of the older synths on our list but one that easily holds its own against younger models despite long since passing its tenth birthday. Putting aside the history lesson for a moment, the Blofeld is one of those rare beasts: a synth that can truly do a bit of everything, from stark, clinical electro bass to rich, organic leads via high-tech, shifting pads. There's a very good reason it's become such an enduring modern classic.
It's also worth noting that Waldorf are specialists in compact but sonically impressive synths, so the rest of their product range deserves some attention too. If you're short on space, their Rocket and Streichfett modules are strongly recommended.
More info/Buy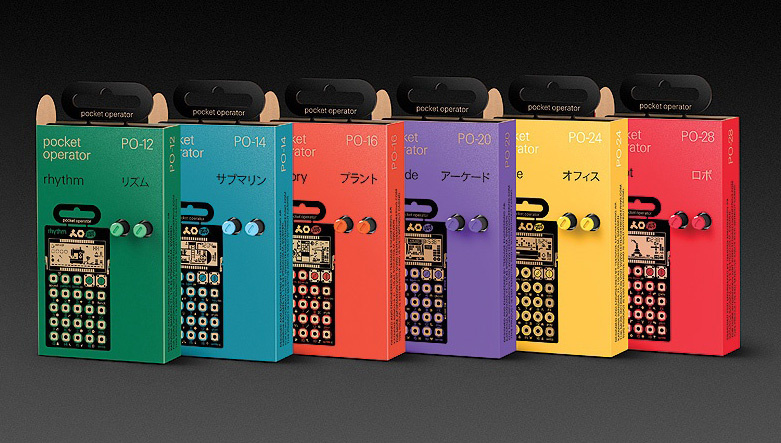 Teenage Engineering Pocket Operators
If ever a synth brand could be relied upon to tear up the rulebook and do things their own way, it's Teenage Engineering. The Stockholm startup bucked every trend imaginable when it launched with the expensive but stunningly executed OP-1 mini keyboard in 2010. The Pocket Operator series – named as a sneaky tribute to Kraftwerk – was originally launched as a collaboration with fellow Swedish brand Cheap Monday, best known for their jeans. If that seems unlikely for most brands, it makes a perfect kind of sense for Teenage Engineering.
What you get with each Pocket Operator is a simple calculator-style sound module which looks a bit rough-and-ready in its basic case, exposed microswitches and all, but hides an excellent digital instrument with a built-in sequencer. Each one has its own unique approach, with quirky graphics representing the different capabilities of each unit (office equipment for the PO-24 percussion synth, a boxing match for the PO-33 sampler, and so on).
There are plenty of options in the range, including drum machines and samplers, but in terms of pure synth capability we'd probably go for the 8-bit PO-28 Robot or the bassline-focused PO-14 Sub.
More info/Buy
The second Korg entry on our list is an entirely different affair, even smaller than the Volca modules but with an unusual approach that sets it apart from just about anything else on the market.
Announced at Berlin's wild and wonderful Superbooth show, the NTS-1 is a tiny little device based on the MULTI engine found in Korg's much-loved Prologue and Minilogue XD synths. It requires a little bit of simple construction to get started, then it can be customised by uploading code to the unit's memory. Crucially, it uses the same open development API (application programming interface), which means you can design your own custom oscillators, filters and stereo effects, turning it into a unique mini synth.
Having got our hands on an early demo version, we can see the sonic potential here. It won't be for everyone, but if you're technically minded and open to learning and experimenting while you make music, the NTS-1 has a unique appeal.
More info/Buy
Arturia's have become hardware synth specialists in recent years, with their excellent MicroBrute representing the most obvious candidate for inclusion on our list; it's a tiny keyboard that packs a seriously weighty punch. But we're turning instead to its younger and distinctly weirder sibling, the MicroFreak, which breaks with tradition to combine left-field synthesis approaches with a creatively inspiring sequencer and expressive touch-strip keyboard.
The key selling point is its digital oscillator section, based heavily on the exceptional Plaits module from Mutable Instruments. In its various different modes, the oscillator can create a wild range of sounds. With so much versatility in that oscillator section, the sonic possibilities are huge before you've even touched on the filters and other slightly more conventional aspects of the synth architecture. The MicroFreak is a total oddball, and we love it.
Check out our full MicroFreak review here.
More info/Buy
Doepfer were pioneers of the Eurorack modular format long before the scene exploded into life when hundreds of new brands realised its potential. As old hands, Doepfer have always specialised in what might be considered reliable if fairly conventional modules: all-purpose oscillators, filters, sequencers and all the utility modules that make your system play nicely. The original Dark Energy, released in 2009, was a self-contained semi-modular synth which drew on the company's vast experience of circuit and hardware design.
Now updated to a third generation, the Dark Energy is a precise distillation of what Doepfer do best. The synth architecture is simple: a single oscillator, multi-mode filter, envelope generator, two LFOs and a VCA section. As a semi-modular synth it all works without needing to hook up any patch cables, but the patch points allow you to expand its sound by hooking up to other synths or modules and exploring the creative possibilities.
For best results, team it with Doepfer's own Dark Time step sequencer, but the provision of MIDI over USB or traditional five-pin DIN socket means the Dark Energy can slot nicely into any setup, hardware or software. Overall, an excellent-sounding introduction to analogue synthesis with huge potential for expansion.
More info/Buy
Pittsburgh Modular Lifeforms SV-1
Pittsburgh is a city with a growing reputation for electronic music but the Steel City also has a strong representative in the synth world thanks to its eponymous modular brand. The Lifeforms SV-1 might be considered Pittsburgh Modular's answer to the Dark Energy, but despite some basic similarities, they're quite different instruments in practice.
Like the Dark Energy, the SV-1 is a monophonic semi-modular design, but the first thing that stands out is its much broader array of patch points. While the synth doesn't require any patch cables to get started, it's very much aimed at those who are keen to get creative with patching and discover their own unique sounds. The two oscillators are based on Pittsburgh's own Waveforms oscillator modules, while elsewhere there's a basic LFO, a four-stage envelope generator and a superb state-variable filter.
We think it offers huge value for money if you're keen to explore the basics of modular synthesis with a single box. Intriguingly, there's also a comprehensive selection of other products in the Lifeforms range, allowing you to expand the SV-1 into a more complete modular instrument. A keyboard, touch controller or sequencer might be an obvious starting point, but you can also add oscillators, filters and more, expanding gradually to create a much more complex modular instrument all within the same family.
More info/Buy
Historically, analogue synths fell into two main camps: the East coast approach led by Bob Moog, with a focus on subtractive synthesis, and the West coast method of Don Buchla, based around more esoteric forms of synthesis like frequency modulation and additive, with generally a more experimental and slightly wacky attitude to sound.
Like many of the new breed of Eurorack specialists, North Carolina brand Make Noise don't necessarily adhere to either of the traditional approaches, instead forging their own path with unique and hugely popular modules like the René, their brilliant Cartesian sequencer.
Their semi-modular offering is as much a mission statement as it is an instrument. The 0 Coast ("no coast") takes a unique approach, with hints of East coast and West coast methodology but definitely not falling quite into either category. It's an approach that demands experimentation – maybe not the fastest way to dial in bog standard synth sounds, but offering something quite different once you fall under its spell. You'll probably need to study the manual to understand how everything works, but the excellent documentation is a useful resource in its own right, helping you to learn how to draw the most out of this hugely creative little box.
More info/Buy
If we've leaned heavily on semi-modular designs for this list, that's simply because the market for them has really exploded over the last few years, offering some excellent contrasting approaches to the same basic idea of a small, good value synth with the possibility to patch and get creative.
One brand who surely can't be accused of jumping on the bandwagon is the legendary Moog, who can trace their involvement in modular synths all the way back to the 1960s. The company has produced everything from compact monosynths to huge polyphonic beasts over the years, but they've hit a sweet spot recently with forward-thinking Eurorack-friendly designs like the Matriarch, DFAM and the Mother-32 we've chosen here, a monophonic, single-oscillator design based around the classic Moog VCO and VCF.
Aside from that legendary Moog sound, the feature that really sets the Mother-32 apart from the other semi-modular options on our list is its built-in step sequencer. Although it's by no means a huge challenge to control any semi-modular instrument with a separate sequencer, the integration here does provide an extra level of slickness. It's a fantastically creative tool, and proof if it were needed that good things really do come in small packages.
More info/Buy