10 Best: MIDI Drum Controllers 2022
We pick ten of the best MIDI controllers on the market, with models from Akai, Korg, Arturia and Native Instruments all making the cut.
While the past few years have seen a surge in the number of hardware drum machines (the best of which are covered in this handy list), there has been an equal increase in the number of MIDI controllers designed for sketching beats on. Despite these controllers having their roots in Akai's classic MPC, the most recent developments were arguably kickstarted when Native Instruments introduced the Maschine back in 2009. Its seamless fusion of hardware and software was the solution computer-based beatmaking had been missing, offering the experience of a hardware drum machine for a fraction of the price.
Since then, the market has grown exponentially, with Arturia and Akai developing their own solutions, and others such as Keith McMillen developing touch-sensitive devices with a more open approach, letting the user tailor the controller to their own expressive needs. In this list we run down the 10 best options, from portable, affordable options, right through to fully featured units which can take pride of place at the heart of a home studio setup.
Contents
What to look for
The basics
The basics of MIDI drum controllers are quite simple to understand. Often inspired by the look and feel of the classic Akai MPC samplers, with their 4×4 grid of velocity-sensitive pads, drum controllers allow you to trigger samples, hardware and virtual instruments over MIDI. You should always expect good quality pads with a nice feel and responsive touch, and you'll often find options like note repeat and extra controls like sliders and knobs for adjusting parameters. All the selections on our list fit the bill here, with the more basic models being understandably simpler but still offering nice feel and responsive controls.
Built-in sequencing
There's an assumption that MIDI drum control is all about bashing out beats on MPC-style pads, but that's only part of the story. Around half of the controllers on our list also include some kind of sequencing option, typically a step sequencer. If you're interested in performing live or jamming out full tracks in the studio, the combination of pads and sequencing gives you the best of both worlds: you can improvise patterns and loops, then record and play back sequences to create arrangements.
Blurred lines
There's a blurred line between drum machines and drum controllers these days, with instruments like NI's Maschine range mixing and matching features associated with both types of device. We've included a couple of Maschine models on our list, which some might argue are more like drum machines because of their ability to play back sound. We think they still deserve a mention here thanks to their commitment to the classic ethos of hands-on drum control.
The best MIDI drum controllers
One of the most compact controllers in our top ten is Akai's diminutive LPD8, which places MPC-quality drum pads and controls inside an extremely portable package. Featuring eight light-up, velocity sensitive MPC-style pads, the LPD8 lends itself to the live performer or studio musician for whom space is at a premium, allowing for some surprisingly precise and dynamic performances. In addition to the pads themselves, the LPD8 features eight Q-Link knobs that can be assigned to almost any parameter in any software you choose to work with.
The LPD8's extreme portability and flexibility is further demonstrated by the fact that it is powered from the USB bus from your Mac or PC without the need for cumbersome power adapters or troublesome drivers. The functionality of the controller can extended by making use of the editor software that ships with the unit, allowing you to save up to four presets for instant recall. In addition, program changes can be made mid-performance by using the appropriate function buttons. With the kind of form that slips comfortably inside a backpack with a laptop and room to spare, the LPD8 is ideal for those who like to make beats on the move.
More info/Buy
| Pros | Cons |
| --- | --- |
| Cheap way to get MPC-style control | Only eight pads |
| Assignable knobs allow you to control other parameters | |
| Tech specs | |
| --- | --- |
| Pads | 8 |
| Rotaries | NA |
| Faders | NA |
| Dimensions | 310 x 80 x 28 mm |
| Weight | 340 g |
The NanoPad 2 may not be the newest controller on this list, but Korg's products are generally marked out by their longevity. With an XY pad and customisable velocity curves, the NanoPad 2's 16 trigger pads are all you need to beat out drums, trigger samples and control your virtual instruments. It's compatible with Macs as well as Windows machines, and capable of controlling just about any music software you might want to use.
As a bonus, this slimline controller is USB-powered, making it ultra-portable, but it's got a lot of power for something so small. User scene memories can be set up, allowing you to switch between different control setups, and the gate arp option makes it suitable for melodic instruments as well as percussion thanks to built-in scales.
More info/Buy
| Pros | Cons |
| --- | --- |
| 16 compact pads plus XY pad | No knobs |
| Useful gate arp and scale options for melodies | |
| Tech specs | |
| --- | --- |
| Pads | 16 |
| Rotaries | NA |
| Faders | NA |
| Dimensions | 325 x 83 x 16 mm |
| Weight | 285 g |
If you're looking for something a little more basic than Akai's top-of-the-range MPC samplers, but still want the form factor of the classic MPC, then the MPD226 is worth a look. It may pack fewer features than an MPC, but the 226 still retains the familiar look of the classic MPC workstations, including assignable faders and knobs, plus 16 velocity and pressure sensitive pads. The pads have dual functionality when used in conjunction with the time division button and the note repeat function that are also found on the classic MPC machines – something especially useful in programming hi-hat or shaker patterns quickly.
As well as being plug and play over USB, there is MIDI I/O so you can incorporate a keyboard controller or an additional sound module if you wish. Further control of the pads is afforded by the addition of MPC-style Full Level and 16 Level velocity staging, allowing for stable and accurate performances, while swing control can be applied to your productions by specifying the exact degree of timing your personalised swing requires. The pads are backlit for visual feedback, and there's also a large display that allows you to keep an eye on parameters as you work. Despite being one of the more affordable options on our list, it will appeal to seasoned MPC users as well as those that are new to beat programming.
More info/Buy
| Pros | Cons |
| --- | --- |
| Pads, knobs and faders: a bit of everything | MPD232 model offers even more of everything |
| Excellent value | |
| Tech specs | |
| --- | --- |
| Pads | 16 |
| Rotaries | 4 |
| Faders | 4 |
| Dimensions | 332 x 253 x 49 mm |
| Weight | 1.4 kg |
With a name like the QuNeo 3D, and a form that looks like a bespoke video game controller, you'd expect a controller that does things a little differently, and that's what you get. Originally financed through Kickstarter back in 2012, the controller's layout follows the classic MPC model with 16 performance pads, a touch strip cross fader, rotary style controls, faders and buttons. If you think the funky exterior is window dressing for a lack of innovation you'd be wrong, as the QuNeo 3D contains some inventive features that are of significant note. Each of the performance pads also doubles as an XY-style control, and this multi-zoned design comes into its own for other applications. For example, when using the QuNeo in a step sequence mode, the backlighting allows for two steps per pad. Every surface on the controller is both pressure sensitive and velocity sensitive, including all of the buttons and rotaries, and the design of the backlit LEDs allows some of the surfaces to double as VU-style meters for added visual feedback.
The QuNeo comes with scripts for popular platforms such as Serato Scratch Live, Traktor, and Mixxx as well as DAWs such as Reason, Logic and Ableton Live. This controller is the same size as an iPad, making it convenient for travelling with, and is also iOS compatible, with mappings available for both the Beatmaker and Korg iMS-20 apps. With a layout that includes a crossfader and plenty of buttons, as well as the innovative multi zoned pads, the QuNEo is a great all-rounder, and one of the most adaptable controllers on the market. For producers and even DJs who need a lightweight, portable controller with more expression than most others, the QuNeo comes highly recommended.
More info/Buy
| Pros | Cons |
| --- | --- |
| Innovative combination of assignable control pads | Best for those who want to customise and create their own control layouts |
| Backlit LEDs allow visual feedback | |
| Tech specs | |
| --- | --- |
| Pads | 16 |
| Rotaries | 2 |
| Faders | 8 |
| Dimensions | 241 x 185 x 9 mm |
| Weight | 396 g |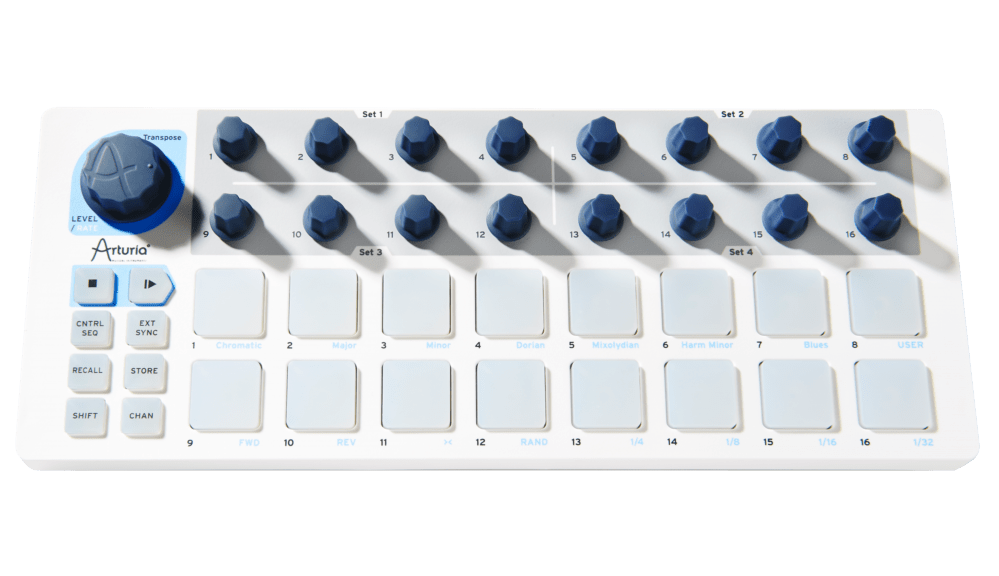 The more basic MIDI controllers on the market are purely drum pads, designed to allow you to hammer in patterns and record them elsewhere, typically in your DAW (digital audio workstation) software running on a computer. That's not the only approach, however. Arturia's BeatStep combines the traditional pads and knobs with a built-in step sequencer, allowing you to record patterns inside the controller itself, with no additional software required. That's a particularly effective approach if you're using other hardware, whether it's adding extra control to a basic drum machine like a Korg Volca Beats or even triggering something much more advanced like a Vermona DRM1.
The BeatStep sends its patterns out to other hardware and software over a MIDI connection or analogue CV/gate, meaning it can control just about anything. Although the obvious approach is to trigger drums from a drum machine, you could use it to sequence samples, control software and launch clips in Ableton Live, or even to control synths. At under £100 it's a bargain, and little surprise that it's a huge favourite of thousands of producers already. It also has a bigger brother in the form of the BeatStep Pro. Speaking of which…
More info/Buy
| Pros | Cons |
| --- | --- |
| Pads and step sequencer in one | The BeatStep Pro does even more |
| A bargain at under £100 | |
| Tech specs | |
| --- | --- |
| Pads | 16 |
| Rotaries | 16 |
| Faders | NA |
| Dimensions | 324 x 127 x 16 mm |
| Weight | 0.9 kg |
Arturia are masters at taking a good idea and developing it into something even better. The brand's analogue synths have become huge favourites of musicians worldwide (including here in the Juno office), but the same can also be said of the Step range of controller-sequencers. With the BeatStep Pro, the objective was clearly to push the concept of the BeatStep on to the next level, and it's a staggeringly effective end result.
Looking around the back of the BeatStep Pro gives you a clue about how much power is lurking inside this relatively small unit: an array of sequencer CV and eight drum gate outputs, analogue clock in and out, plus MIDI. The BeatStep Pro combines melodic and rhythmic sequencing options with the same kind of hands-on pad control that made the original unit such a hit. It's no exaggeration to say that you can control pretty much any hardware in the world with this versatile all-rounder, making it just as effective for live performance as it is in the studio. Arturia describe it as the ultimate sequencing powerhouse and, frankly, it's hard to think what can beat it for the money.
More info/Buy
| Pros | Cons |
| --- | --- |
| Impressively powerful sequencing options | Bigger, bulkier and more expensive than the standard BeatStep |
| Combination of MIDI and CV/gate options to suit all hardware | |
| Tech specs | |
| --- | --- |
| Pads | 16 |
| Rotaries | 16 |
| Faders | NA |
| Dimensions | 415 x 163 x 36 mm |
| Weight | 1.5 kg |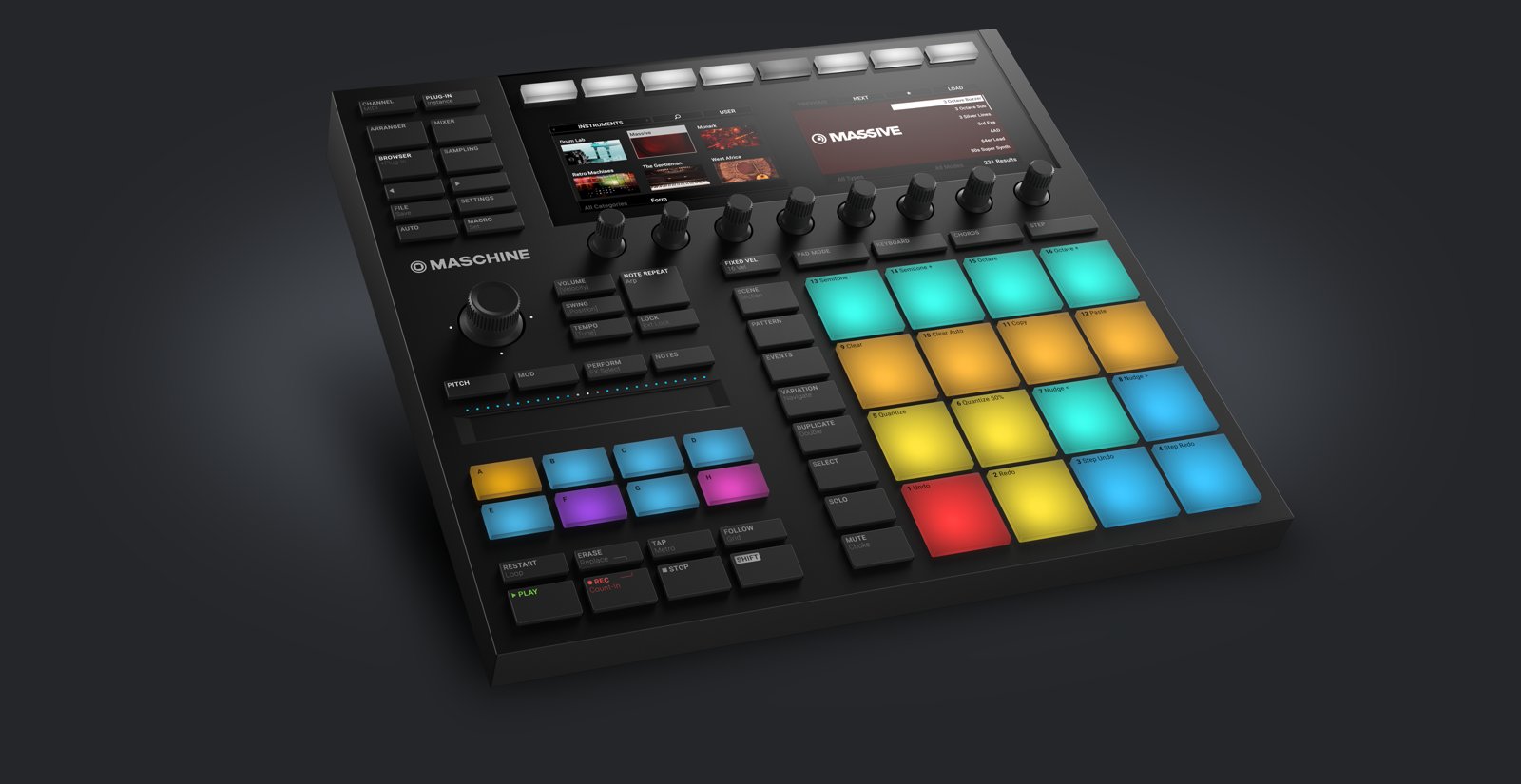 It's almost always a good sign when an instrument reaches a third-generation version. It's a sign that a device has been used hard, tested, improved, tweaked and refined by a significant number of musicians. That's certainly the case with the now-iconic Maschine from Native Instruments, a hybrid device that gives hands-on control to software which showcases the Berlin brand's prowess and knowledge of top-quality software. As the most successful hybrid beatmaking solution on the market, Maschine has become a firm favourite of producers in all sorts of genres.
The Maschine software itself boasts a rock-solid pattern-based sequencer, advanced drum synthesis and a high-performance sampler as well as a full complement of effects and instruments, as well as a huge sound library. As with most sequencers of this type, it's possible to finish productions in standalone mode or by opening the Maschine software in your DAW of choice. Being a USB MIDI controller, it's fully possible to map the controls of this hardware to any software you like, but if you are looking for a complete audio production solution, then not many come as comprehensive as Native Instruments Maschine, which was originally made to be a beat production tool. It's perhaps this that offers the highest recommendation possible.
More info/Buy
| Pros | Cons |
| --- | --- |
| Immense performance and production power | Unnecessarily complex if all you want is a simple pad controller |
| Rock solid build quality | |
| Tech specs | |
| --- | --- |
| Pads | 16 |
| Rotaries | 8 |
| Faders | NA |
| Dimensions | 321 x 301 x 41 mm |
| Weight | 2.2 kg |
Since its release in 2009, Native Instruments Maschine has become ubiquitous thanks to its high-end hardware and professional integration with its accompanying software, becoming the go-to solution for many wanting to make beats. Recent years have seen the software becoming closer to a standalone DAW in its own right, but also the development of the Maschine controller into a standalone instrument (and one that's still capable of working as a MIDI drum controller without a computer). The flagship Maschine+ is the ultimate tool for those wanting to get the most out of the Maschine workflow. The impressive hardware includes 16 RGB coloured pads, a jog wheel, plenty of soft button controls and knobs, and two large colour displays that help you get full control over everything from waveforms, patterns, scenes, mixer levels and metering.
In terms of MIDI control, the Maschine+ can be used to sequence external hardware or software however you like, without needing the Maschine software to act as a middle-man. Route a MIDI signal out of the unit to your external hardware such as drum machines, analogue synths or other samplers and you've got the best of both worlds in every sense: huge versatility from the Maschine+ sequencer itself, plus the ability to control other gear. To describe it as a MIDI drum controller is to do it a huge disservice, but the Maschine+ is one of the most powerful instruments on the market, capable of being the central hub of any studio setup.
More info/Buy
| Pros | Cons |
| --- | --- |
| So much more than just a controller or sequencer | Definitely not cheap |
| A true centrepiece for a studio hardware setup | |
| Tech specs | |
| --- | --- |
| Pads | 16 |
| Rotaries | 8 |
| Faders | NA |
| Dimensions | 322 x 301 x 51 mm |
| Weight | 2.5 kg |
The APC Mini is much more than just a drum controller, but it earns its place on our list as it represents one of the best value ways to add hands-on control of drum sequencing (and much more) in Ableton Live. Akai's long association with Ableton means that the APC Mini integrates seamlessly, giving you an 8×8 bank of clip launching pads and nine assignable faders.
Everyone makes music differently, but the clip-focussed approach of Ableton lends itself really well to jamming with different drum elements on different tracks, meaning you can set the APC Mini up as a kind of master controller not just for loops, samples and melodic elements but for the individual building blocks of your beats. If that matches your workflow, it's a bargain at under £65, unlocking the creative potential of jamming and tweaking patterns in real time.
More info/Buy
| Pros | Cons |
| --- | --- |
| Much more than just a pad controller | Only suits a particular type of Ableton Live workflow |
| Seamless integration with Ableton Live | |
| Tech specs | |
| --- | --- |
| Pads | 64 |
| Rotaries | NA |
| Faders | 9 |
| Dimensions | 239 x 201 x 25 mm |
| Weight | 0.7 kg |
Much as the APC Mini is designed to work perfectly with Ableton Live, PreSonus's Atom controller is mainly designed with the brand's own Studio One DAW in mind, although it also integrates very smoothly with Ableton and can be made to work with any other DAW. It's a 4×4 bank of MPC-style pads, surrounded by transport controls, rotary controllers and DAW-specific function buttons.
The Atom is really at its best when used with Studio One, allowing you to build entire tracks without having to look up at the screen, allowing you to focus on the sound and the flow instead of moving your focus between controller and computer. At a touch over £100, it's great value as the centrepiece of a streamlined, intuitive production setup.
More info/Buy
| Pros | Cons |
| --- | --- |
| Clever approach to hands-on control for Studio One and other DAWs | You'll need Studio One to get the most out of it |
| Good value | |
| Tech specs | |
| --- | --- |
| Pads | 16 |
| Rotaries | 4 |
| Faders | NA |
| Dimensions | 202 x 195 x 21 mm |
| Weight | 450 g |
In summary
There's surprising diversity within the MIDI drum controller market, from the very basic portable pad controllers through to models with sequencers, all the way on up to controllers which blur the lines with full-blown drum machines.
A lot of the choice here comes down to personal needs such as portability, sequencing or the ability to customise control layouts and mapping. While you do generally see an improvement in build quality at higher price points, the main difference in price tends to come down to features, meaning that even the cheaper options on our list offer good feel and response if all you need is a basic pad controller.
You may also be interested in…