10 Best: Drum Machines 2020
We select 10 of the best contemporary hardware and digital drum machines currently on the market, with models from Roland, Jomox, Korg, Teenage Engineering and more.
There's a very strong argument that the drum machine market has never been in better health. The resurgence of hardware over the last few years has seen the market flooded with options to suit every budget and every taste. The range of options is particularly exciting, from ultra-purist analogue machines through to innovative digital devices that fit in your pocket. Whether you need a little toy to spark a few ideas or a full-on machine to act as the hub of your studio or live setup, there's something for everyone.
Here we run through ten of our favourites…
If one brand reigns supreme as a colossus of drum machines, it can only be Roland. The Japanese company's 80s offerings defined genres, from the TR-808 and its immeasurable impact on electro and hip-hop through to the TR-909 as a defining sound of house and techno.
The TR-8S is Roland's current flagship model, something of a reboot of the classic machines in spirit, but very much a modern take rather than a simple clone or reissue. At heart, it's a digital machine based around Roland's Analogue Circuit Behaviour (ACB) technology, which recreates the subtleties of the old analogue circuits in order to emulate their sound. That means it can achieve highly realistic impressions of the aforementioned classic 808 and 909 sounds, plus the smaller TR-606 unit and digital machines like the TR-707.
Building on the original TR-8, which was all about ACB, the S model also adds the ability for users to load their own samples. That makes it a much more versatile machine, and allows you to take advantage of the excellent sequencing options, real-time effects and performance options. It's a very immediate, hands-on instrument, which lends itself nicely to live performance as well as studio use. Purists might scoff at the idea of recreating classic analogue sounds digitally, but in practice you'd be hard pressed to spot a difference. The TR-8S is a user-friendly, hugely creative option that works just as well for newcomers to hardware drum machines and experienced hardware heads.
More info/buy
Moog DFAM Drummer From Another Mother
If it's analogue you want, Moog has you covered. The iconic synth brand has never been a name you'd necessarily associate with drums, but that changed in 2017, when the DFAM (Drummer From Another Mother) was unveiled at Moogfest, the annual gathering at the brand's North Carolina base.
The DFAM definitely suits experimental producers more than straightforward drum machines like the TR-8S. Scanning across the controls, you won't find dedicated channels for kicks, snares, claps and cymbals like you'd see on most drum machines; instead, the controls relate to fundamental synth parameters like oscillator frequencies and filter cutoff. There's also an array of 24 patch points for routing control signals and sound around different parts of the synth, opening up huge creative potential. Think of it as a semi-modular synth designed specifically for percussive sounds, with a built-in sequencer to tie it all together.
The format of the DFAM hints at Moog's broader intentions: it's a desktop module, but it's also just the right size to fit into a Eurorack setup. As part of a bigger modular synth rack, it's got amazing potential. The DFAM is the most experimental drum machine on our list – and possibly the one that requires the most work from the user to get the most out of it – but if you want to break away from familiar sounds and create your own from scratch, it's probably the best option on the market.
More info/buy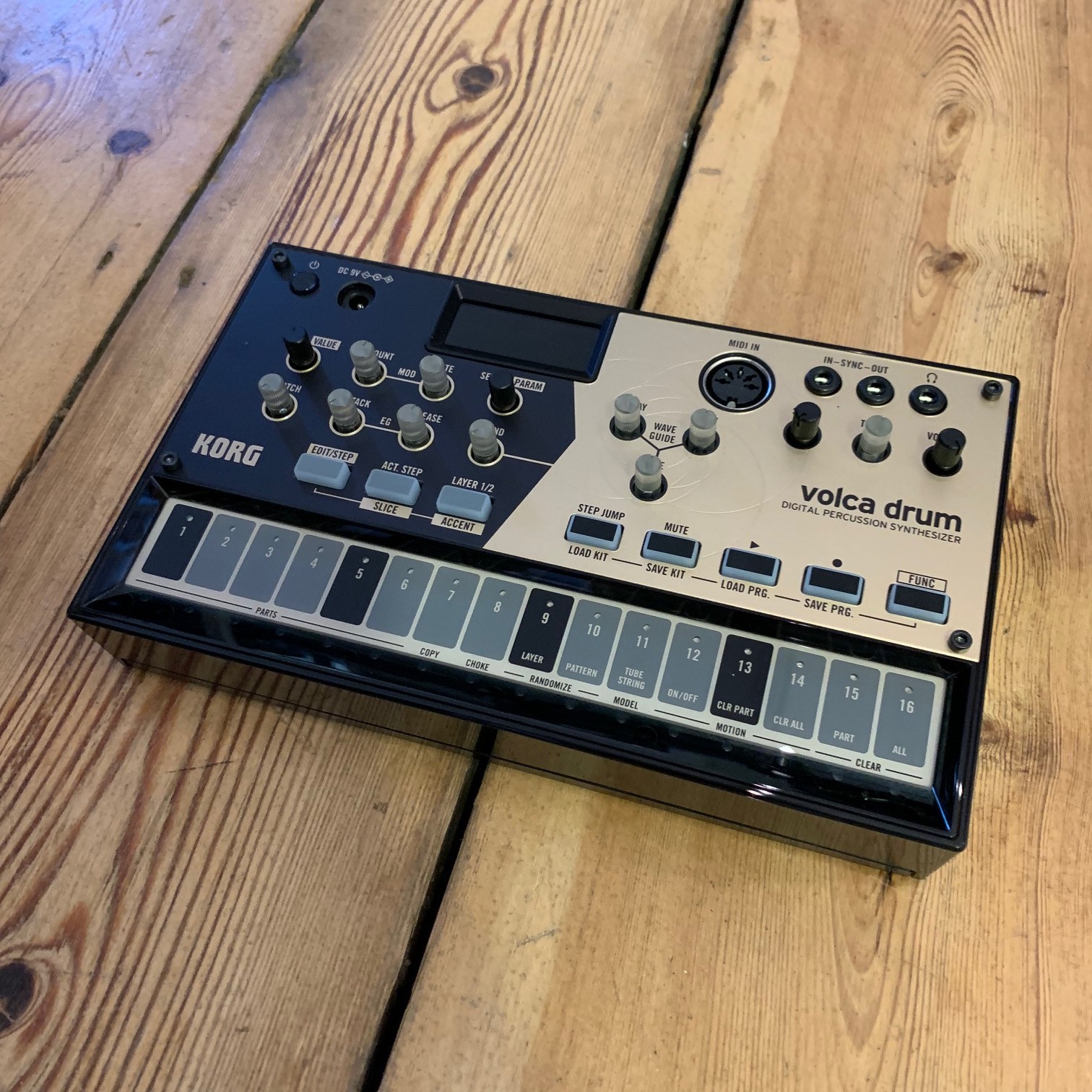 Korg's Volca series has been one of the most important product ranges of the last decade, helping to push forward the market for affordable, high quality instruments and redefining the kind of sound quality and sheer fun on offer at cheaper price points. Having begun life with a focus on analogue instruments, the range has expanded to include samplers and digital synths, plus the excellent Volca Drum, a drum machine based around a digital sound engine. Much of the character of the instrument comes from the Wave Guide section, consisting of three knobs to control decay, body and tone. It's easy to use but capable of creating some really interesting percussive sounds. Like all Volcas, the Drum has a basic but effective sequencer built in, plus it runs on batteries, making it fully portable.
We can't talk about Volca drum machines without also mentioning a couple of other models. The Volca Kick is mainly focused on kick drums but also capable of creating pitched tom hits, melodic zaps and bass sounds, making it an interesting creative option. The Volca Beats was one of the very first Volcas released, way back in 2013, and it's a much more straightforward analogue unit with a bit more of a classic 80s sound. It may be an older product at this point but it remains very popular for good reason.
More info/buy
Having branched out from their roots in soft synth plugins, French brand Arturia very quickly became known for affordable analogue products, with the excellent MiniBrute and MicroBrute synths quickly followed by the DrumBrute drum machine. The original DrumBrute was a success thanks to its hands-on sequencing options, but some felt that its sound was a little bit too safe. The solution? The smaller but more aggressive DrumBrute Impact.
Like its bigger brother, the Impact is a fully analogue machine, with ten sounds (all dedicated to specific drums) and a step sequencer, plus all the MIDI and sync options you could need to play nicely with other hardware and software in a studio or live setup. It's a great package for the money, offering a noticeable step up in versatility from cheaper options like the Volcas and Pocket Operators.
As far as affordable analogue drum machines go, an honourable mention must also go to the IK Multimedia Uno Drum, a small but powerful machine that comes in just a little cheaper than the Impact. It combines analogue sounds with samples to excellent effect. Its sequencing capabilities aren't quite as good, but it's still well worth a look as an alternative to the Impact.
More info/buy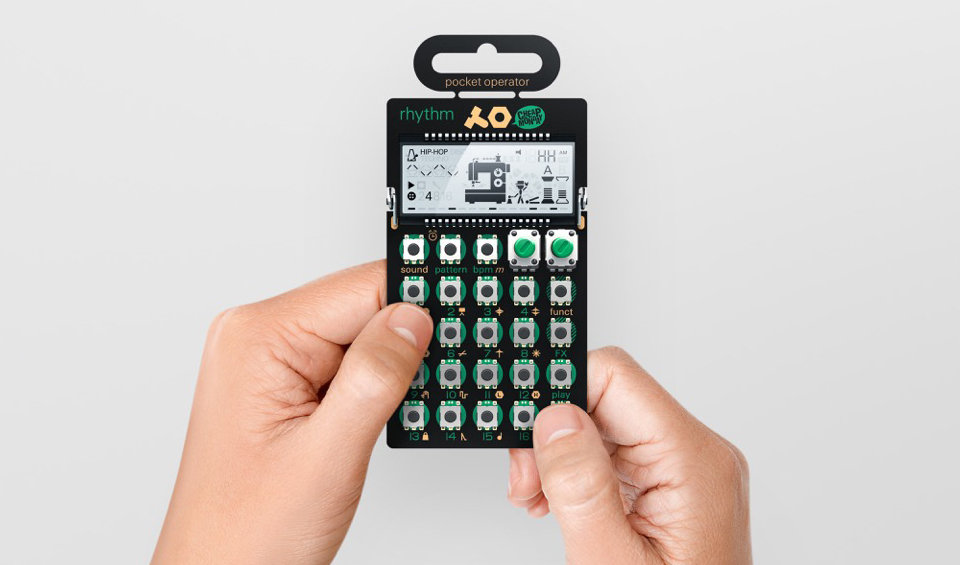 Teenage Engineering might just be the most unique manufacturer in electronic music. Not content with producing a cult classic synth/sequencer/drum machine/thing in the form of the excellent OP-1, the Swedish brand took a complete left turn with the launch of the Pocket Operator range, consisting of tiny pocket calculator-style instruments produced in collaboration with the clothing brand Cheap Monday.
The range is now extensive, from samplers to synths and various drum machines, but the PO12 is our pick here. It must surely rank as one of the best value drum machines on the market, packing a surprising amount of options into a tiny case,
More info/buy
What would the purist's choice of drum machine look like? Probably not far off the DRM1 MkIII, the latest incarnation of a hefty analogue unit with roots stretching all the way back to the 80s.
The DRM1 is a bit of a retro drum machine in a way, with eight dedicated channels, each of which is designed for a specific percussive purpose: a kick channel, a snare channel, two hi-hat channels, a clap, plus broader Drum and Multi channels. Each sound is based on an analogue circuit, with subtly different controls allowing you to dig into the parameters of each and twist the tone and timbre of the drum hits to create your own sound. It's capable of everything from seriously weighty electro and techno grooves all the way through to experimental microhouse or minimal blips and bleeps.
The DRM is purely a sound module, with no sequencing capabilities on board, so it's designed to be triggered by a separate sequencer or DAW. There are no effects and no patch memory for saving your settings, just a very pure and refined approach with a laser focus on sound quality. It's a drum machine that oozes old-school class, and the perfect option for anyone who wants to keep things as simple as possible and focus purely on the sound.
More info/buy
The boutique synth market is awash with weird and wonderful options, from money-no-object replicas of vintage classics through to experimental Eurorack oddballs. For some reason, drum machine options have never been quite as varied as their synth counterparts. That's probably down to sheer numbers – synths generally sell more, so it's easier to take risks – but there are still some interesting left-field options to check out. Laboratorio Elettronico Popolare's Multicassa unit is a good example, available in Eurorack format or as shown here in an aluminium case to function as a standalone instrument.
Based around LEP's Cassa percussion modules and inspired by an experimental 1920s instrument called the Trautonium, the Multicassa is unlike anything else on our list. Feed it triggers, tweak the frequency, resonance and distortion controls on the three channels and you've got a unique source of original percussion and drum sounds. Proof, if it were needed, that you can get just as experimental with drums as you can with synths.
More info/buy
Roland's TR-808 and TR-909 are undoubtedly the two most famous drum machines of all time, but we can't help feeling that some of the brand's other vintage products are unfairly overlooked. The TR-606 hasn't been entirely forgotten, but it certainly doesn't get the same kind of credit its big brothers do, which is a shame because it's a great drum machine in its own right. It's simpler than the 808 and 909, with very few options to shape the individual hits, but it's a very pure, organic-sounding machine with a lovely soulful kick and some of the nicest hi-hats you'll ever hear.
Cyclone Analogic are best known for their TT-303, which clones the classic Roland TB-303 to great effect, but in our opinion their TT-606 is just as exciting – if not more so considering the fact it's the only serious 606 clone on the market. Like the TT-303, it's an updated version which sounds almost identical to the original while adding modern features like MIDI, rimshot and clap sounds (the original didn't have either) plus a more advanced sequencer.
More info/buy
Boutique is a word that's thrown around a little too readily these days, but we think it's justified in the case of MFB, a small Berlin company founded in 1976 by engineer Manfred Fricke and continually turning out interesting hand-built synths and drum machines over the ensuing decades.
The second-generation Tanzbär ('dancing bear' in German) is an update of the brand's flagship model, combining dedicated analogue drum circuits with samples (which can be edited by the user) and a classic integrated step sequencer. The user experience is perhaps a little raw and unrefined compared to a slick modern machine like the Roland TR-8S, but that's also part of the Tanzbär's appeal: it makes you work a bit more for the end results, but the sound and the versatility justify the lack of polish.
Cleverly, the machine also packs a single synth channel intended for basslines, allowing you to program it directly alongside the drum parts. All of which makes the Tanzbär 2 a great pick as the centrepiece of a hardware setup in the studio or a very strong contender for the basis of a live setup. At this kind of price you expect an all-rounder, and that's exactly what it is.
More info/buy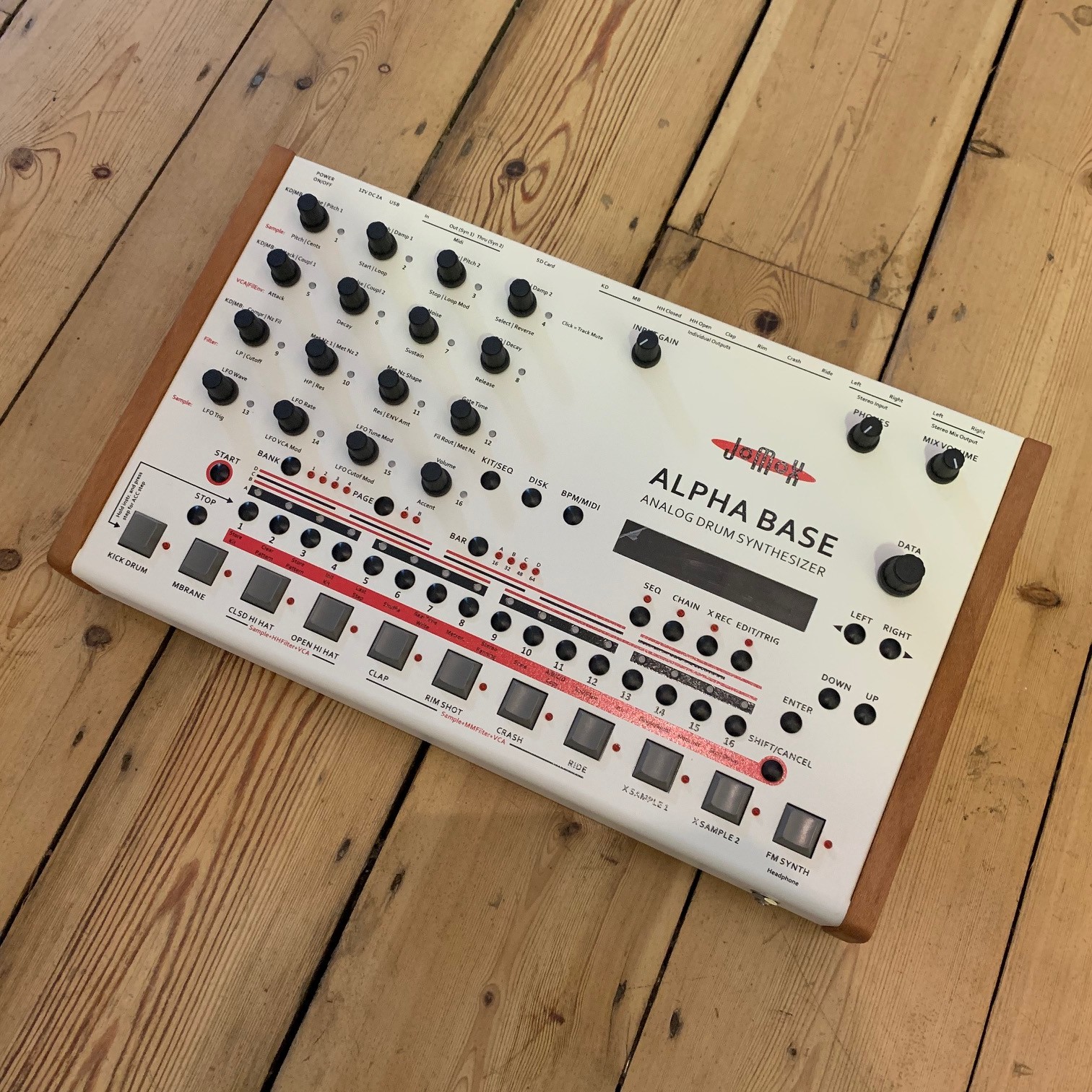 Things start getting serious very quickly at the top end of the drum machine market. Smaller models might specialise in one or two areas – and many of them do a very good job of it – but if you're dropping serious cash on a drum machine you probably want an all-rounder. The Jomox Alpha Base is even more refined and versatile than the Tanzbär 2, but it's cut from similar cloth, with an analogue heart plus some sample-based features, huge sequencing capabilities and a versatile, powerful sound that can work for pretty much any genre or style of electronic music.
The range of sound sources in the Alpha Base is its biggest strength, with pure analogue channels for sounds like kicks and snares, then sample-based channels with analogue processing (filters, envelopes and noise sources) to offer more sonic range. There's also a six-voice FM synth engine for percussive sounds, plus simpler digital channels with external sampling input so you can sample your own sounds directly into the unit. It's a huge array of features that can stand up against absolutely any drum machine you could name.
This is proper, serious, weighty stuff. The Alpha Base is a particular favourite of lots of techno producers, and it's not hard to understand why when you hear it. An absolute weapon.
More info/buy