10 Best: DJ Equipment 2014
We pick ten essential pieces of equipment for vinyl and digital DJs alike, with equipment from Pioneer, Native Instruments and Ortofon all featured.
Twenty years ago the options for a DJ were simple: two turntables, a mixer and a pair of headphones. Nowadays things are quite different – although there are still many purists who prefer to use vinyl, there are many more who simply opt to bring a laptop and controller to a gig. Some even opt to bring a USB stick and plug it in to a pair of media players. With things changing all the time it can be difficult to pinpoint just what the everyday essentials, all rounders and best performers are for these different needs.
With this in mind we've selected a list of ten items from the past year and beyond covering all these DJ setups for beginners and professionals, taking into consideration the needs of vinyl, Traktor, Serato, and even iPad DJs and those who need to incorporate elements of live performance into their sets, with items at a range of price points. Those who know looking for more general overview of each category should check the previous 10 Best features here.
There is little argument that Pioneer's CDJ range has been the choice brand for professional DJs for over a decade now and with the release of the flagship CDJ2000Nexus they have cemented their position. However, with that unit well out of financial reach of many, the CDJ900NXS offers a more affordable alternative for those wanting industry standard gear at home. It features almost all of the features of its older sibling in a more affordable package, which includes compatibility with Pioneer's rekordbox software which can load pre-prepared tracks via USB or even a Wi-Fi connection. As the name would suggest however, it's still possible to play your CD/CDRs in the traditional manner. The large screen with high resolution is one of the outstanding features here, along with the sensitive, high definition jog wheel and connectability. The CDJ900NXS also allows you to connect to other Pioneer units via a LAN connection, making it possible to load music from a single hard drive to multiple decks. Pioneer's flexibility is also clearly evident with the further possibility of loading MP3s from your smartphone or tablet by way of the free rekordbox app.
More info/buy
Accomplished and adaptable, Ableton software has become the go to platform for DJs and producers thanks to its logical on screen arrangement. Until recently however, the software lacked a truly intuitive hardware interface, something rectified with the release of the Push controller. More than just a simple device for triggering clips, the controller features three modes for helping you create beats using a simple step sequencer, a brand new way of inputting melodic content that doesn't require the user to have had years of music theory experience, and a mode for improvising your tracks into existence, all by way of the 64 velocity and pressure sensitive multi coloured pads. The hardware is USB bus-powered by connecting your Mac or PC and with Akai Professional as an engineering partner, Push controller is very much a professionally finished affair. Whether you are an Ableton old-timer or a newly converted disciple, the Push controller will grease the wheels of your DJing and live performance.
More info/buy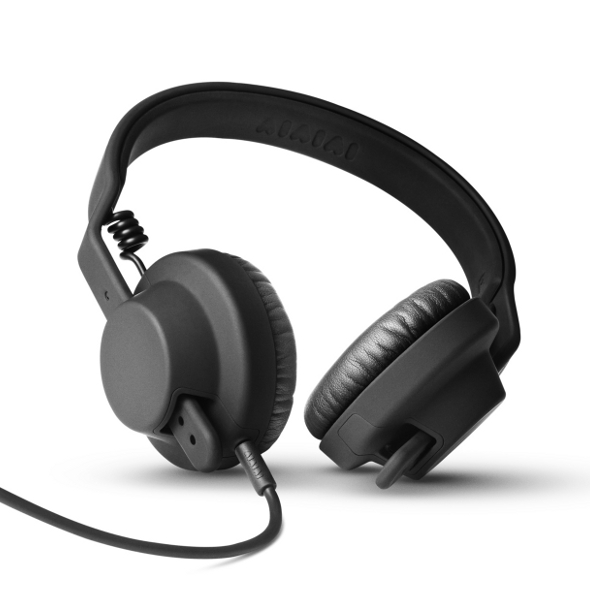 With superb sound quality – which is also less likely to damage your hearing at high volume – the AIAIAI TMA-1 headphones are gaining popularity. Having been designed with the help of a large pool of well known DJs, the TMA-1s are both reassuringly thickset and pleasingly malleable at the same time, accentuating audio quality and comfort. The wide frequency response of the closed cup drivers takes you all the way down to 20Hz and up to a crystalline 20kHz, and with a little shaping, these headphones have been designed for bass heavy music, making them ideal for dance music DJs. The lightweight design also features two attachable cables: one shorter cable that includes a microphone for use with a smart phone and a longer one without. Having been tested in a variety of situations, including clubs, studios and live shows, these headphones make the ideal partner for hardworking DJs and musicians.
More info/buy
With renewed interest in vinyl continuing to rise, it makes sense that there should be a modern deck that presents all of the function that is required for DJing with some added extras. The LP1240 from Audio Technica manages to take its cue from the classic but sadly discontinued Technics 1210 and builds upon this well-loved design. It includes start/stop control, target light, adjustable feet, pitch fader, stroboscopic platter and slip mat that you would expect and adds reverse play, 33 1/3 rpm, 45rpm and 78 rpm options, stereo phono pre amp and USB capability to the mix. This means that it is possible to record your vinyl collection directly to your Mac or PC, converting to a digital format of your choice including MP3 and WAV. If you are looking to broaden your DJ experience by adding vinyl mixing to your skill set then the LP1240 from Audio Technica could be the solution you are looking for.
More info/buy
High performance mixers that are designed for scratch DJs can be expensive but if you are in need of a flexible two channel battle style mixer that is simple and affordable then the DIF 1S from DJ Tech is going to cover all of those bases. For this mixer DJ Tech have decided to keep to a simple two channel design that features the well respected Mini InnoFader from Audio Innovate, performing cross fade duties. It is possible to adjust the cross fade curve and reverse the faders for those that favour hamster style scratching and it features gain and three band EQ control for each programme channel. Perhaps the most innovative feature is revealed in the source selection control that allows for vinyl decks, CD decks as well as digital vinyl control systems meaning that you no longer have the bother of unplugging and reconnecting your DVS box whilst someone else is DJing. This is the ideal mixer for use in a small bedroom setup, and for anyone looking for an affordable and flexible mixer that can accommodate a mic and has both 6.35mm and 3.5mm headphone ports.
More info/buy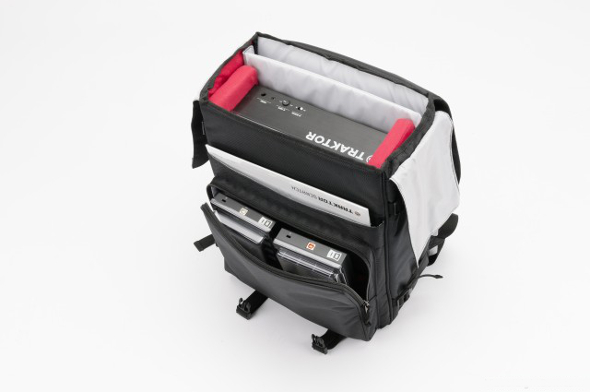 This strong and reliable DJ bag is designed to carry the essentials of a digital DJ setup including a controller or mixer, a laptop of 19" as well as tim code records and a lot of accessories. The main compartment of this tidy backpack can be split in two by a Velcro sided partition that can be removed if needed, and is ideal for carrying a controller such as the VCI-380, Ableton Push or Kontrol S2, or small mixers such as Native Instruments Z2 or a Rane 62, leaving enough space for a laptop to slide behind. Alternatively, you could use the bag to transport a laptop and a small controller keyboard or drum machine such as the Tempest from Dave Smith Instruments. The front sleeve will store up to five 12" vinyl records and if you are in need of space for headphones, cables and maybe even a small controller such as an X1 or F1 then there is ample space in the front pocket.
More info/buy
It might be cheating to put two controllers in one spot, but if you're a digital DJ than chances are you'll be using one of two pieces of software: Serato DJ or Traktor. Rather than sacrifice one over the other, it made sense to include what we think are the best controllers for both system in one spot. If you're a Serato DJ user then Pioneer's new effort is the the first controller that works out of the box with the popular software. The DDJ-SR is the more compact version of Pioneer's larger DDJ-SX unit; however the smaller sibling has many of the same features. The two aluminium jog wheels, built in soundcard, large transport controls, and performance pads are all present and correct. The DDJ-SR has two built in channels with adjustable fader curve, trim, EQ, FX control, filter and a six segment level meter for visual feedback. The launching of hot cues and samples are BPM synced automatically, and further labour saving features such as combo effects allow you to trigger multiple effects with a single pad. Coming from the Pioneer stable, users of their well loved CDJ players and DJM mixers will feel at ease and completely at home with this controller.
More info/buy
For tight, integrated control over your Traktor software then look no further than the Kontrol S4 MkII from Native Instruments. Long considered the industry standard when it comes to DJ controllers, the S4 gives you access to four decks of creative mixing with a built in 24 bit/96kHz sound card that is as user friendly as it gets. Tactile control comes in the form of two jog wheels, pitch faders, FX control knobs and access to Traktor's extended features such as their trademark Remix Decks, which can be accessed by the S4's coloured backlit pads. Further enhanced by a flexible built in four channel mixer, with EQ and gain control, the S4 also features a versatile host of connection possibilities, including MIDI, foot pedal control as well as high gain headphone, booth and master outputs. The brawny S4 MkII is also adaptable enough to allow you to make use of two analog decks, a microphone and is even compatible with your iPhone or iPad running Traktor DJ, while it also comes in a simplified two deck version known as the S2.
More info/buy
For those that still DJ with vinyl, buying new needles can be a minefield, but Ortofon have proved themselves to be the go to company in this field, and the progressive design of the S120 cartridge provides the most amount of flexibility and freedom for vinyl based DJ performances. One of the main concerns of record collectors and busy DJs is the amount of wear that excessive playing has on their vinyl. The Concorde S120 boasts new low levels of record wear that are unparalleled and come coupled with audio quality that is surprising even from a modern DJ cartridge design, making the S120 a choice stylus and cartridge. Ortofon have made use of innovative asymmetric suspension to improve tracking and make sure that the needle stays squarely in the groove, even under challenging live performance conditions.
More info/buy
Along with their highly regarded CDJ media players, Pioneer have also been at the forefront of cutting edge mixer technology and their popularity as the work horse of the DJ world is evident in the booths of clubs and bars across the world, most of which you will find therein a Pioneer mixer of some description. The DJM750 offers DJs of all experiences, the tools to deliver creative sets with superb sound quality over four channels. There are thirteen beat synced effects including roll sample, phaser, filter, delays and reverbs as well as an organic vinyl breaking effect that works in conjunction with the auto BPM beat cursors. In addition there is an updated sound colour effects section that includes noise, jet, filter and crush under the control of a single knob. As well as supporting traditional decks, the DJM750 allows you to connect directly via USB, with the built in 24 bit/96kHz sound card. With a full set of professional audio connections on the rear, this mixer is the new work horse of the DJM range.
More info/buy
If you are a travelling DJ or producer and space in your luggage is at a premium then you will more than likely be interested in one of the smaller controllers on the market. Faderfox have been at the nadir of compact MIDI controller design for the past few years and with the release of the UC3 universal controller they have set a new precedent in multi-level control. Sporting eight program faders and underscored with a cross fader, the UC3 includes eight push encoders and a four digit display for visual feedback. Although the UC3 is a universal controller capable of helping you get to grips with any number of DJ software and production packages, it comes set up to work with Ableton Live 8, which is perhaps the most obvious configuration for this unit. This lightweight controller is encased in a tough black plastic shell with a single foot to raise the metal faceplate to a comfortable slant. This USB interface doesn't require any troublesome drivers to install and is even compatible with iPad using a camera connection kit.
More info/buy