10 Best: DJ Controllers 2022
We look at the best DJ controllers across a range of price points, with compact solutions, traditional controllers and mixer-ready options all making the grade.
With software such as Traktor and Serato proliferating worldwide, laptops and controllers are increasingly becoming the weapons of choice for entertaining the dancefloor, and not just for the amateur start-up, but high-profile DJs seen in the world's top clubs and underground night spots. With technology advancing at the rate it is, there's now a plethora of different units available to choose from, with models and brands catering to a full spectrum of performance and capabilities while simultaneously supporting and developing the ever-changing needs of today's digital DJ. In response to this, we've selected the best DJ controllers available on the market right now, ranging from compact units to entertain the lounge room, post-dinner party, to soundcard-enabled devices capable of connecting to turntables and CDJs, stand-alone performance-based controllers, to those loaded with effects and others specifically designed for the professional touring DJ.
Contents
What to look for
Features
On a basic level, the feature set appears fairly standard across most DJ controllers: you'll typically get a couple of jog wheels, pitch faders, browsing controls to select tracks, a mixer section and some kind of control for effects. Almost all controllers now include a built-in audio interface, meaning you just need to hook up a laptop or mobile device to get started. In practice, the way the standard features are implemented can vary significantly. Bigger and more expensive models not only get obvious things like four-channel mixers, bigger jog wheels and longer-throw faders, but also benefit from versatile performance pads and additional hands-on controls for effects.
As you progress to more expensive models aimed at serious DJs and professionals, you can expect more than just added features. High-end DJ controllers tend to offer the best build quality and durability, as well as more space around the controls. Don't underestimate the importance of ergonomics: larger jog wheels give better feel, while having more space around things like mixer controls makes it easier to perform.
With all that said, some DJ controllers do things entirely differently. A couple of options on our list are single-deck designs intended to be used in pairs, while one breaks with the jog wheel convention entirely and instead offers a versatile array of faders, buttons and knobs.
Compatibility
Most DJ controllers are designed to work with specific DJ software. Pioneer's controllers tend to be designed for Rekordbox or Serato software. Native Instruments models are designed for the brand's own Traktor software. Others typically work with software like Virtual DJ or Algoriddim Djay.
If you're already an experienced DJ, you'll know which software you like best and need to choose a compatible controller. If you're a beginner, your choice of controller might tie you to a specific software package, so it's worth thinking carefully before committing (for our money, Rekordbox, Serato or Traktor are all great choices which can be used at a professional level).
We also need to consider standalone players. The dividing line is blurred these days, and most standalone players are included in our 10 Best DJ Decks list, but there is one standalone player in our list here, and the Pioneer DDJ-1000 can also be used as a standalone mixer.
Portability
Depending on whether you intend to take your controller out to gigs, portability can be an important factor to consider. The smallest controllers on the market are ultra-portable and easily capable of fitting into a small rucksack, but that typically comes with a trade-off in terms of features. Larger controllers are inherently less portable, so might be more suited to be used as part of a home practice setup which you leave set up permanently. If you want lots of features but also portability, the sweet spot probably lies in a mid-sized four-channel unit like the Traktor Kontrol S4 Mk3 or DDJ-FLX6.
Best DJ controllers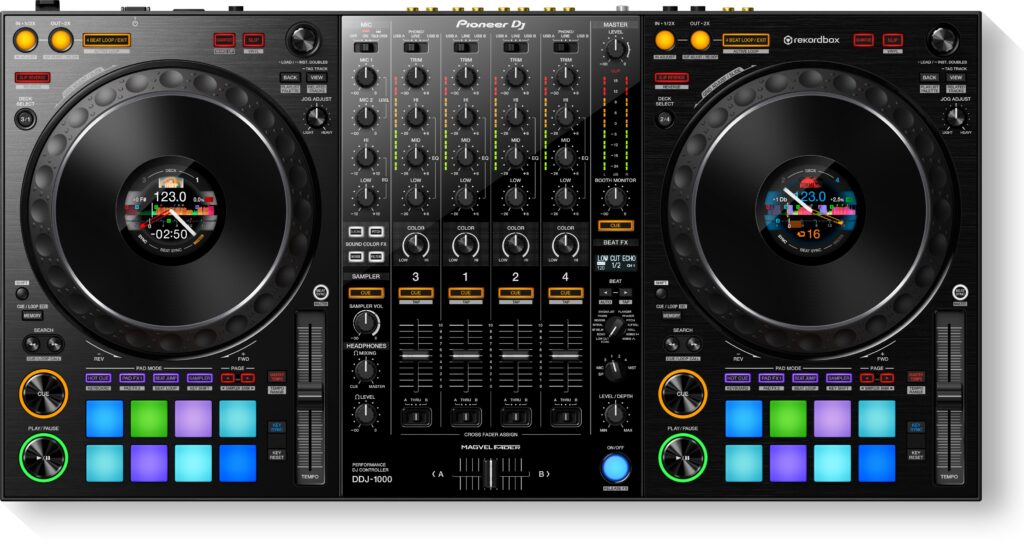 As one of Pioneer's flagship models, you would expect the DDJ-1000 to be something special, and it doesn't disappoint. The 1000 is a complete, plug-and-play Rekordbox controller with an integrated standalone mixer and two full-size CDJ-type jog wheels. On top of the usual Pioneer digital DJ setup – four channel DJM-style mixer, Sound Colour FX, needle search, and more – the DDJ-1000 comes with 16 performance pads that can be used to trigger hot cues or control complex chains of effects, while also giving you the ability to play with samples in real time.
Sound-wise, the DDJ-1000 relies on high-quality converters to deliver a clear and powerful club sound, and comes with six inputs, allowing you to hook up additional media players, turntables and microphones as required for full connectivity. It's clear that the setup is heavily inspired by the brand's high-end CDJ-2000NXS2 (now discontinued) and DJM-900NXS2 models, all combined to create a true powerhouse of a controller which is more than capable of being used in professional DJ settings as well as home setups. All in all, it's an incredibly potent controller for digital DJs and more extreme beat manipulators alike.
More info/Buy
| Pros | Cons |
| --- | --- |
| Pioneer's flagship Rekordbox controller is just as slick and professional as you'd expect | Not cheap |
| | Doesn't offer the portability of smaller controllers |
| Tech specs | |
| --- | --- |
| Summary | Four-channel DJ controller |
| Software compatibility | Rekordbox (also compatible with VirtualDJ) |
| Jog wheels | 206 mm |
| Dimensions | 708 x 73.4 x 361.4 mm |
| Weight | 6 kg |
The DJ controller market has reached a level of maturity where most new releases follow a similar formula. But that's not to say brands aren't still innovating. Pioneer's DDJ-FLX6 is an interesting case in point, with the FLX in the product's name referring to flexibility. The FLX6 is designed with so-called 'open-format' DJs in mind, i.e. those who play a variety of genres rather than specialists in house, techno, or a single style.
The FLX6 is a four-channel controller designed to work seamlessly with either Rekordbox or Serato software. It's got full-size jog wheels similar to those found on some of Pioneer's high-end CDJ models, plus a comprehensive mixer section with three-band EQs, dedicated filter controls for each channel and Pioneer's trademark Beat FX. The key in terms of multi-genre flexibility is the inclusion of new features not found on other Pioneer gear: Merge FX designed to help blend between different tempos and styles; Jog Cutter for turntable-style effects and Sample Scratch to allow authentic vinyl-style scratch sounds. Combine Pioneer's understanding of the essentials with these innovative new open-format features and the FLX6 is a very solid choice for everyone from ultra-eclectic club DJs all the way through to wedding DJs.
More info/Buy
| Pros | Cons |
| --- | --- |
| One of the best choices for mixing different styles of music | Merge FX and Jog Cutter might seem gimmicky to some DJs |
| Built-in scratch-style effects | |
| Works with both Rekordbox and Serato | |
| Tech specs | |
| --- | --- |
| Summary | Four-channel DJ controller |
| Software compatibility | Rekordbox and Serato |
| Jog wheels | 206 mm |
| Dimensions | 676 x 68.7 x 345.7 mm |
| Weight | 3.8 kg |
Pioneer's compact DDJ-400 is a great example of the kind of value for money you can expect from controllers these days. Intended to be a beginner-level controller to help you get to grips with the world of digital DJing, the DDJ-400 is capable enough to be taken out of the bedroom or home DJ setup and used for house parties or small events. It's a simple two-channel setup with a central mixer section, all designed to work seamlessly with Pioneer's own Rekordbox DJ software, a licence for which is included with the purchase of the DDJ-400.
Most impressively, the DDJ-400 is intended to be a user-friendly route into the professional-level features found in more expensive Pioneer controllers and CDJs. Much of the layout and feature set is directly inherited from the brand's flagship models such as the CDJ-2000 players and DJM-900 mixer. From the placement of the controls to the position of the dedicated play/pause and cue buttons, the inclusion of Beat FX, looping options and more, there are major similarities here. The major benefit of that approach is that once you've learned to DJ with the DDJ-400 (ideally by following the Tutorial modes in the Rekordbox software), you'll feel comfortable using any other Pioneer equipment. That's invaluable as your skills progress and you move up to more advanced gear or start to play out in bars and clubs with Pioneer setups.
More info/Buy
| Pros | Cons |
| --- | --- |
| One of the best value controllers in Pioneer's range | Compact size means smaller jog wheels and slightly more cramped controls than you'd find on larger controllers |
| Ideal as a first serious controller for Rekordbox | |
| Layout and feature set teaches skills which transfer to other Pioneer DJ gear | |
| Tech specs | |
| --- | --- |
| Summary | Two-channel DJ controller |
| Software compatibility | Rekordbox |
| Jog wheels | 132 mm |
| Dimensions | 482 x 58.5 x 272.4 mm |
| Weight | 2.1 kg |
Released back in 2012, the Xone: K2 is one of the older products on our list but still has a loyal following thanks to its versatile approach. It's a slimline controller with a built-in four-channel audio interface and a highly customisable design. The layout is a simple combination of buttons, faders and rotary pots rather than the jog wheels and dedicated mixer section you'll find on most controllers these days, but the point of the K2 is that you can program it to work in a personalised way. You can download mappings to get you started with most popular DJ software, but if you want to get more creative, the sky's the limit. As usual for Allen & Heath, the build quality is top notch and the entire thing has been well thought out: the 52 dedicated hardware controls can be mapped across three simultaneous layers, giving you a total of up to 171 MIDI commands.
There's no reason why you can't use the K2 for a conventional mix-and-blend style of DJing, but most users are probably pushing the creative potential a little further. Whether as a main controller or as an add-on to other controllers or decks, the K2 is ideal for DJs who want to do things like trigger samples, or take hands-on control of loops and effects. As a bonus, because it's effectively just a specialist MIDI controller, the K2 can also be used for music production and live performance applications, or even as a lighting controller. It's a true all-rounder.
More info/Buy
| Pros | Cons |
| --- | --- |
| An interesting alternative to conventional controllers | Most DJs will prefer a conventional controller setup with jog wheels and a dedicated mixer section |
| Hugely customisable to suit your mixing style | |
| Tech specs | |
| --- | --- |
| Summary | Four-channel DJ controller |
| Software compatibility | Any DJ software |
| Hardware controls | 52, including buttons, rotary encoders and faders |
| Dimensions | 358 x 135 x 30 mm |
| Weight | 1 kg |
The dividing line between controllers and media players has grown increasingly blurred in recent years, as a few brands have realised the potential to integrate DJ software packages with their media players and controller ranges. Denon's Prime Go is a standalone DJ player in its own right, but its all-in-one design and integration with the brand's Engine Prime music management system sees it fall squarely into the grey area between players and controllers.
The unique selling point of the Prime Go is that it's the most genuinely portable DJ solution on the market, thanks to its built-in lithium-ion battery. The battery gives you the option to play completely standalone for up to four hours, meaning you can practise on the go using headphones, sort playlists or even plug in a battery-powered PA system. Impromptu DJ sesh on the beach, in a forest or just in the park? Count us in.
More info/Buy
| Pros | Cons |
| --- | --- |
| Ultimate portability thanks to standalone capabilities and built-in lithium-ion battery | Portability comes at the cost of some layout compromises: small jog wheels and unusual EQ placement |
| Part of Denon's excellent Engine ecosystem | Similar money buys more advanced controllers if you don't need standalone operation |
| Built-in wi-fi for firmware updates and streaming tracks | |
| Tech specs | |
| --- | --- |
| Summary | Two-channel rechargeable standalone DJ controller |
| Hardware spec | 7-inch touchscreen, lithium-ion battery and built-in wi-fi |
| Dimensions | 409 x 272 x 53 mm |
| Weight | 3.7 kg |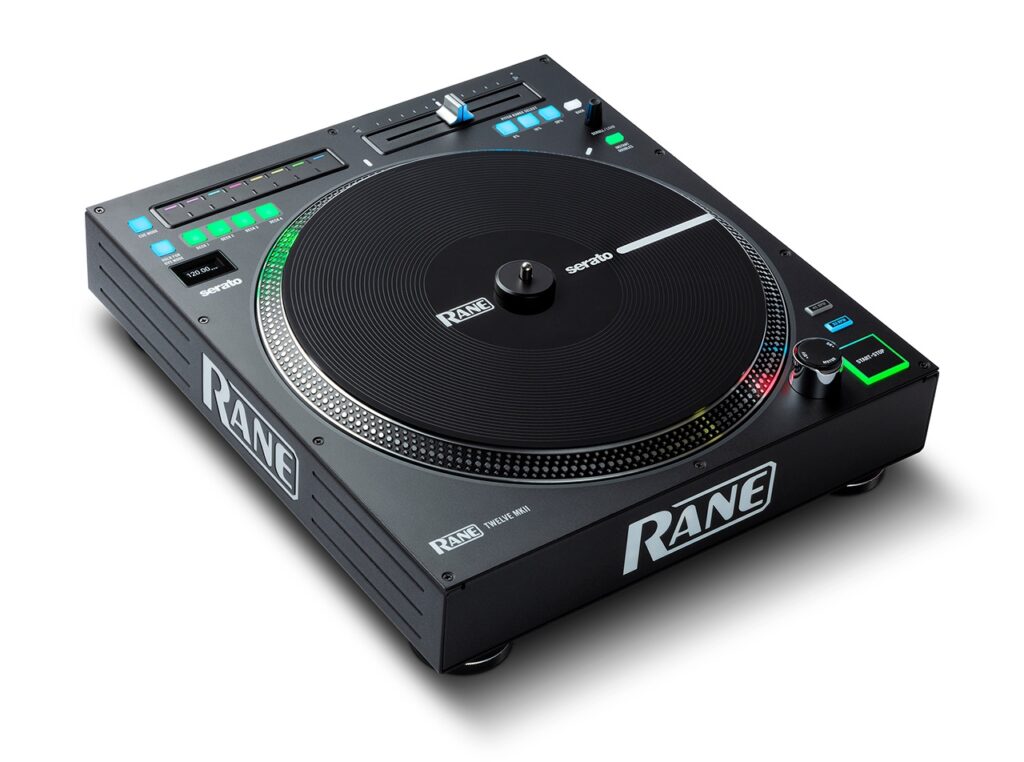 The looks alone should give you a clue that Rane's Twelve controller is unlike anything else on our list. Designed to replicate the feel and response of a traditional DJ turntable, the Twelve gives you 12-inch vinyl-style feel while controlling your choice of digital DJ software. Now in its second generation, it's a controller that's especially popular among turntablist DJs looking to take advantage of the versatility of software like Traktor or Serato while retaining the physical control they need to perform cuts, scratches and beat juggles.
The MKII update retains the same rock solid all-metal construction and general design of the earlier models, but introduces some neat new touches, such as an OLED screen, scroll/load encoder and improved DVS support. Despite the updates, the key point is that the Twelve feels as good as ever, with instantaneous response and authentic vinyl feel thanks to the motorised platter. If you want the best of both worlds, the Twelve MKII is probably the best controller option out there.
More info/Buy
| Pros | Cons |
| --- | --- |
| Unique design brings the feel of vinyl to your chosen DJ software | Appeals to a very specific niche of DJs who want the feel of vinyl but the flexibility of digital DJing |
| Rock-solid build quality | For obvious reasons, much bigger and heavier than most controllers |
| Clever integration of software features like track browsing and hot cues | |
| Tech specs | |
| --- | --- |
| Summary | Single-channel vinyl-style DJ controller |
| Software compatibility | Serato DJ Pro, Traktor and Virtual DJ |
| Jog wheel | 12-inch with quartz direct-drive motor |
| Dimensions | 368 x 413 x 90 mm |
| Weight | 9.3 kg |
As one of the leading music tech brands of the last couple of decades, it's no surprise that Native Instruments have made a sizeable mark on the world of DJing. The Berlin brand's Traktor system is one of the leading choices for digital DJing, rivalling the likes of Serato DJ and Pioneer Rekordbox. The Traktor Kontrol S4 isn't the brand's flagship controller – you need the Kontrol S8 for that – but it's the biggest and best model to feature conventional jog wheels rather than the less common approach of pads and faders found on the S8. The third-gen version of the S4 is a four-channel controller with NI's motorised Haptic Drive jog wheels.
The major benefit of buying a controller from the same manufacturer who developed the software is that the S4's integration with Traktor is top notch. Eight RGB pads per deck give you control of Traktor features like Stems and Remix Decks, while Deck and Mixer FX have their own dedicated controls. There's good visual feedback from the hi-res colour displays despite the fact they're relatively small, and as a bonus you have a range of phono, line and mic inputs to route other decks and turntables into the mixer.
More info/Buy
| Pros | Cons |
| --- | --- |
| The sweet spot in NI's Traktor Kontrol range | Probably only a realistic choice for those who are already committed to Traktor |
| Haptic Drive features give exceptional feedback and response via motorised, touch-sensitive jog wheels | |
| Seamless integration with Traktor for control of features such as loops and effects | |
| Tech specs | |
| --- | --- |
| Summary | Four-channel DJ controller |
| Software compatibility | NI Traktor Pro |
| Jog wheels | Motorised, touch-sensitive 140mm Haptic Drive |
| Dimensions | 542 x 339 x 60.5 mm |
| Weight | 4.3 kg |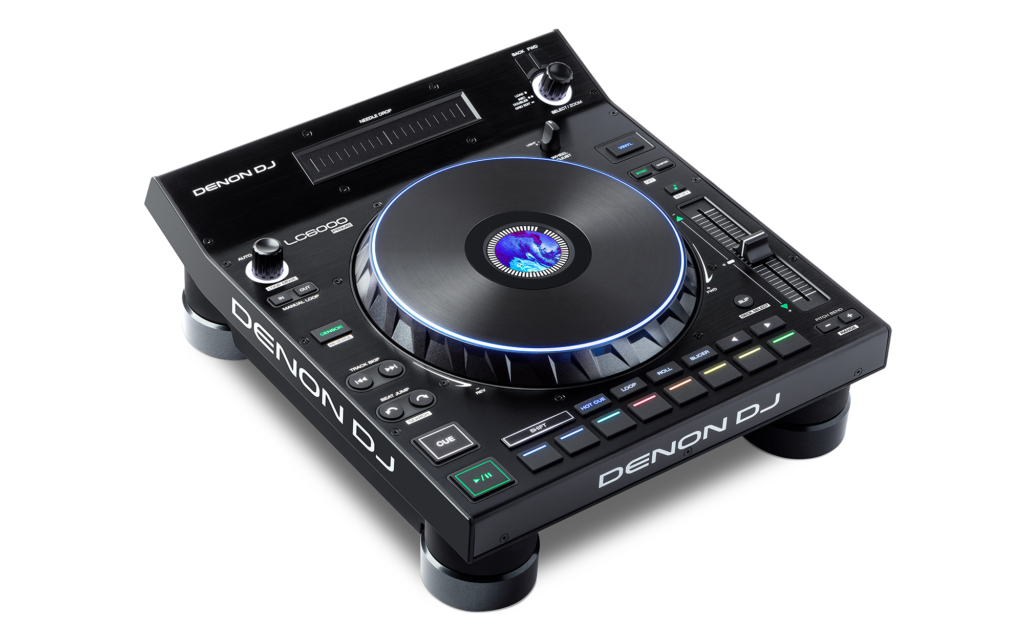 As if to prove the point that the dividing line between controllers and players is increasingly blurry, Denon's LC6000 also makes our top 10 list for best DJ decks. It's a controller in a sense, because it doesn't generate any sound internally, but hook it up to another Denon player and it feels exactly like adding another player to your setup, allowing you to control the second layer of the first device.
The beauty of the LC6000 is its versatility. You can set it up to work with most of Denon's current player range, including the flagship SC6000M players, meaning that you can expand an existing setup or build something from scratch. The affordable price point of the LC6000 makes it a really appealing option whether you're looking to create a multi-deck setup or a more affordable dual-deck system. A combination of two SC6000s and two LC6000s is a four-deck powerhouse of a setup, while one SC6000 and one LC6000 makes for killer value if you're putting together a pro-quality two-deck setup on a budget.
More info/Buy
| Pros | Cons |
| --- | --- |
| Add an extra set of dedicated physical controls to the Dual Layer features of other Denon hardware | Not a standalone controller in its own right, but an expansion for other players and controllers |
| Great value for money | |
| Tech specs | |
| --- | --- |
| Summary | Single-channel layer controller |
| Hardware compatibility | Denon Engine OS media players |
| Jog wheel | 216 mm |
| Dimensions | 359.5 x 319.5 x 119.5 mm |
| Weight | 2.8 kg |
When it comes to more affordable DJ controllers, the demands are slightly different to high-end models. If you're a newcomer to DJing or someone on a strict budget, you're almost certainly willing to forgo some of the more exotic features found on high-end controllers. But that doesn't mean you're willing to sacrifice user-friendliness or a reasonable level of build quality and reliability.
The Reloop Ready is a perfect example of how to do it properly. This compact controller offers everything you need and nothing more, at a decent price and with the reliability and build quality you'd expect from a trusted brand like Reloop. Designed for Serato, it's the perfect size to sit on top of your laptop and create a fully functional DJ system that punches well above its weight.
If you want to use mobile DJ software Algoriddim Djay, you should also check out the slightly smaller and cheaper Reloop Buddy, which is broadly similar to the Ready but optimised for the different software, including a built-in smartphone/tablet dock.
More info/Buy
| Pros | Cons |
| --- | --- |
| Great entry-level option with Serato DJ Lite software included | Some features require a paid upgrade to Serato DJ Pro |
| Tech specs | |
| --- | --- |
| Summary | Two-channel DJ controller |
| Software compatibility | Serato DJ Lite/Pro |
| Dimensions | 325 x 48 x 220 mm |
| Weight | 1.1 kg |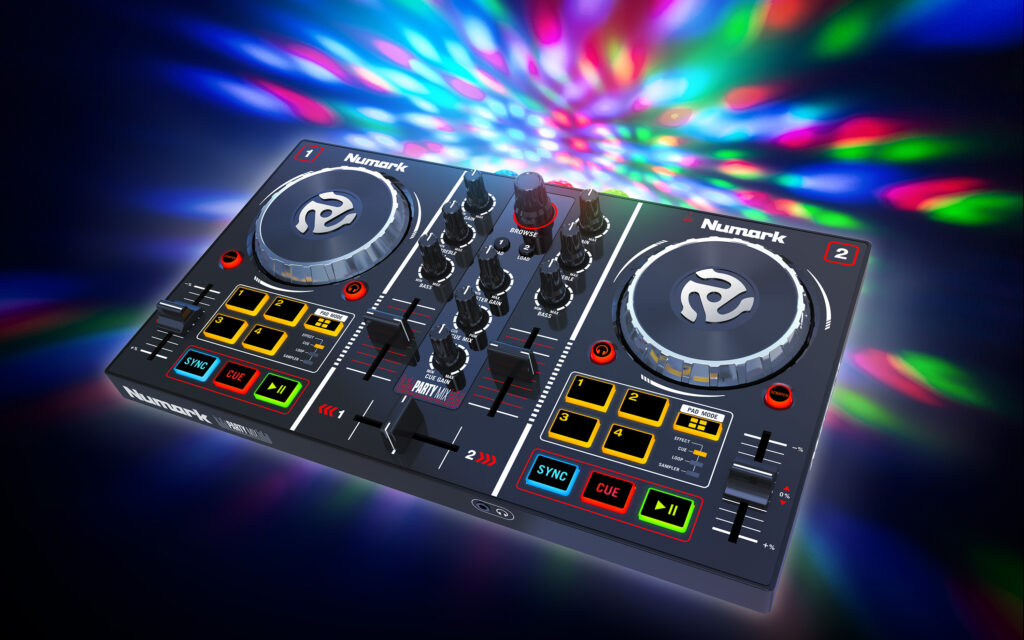 Even on the tightest budget, you can still put together a DJ setup that will allow you to get started mixing and learning how to use DJ software. Numark's updated Party Mix II fits the bill perfectly, with a basic dual deck setup and simple mixer section, designed for the hugely popular Serato DJ Lite software. The Party Mix is clearly meant to be fun as well as functional, with built-in LED lighting putting on a basic light show to liven up house parties and impromptu bedroom mix sessions.
The Party Mix II is one of the most affordable DJ controllers on the market, but it's a great example of the kind of excellent value you can now get as a beginner to DJing. As long as you've already got a suitable laptop or computer to run the software on, all you need is a pair of headphones and you can get started. If you've got a bit more budget and you like the idea of an even more self-sufficient unit, check out the Party Mix Live, which is very similar but adds built-in speakers for added spontaneity.
More info/Buy
| Pros | Cons |
| --- | --- |
| One of the cheapest ways to get started DJing | Portability and size mean that the Party Mix II doesn't feel as professional as more expensive controllers |
| Built-in light show adds fun for house parties and bedroom DJ sets | |
| Tech specs | |
| --- | --- |
| Summary | Two-channel DJ controller |
| Software compatibility | Serato DJ Lite, Algoriddim djay Pro AI iOS and desktop app, and DJ Player Pro mobile app |
| Dimensions | 325.5 x 199 x 51 mm |
| Weight | 0.9 kg |
In summary
Choosing a DJ controller is one of the most important decisions you'll make when it comes to DJ equipment. There are dozens of options to choose from in today's highly competitive controller market, but that means there are plenty of solid choices to suit every budget, experience level and DJing style.
The biggest consideration of all is which DJ software you want to use. Experienced DJs will already know whether they want to use Serato, Traktor or Rekordbox and will need to choose a compatible controller. Newcomers to DJing might prefer the flexibility of a controller which allows you to try out multiple different software options. A lot of the more affordable models are deliberately intended to be used with lots of user-friendly software including Serato DJ Lite and Algoriddim djay.
Generally speaking, you tend to get what you pay for with DJ controllers: more expensive models have more features, better build quality and a more professional feel all round. But that's not to say there aren't bargains to be had at lower price points; controllers like Pioneer's DDJ-400 represent excellent value for money.
All ten of the options on our list are excellent controllers in their own right, some of them conventional two-channel designs and some of them a little more specialist, such as those aimed directly at turntablists. Whatever your experience and budget, you should be able to find something suitable.
You may also like…