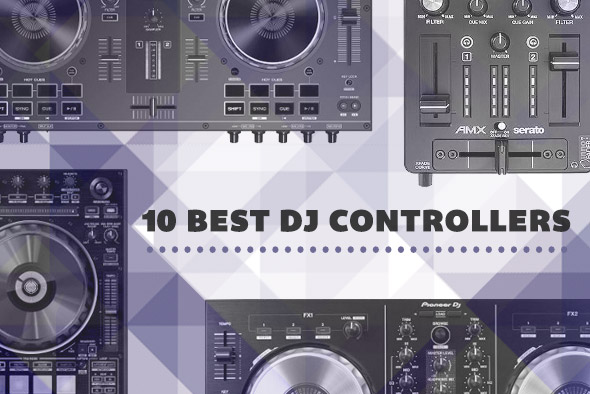 We look at 10 of the best DJ controllers across a range of price points, with compact solutions, traditional controllers and mixer-ready options all making the grade.
With software such as Traktor and Serato proliferating worldwide, laptops and controllers are increasingly becoming the weapons of choice for entertaining the dancefloor, and not just for the amateur start-up, but high-profile DJs seen in the world's top clubs and underground night spots. With technology advancing at the rate it is, there's now a plethora of different units available to choose from, with models and brands catering to a full spectrum of performance and capabilities while simultaneously supporting and developing the ever-changing needs of today's digital DJ. In response to this, Juno Plus has selected 10 of the best DJ controllers available on the market right now, ranging from compact units to entertain the lounge room, post-dinner party, to soundcard-enabled devices capable of connecting to turntables and CDJs, stand-alone performance-based controllers, to those loaded with effects and others specifically designed for the professional touring DJ.
For less simpler modes of performance, Denon presents the DJ MC4000 – a two channel controller designed to be used with Serato Intro, and, according to Denon, with the mobile entertainer in mind. One of the features that makes it stand apart from other Serato controllers is its two dedicated mic channels and options such as pre/post switch, talk over and echo fx – with low/high tone knobs and variable control on the echo. Sampler mode has also been modified to have independent controls of volume and dedicated performance pads, leaving the four pads on each side above transport controls free for hot cues and looping. Some of the more standard features include the fx controls on top of the jog dials, with four knobs designed to control other parameters.
The DJ MC4000 is a solid and portable unit, with high quality build and metallic elements to ensure a long life on the road. Versatility and high sound-quality are fully taken into account with the diverse range of connections, including auxiliary input, booth output and balanced (XLR) and unbalancead master outputs. Unlike a lot of other DJ controllers on the market, the MC4000 keeps things as simple and direct as possible, avoiding dense multi-functionality and hidden functions.
More info/buy
The new Xone: K1 by Allen & Heath could be thought of as a sort of blank slate DJ controller; it is designed to work with all leading DJ softwares and DAWs, and it can even be transplanted to other MIDI-utilising devices, such as lighting controls. Its 52 fully assignable controls can be mapped entirely on the fly, and can be continuously re-mapped to follow one's preferred mode of performance at any given time. Like most Allen & Heath products, the Xone: K1 is both elegantly designed and solid, and comes with a black padded case that doubles as a stand, levelling the model with the height of most professional DJ mixers on the market.
Featuring xix endless rotary knobs with push switches, four linear faders, 30 backlit buttons and 12 knobs placed in four rows of three, the Xone: K1 is ideally for equalisation purposes. It's powered through the USB cable (phantom powered), dispensing the need of a power chord, and can be chain-linked to Allen & Heath K1 or K2 prodicts – or any other generic MIDI controllers – in a modular way to create completely customised user setups. It doesn't, however, have an integrated soundcard like K2, but it maintains pretty much the same architecture, and can be easily plugged into Allen & Heath mixers that contain soundcards, such as DB2, DB4 and 23 C models.
More info/buy
By combining two Stems-compatible deck units and a mixer, the new Native Instruments S5 follows the path of its larger sibling S8; a plug and play DJ device that incorporated two units of the Kontrol D2 controller we reviewed earlier this year. The S5, however, is designed as a more affordable and portable version of the S8, keeping a lot of the same key functionalities but in a lighter, smaller frame.
The deck-switch on each side of the S5 allows for a total use of four decks to be played simultaneously, doubling up the layering possibilities for multi-track happy DJs. Each track can be used either as a normal deck, or in remix mode, using Stems technology. Performance pads can be used for hot cueing, sample-triggering, or for slicing and playing improvised rhythmic variations over the mix, all while remaining in sync. Easy to use looping functionalities and direct control over Traktor's FX take things to even greater heights by turning the S5 into a full-blown live remixing and DJ performance workstation. Much like the S8, the S5 redefines the craft of DJing by allowing complete dissolution, transformation and recomposition of tracks on the fly.
More info/buy
Often referred to as Pioneer's perfect entry-level solution for Serato, the DDJ-SB was massively popular when first introduced into the DJ controller market in late 2013. This popularity might account for the conservative approach taken by Pioneer in revamping the model, but despite its nearly identical design, the new DDJ-SB2 expands the possibilities for fans of the series through a few key, additional features that are worth mentioning. Initially designed as a two-deck controller with a correspondingly simple two-channel mixer, the SB is now expanded to allow four-channel mixing – with both decks doubling up as 1/3 and 2/4, respectively. Switch between decks using a newly added button on each platter and you can now control an extra layer of sound on each side without affecting parameters on the first two decks.
The mixer itself was changed to include new LED level meters and trim control for each channel, something lacking in the previous version. In keeping with the theme of doubling up and expanding possibilities, the updated DDJ-SB2 comes with a new button called 'Pad Trans' that's specifically designed to turn each pad on the upper row of performance pads – normally used to trigger samples, hot cues and generate loops – into a different value for Transform effect. That way, with a single hit of a button, you can jump from looping or triggering into chopping sound while changing the time-signature of the effect directly by pressing different pads, adding a new layer of fun to the performance. So rather than a full redesign, the DDJ-SB2 is more of a clever expansion of a winning idea, offering a few more possibilities to an already multi-functional product.
More info/buy
Billed as Numark's flagship controller, this piece of hardware will get you four decks of control in a classic two turntable and four channel mixer configuration. Apart from its three LCD screens and touch-activated knobs, it is the only dedicated controller out there that has motorized platters. The 7" turntables will appeal to those DJs that prefer the feel of real vinyl apparent when executing scratch effects and any other kind of turntable gymnastics that you can think of. Other control features include the eight MPC style performance pads that can be used for triggering samples, loops or simply setting hot cues.
Numark have partnered with Serato for this NS7 III and offer a free version of Serato DJ with the controller, and, in addition, Toolroom Records have given NS7 III users access to some of their artist launch packs, allowing you to throw in additional audio loops to your performances straight out of the box. The central screen allows you to browse your sound library, whilst the two outer screens provide visual feedback on current FX, waveform, playhead and deck information. Of course, you can use this controller with any DJ software of your choice and if you want to integrate any physical turntables or CDJs with NS7 III that's possible too. There's also space for two microphones, making it the ideal solution for those of us needing plenty of versatility such as the mobile DJ.
More info/buy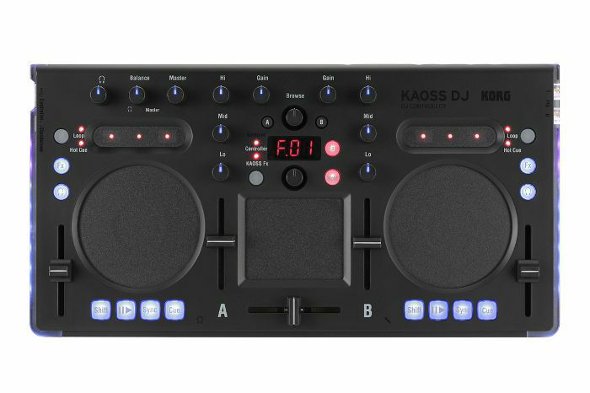 The Korg Kaoss is one of the more compact DJ controllers in our list with a slim and lightweight footprint that makes it one of the most portable and practical controllers on the market. The main control layout is that of a simple two-channel mixer, flanked by two touch platters with a central Kaoss pad and effects console. The platters don't move and are much more suited to club style DJing than battle style turntablism. The platters do, however, allow the software to respond to your finger movements over its surface. This DJ controller ships with Serato DJ Intro software, but like most controllers, you can use any software you prefer.
Although on the surface this unit looks incredibly simple, there are a couple of key features that really make it stand out. The first being the Kaoss pad style effects control that Korg developed in their world beating Kaoss pad effects unit that's been hugely popular since its release 15 years ago. The effects section offers 120 programmes that have been designed for DJs with the Kaoss style controller in mind. In addition, the mixer can work as a stand-alone mixer meaning you can add your vinyl turntables and CDJs into the mix for an integrated and versatile set up. The Korg Kaoss also features LED's for visual feedback as well as all of the cue, loop and sync functionality you would hope from a DJ controller. If you are in need of an affordable, lightweight controller for playing small bars and clubs and you don't have a lot of space in your luggage, then this controller is worth looking up.
More info/buy
Akai Professional have been turning out some of the best pieces of hardware in music technology for several generations. They are responsible for bringing us the first samplers, the MPC, and their high quality performance pads have become the standard on numerous controllers. Now they have turned their attention to DJ controllers and this time they have teamed up with Serato to deliver the AMX controller. Lightweight and demure, the AMX boasts a high quality two-channel mixer with a mini InnoFader. There are no platters on this controller, although there are sync options, and if you want turntable control you will need an additional controller, but remember that this unit will help you facilitate the use of DVS if you are using real turntables with time code.
In addition, the AMX from Akai has touch activated EQ and filter knobs on each channel and with dedicated cue and transport controls as well as adjustable fader curves (including reverse faders), with the right set up this controller is suitable for both club DJs and scratch performers. All of the inputs and outputs are of the RCA variety making this controller compatible with any physical turntables you would like to use in your DJ rig. Visual feedback comes from a batch of five-segment light meters that are useful for setting input gains. Additionally, this little controller comes with a full version of Serato DJ and will fit nicely into your backpack next to your laptop, and if you are a busy travelling DJ you will find the Akai AMX a solid companion no matter how large or small the party is.
More info/buy
Pioneer XDJ RX Rekordbox DJ System
Pioneer have been at the forefront of the latest DJ technology for a generation now and among their recent achievements is the hugely popular Rekordbox music management software which allows users to prepare playlists, cue points and loops at home, and then load all the information onto a USB memory stick for the club later that night. Based on their world famous CDJ2000 Nexus players and DJM mixers, this all in one unit does away with the CD playing part and gets straight to the heart of digital mixing with an all in one design that features two decks and a two channel mixer with dedicated browsing controls as well as the all familiar touch sensitive jog wheels.
For fans of Pioneer's new family of DJM mixers, both sound colour FX and beat FX have been included into the design of this all in one controller. The large display screen includes all of the information that can be found on your Rekordbox software, giving it a reliable familiarity that is comforting. Each deck includes four pads for getting to grips with hot cues and loops and if you are the owner of any other CDJs or turntables then you can use the mixer section as a standalone unit. Although the XDJ RX is not as affordable as other DJ controllers in our top ten, it is the only one that doesn't require a laptop in the booth, and being Pioneer, you can be sure that the technology will be familiar to anyone climbing into the booth for the first time.
More info/buy
The second controller model from Numark that's made our top 10 is the NV, which promises professional features in a portable package. This time Numark have opted for traditional jog wheels that are touch activated and allow you to scrub through tracks, scratch as well as perform those delicate manipulations required to keep your mixes super tight. And with the new dual screen technology available on this unit your face won't get lost in your laptop screen; all the visual feedback your computer can now be found on the controller itself. Flipping between different views can be done at the flick of a switch and although this unit is designed for use with Serato there's MIDI over USB connectivity which means you can work with whatever software you like.
Four decks of software control is the name of the game with the NV and although the mixer section doesn't allow for stand-alone use, there are plenty of features to make up for it. To start with there are 16 back-lit RGB performance pads that have 10 modes of operation that allow you to trigger loops, samples, perform rolls, access slicer mode and get hold of all of your cues. Hefty knobs control the dedicated effects on each side and there are filter controls for each of the four programme channels along with EQ, programme faders and a cross fader. This mid-sized and mid-priced controller is well suited to the laptop DJ that is looking to connect more directly with the audience and with a set of professional XLR outputs for the front of house and separate booth outputs, this controller bridges the gap between amateur enthusiast and professional.
More info/buy
Pioneer DDJ RZ Rekordbox DJ Controller 
The latest development in Pioneer's ubiquitous Rekordbox software sees it expanding from a widely used USB formatting tool for professional DJs into a much bigger beast altogether. On top of its usual features, Rekordbox 4.0 comes with a full-blown performance mode ready to tackle the same market as other industry-standard softwares, such as Serato and Traktor. Following this development of the software, Pioneer now offer us matching tools to explore the new features, presenting the new DDJ RZ as a complete, plug and play DJ controller with an integrated standalone mixer and two full-size CDJ-type platters, carrying a lot of the same features found in CDJs and the DJM mixer series, while furthermore, adding controls for Rekordbox's new performance mode. On top of the usual Pioneer digital DJ setup – four channel DJM-style mixer, sound colour fx, needle search, and more – the DDJ RZ comes with eight independent fx controls and 16 performance pads that can be used to trigger hot cues, control complex chains of sound FX, while also giving you the ability to play with samples in real time.
These samples can be loaded from sound banks, via Pioneer's newly launched Performance Packs for Rekordbox, or captured in real time by the slicer and loaded into sampler mode. Another great feature integrated into the DDJ RZ is its sequencer, allowing users to record sequences played from the sampler pads in real time and drop them into the mix through an independently controlled, dedicated sampler channel. The range of effects included in the new performance mode replicates the familiar high quality effects found in the DJM series, but there are a few new options worth exploring too, such as arp echo or down echo. Complex chains of effects can now also be released by a vinyl brake, echo or back spin. Sound-wise, the DDJ RZ relies on high-performance converters to deliver a clear and powerful club sonic, and comes with six inputs – including phono inputs – two improved MIC inputs and two master outputs for full connectivity. All of this makes the new DDJ RZ an incredibly potent interface for digital DJs and more extreme beat manipulators alike.
More info/buy