10 Best: DJ Bags, Boxes and Trolleys 2022
We pick ten of the best ways transport your vinyl and DJ equipment, with record bags, boxes and trolleys from UDG, Magma and more featured.
The humble record bag is no longer humble. Most DJs used to be happy with anything that would do a half-decent job of protecting their vinyl, but we've come to expect storage for headphones, adapters, memory cards, laptops and even controllers.
These days there's something for everyone, whether you want a lightweight bag for crate digging or something as sturdy as possible for checking in on a flight. Options range from streamlined and simple all the way through to ultra-high-tech luggage systems with more compartments and hidden pockets than Batman's utility belt.
Here we run through ten of our favourite options. Every brand on our list makes a range of bags and cases to suit different needs, from lightweight shoulder packs through to full-on rolling trolley systems, so be sure to click through and explore the rest of the range if you like the look of a particular model but need something a little different to the spec we've chosen.
Contents
What to look for
Bag, box or trolley?
The most basic questions when choosing from our list are what size of record you're going to carry and how much protection you need.
In terms of size, the choice is very simple. Bags aimed to fit 7-inch and 12-inch records are available, with the latter also suitable for 10-inch records. Choose your size appropriately, then you face the slightly trickier question of whether to go for a bag, box or trolley.
Most DJs will instinctively have a good feel for how much they're going to rely on their bag to protect their records. Casual daily use probably doesn't necessitate quite such a sturdy, padded bag as hard gigging, for example. Air travel could mean even more protection is required to keep your vinyl safe during the flight.
The basic fabric bag is the starting point here, offering little in the way of protection but light weight and convenience for daily use. It's probably the best choice if you're going crate digging or using it for day-to-day activities, perhaps carrying a mixture of records, magazines and maybe a tablet or laptop.
A hard record case or box offers the ultimate protection, but the obvious downside is the added weight. With that said, there are definitely certain times when that doesn't really matter – if you mainly travel by car, for instance, and don't have to shoulder the burden of your record collection by hand too often. Hard cases also offer a good option for long-term storage, allowing you to shut out the elements and keep your most valued records safe and secure.
One small detail worth noting is that most hard boxes designed for 12-inch records will also be too large to qualify as carry-on/cabin luggage for most airlines. If you want to keep your records with you in order to ensure they don't get lost, a slightly smaller padded bag is the way to go. Padded soft bags are the most common compromise between the two extremes, offering some added protection over a simple fabric bag.
These padded bags are also typically what you'll encounter when considering trolleys, which are effectively bags with wheels and handles, similar to wheeled luggage but specifically designed for vinyl and typical DJ accessories.
Just records, or more?
The most basic record bags are just designed to carry records. For some DJs, that's perfectly sufficient, but others will want to carry accessories and essentials such as headphones.
Mid-range DJ bags such as the Magma LP40 Bag II typically add at least one large pocket for a pair of DJ headphones. At the cheaper end of the price range, you might not get much in the way of separate sections or secure zips, but at least you'll be able to fit in one or two more items.
The more advanced record bags on the market, such as UDG's Ultimate Slingbag MK2, feature multiple pockets, allowing you to organise and protect your headphones, perhaps a pair of styluses or USB sticks if you also use CDJs or other digital DJ decks. There's much more variety in pocket sizes and locations on the more expensive bags, giving you a safe home for everything you need to carry.
The best DJ bags, boxes and trolleys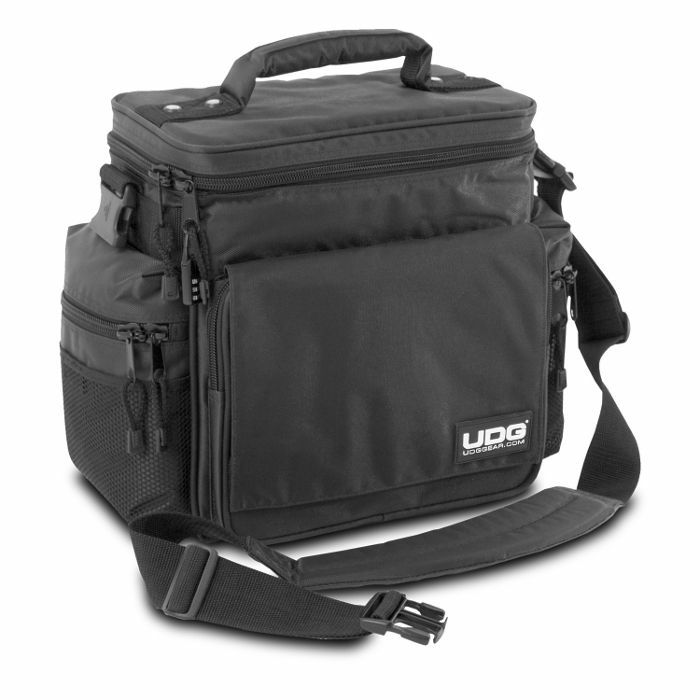 Founded in 2000, UDG are widely seen as the market-leading brand for serious DJ luggage. The Dutch brand's commitment to quality and innovation is reinforced by the fact that they're used by a who's who of A-list names, including Sven Väth, Carl Cox and James Zabiela.
If you asked us to recommend one bag that would work best for the vast majority of DJs, the second-gen Slingbag would be our choice. It's sturdy, it's versatile, it's got pockets for headphones and accessories, plus it's stylish and comfortable to wear. The Slingbag is the definition of an all-rounder, suitable for most vinyl DJs. You might want to look elsewhere in the UDG range if you have specialist requirements for laptop storage or controllers, but as far as simple and trustworthy record luggage goes, it's very hard to beat. We know DJs who've clocked up hundreds of gigs with a Slingbag, which is why we don't hesitate to recommend it.
More info/Buy
| Pros | Cons |
| --- | --- |
| Excellent all-rounder with good protection | Fairly pricy |
| Plenty of storage pockets | |
| Tech specs | |
| --- | --- |
| Record size | 12-inch |
| Capacity | 50 |
| Dimensions | 390 x 210 x 380 mm |
| Weight | 2150 g |
As a smaller, lighter alternative to the Slingbag, we like the Magma LP40. With a capacity of up to 40 12-inches it's about half the size of the Slingbag, which makes it significantly lighter and easier to manage. Magma tend to come in a little cheaper than UDG, but the German brand's product range is extensive and the quality is very good, offering excellent value for money. Just like UDG, Magma also boast an array of big name users, including Seth Troxler, Goldie and Luciano.
The LP40 is the brand's smallest 12-inch offering, making it easy on the back. As a rule of thumb, it's generally better to go for a bag that's just big enough rather than using one that's much bigger than you need; not only is it lighter and less bulky, but there's less chance of damaging your records if they're tightly packed than there is if they're loose and free to move around.
More info/Buy
| Pros | Cons |
| --- | --- |
| Good value | Limited pocket space |
| Lightweight and very portable | |
| Tech specs | |
| --- | --- |
| Record size | 12-inch |
| Capacity | 40 |
At first glance, the Technics Backpack looks like the definition of a classic record bag: understated design in a range of colours, capacity somewhere around 50 12-inches and that iconic logo embroidered on the front flap. What sets it apart from most of the other options on our list is that it's also got a pair of straps on the back allowing you to wear it on your back like a conventional rucksack.
In our experience, most DJs tend to prefer a single shoulder strap purely because the size of a 12-inch record bag makes it a bit cumbersome when worn on the back, but there's no denying that it can get tiring and even painful to carry a full record bag on one shoulder for extended periods of time. Having the option of wearing the Technics bag as a backpack does provide relief when walking longer distances, such as lengthy airport transfers. It's a nice option to have, and much cheaper than stepping up to a trolley system.
More info/Buy
| Pros | Cons |
| --- | --- |
| The classic messenger bag | Limited protection |
| Straps allow you to wear it as a backpack | |
| Tech specs | |
| --- | --- |
| Record size | 12-inch |
| Capacity | 45 |
| Dimensions | 170 x 320 x 330 mm |
| Weight | 840 g |
Label-branded record luggage can be a bit hit and miss, with some of the cheaper options being little more than a generic courier bag with a logo printed on the front. You'd expect Underground Resistance to do things properly, and the iconic Detroit collective don't disappoint with this typically solid offering, which holds up to 50 records with a good level of protection.
You can see that thought has gone into the design process here, with a hybrid courier bag/backpack design allowing you to carry the bag comfortably in different ways. A combination of zippable inner and outer pockets, adjustable straps and protective flaps keeps all of your vinyl and accessories safe. And, of course, it's all branded with that legendary UR logo on the outer flap.
More info/Buy
| Pros | Cons |
| --- | --- |
| Excellent build quality | Prepare for UR nerds to grill you on your favourite Galaxy 2 Galaxy deep cuts |
| Versatile courier/backpack hybrid design | |
| Tech specs | |
| --- | --- |
| Record size | 12-inch |
| Capacity | 50 |
| Weight | 800 g |
Some vinyl DJs used to take a masochistic pleasure in lugging huge crates of records to gigs, but the days of taking pride in putting yourself through physical turmoil are thankfully over. For longer trips and international travel, a wheeled, trolley-style bag takes all the strain off your back, allowing you to roll your records with ease and then packing the extendable handle away when necessary. Given that a fully packed 80-capacity 12-inch bag can easily weigh 20kg, that's a very good idea as far as we're concerned.
You can easily go even bigger and more fully-featured in the UDG range, which extends up to huge multi-bag systems and dedicated bags for controllers and other hardware, but the Trolley To Go is one of our favourites because it's designed to meet the size criteria for cabin luggage on any airline. There are lots of flight cases and bags designed to protect your records even when checked into the hold, but the advantages of a cabin-sized bag are obvious: you can keep your luggage in sight at all times and there's almost zero chance of your bag getting lost or damaged by baggage handlers. Even if you only occasionally fly with records, it's a great trolley for regular use, taking the strain off your back and making life easier when hauling stacks of vinyl. Highly recommended.
More info/Buy
| Pros | Cons |
| --- | --- |
| The ultimate DJ trolley? | Trolleys are too bulky for some DJs |
| Meets cabin luggage size regulations | |
| Tech specs | |
| --- | --- |
| Record size | 12-inch |
| Capacity | 50 |
| Dimensions | 360 x 440 x 260 mm |
| Weight | 5.16 kg |
DJing with 45s presents its own challenges, not least in the sense that the shorter run time of a 7-inch record dictates that DJs generally need to carry lots of them. We've probably all seen soul DJs unloading stacks of impractical cardboard boxes and plastic crates into the DJ booth but there are, thankfully, much better options available these days.
Magma's smartly designed bags are a neat and versatile solution for 45 DJs, offering enough capacity for up to 150 7-inches each in a simple format with dividable internal space and a few side pockets for good measure. Constructed from durable black ballistic nylon, they're sturdy and unpretentious, which we like a lot. We also like the fact that the width is almost exactly the same as a 12-inch record bag, which means they stack nicely together if you're carrying different formats. There's also a strap on the back designed to slide over the handle of most wheeled luggage, allowing you to roll a larger bag and the 45 bag as one, which is a nice touch.
More info/Buy
| Pros | Cons |
| --- | --- |
| Holds a huge 150 records | Limited protection compared to hard boxes |
| Stacks on 12-inch record bag or wheeled luggage | |
| Tech specs | |
| --- | --- |
| Record size | 7-inch |
| Capacity | 150 |
| Dimensions | 210 x 390 x 250 mm |
| Weight | 1560 g |
Hard flight cases used to be the go-to option for any self-respecting DJ. Back in the day, when vinyl was the default choice, there was no real alternative; a hard case was the only reliable way to avoid damage to your precious cargo. Hard cases have fallen out of favour a little bit in recent years simply because premium soft bags such as the UDG and Magma designs have caught up and now offer a good level of protection, but if you're checking records in as luggage on a flight or just looking for the ultimate level of protection in a club environment, there's no doubt that a hard case is still the best option.
Sound LAB's Eurostyle cases are (literally) a solid offering from a brand that consistently offers good value for money. They're not the flashiest or most contemporary design, but they get the job done at an unbeatable price. For ultimate protection on a budget, it's hard to quibble.
More info/Buy
| Pros | Cons |
| --- | --- |
| High level of protection | Less comfortable to carry than a soft bag |
| | Heavy |
| Tech specs | |
| --- | --- |
| Record size | 12-inch |
| Capacity | 70 |
| Dimensions | 350 x 350 x 275 mm |
| Weight | 3.5 kg |
The next step up from the Sound LAB would be something like this sturdy offering from Reloop. The 50/50 design means that the two halves of the case can be separated once you arrive in the DJ booth, and the 80 records inside can be split between the two, giving you a bit more space to flick through and select tracks. In practice it does make a big difference having that little bit more space to work with your crates, and there's no sacrifice in terms of durability or security once the two pieces are clipped back together.
Despite the fact that it's part of Reloop's Club Series, it's also worth mentioning that we love the slanted Reloop for home use. Anyone with a decent vinyl collection knows how easy it is to get carried away pulling records off the shelves and stacking them up in a pile next to the hi-fi or decks; the 50/50 case gives you two temporary boxes to tidy things up as you go, keeping your records safe until you have time to file them away properly.
More info/Buy
| Pros | Cons |
| --- | --- |
| Good for home storage as well as travel | Heavy |
| Splits into two usable half-boxes | |
| Tech specs | |
| --- | --- |
| Record size | 12-inch |
| Capacity | 80 |
| Dimensions | 360 x 275 x 350 mm |
| Weight | 4 kg |
At the higher end of the DJ bag market, you can expect a whole lot more style as a bonus on top of the functional storage you take for granted. Tucker & Bloom are relative newcomers to the record bag market, but the family-owned brand has been producing bags in its hometown of Nashville, Tennessee for over three decades. That experience shows in DJ-friendly offerings like the Sidekick, shown here in an understated olive colourway.
Just the materials used to construct the Sidekick make impressive reading: a waterproof ballistic nylon outer is teamed with a vegetable-tanned leather handle, shearling shoulder strap, velveteen-lined interior and nickel-cast brass hardware. It reads like it belongs on a fashion blog, but the Sidekick is thankfully not an example of style over substance; the well-designed layout gives internal storage for 100 45s and there are three pockets for accessories and headphones.
The brand also produces a further range of 12-inch packs, messenger bags and 45 luggage, giving plenty of stylish options to suit most requirements.
More info/Buy
| Pros | Cons |
| --- | --- |
| Stylish design | Expensive |
| Quality materials | |
| Tech specs | |
| --- | --- |
| Record size | 7-inch |
| Capacity | 100 |
| Dimensions | 241 x 203 x 216 mm |
| Weight | 990 g |
Exclusive to Juno, the Mukatsuku messenger bag is a simple courier-style bag, designed and produced here in London by our very own Nik Weston. Soft but deceptively robust, it carries 25 12-inches in style. At this smaller capacity, you can afford to focus a little more on aesthetics than outright performance and functionality. That's not to say that it's not sturdy and reliable, just that the focus is a little different to most offerings on the market.
The modern trend for record bags has gone down a route of slick, high-tech flashiness, which understandably isn't for everyone. Bundled with a branded leather keyring, badge and sticker, this is clearly a different approach entirely. At a smaller capacity than the models we've listed so far, the Mukatsuku 25 isn't so much intended for gigging DJs but for everyday use or times when you don't need to carry hundreds of records, such as radio sets or casual mix sessions with friends. A stylish, understated option.
More info/Buy
| Pros | Cons |
| --- | --- |
| Clean and simple design | Not the highest level of protection |
| Free keyring, badge and sticker | |
| Tech specs | |
| --- | --- |
| Record size | 12-inch |
| Capacity | 25 |
| Dimensions | 370 x 90 x 350 mm |
| Weight | 680 g |
In summary
Transporting your records shouldn't mean compromising on style, convenience or comfort. Thankfully there are now options to suit every size of vinyl, every level of protection and every potential use.
As with other DJ essentials such as headphones or mixers, the choice of record bag is quite a personal decision. Some DJs prefer the casual approach of a simple fabric messenger bag, while others opt for the safety and protection of a hard box or case.
Maybe the best compromise of all is the UDG Trolley To Go, a hugely popular hybrid of a record bag and wheeled luggage, with an extending handle and locking zip. It's not the cheapest option on our list, but it does everything very well. We make it the best all-rounder for anyone regularly travelling with vinyl.
You may also like…