We look at the best Pioneer CDJs, Denon Prime players and DJ decks for everyone from beginners to pro DJs, including affordable units for home use and high-end models for clubs.
The use of CD decks might have reduced slightly in recent years thanks to the increased popularity of digital DJing and a plethora of controller options, but that doesn't mean to say the humble DJ deck is on its way out. The market has evolved in recent years, with the early signs of CD drives being phased out and Denon taking on the dominant Pioneer CDJ range with their innovative Prime range. Even if you DJ primarily with vinyl, working knowledge of a CDJ is nigh on essential these days, particularly given the state of turntables in some clubs. With these points in mind, we've selected our best DJ decks, from affordable practice units for those wishing to brush up on their skills at home to fully-featured pro units for those wishing to get inventive with their sets.
Contents
What to look for
Pioneer vs Denon DJ
The single biggest choice you'll need to make when choosing a DJ deck is which of the major brands to opt for. Pioneer are still the class leaders for high-end decks, and their CDJs are found in clubs and venues around the world.
The most obvious advantage of opting for Pioneer's main rival, Denon DJ, is that Denon's products offer huge value for money. The flagship SC6000M is significantly cheaper than Pioneer's top-of-the-range CDJ3000, but the story doesn't end there.

If you've already learned to mix on a Pioneer controller then a pair of CDJs will immediately feel like home; Pioneer do a great job of keeping functions and button placements fairly consistent across their range.
Switching from one system to another isn't impossible, but there'll always be more of a learning curve switching from Pioneer to Denon DJ (or vice versa) than there would be moving from, say, a cheaper Pioneer CDJ to a high-end CDJ3000.
You can't go wrong with either brand, but it's important to think carefully before picking a team.
High-end or mid-range?
More expensive DJ decks are noticeably superior to budget models in a number of ways: bigger screens, bigger jog wheels and added features stand out and set the premium models apart.
With that said, there are now some fantastic mid-range decks. For most pro installations, the high-end models are essential, but for home practice setups you get great value from mid-range models.
The best DJ decks
Released in 2020, the CDJ-3000 immediately established itself as the new benchmark for professional DJ decks. The CDJ range is without doubt the industry standard, having helped to define the entire concept of digital DJing since the mid 1990s.
The CDJ-3000 doesn't reinvent the wheel, instead building on a very similar look, feel and feature set to the CDJ-2000 which had been the brand's flagship model for the previous decade. It's a single-layer player that can play from USB or SD card, with all the trademark CDJ features: vinyl mode, sync, support for Pioneer's Rekordbox management software and Pro DJ Link to connect multiple devices.
Compared to the most recent NXS2 version of the CDJ-2000, the 3000 adds a few nice features such as a bigger touchscreen, even better build quality, more accurate jog wheels, more detailed waveform views, quicker response and clearer sound thanks to multi-core processors and a 32-bit float/96kHz audio engine. It's worth noting that the 3000 is the first CDJ not to include a CD slot, but given how rare it is to see DJs playing from actual CDs these days, that's not likely to be a problem for many potential buyers.
Pioneer products tend to have long lifespans, so you can safely expect to see the CDJ-3000 in a lot of DJ booths over the next decade or so. It's not cheap, but it's the default choice for high-end club installations, radio studios and anyone who just wants Pioneer's finest as part of their home setup.
More info/Buy
| Pros | Cons |
| --- | --- |
| The new benchmark for Pioneer's top-of-the-range CDJ | Denon SC6000Ms are cheaper |
| The best sound and features of any CDJ | |
| Tech specs | |
| --- | --- |
| Jog wheel | 206 mm |
| Touch screen | 9" (229 mm) |
| Dimensions | 453 x 329 x 118 mm |
| Weight | 5.5 kg |
The biggest rival to the CDJ-3000 comes in the form of Denon's SC6000M, a slightly cheaper product but one which packs some features not found in Pioneer's flagship offering. Denon's mission over the last few years has been to encourage DJs to 'change their rider', switching from Pioneer CDJs to Denon's Prime ecosystem.
The SC6000M is the flagship product in the range, featuring a motorised platter. (The standard SC6000 is identical except for its non-motorised platter.) A lot of the formula is similar to a high-end Pioneer player, but there are a few notable differences which Denon hope will lure DJs across: the SC6000s are dual layer players (i.e. each deck can play two tracks simultaneously), with built-in wifi for streaming as well as the ability to play from USB or SD card.
In use, the SC6000s are generally similar to a Pioneer, with familiar features such as eight hot cues, auto loop and a lot of common placement of controls. The Denons easily match the Pioneers in terms of just about all specifications, but above all else, the big selling point of the SC6000s is their highly competitive price point: a pair of SC6000Ms will save you well over £1,000 compared to a pair of CDJ-3000s. You can save even more money by pairing an SC6000 with an LC6000 controller to control the second layer. Either way, it's great value for a highly capable home setup.
More info/Buy
| Pros | Cons |
| --- | --- |
| Innovative approach with Dual Layer features | Lots of DJs are committed to Pioneer CDJs |
| Substantially cheaper than equivalent Pioneer CDJs | |
| Tech specs | |
| --- | --- |
| Jog wheel | 8.5" (216 mm) |
| Touch screen | 10.1" (257 mm) |
| Dimensions | 463 x 320 x 151 mm |
| Weight | 7 kg |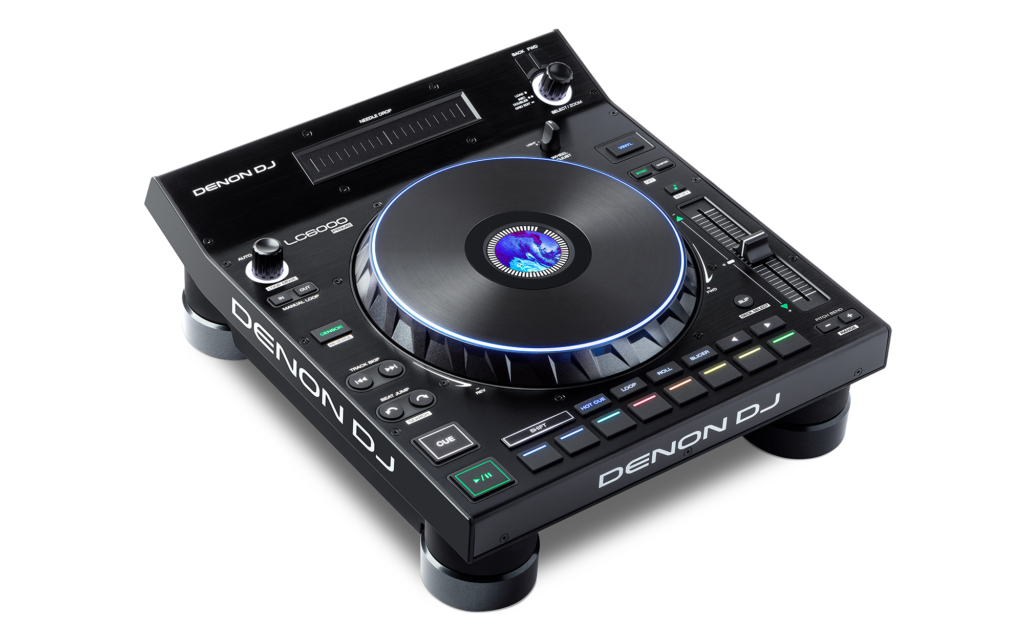 Speaking of which, although it's not technically a fully-fledged player in its own right, it would be remiss of us not to mention Denon's LC6000 here. The LC ('layer controller') is pretty much an SC6000 with the playback circuitry and touchscreen removed, retaining all of the other controls such as the jog wheel, pitch fader, performance pads and track browsing controls.
The genius of the LC6000 is that, when hooked up to one of Denon's compatible decks such as an SC6000, it gives you a full set of dedicated controls for the second layer, with all the same feel and level of flexibility that you'd get from an additional SC6000.
You can use the LC6000 to add hands-on control of the second layers of a pair of Denon decks, giving you a versatile four-deck setup. Alternatively, a single SC6000 and an LC6000 offers a cheaper way to get your hands on a two-deck setup than shelling out for a pair of SC6000s. It's a unique approach, and a major benefit to the Denon ecosystem.
More info/Buy
| Pros | Cons |
| --- | --- |
| An affordable way to add control of second layers on other Denon decks | Not a standalone player on its own |
| Same look and feel as SC6000s | |
| Tech specs | |
| --- | --- |
| Jog wheel | 8.5" (216 mm) |
| Touch screen | NA |
| Dimensions | 360 x 320 x 120 mm |
| Weight | 2.83 kg |
The CDJ-3000 might have been Pioneer's first CDJ not to feature a CD slot, but the idea wasn't entirely new. The XDJ range is Pioneer's second string of players and controllers, taking a slightly different approach to the now well-established CDJ concept. The flagship XDJ-1000MK2s might not feature CD slots, but they have a lot in common with the former flagship CDJ-2000s.
There are a few compromises to reduce costs, like slightly more modest jog wheels and an increased focus on the touchscreen over dedicated buttons. The top XDJ can play back from USB sticks (not SD cards), computers and mobile devices rather than CDs, giving you plenty of flexibility in terms of storage.
Most importantly, a pair of XDJ-1000MK2s is more than £2,000 cheaper than a pair of CDJ-3000s, making them a great value option for anyone who wants the Pioneer feel and features on a budget.
More info/Buy
| Pros | Cons |
| --- | --- |
| More affordable alternative to CDJs | Lower spec than Pioneer's premium CDJ offerings |
| Similar look and feel to CDJs, with familiar control layouts | |
| Tech specs | |
| --- | --- |
| Jog wheel | 206 mm |
| Touch screen | 7" (178 mm) |
| Dimensions | 382 x 305 x 110 mm |
| Weight | 3.7 kg |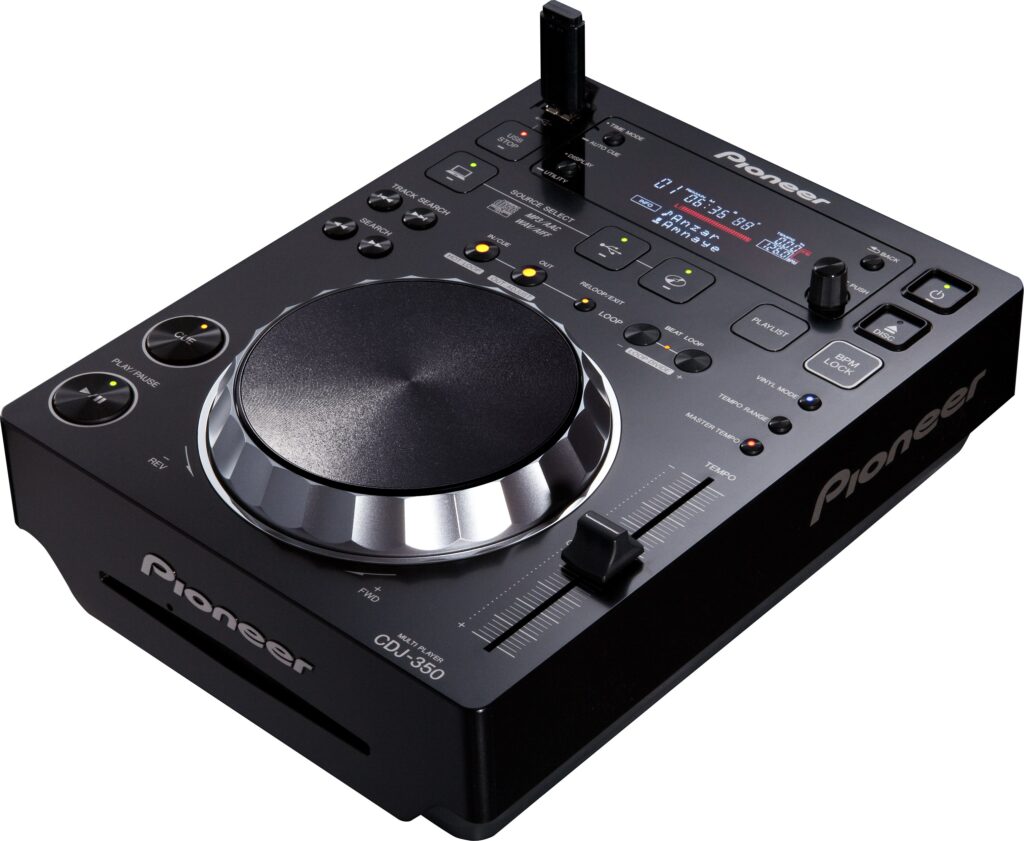 The humble CDJ-350 is the entry-level CDJ model, having been released over a decade ago but stuck around despite the introduction of newer, more advanced models. It's a simple device, capable of playing back from CD or USB stick and giving you a relatively affordable entry point to the world of Pioneer's industry standard CDJs.
There are some compromises at this price point. Most notably, the jog wheel is different to those found on more advanced Pioneer decks, but it does include a vinyl mode that will let you perform scratch type effects. Generally speaking, the 350 is in line with the quality of other Pioneer CDJs, but with fewer features and a smaller jog wheel.
As one of the more affordable ways into the Pioneer experience, the CDJ layout and the Rekordbox management software, the CDJ-350 is still worth considering.
More info/Buy
| Pros | Cons |
| --- | --- |
| Cheapest way into Pioneer CDJs | Dated design |
| Compatible with Rekordbox | |
| Tech specs | |
| --- | --- |
| Jog wheel | 132 mm |
| Screen | LCD |
| Dimensions | 289 x 220 x 109 mm |
| Weight | 2.3 kg |
In summary
There aren't too many DJ decks left on the market these days. The CDJ-3000 is the clear standout from Pioneer's range, but there are still good options lower down the range.
Denon DJ keep things pretty simple, with the flagship SC6000M or non-motorised SC6000 being the main options. With that said, it's well worth checking out the LC6000, which allows you to expand your setup in an affordable way, taking control of the Dual Layer features on an SC6000 or other Denon players.
You may also like…