10 Best: Audio Interfaces For Home Studios 2020
We look at ten of the best home audio interfaces across a range of price points, with portable units and extensively connectable rack-mounted options featuring.
On a basic level, audio interfaces feel like quite simple bits of kit: they get sound into your computer and back out, allowing you to hook studio monitors up to your DAW and record signals from hardware like synths, drum machines and microphones. That being said, there are big differences in features and sound quality from different interfaces.
Generally speaking, more expensive interfaces offer better sound quality, more inputs and outputs and/or additional features like monitoring controls, built-in compressors and even digital effects. But at every price point there are lots of options, designed to suit different approaches to making music. Here we've picked out our favourites to suit a range of budgets.
Behringer's U-Phoria range is a prime example of how much music technology has improved in recent years. There's no way to be polite about it: cheap audio interfaces used to suck. Anyone who tried to make music with an entry-level audio interface as recently as a decade ago was almost certainly frustrated by awkward latency (delays in the signal) and shoddy sound quality.
In recent years, the story has changed for the better in almost every way. It's now possible to get decent interfaces at previously unimaginable prices, with the USB-compatible U-Phoria UMC202HD being a great option for beginners or those on a tight budget. It's a pretty basic model, as you might expect, but with two input channels and a pair of stereo outputs it's a typical setup for an entry-level interface. The input channels are on combi sockets, allowing you to connect ¼-inch jacks or XLR plugs, which helps avoid the need for adaptors or spare cables.
Buy from Juno
Louisiana brand PreSonus offer a range of products from mixers to speakers and even a DAW. Their interface range extends from cheap-and-cheerful all the way through to big-budget pro options. The AudioBox is closer to the bottom end of the range, but it's got solid sound quality and the same two-in/two-out setup found on the Behringer interface above.
Although the number of audio inputs and output is broadly similar to the slightly cheaper Behringer, the big advantage of the AudioBox is that it includes MIDI in and out over five-pin DIN sockets. A lot of modern studio gear uses MIDI over a USB connection direct to your computer, there are still quite a few benefits to traditional MIDI cables, not least the fact that it's the standard for older gear. If you need to connect hardware synths, samplers and drum machines, the AudioBox is a solid pick.
Buy from Juno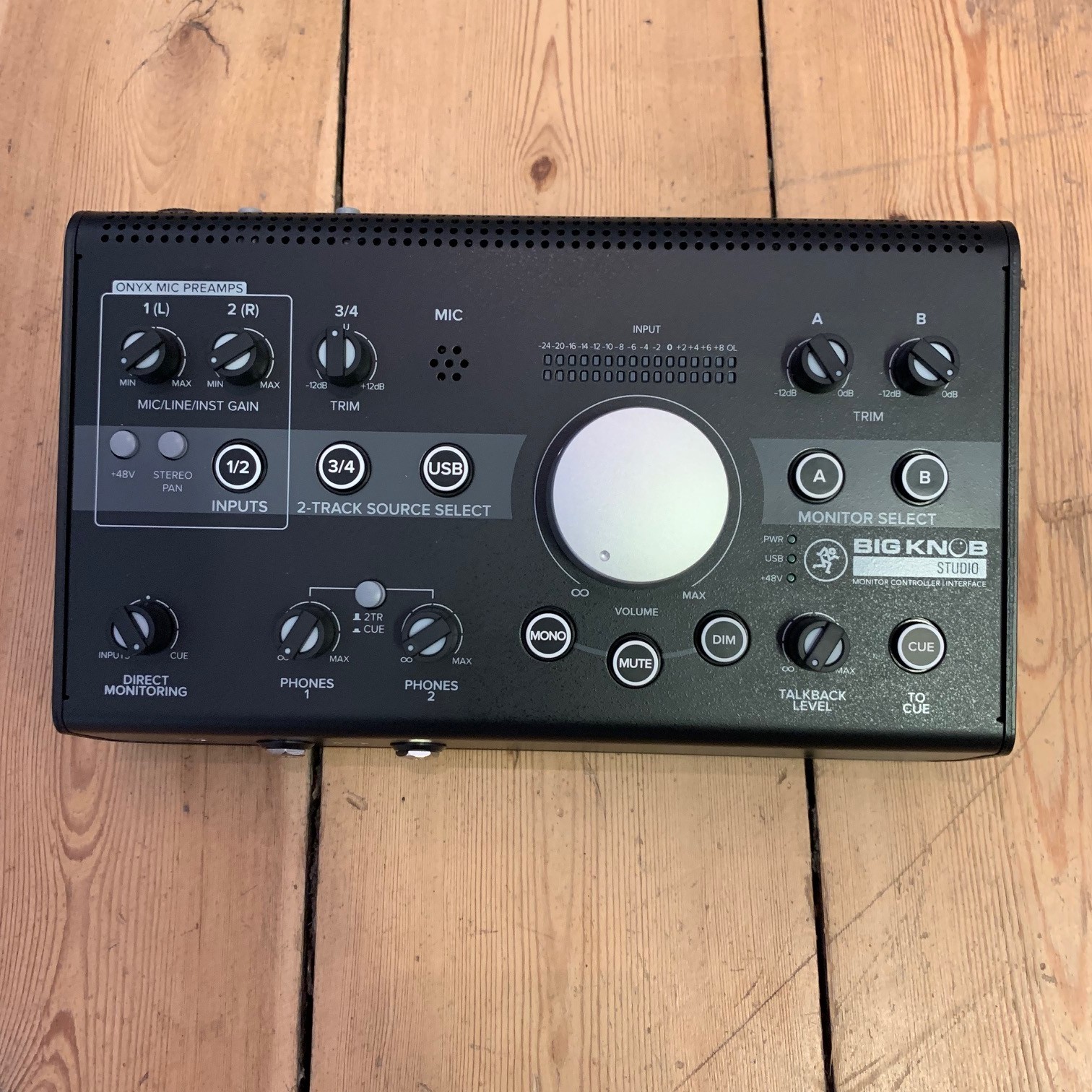 Mackie Big Knob Studio
An interesting trend in recent years has been the way manufacturers have cottoned on to the benefits of adding more and more features to interfaces. Some of our other picks shoehorn effects and compressors into the basic audio interface format, but Mackie are coming at things from the opposite direction. The brand's unfortunately named Big Knob series has been on the market for around 15 years, initially as a simple monitor controller (allowing you to adjust levels, switch between different speakers and listen in mono), but now expanded into the format shown here.
The Big Knob Studio is a USB interface with a monitor controller built in (or vice versa, depending on how you look at it). That means two mic/line inputs, two more line-only, with outputs for two pairs of monitors plus an additional pair of line outs. The monitor control aspect is something that's often overlooked in home studios, with many of us just controlling the overall listening level via our DAW or the monitors themselves. Even if most home studio users are unlikely to need some of the more advanced options like talkback, many home producers would benefit hugely from the ability to control levels, switch between two pairs of monitors, mute the output, sum to mono and more. It's a really effective approach, with a nice balance between connectivity and monitoring.
Buy from Juno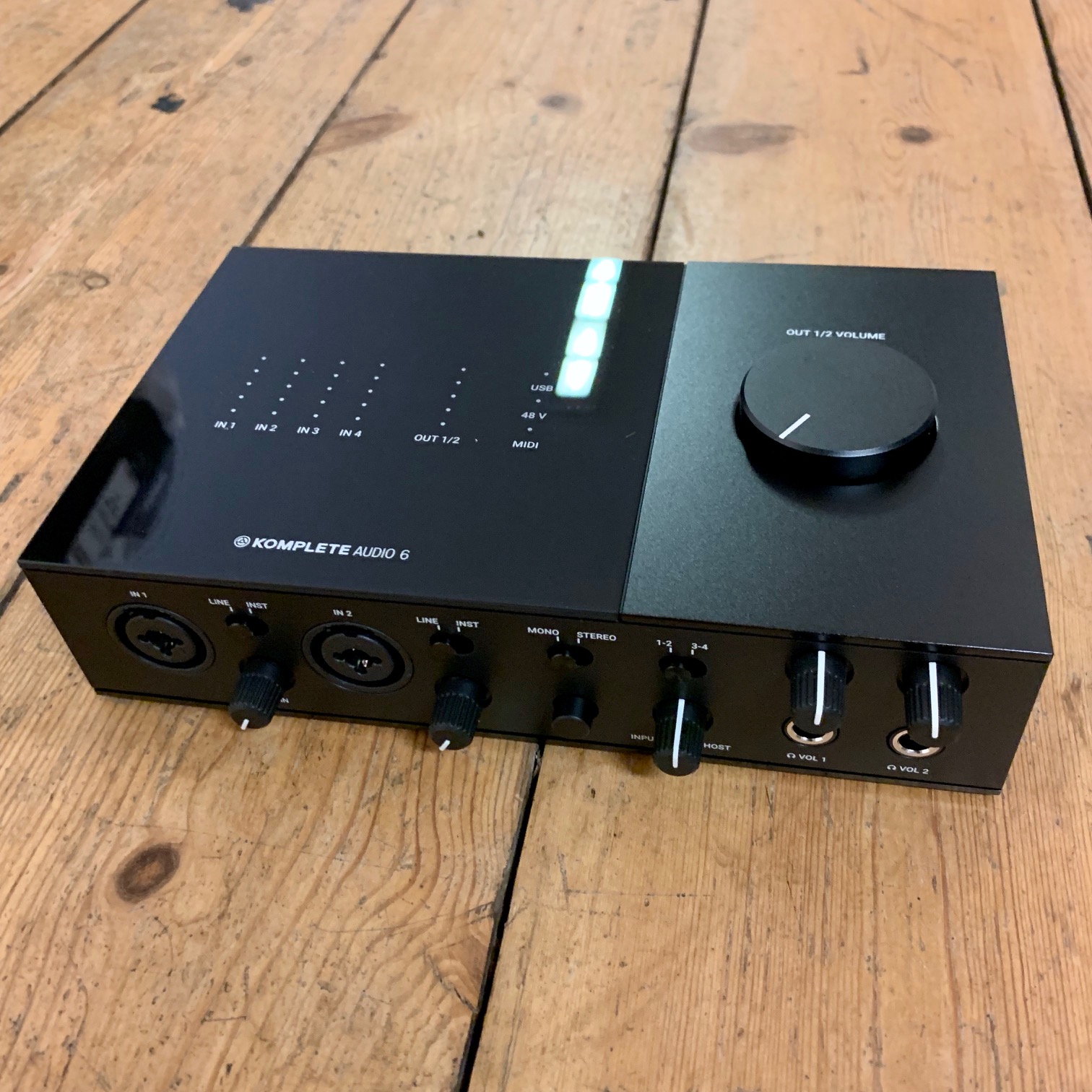 Native Instruments Komplete Audio 6 MK2
Berlin tech behemoth NI might be more closely associated with everything from soft synths to DJ controllers, but the brand's interfaces are well worth a look. The Komplete Audio 6 MK2 is the successor to the original model, released way back in 2011.
Like most of the cheaper models on the market, it's got fairly modest connectivity options – in this case four analogue inputs and four analogue outputs – but with a decent selection of added features, including MIDI interface, a large volume knob for monitor control, LED level meters on the top panel and S/PDIF digital connections for a further two channels in and out. Interestingly, the analogue outputs are specifically designed to double up as control voltage outs in addition to their more obvious audio output role. These control signals can be used to trigger analogue synths equipped with CV/gate inputs – a common feature of older hardware and the standard around which modular and semi-modular synths operate.
As a bonus, the Komplete Audio 6 is, for our money, one of the most stylish smaller interfaces on the market. That might sound frivolous, but even the biggest pro studio would admit that the creative environment has an impact on creativity. There's no reason to be ashamed of picking an attractive option if it inspires your creative process, so long as the functionality backs up the looks. In the case of the Komplete Audio 6, that's definitely true.
Buy from Juno
These days, most interfaces are perfectly capable of recording any sound source or instrument you throw at them. Even the most basic models will have options for recording instrument-level signals (like guitars) directly, microphone preamps (usually with phantom power for condenser mics) and line level sources like most synths, drum machines and effects. That being said, some interfaces do lean further toward particular uses. The IK Multimedia AXE is an interesting example, taking a leaf from the company's own AmpliTube amp modelling software and focusing on recording guitars and basses.
At heart it's a two-in, five-out interface, with one of those outputs being a unique dedicated guitar amp output. Other guitar-friendly features include expression pedal connections for the bundled AmpliTube 4 Deluxe software, valve-style JFET input mode for crunchier tones, and an onboard tuner. Clearly, the AXE I/O suits a very specific use case, but even if you only occasionally record guitars it's a solid interface with a flexible, interesting approach.
Buy from Juno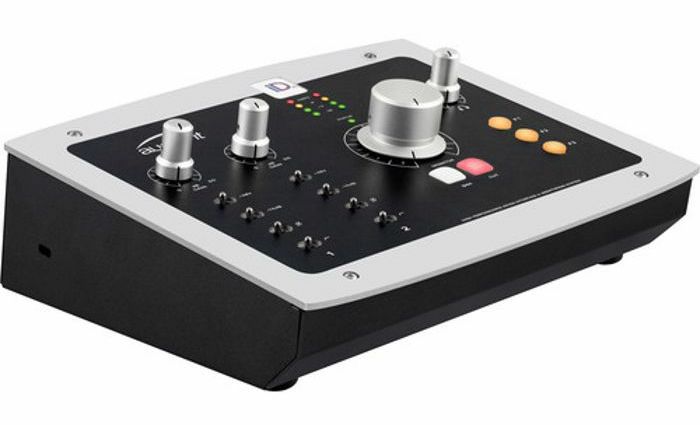 Not all interfaces follow the same design ethos. Even though they might all be trying to achieve roughly the same end results, the methods employed can vary significantly. Audient's designers are definitely open-minded when it comes to experimentation, and the brand's iD range demonstrates how effective that can be.
Out of the box, the iD22 is a two-in, six-out design with built-in monitor control options and insert points on both of the inputs. The latter is a fairly unusual feature in this price range, allowing you to set up outboard processing (a compressor or an EQ, for instance) between the preamp and the A/D converter, as would be common when recording vocals. You could also use it to plug a preamp directly into the A/D converter, bypassing the internal preamp altogether.
The ace up the iD22's sleeve is that, when fully expanded, it's capable of operating as a 10-in, 14-out interface. This is achieved via digital connections, which allow you to link up a multi-channel preamp such as Audient's own ASP880 or cheaper equivalents from brands like Behringer. This expands the number of inputs drastically, which offers an appealing upgrade path for those who might not currently need a lot of inputs but plan to build a collection of hardware at some point in the future.
It's not necessarily the obvious choice for everyone, but the iD22's combination of superb sound quality, monitor control and expandability make it a winner for certain workflows. The brand's slightly cheaper iD14 is also well worth considering, with a slightly more modest feature set but very much the same design ethos.
Buy from Juno
Universal Audio UAD Arrow
California brand Universal Audio have roots stretching back six decades, woven deeply into the rich history of analogue studio hardware and recording equipment. The current incarnation of the brand is just as well known for its audio interfaces, which offer superb sound quality. The Arrow is the entry-level option, with just two inputs and two outputs.
The unique selling point here is of course the inclusion of the brand's UAD (Universal Audio Digital) system, which comprises dedicated digital signal processing hardware in the interface and a suite of plugins which can be controlled via your DAW. There's a good selection of basics bundled with the Arrow, but you can also purchase additional plugins from Universal Audio. The sound quality of the UAD effects is second to none, with a focus on emulation of classic analogue hardware, but even before you dig into the effects, the sound of the Arrow is excellent.
The price might seem a big step up from some of the more basic two-in, two-out interfaces on the market, but the sound quality and the power of UAD effects absolutely justify the extra cost. If you only need limited connectivity, the Arrow is a no-brainer. Producers who require more ins and outs should take a look at the slightly more expensive Apollo models.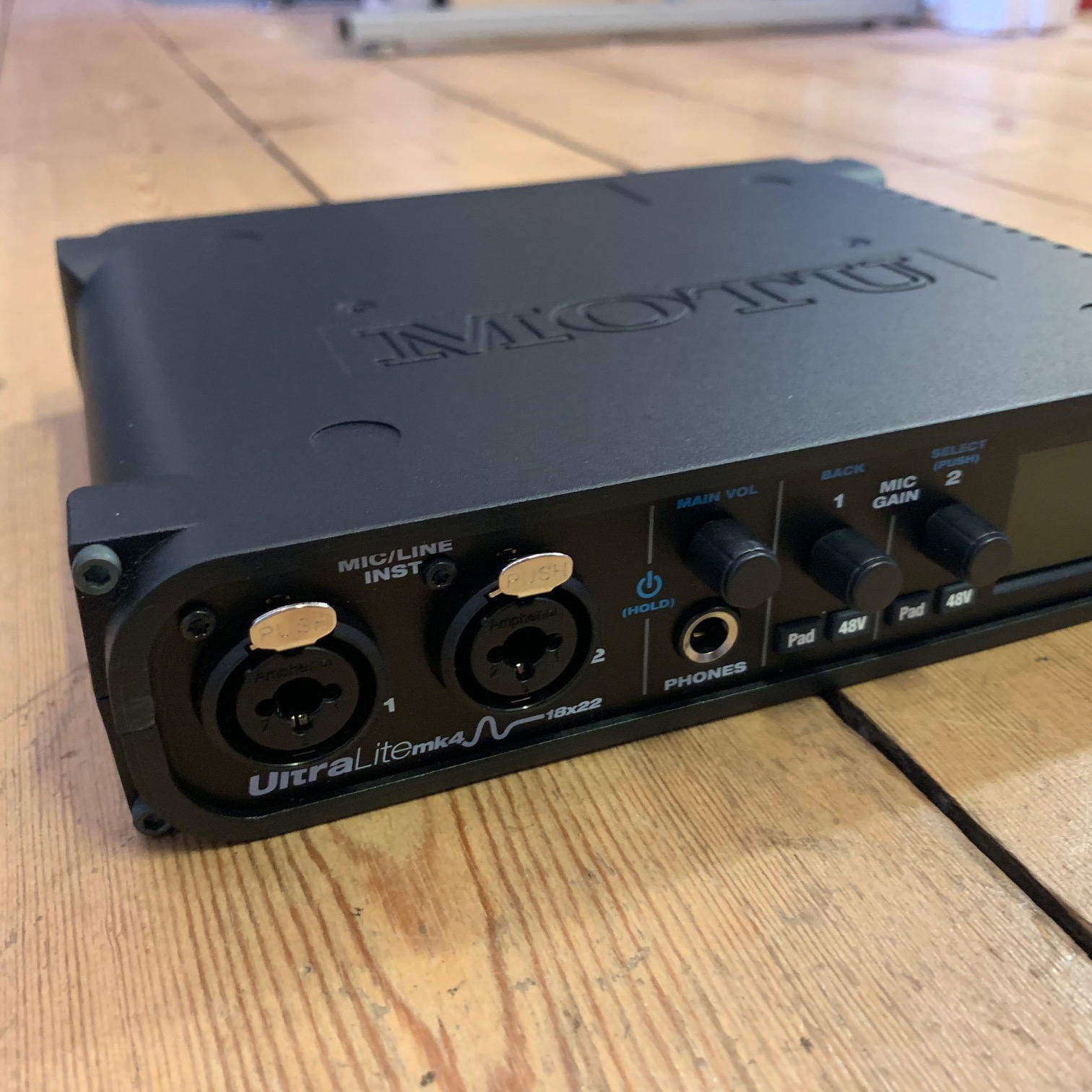 The UltraLite Mk4 is one of the most recent interfaces in a long-running range offered by MOTU (formerly known by the slightly more exotic name Mark of the Unicorn). The Massachusetts brand can stake a claim to being one of the longest-established interface brands in the world, having produced them for decades at this point and won countless awards over the years. As the name suggests, the fourth-generation version of the Ultralite has been refined and upgraded over time. It boasts an impressive eight analogue inputs and eight analogue outputs, up to a maximum of 18-in, 22-out when taking full advantage of all the digital options too.
At this kind of price point, you really can get an interface that could be considered a true all-rounder. The UltraLite offers MIDI connections, on-board DSP, decent level monitoring and options via the front panel LCD, plus the aforementioned digital connections for expansion. Other interfaces are more focused on particular things – the Arrow on effects, or the AudioFuse 8Pre on crystal clear analogue inputs – but the UltraLite is an incredibly versatile option for those who need a bit of everything. The small format makes it convenient for use in a live setup, too.
Buy from Juno
Arturia's first audio interface, the original AudioFuse, was only released in 2017, but in the short time since then the French brand has established itself as a serious player in the market. The 8Pre is the rack-mounted design on our list; manufacturers tend to favour the simplicity of a desktop module format for cheaper modules these days, but you'll find rack units more common as you move up to bigger and more powerful high-end interfaces. (The 8Pre's rack ears can also be used as feet, but with potentially 20-plus wires trailing out of the back of the unit it would almost certainly be neater and easier to manage in a rack enclosure.)
As you'd expect, the 8Pre builds on the impressive sound quality of the original AudioFuse, focusing around eight analogue mic/line inputs (the first two of which can also be used for instrument-level signals like electric guitars and basses). All eight inputs use the same excellent Discrete Pro preamps found in the original AudioFuse, with switchable 48V phantom power per channel for use with condenser mics. The focus here is very much on recording, with no MIDI connections and no monitor controls.
What's particularly clever about this model is the fact it works either as an interface in its own right or as an expander for other interfaces compatible with the ADAT digital standard. Over a single optical cable, the 8Pre can add a further eight analogue inputs to interfaces like the standard AudioFuse or many of the other ADAT-equipped options we've picked here (including the Audient, MOTU and RME models). In fact, given that the 8Pre also has an ADAT input, you could even link two of them together to create a monster 16-in, 20-out setup. As such, it's a hugely versatile option for those who need lots of high-quality channels in and out.
Buy from Juno

RME Fireface UFX II
RME's Fireface range is well established as one of the most respected options once you reach the rarefied upper echelons of the interface world. At this price point, you'd expect certain things as standard: a wealth of inputs and outputs, plus versatile connectivity across a range of digital and analogue formats. At the higher end of the market, sound quality really becomes the number one focus.
It goes without saying that anyone in the market to drop a four-figure sum on an interface is likely to be very serious about music. It also becomes harder to make blanket recommendations as individual workflows and use cases will differ quite substantially at this serious end of the market: some users might want nothing more than analogue inputs, some might need blistering DSP power, while others might need portability and versatility for live performance or location recording. The UFX II is very much an all-rounder, with a wealth of analogue and digital connections, DSP power and mix flexibility. It's not cheap, but it's seriously good.
Buy from Juno