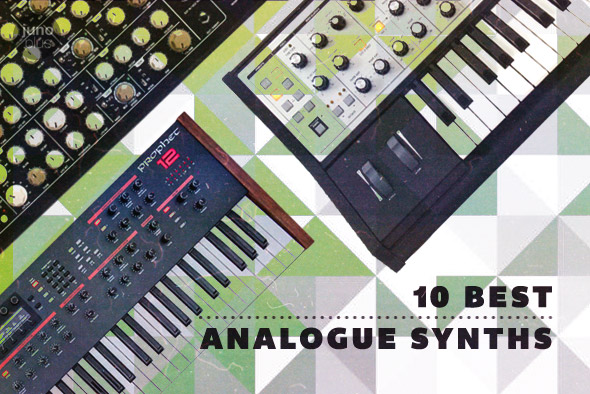 We list ten of the best contemporary high-end synthesisers currently on the market.
While we already have categories looking specifically at the ten best mono synths and mini synths, there are those that will be looking for something a little more high end for their production needs, or even with polyphony, enabling the creation of lush pads and complex chord sequences. The number of synthesisers in this class has risen exponentially over the past few years, and in this list we have listed what we consider to be the best models in this area, looking at models from titans like Dave Smith Instruments and Moog, and units from boutique manufacturers like Vermona and Analogue Solutions.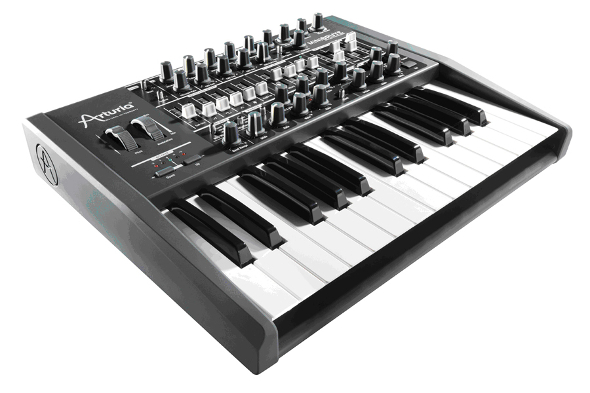 Arturia have come correct with their new synth that features a pure analogue signal path. Having previously made a name for themselves in the creation of ultra realistic digital versions of classic analogue synthesizers in plug-in form, Arturia have taken the leap into the world of hardware synthesis with the MiniBrute, setting a new high standard for affordable analogue synths. The single VCO features wave mixing between all the classic analogue shapes, including white noise, a sub that can be switched between sine and square waves, an octave or two octaves below the VCO, and an external sound source. In addition to being able to simultaneously mix all of the wave forms using the sturdy fader controls, each wave has an added shaping control. For example, the saw has an ultra saw knob that acts as a kind of ensemble control and the triangle has the "metalizer" that adds overtones to the original shape. Separate filter and amp ADSRs are the standard here and with plenty of modulation possibilities including syncing the rate to the built in arpeggiator. The multi-mode filter was created with the help of Nyle Steiner of Steiner-Parker fame and includes low pass, high pass, notch and band pass filters.
MIDI I/O, USB and plenty of CV/Gate connection options are available on the rear panel, and there really isn't a scenario that the MiniBrute won't fit into with ease. The headphone and main output volumes are completely independent, and sensitive tuning controls allow this powerful synth to be the ideal DJ/PA live performance partner. Likened to the classic SH-101 synth, the MiniBrute also features feedback loop-type effects known as the "Brute Factor", which will add a serious amount of granular dirt to your patches. If you are in need of some real analogue sounds, but you don't have deep enough pockets for some of the more boutique synths on the market then you will be pleasantly surprised by the MiniBrute.
More info/Buy
Specifications:
| | |
| --- | --- |
|  Power | 12V AC |
|  Oscillators | 1 x VCO simultaneous wave mixing of sub, saw, square, triangle, white noise and ext in |
|  Filter | Steiner Parker multi-mode low, band, hi and notch |
|  Modulation | 1 x LFO |
|  Effects | Brutalizer overdrive |
|  Features | Wave shaping controls, filter and amp ADSR, 25 note keyboard w/aftertouch |
|  Connections | USB, MIDI I/O, CV/Gate, pitch out, Gate out, Gate in, amp to VCA, filter to VCF, pitch to VCO (MIDI/CV conversion) |
|  Dimensions (cms) | 33x39x7 |
|  Weight (kgs) | 4 |
For an analogue synth designer to make it into this top ten feature not twice but three times must mean that somebody is doing something right. Dave Smith Instruments have fast become the go-to brand for affordable, quality analogue synthesis. In some ways the Tetra has a lot in common with the Mopho x4, only without the keyboard, pitch bend and mod wheels, featuring four voices of polyphony and four part multi-timbral capabilities. Each of the four voices is made from two oscillators, with a choice of saw, triangle, saw/triangle and square wave with pulse width control and hard sync. Each voice also contains two octave generators as well as four LFOs and a white noise generator. Once again the Curtis low pass filter with switchable two pole or four pole contour is a feature of the design.
As is the case with most of the new Dave Smith synths, there are a set of library patches as well as space for user patches to be saved. There is some free software available to aid with patch editing and creation along with the powerful arpeggiator and 16 x 4 step sequencer. There are also four assignable potentiometers for creating the most efficient performance configuration for your patches, along with controls for filter cutoff, resonance, attack and decay/release. Like the Mopho x4, there is a poly chain connection possibility, which can increase the voice count, as well as MIDI and USB connections. The Tetra is ideal for both the studio and the live arena and is particularly user friendly for anyone new to programming synths.
More info/Buy
Specifications:
| | |
| --- | --- |
|  Power | Mains power |
|  Keyboard | N/A |
|  Oscillators | Two oscillators per voice (sawtooth, triangle, saw/triangle, square with variable pulse width) with hard sync |
|  Filter | Curtis low pass filter |
|  Modulation | Four LFOs per voice |
|  Effects | N/A |
|  Features | Gated 16 x 4 step sequencer (one sequence per program), arpeggiator |
|  Connections | USB 2.0 (type B receptacle), MIDI In, MIDI Out/Thru, Poly Chain Out, Audio Outs 1/Left, 2/Right, 3, and 4 (1/4″ unbalanced), 1/4″ Headphone Out |
|  Dimensions (cms) | 20.07 x 12.7 x 6.86 |
|  Weight (kgs) | 0.81 |
The father of popular analogue synthesis is undoubtedly Bob Moog, and perhaps his most popular creation is the Model D monophonic synth that was released more than a generation ago in the early 1970s. Since the resurgence of interest in Moog instruments – namely with the Moog Voyager – there have been many new models and cut down versions, but the Sub Phatty feels much more like a return to the simple analogue synthesis of the Model D, with some handy modern bonuses. The two oscillators present a continuous selection of triangle, saw, square and pulse waves, with the second oscillator having the ability to be tuned separately from the first. The sub oscillator gives you the option of adding a square wave an octave below oscillator one, and there is also a pink noise generator that throws out a wide frequency range. As expected, modulation comes from an LFO with all the classic shapes you would expect such as triangle, ramp, saw and square shapes.
One of the modern additions on this powerful synth is the design of the multi-drive that allows you to rough up your creations and allow the Moog to snarl and scream, giving it a more unruly and edgy side. Other new additions include the possibility of saving your original sounds as user patches using the four banks available from the front panel. As expected, the low pass filter follows the classic Moog ladder design and reaches between 20Hz all the way to a sky-cracking 20kHz. The two octave keyboard might be on the short side for some, but with plenty of DIN sync, USB and CV/Gate connection options, main and headphone outputs and a n exceptional build quality, any shortcomings are soon forgotten. If you are a fan of the old Moog synths, or any boutique analogue synths for that matter, you will be more than at home with the Sub Phatty.
More info/Buy
Specifications:
Oscillators
| | |
| --- | --- |
|  Power | 100/240V AC |
|  Keyboard | 25 semi-weighted keys |
|  Filter | Moog Ladder 20Hz-20kHz |
|  Modulation | 2 x LFOs and 1 sub oscillator |
|  Effects | Multidrive section |
|  Features | 4 banks of 4 preset patches |
|  Connections | 2 x TS output (audio out, headphone out), 1 x TS input, DIN I/O, USB (MIDI), Filter CV in, Pitch CV in, Volume CV in, KB Gate in |
|  Dimensions (cms) | 25x63x44 |
|  Weight (kgs) | 9.4 |
Based on the hugely successful Mopho monophonic analogue synth, the Mopho x4 takes the original model and adds four voice polyphony to allow you to create immense unison basses, smooth leads and percussive sequences, with the possibility of pads now being added to the mix. The sound of the Mopho x4 is created using two analogue oscillators and two sub-octave generators per voice. The low pass filter is the well loved Curtis type with selectable two pole or four pole implementation, and with a total of three envelope generators, this compact polyphonic analogue synth is capable of generating some impressive sounds.
In addition to its 44 note keyboard with aftertouch and velocity sensitivity, this synth features four LFOs for extensive modulation, a re-latchable arpeggiator and a 16 x 4 step sequencer. Sometimes likened to a modern version of the old Sequential Circuits Six Trak, the Mopho x4 comes with some interesting connection options, including the possibility of linking the Mopho x4 with other Mopho or Tetra units or even the Prophet '08 or Prophet 12 to increase the voice count. USB and MIDI connections are also available, and there is some Mopho x4 sound editing software which is free to download for PC and Mac.
More info/Buy
Specifications:
| | |
| --- | --- |
|  Power | 12V AC |
|  Keyboard | 44 note, after touch, velocity sensitive |
|  Oscillators | Two oscillators with a further two sub oscillators (one at one octave and the second at two octaves below), noise generator, fully controllable feedback loop, three envelope generators. |
|  Filter | Curtis Low pass filter, switchable between four and two pole |
|  Modulation | 4 LFOs per voice |
|  Effects | N/A |
|  Features | Free downloadable Mopho x4 editing software |
|  Connections | MIDI In/out/through, USB, Poly Chain, Sustain Pedal, CV/Expression Pedal |
|  Dimensions (cms) | 64 x 28.2 x 9.1 |
|  Weight (kgs) | 4.5 |
The PerFourMer MkII from Vermona is comprised of four analogue synthesisers under one housing, with each of the four elements comprising oscillator, filter, envelope generator, LFO and amplifier reflecting the classic analogue synth signal path. The sine, triangle, square, saw and noise sources can be played together monophonically or polyphonically via MIDI or CV/Gate control. There is a simple grace to the simple layout of the PerFourMer MkII and its simple concept comes packaged in a robust metal sloping box with knobs and switches of the high quality users have come to expect from Vermona.
If you are a particularly adventurous synth aficionado then you will be eager to make use of the PerFourMer's FM and SYNC possibilities, including synchronisation of neighbouring oscillators, and the option of syncing LFO rates to each other or to an external MIDI clock source. If you are impressed by the PerFourMer's filters then you can use the synths external source selector to plug either a keyboard or a guitar in to utilise any or all of the four filters. Each amplifier also contains a pan pot for placing its specific synth channel in the stereo field. This synth not only makes a great tool for sound designing but offers a flexible solution for creative experimentation that will please analogue newcomers as well as experienced synth users.
More info/Buy
Specifications:
| | |
| --- | --- |
|  Power | 240V mains |
|  Keyboard | N/A |
|  Oscillators | 4 x VCO (sine, triangle, square, sawtooth, noise) |
|  Filter | 4 x low pass filter |
|  Modulation | 4 x LFOs (pitch, filter cut off, pulse width) |
|  Effects | N/A |
|  Features | N/A |
|  Connections | MIDI In/Thru, 4 x 1V/octave CV Ins, 4 x gate outs, 2 x 6.35mm TRS output, 4 x 6.35mm TRS external ins, 4 x 6.35mm TRS inserts. |
The Telemark K SEM Modular synth will appeal to those who like to explore more organic and subtle analogue synth tones. Its dual analogue oscillators include saw and square waves with pulse width modulation, and Analogue Solutions reveal that it has a distinct sound that is rather like an old Oberheim SEM. In addition, this synth has a layout that resembles the old SEM. Having a pure analogue signal path, there are no options to save your patches, steering the synth programmer into a much more organic and bespoke work ethic.
The 1/8" patch points on the Telemark K outline its semi-modular design that allows you to change the signal path to your liking and to cross patch with other modular synths that you have in your collection. The connection options continue with a full arsenal of MIDI ports that can be edited and set up using the LCD which presents as conspicuously digital amongst this sea of analogue circuitry. The solid white metal chassis is book ended with luxuriant wood panels and the build quality is further enhanced by sturdy rotary knobs and switches. The keyboard is a comfortable three octaves of full sized semi weighted keys with pitch bend and a mod wheel. The bespoke nature of this synth lends itself to users that already enjoy analogue synths, but are looking for something a little special.
More info/Buy
Specifications:
| | |
| --- | --- |
|  Power | 240V mains AC |
|  Keyboard | Three octaves, semi-weighted |
|  Oscillators | 2 x VCOs (sub oscillator) |
|  Filter | 1 x multi mode filter (Low Pass, High Pass, Band Pass, Notch) |
|  Modulation | 1 x LFO (square, triangle, sample and hold) |
|  Effects | N/A |
|  Features | N/A |
|  Connections | MIDI In/Thru, 2 x external/CV, 1 x audio out, patch bay |
For the ultimate in analogue synthesis that walks the walk as well as it talks the talk, look no further than the Leipzig SK from boutique synth manufacturer Analogue Solutions. The SK is almost identical to the Leipzig S modular synth, only the SK features a built-in keyboard with a three octave range. Sturdy knobs and switches are set into the black metal chassis that features wooden sides, giving it a deeply old school look that accentuates the bespoke nature of this instrument. The single LCD is the only digital feature here and is used to navigate various MIDI and keyboard utility options, primarily because there is no memory for saving your sounds despite the modicum of digital technology available. The dual VCOs are capable of syncing and there are glide controls for both, including sub VCOs. The SK has a built-in step sequencer with clocking options that include external sources, and as there is no digital control in the creation of the sounds, there is plenty of authentic slop that is part and parcel of much older analogue equipment but less easily found in their modern counterparts.
Leipzig SK creator Tom Carpenter points out the wide range of sonic possibilities open to this synth, and in particular there is an emphasis on creating unique electronic drum and percussion sounds. The Moog-style ladder filter lends itself to deep bass sounds and snappy percussive elements as well as warm leads, and with MIDI input and CV options, the SK is a practical solution for the modern studio. True analogue synths from the '70s and '80s are famously difficult to keep in tune as there is no digital control to keep them from drifting while their circuits warm up; though in this day and age we have digital control to help deal with this problem, Analogue Solutions have embraced this unreliability as part of the character of a synth and so have endeavoured to stay true to a more pure analogue design, developing a truly old school synth which has been designed for integration in a modern world.
More info/Buy
Specifications:
| | |
| --- | --- |
|  Power | 12V AC |
|  Oscillators | 2 x VCOs with glide and sub oscillators |
|  Filter | Transistor Ladder Filter (low pass) |
|  Modulation | LFO, 8 step sequencer also features modulation routing |
|  Effects | N/A |
|  Features | 37 note velocity sensitive keyboard. LCD with digital control of MIDI and keyboard utilities. Eight step sequencer w/ external clocking options |
|  Connections | MIDI I/O Thru, CV I/O, CV2 I/O, CV/Gate I/O |
|  Dimensions (cms) | 10x23x49 |
|  Weight (kgs) | 3 |
This Swedish brand has been building its reputation with well-designed instruments designed for creativity and at the same time retaining a significant amount of functionality. The Analog Keys sports four independent synthesizer channels, with each channel made up of two oscillators, two sub octave generators and a noise generator with a low pass filter and a multi-mode filter each with filter drive for extra grit. Each of these channels is tied into an award winning step sequencer that allows for 64 steps per sequence. Ultimately designed to control the four analogue synth channels, the Analogue Keys has two further sequence channels for controlling sequenced FX and for sequencing any external synths via two CV/Gate ports.
The depth of this performance tool cannot be underestimated, with a powerful arpeggiator and 37 note velocity sensitive keyboard with after touch, the Elektron Analog Keys brings programming into the live arena with the tantalizing possibility of jamming live sequences. This synth's flexibility is further enhanced by full MIDI I/O/Thru connections, a USB port and two CV/Gate outputs. Furthermore, the synth also comes with the option of four note polyphony for a much lower cost than many of its closest analogue rivals, making this a very attractive choice indeed.
More info/Buy
Specifications:
| | |
| --- | --- |
| Power | 100-250 VAC, 50-60Hz (figure of 8 connection) |
| Polyphony | Four voice |
| Timbrality | Four part multi-timbral |
| Oscillators | 2 x analog oscillators (2 sub oscillators), 1 x noise generator |
| Filters | Four pole analog low pass ladder filter, two pole analogue multi mode filter |
| Effects | Chorus, delay, reverb |
| Sequencing | 4 x synth tracks, 1 x effects track, 1 x CV/Gate track, 6 x arpeggiators, swing, slide, accent, 64 steps per pattern, parameter locks, real time control |
| Memory | 128 projects, 4096 sounds, 128 sounds per project, 128 kits per project, 128 patterns per project, 16 songs per project |
| Keyboard | 37 key velocity sensitive, with aftertouch, joystick X-Y control |
| Inputs | Stereo audio input |
| Outputs | 1 x headphone, 1 x stereo main, 4 x track outputs, 2 x CV/Gate, MIDI I/O/Thru, 2 x Sync, USB |
| Dimensions (cms) | 66x10x31 |
| Weight (kgs) | 5.4 |
Contnually stirring up interest with his increasingly high end creations, Dave Smith himself is credited with developing one of the first practical and affordable polyphonic synthesisers back in the late 1970s, namely the Sequential Circuits Prophet 5 synthesizer. Fast forward to modern times, and the Prophet 12 is a hybrid synth with 12 voice polyphony that takes the best of both the digital and analogue world to power its whopping 792 programs, efficiently organised into four factory banks and four user banks.
The bedrock of the Prophet 12's sound comes from four high resolution oscillators creating the expected saw, square, triangle and sine waves, as well as 12 complex waves with white, red and violet noise. Vintage synth fans will be pleased to hear that the well loved Curtis low pass filter also features on the Prophet 12. With feedback loop, drive, bit depth hack and sample rate decimator control, and four fully patchable LFOs, this synth could be described as a sound designer's dream. However, if you are looking for a performance ready synth, then its five octave, semi-weighted keyboard with velocity and after touch, which also features pitch bend, a mod wheel and two touch sensitive strips will more than handle any demands that you make from it. Even though this synth has all of the features that would keep veteran synth fans happy for years to come, it has a simple work flow that even beginners will appreciate.
More info/buy
Specifications:
| | |
| --- | --- |
|  Power | 100-240V ~ 50/60Hz, 30 Watts, 1 x IEC AC power |
|  Keyboard | Full size, 5 octave, semi-weighted keyboard with velocity and aftertouch |
|  Oscillators | 5 x high resolution DSP Oscillators |
|  Filters | 1 x analogue Curtis LPF (2 or 4 pole), 1 x analogue HPF (2 pole) |
|  Modulation | 16 x 2 matrix, 26 sources, 97 destinations. 4 x LFOs |
|  Controls | Pitch bend, Mod Wheel, 2 x pressure sensitive touch strips (w/ latch capability) |
|  Program Memory | 396 user, 396 factory |
|  Inputs | 1 x MIDI In, 1 x MIDI thru, 1 x sustain, 2 x expression pedal |
|  Outputs | 1 x MIDI out, 4 x 1/4" TRS, 1 x 6.35mm TRS headphone |
|  Dimensions (cm) | 97.5×32.5×10.5 |
|  Weight (kg) | 11.8 |
As the model that has officially carried the Moog baton into the modern era, the Voyager Performer Edition is the new classic that could be described as the modern traditional Moog model. The original classic was named the Model D and enjoyed popular success between 1970 and 1982. Hailed as the father of analogue synthesis, the Moog name has come to define quality and functionality in an increasingly digital age. Like its predecessor, the Voyager is a monophonic analogue synth, meaning that it only plays one note at a time, however, the quality offered is second to none. Its three stable oscillators contain triangle, saw, square to rectangle shapes by a continuous control for precise sound design, while two Moog filters, a stereo amplifier, two ADSR envelope generators and an LFO provide the means to further shape your desired sound. All of this is wrapped up in a strong metal chassis with a hinged hardwood cabinet that not only looks great but offers some serious protection.
The 44 note keyboard features aftertouch and velocity sensitivity along with the classic pitch bend and mod wheels. To add an extra dimension to the performance possibilities of the Voyager, Moog has added a three dimensional X/Y/A touch control surface that allows you to assign various parameters to direct control, including filter cutoff. The Voyager has over 800 preset patches on board and with the Voyager Editor Librarian software, programming, saving and recalling patches for later use has never been more convenient. The connection possibilities are mind bogglingly extensive and include all kinds of pedal control ports and MIDI I/O/Thru connectors. The Voyager Performer Edition is the ideal synth for anyone looking for that classic Moog sound with all the benefits of the modern age.
More info/Buy
Specifications:
| | |
| --- | --- |
|  Power | 100-250VAC, 50-60 Hz |
|  Keyboard | 44 keys, producing Pitch, Gate, Velocity, and Pressure control outputs |
|  Oscillators | 3 x VCO's (continuously variable waveforms) |
|  Filter | 1 x dual mode filter (low pass/hipass-lowpass) |
|  Modulation | 1 x LFO (2 modulation buses) |
|  Effects | N/A |
|  Features | Socket for 12v gooselight lamp, three dimensional touch surface |
|  Connections | MIDI In/Out/Thrut, 1 x 1/4″ TRS Headphone, 10 x pedal/control inputs, 1 x DB-25 accessory port, LFO Sync, Envelope Gate, Sample and Hold Gate, External In, Mix out/Filter In, 2 x 1/4″ audio outs |
|  Dimensions (cms) | 77.5 x 46 x 7.62 (30.5 when fully upright) |
|  Weight (kgs) | 18.2 |