10 Best: Analogue Synths 2023
We list ten of the best contemporary high-end analogue synthesisers currently on the market.
While we already have categories looking specifically at the ten best mono synths and mini synths, there are those that will be looking for something a little more high end for their production needs, or even with polyphony, enabling the creation of lush pads and complex chord sequences. The number of synthesisers in this class has risen exponentially over the past few years, and in this list we have listed what we consider to be the best models in this area, looking at models from titans like Arturia and Moog, and units from boutique manufacturers like Vermona and Erica Synths.
Contents
What to look for
How many voices: monophonic, paraphonic or polyphonic?
The single biggest factor which defines an analogue synth's feature set is the number of voices it has – that is, how many different notes it can play at once.
The most basic analogue synths are monophonic, meaning they can only play one note at a time. That might sound extremely limiting, but in practice it's not for a couple of reasons. Firstly, a lot of acoustic instruments are usually only played one note at a time (think wind and brass instruments, or stringed instruments played with a bow). Secondly, lots of elements of music – such as basslines – typically sound best when played monophonically. Some of the most iconic synths of all time are proudly monophonic, from the Minimoog to the Roland TB-303.
We've rounded up our pick of the best monophonic synths in a separate feature, which you can read in full here.
The other main option is polyphony, meaning that the synth can play multiple notes simultaneously, each with its own synth circuit. You'll often hear synths described as four-voice, six-voice, eight-voice and so on, with the higher number of voices giving you more freedom for complex chord voicings and sometimes even split patches, where one hand can play chords and the other can play basslines or lead parts with a different sound (the Arturia PolyBrute is a good example of this).
Sitting in between, you've got paraphony, which is a bit of a halfway house between the two. Paraphonic synths can play more than one note at once, but they only have one filter. The sound is a bit different – not quite as precise and versatile as true polphony – but it's a good compromise. The Moog Matriarch on our list is about as high-end as paraphonic synths get.
There's no right or wrong answer here, it all just depends on your specific needs and what kind of sound you're trying to play. With that said, most polyphonic synths can be set to a monophonic mode, so their versatility tends to give the best of both worlds.
Keyboard vs module
Once you've decided you want a particular set of features or a specific sound, you need to think about the format itself: keyboard, or desktop module. The keyboard might seem the obvious choice, but synths with keyboards are inherently bigger than those without. Maybe you're short on studio space, or maybe you've already got a good MIDI keyboard which you want to use as a master controller. Perhaps you prefer to sequence your synths via a DAW or a hardware sequencer. However you want to make music, there's a synth to suit you here.
It's also worth noting that some synths are available in multiple formats, such as the MiniBrute 2, which is also available as a module with built-in step sequencer, the MiniBrute 2S.
Semi-modular/patchable features
With the explosion in popularity of Eurorack modular synths in recent years, there's also been a resurgence in semi-modular synths. Semi-modular synthesis was employed on classic instruments like the Korg MS-20 and ARP 2600.
Unlike 'true' modular synths, these are self-contained devices rather than a collection of modules in a case. However, just like modular synths, they can be patched and customised to create almost infinite sonic options. In most cases, you can also patch them to other synths and Eurorack gear.
A number of options on our list are semi-modular, including the two Moogs and the Arturia MiniBrute 2.
The best analogue synths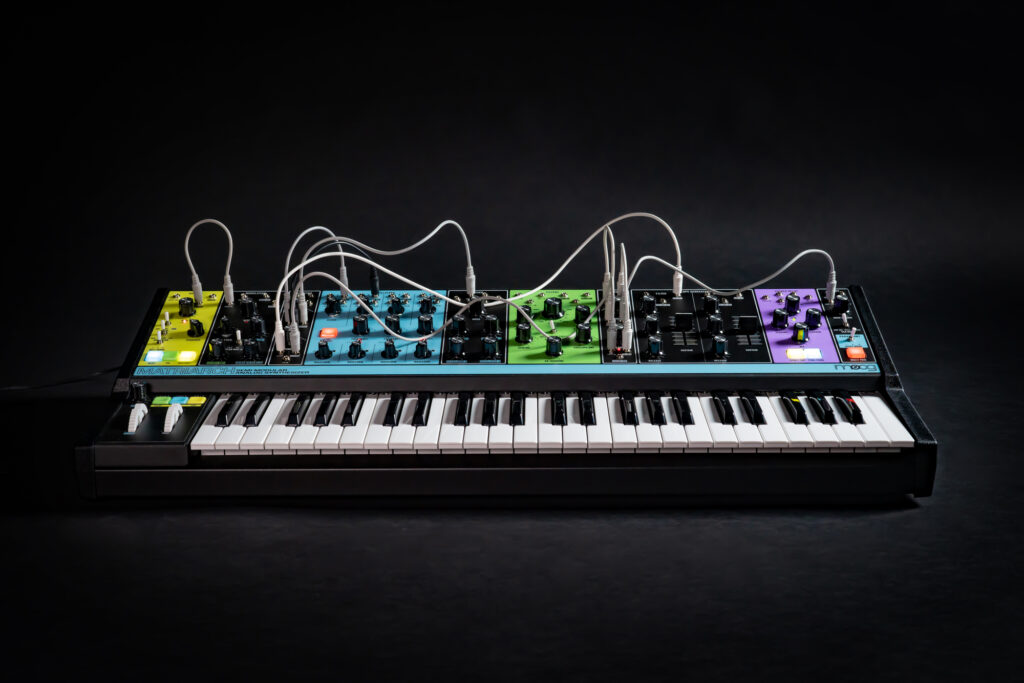 Moog is a legendary name in analogue synthesis, and the proud tradition started by founder Bob Moog in the early 1950s continues to this day with a brilliantly eclectic and characterful range of analogue instruments. Towards the top end of Moog's range, things get very serious. The Matriarch is Moog's flagship semi-modular synth, offering patching capabilities that make it incredibly versatile, while retaining the character of the classic Moog synths, updated for modern workflows.
The Matriarch is incredibly deep, with 90 patch points allowing you to push the sound in virtually any direction, from expensive-sounding analogue basics through to experimental weirdness. It's a real tweaker's delight, encouraging you to get hands-on and allow the synth to guide you organically into new creative territory. Available in a multi-coloured front panel or an understated black and silver Dark Series finish, the Matriarch bridges the gap between Moog's incredible history and their continuing innovations in the world of analogue synthesis.
More info/Buy
| Pros | Cons |
| --- | --- |
| Legendary Moog sound updated and reimagined for modern tastes | Semi-modular design could be intimidating to some |
| Semi-modular features give incredible depth and range | |
| Tech specs | |
| --- | --- |
| Voices | Mono, duo, and 4-note paraphonic settings |
| Features | 49 full-size keys; semi-modular; stereo analogue delay |
| Dimensions | 810 x 360 x 140 mm |
| Weight | 10.9 kg |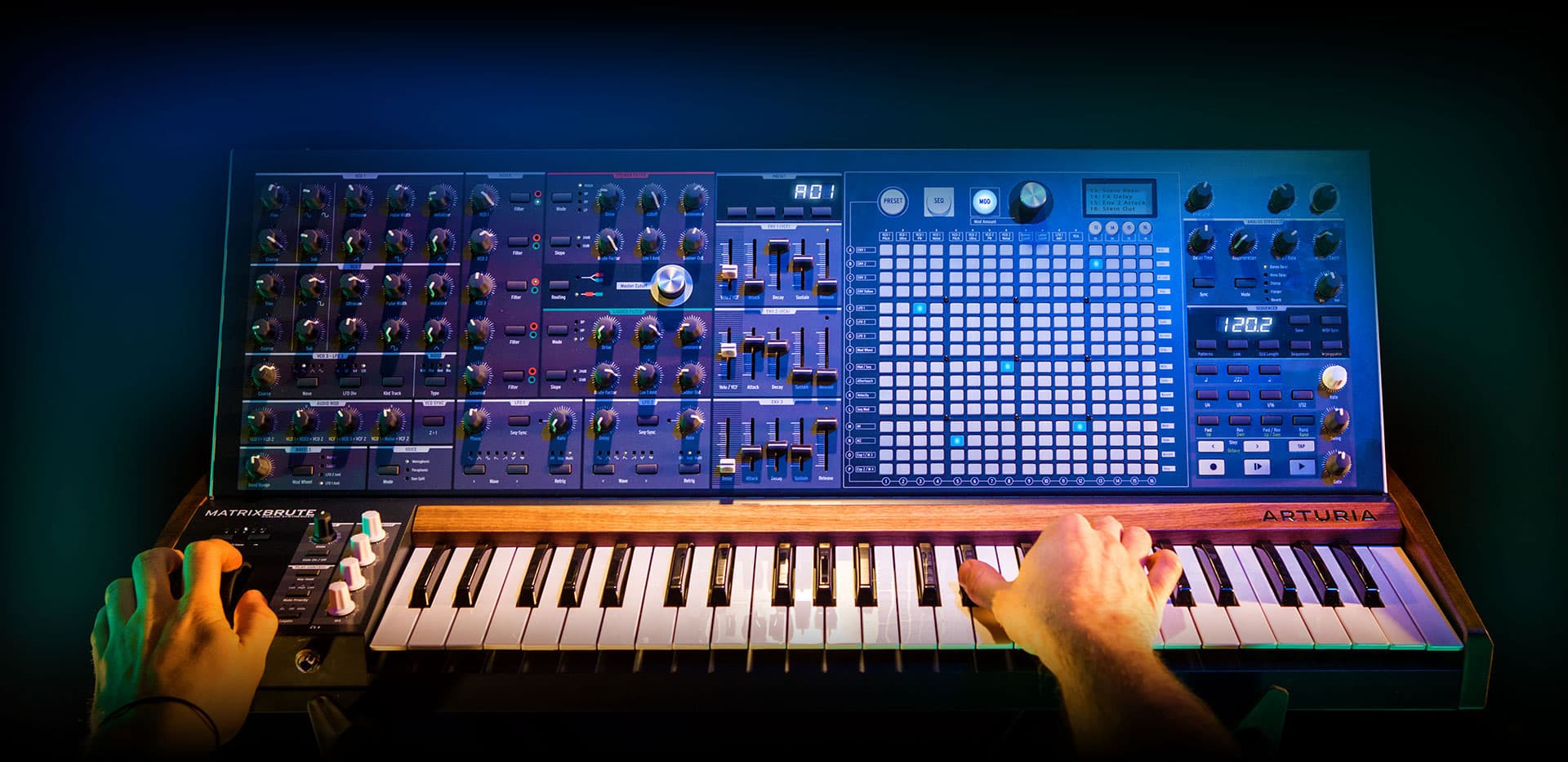 Sticking with monophonic sound is a bold move for a synth costing the best part of £2,000. Arturia make no bones about the fact that the MatrixBrute is a single-minded instrument with an unashamedly premium price tag, boldly claiming that it could be the most powerful analogue monophonic synthesiser of all time. Once you start to play with it, you realise that might not be an exaggeration. With three oscillators, two complementary filters, analogue effects and a hugely powerful step sequencer for good measure, the MatrixBrute can only be described as a beast.
The central focal point is the modulation matrix which gives the synth its name, a 16×16 grid of buttons which gives you access to modulation routings and also serves double duty for visualising the sequencing and arpeggiator options. The power of the MatrixBrute is incredible, making it capable of creating almost any analogue synth sound you can imagine, from subtle and lush bass and drones through to complex, evolving sequences and straight-up punch. A massive synth, in every sense.
More info/Buy
| Pros | Cons |
| --- | --- |
| Incredibly versatile analogue all-rounder | Expensive for a monophonic synth |
| Ultra-deep modulation matrix also handles sequencing and arpeggiator | |
| Tech specs | |
| --- | --- |
| Voices | Monophonic |
| Features | 49 full-size keys; 16×16 matrix modulation panel; effects |
| Dimensions | 860 x 432 x 107 mm |
| Weight | 20 kg |
It's easy to take for granted how far affordable analogue synthesis has come over the last decade, but it's worth reminding ourselves that brands like Arturia and Korg have been responsible for bringing analogue synthesis to the masses in a way that we could have dreamed of as recently as the early 2010s. Korg's Minilogue in particular represents a huge breakthrough in terms of bringing quality polyphonic analogue synths to the masses. It's a relatively basic four-voice synth compared to some of the more exotic models on our list, but its sub-£500 price tag was groundbreaking when it was released in 2016. And that's not to mention that it has the sound to back up the value.
The Minilogue is perhaps the ideal analogue synth for beginners, offering a little bit of everything that makes analogue synthesis so good: different voice modes allow you to explore monophonic and polyphonic sounds, sequencing and arpeggiators. The sound engine's a proper all-rounder in the way that classic synths like the Roland Juno-106 were, meaning you can use it for almost any element of your tracks. To keep things fresh and up to date, you'll find patch storage and MIDI connectivity, streamlining the entire music-making process.
More info/Buy
| Pros | Cons |
| --- | --- |
| Excellent value | Keybed doesn't feel as slick as more expensive alternatives |
| Versatile and powerful sound | |
| Tech specs | |
| --- | --- |
| Voices | Four voices (modes: Poly, Duo, Unison, Mono, Chord, Delay, Arp, Sidechain) |
| Features | 37 slim keys; 16-step sequencer |
| Dimensions | 500 x 300 x 85 mm |
| Weight | 2.8 kg |
Analogue synthesis doesn't have to be traditional, and there's nothing traditional about Make Noise's outstanding Strega. This hugely creative little module is like nothing else on the market, teaming an analogue oscillator section ('Strega Tones' in Make Noise language) with a lo-fi digital delay section and an analogue filter. It's just as happy to be used as a standalone instrument as it is to process other signals, or for even better results you can hook it up to other patchable gear like semi-modular synths or Eurorack modules.
What makes the Strega unique is the element of chaos. Touch pads allow you to route signals using your body, manipulating and modulating the sound in real time with varying degrees of control and randomness depending on what you touch and how. It's a refreshing alternative to the standard formula of subtractive synthesis which defines so much of the analogue synth world. Not for everyone, but those who get the concept will really love it.
More info/Buy
| Pros | Cons |
| --- | --- |
| Chaotic, inspiring synth with unique sound | Too weird for some |
| Designed to work nicely with other patchable gear | |
| Tech specs | |
| --- | --- |
| Voices | Monophonic |
| Features | Harmonic oscillator; lo-fi delay; touch modulation |
| Dimensions | 140 x 230 x 19 mm |
| Weight | 770 g |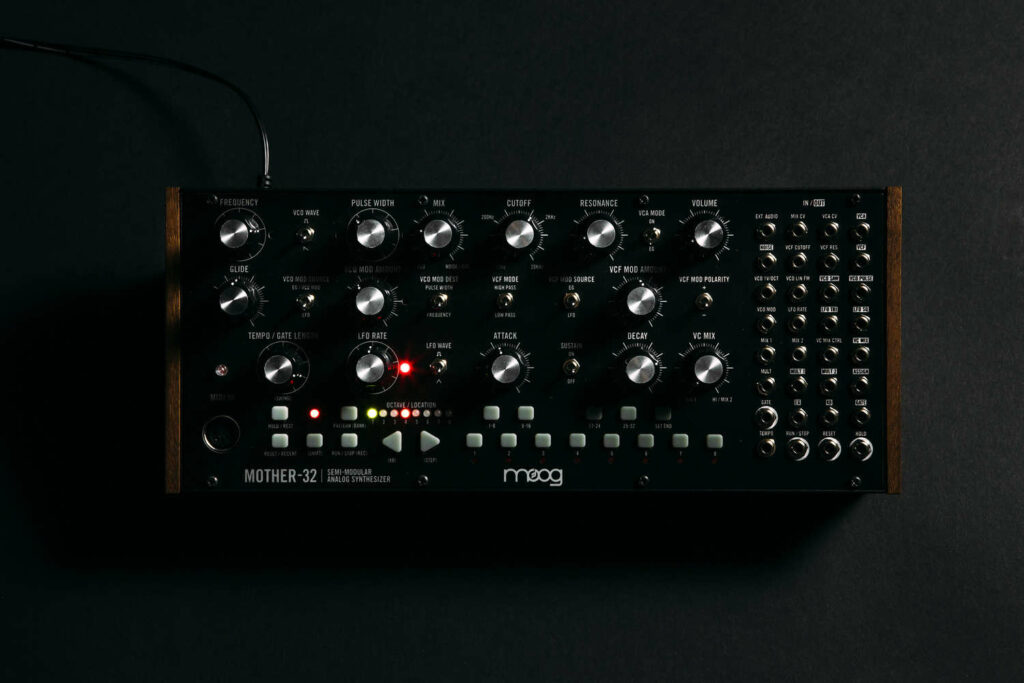 Moog's roots lie firmly in the world of modular synthesis, but the brand took a while to adopt the smaller format associated with Eurorack. The release of the Mother-32 in 2015 marked the beginning of Moog's love affair with Eurorack-compatible semi-modular synths. The Mother-32 is the most conventional of Moog's semi-modular desktop synths – it's a single-oscillator subtractive synth with switchable low-pass/high-pass ladder filter – but it's since been followed by the DFAM percussion synth, and Subharmonicon polyrhythmic synth.
The beauty of the semi-modular approach is that you don't even need to touch a patch cable until you've got the hang of the basic synth architecture; everything's internally patched, so you can make a start with the Mother-32 without patching anything. Once you're happy with the basics, you can start to explore the more complex modulation routings and signal flow options that the patch points allow. If you enjoy patching, you can then expand things by hooking the Mother-32 up to other semi-modular synths or Eurorack modules. It's a great entry point into classic Moog sounds as well as modular instruments.
More info/Buy
| Pros | Cons |
| --- | --- |
| The distillation of Moog's ethos into a compact module | Moog instruments are never cheap |
| Semi-modular design gives depth and versatility | |
| Tech specs | |
| --- | --- |
| Voices | Monophonic |
| Features | Semi-modular; 32-step sequencer |
| Dimensions | 320 x 107 x 133 mm |
| Weight | 1.6 kg |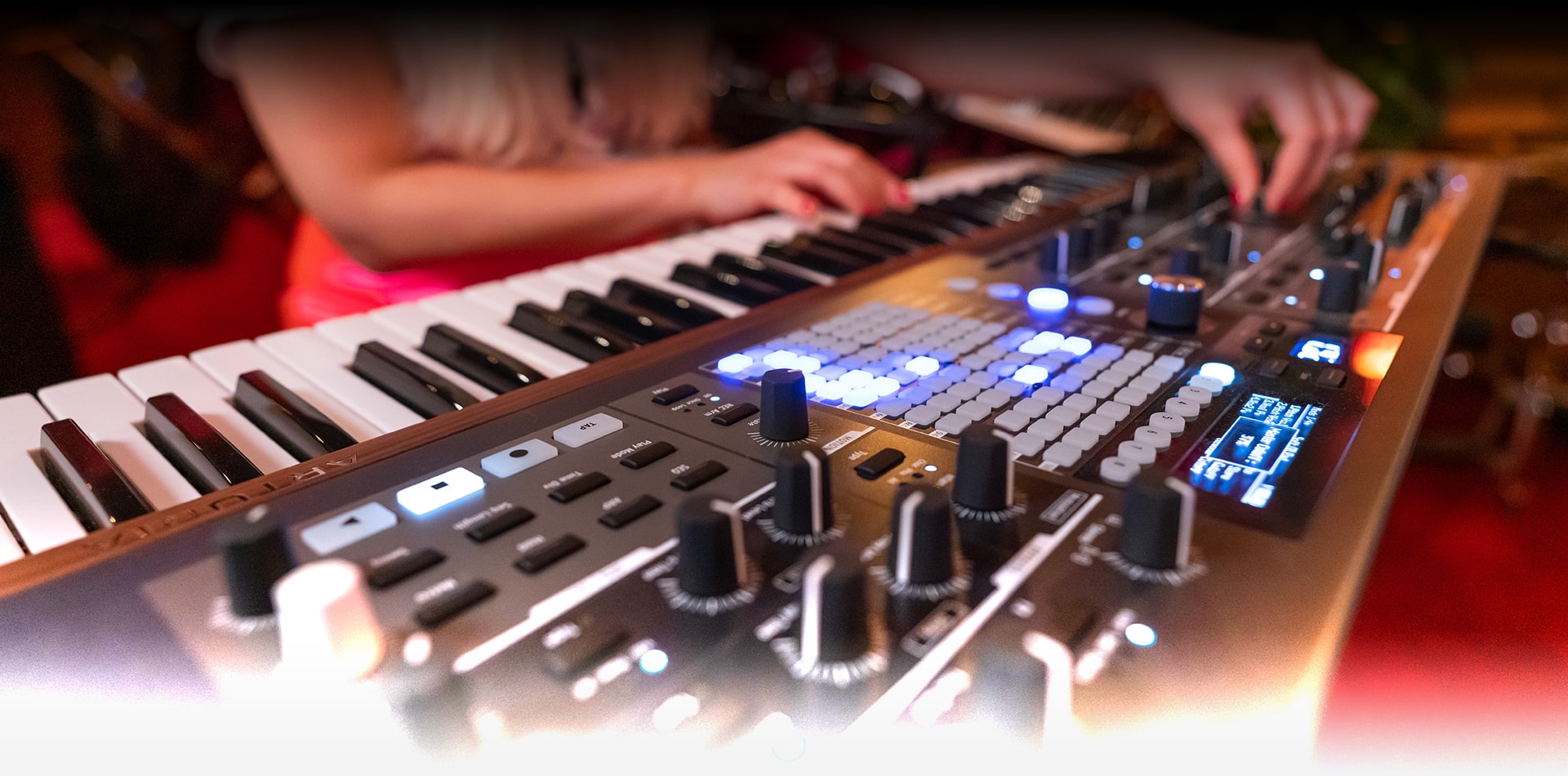 In case you hadn't noticed, Arturia have quietly become one of the biggest names in analogue synthesis. The PolyBrute represents the pinnacle of their output, a true player's synth designed to encourage personal expression. It's a brilliantly hands-on instrument, as you can see in our video…
The alchemy of the PolyBrute is in its combination of powerful six-voice synthesis with performance options. The keybed itself if top quality, giving you full-size keys with the perfect weighting for subtlety, but the addition of the ribbon controller strip and Morphée touch controller mean you can really bring the most out of the dual filters and extensive modulation options.
More info/Buy
| Pros | Cons |
| --- | --- |
| Arturia's top-of-the-range polysynth | Big and heavy, aimed at serious keyboard players |
| Expressive performance options | |
| Tech specs | |
| --- | --- |
| Voices | Six |
| Features | 61 full-size keys; ribbon controller; Morphée expression |
| Dimensions | 972 x 378 x 110 mm |
| Weight | 20 kg |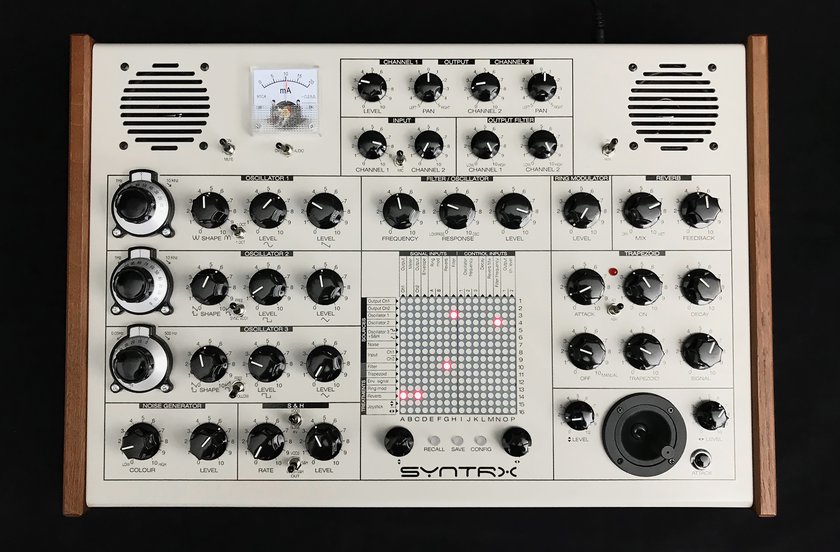 Developed in conjunction with Riga Technical University, the unusual Syntrx is loosely inspired by the legendary EMS Synthi AKS of the 1970s, but it's emphatically not a clone. The digital patch matrix which dominates the central part of the control panel is the closest direct link to the original English synth, but there are clear echoes in other aspects of the design even if the circuits are all brand new. Like the AKS, the Syntrx features three oscillators, a low-pass filter, ring modulator and spring reverb.
Above all else though, it's that patch matrix which really defines the way that the Syntrx works, encouraging you to think creatively in terms of how you route signals and set up modulation. It's a synth that demands a bit of effort on the part of the musician, but that's what makes it rewarding. With a mission to "inspire users to explore the space and travel to previously undiscovered audible realms", the Syntrx represents the more experimental end of analogue synthesis in the 21st century.
More info/Buy
| Pros | Cons |
| --- | --- |
| Inspired by a vintage classic | Too experimental for some |
| Experimental approach to analogue sound | |
| Tech specs | |
| --- | --- |
| Voices | Three VCOs; monophonic or paraphonic |
| Features | 16×16 routing matrix; spring reverb |
| Dimensions | 309 x 457 x 115 mm |
| Weight | 4 kg |
Analogue synths don't have to be complex, and it would be remiss of us to ignore a unique instrument which has built something of a cult following in recent years. Dub sirens grew out of dub production styles and sound system culture as a way to generate the sound FX and bleeps so characteristic of the genre. The Benidub DS71 is a relatively advanced take on the concept as far as they go, but it's still basic synth building blocks: analogue square wave oscillator, analogue low-pass filter, analogue VCA and digital LFO, largely inspired by vintage drum synths.
Controls are limited and noticeably different to what you'd find on a conventional synth, but that's what makes using a dub siren so unique: you're not so much thinking in terms of dialling in precise synth tones like you would on a conventional synth as you are tweaking and experimenting to find out what happens when you twist the knobs. Just keep noodling until you find something you like, then apply it creatively. The beauty is that the sounds don't have to be applied to dub productions: transitions, percussion, zaps, FX and even melodic sounds can all be applied to any style of music you like. Think outside the box with this one and the DS71 is a really fun creative tool.
More info/Buy
| Pros | Cons |
| --- | --- |
| Surprisingly creative synth architecture | Limited range, as with any dub siren |
| Fun and inspiring | |
| Tech specs | |
| --- | --- |
| Voices | Monophonic |
| Features | Analogue voice circuits; digital LFO |
| Dimensions | 145 x 130 x 60 mm |
| Weight | 580 g |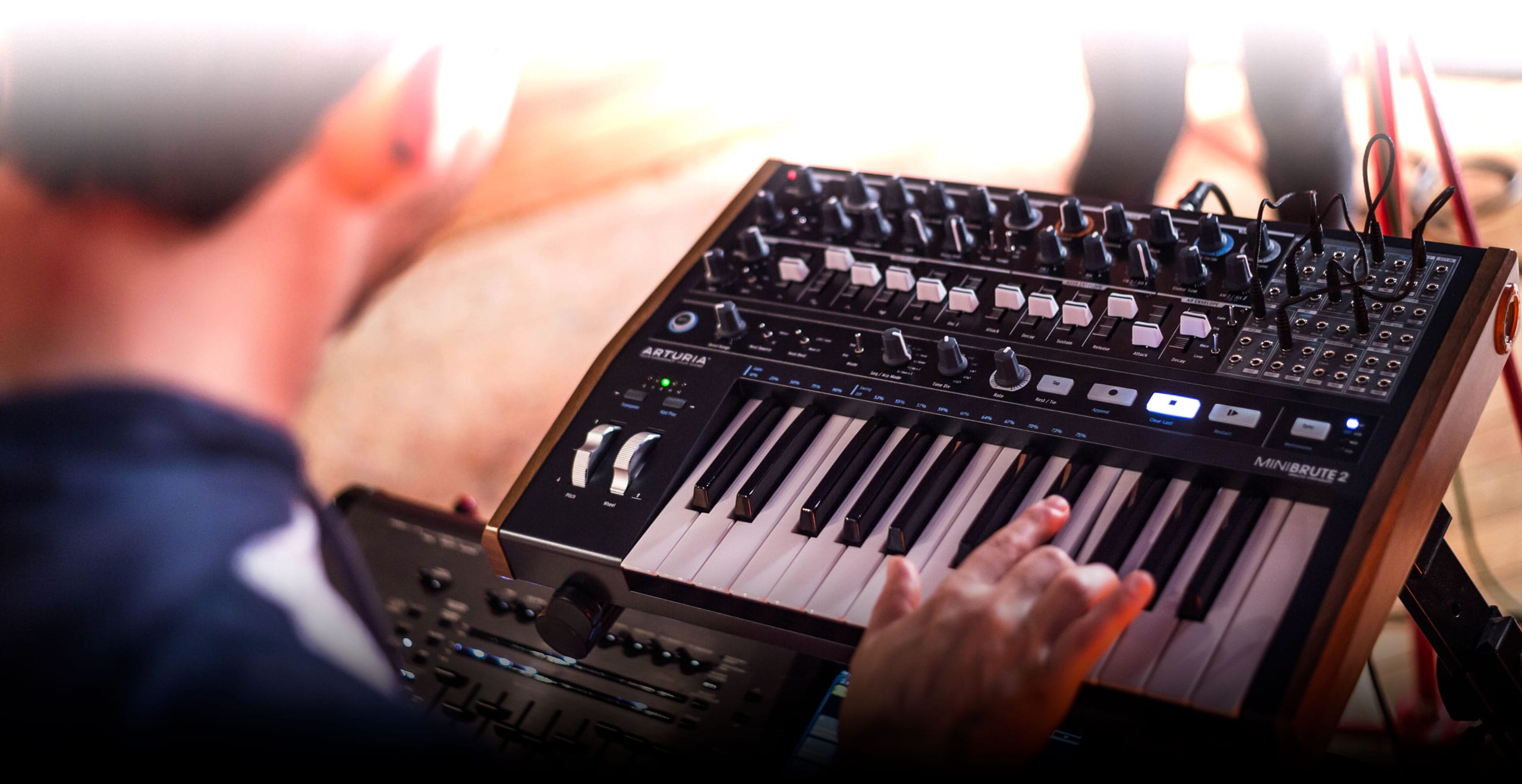 Having previously made a name for themselves in the creation of ultra realistic digital versions of classic analogue synths in plugin form, Arturia took a bold leap into the world of hardware synthesis with the original MiniBrute, setting a new high standard for affordable analogue synths. The updated model follows a broadly similar formula: a single VCO features wave mixing between all the classic analogue shapes, including white noise, a sub that can be switched between sine and square waves, an octave or two octaves below the VCO, and an external sound source. In addition to being able to simultaneously mix all of the wave forms using the sturdy fader controls, each wave has an added shaping control. For example, the saw has an ultra saw knob that acts as a kind of ensemble control and the triangle has the "metalizer" that adds overtones to the original shape. The multi-mode filter was created with the help of Nyle Steiner of Steiner-Parker fame and includes low-pass, high-pass, notch and band-pass filters.
The big change for version 2 is the extensive patch bay, which turns the MiniBrute into a semi-modular beast. With a versatility and sound likened to the classic Roland SH-101 synth, the MiniBrute also features feedback loop-type effects known as the Brute Factor, which will add a serious amount of granular dirt to your patches. If you are in need of some real analogue sounds, but you don't have deep enough pockets for some of the more boutique synths on the market then you will be pleasantly surprised by the MiniBrute 2.
More info/Buy
| Pros | Cons |
| --- | --- |
| Incredible value | Build quality can't match more expensive synths |
| Way better sound than you'd imagine from a small, affordable synth | Mini keys |
| Tech specs | |
| --- | --- |
| Voices | Monophonic |
| Features | 25 mini keys; semi-modular; sequencer/arp |
| Dimensions | 484 x 336 x 58 mm |
| Weight | 4.8 kg |
The PerFourMer MkII from Vermona is comprised of four analogue synthesisers under one housing, with each of the four elements comprising oscillator, filter, envelope generator, LFO and amplifier reflecting the classic analogue synth signal path. The sine, triangle, square, saw and noise sources can be played together monophonically or polyphonically via MIDI or CV/Gate control. There is a simple grace to the layout of the PerFourMer MkII and its singular concept comes packaged in a robust metal sloping box with knobs and switches of the high quality users have come to expect from Vermona.
If you are a particularly adventurous synth aficionado then you will be eager to make use of the PerFourMer's FM and sync possibilities, including synchronisation of neighbouring oscillators, and the option of syncing LFO rates to each other or to an external MIDI clock source. If you are impressed by the PerFourMer's filters then you can use the synths external source selector to plug either a keyboard or a guitar in to utilise any or all of the four filters. Each amplifier also contains a pan pot for placing its specific synth channel in the stereo field. This synth not only makes a great tool for sound designing but offers a flexible solution for creative experimentation that will please analogue newcomers as well as experienced synth users.
More info/Buy
| Pros | Cons |
| --- | --- |
| Unique four-synths-in-one design | Not the most inspiring control layout |
| Powerful analogue sound with FM and sync options | |
| Tech specs | |
| --- | --- |
| Voices | Four |
| Features | Four independent, linkable synth voices |
| Dimensions | 435 x 315 x 105 mm |
| Weight | 3.7 kg |
In summary
Your options when it comes to choosing an analogue synth are hugely varied, both in terms of sound and in terms of price. At the lower end of our price range here, both the Korg Minilogue and Arturia MiniBrute 2 are excellent synths around the £400 mark. At the other end of the range, synths like the Moog Matriarch and Arturia PolyBrute are incredible instruments with very different approaches.
You won't go wrong with any of the synths on our list, but they all do slightly different things. Whether you're looking for dub sirens, killer basslines or lush pads, there's an option here for you. The biggest question of all is which of these ten great options fits your own music-making process the best. That's not just in terms of sound, but in terms of workflow and features.
You may also be interested in…