The best new albums this week
Our writers' favourites from the week
ALBUM OF THE WEEK
Luke Vibert – GRIT. (Hypercolour)
You can draw parallels between Luke Vibert's prolificacy and that of Ed DMX's. As two veterans of the broader braindance scene, they've both hit a purple patch where releases seem to keep spilling out of them at a frankly dizzying rate. Both have found homes on Hypercolour, with Vibert now notching up his sixth album for the Brighton-rooted imprint since 2014. The label seems more than happy being supplied with a steady stream of the loose and limber acidic funk Vibert made his own sometime in the mid 90s and has been mining and refining ever since.
While he's got his various aliases for various strands – Amen Andrews and Plug for more junglist excursions, Wagon Christ for the hip-hop tempo business, Kerrier District for disco – Vibert's sound is consistent. Under his own name it's tilted towards a classic acid ensemble sequenced with a stoned demeanour, less raging jack tracks and more groovy, squelchy electro noodles. 'Decay Hole', the second track on GRIT., is a fine case in point, looping its respective parts in a mellow haze with punchy 808 drums, cosmic synth licks and loping 303 lines.
Compared to the artists he rolls with (Aphex who?) Vibert's appeal lies in the simplicity of his approach. You're not likely to have your mind blown unless you somehow missed the sound of a 303 for the past 30 years, but you'll feel infallibly good melting into the warm pot of sticky grooves he cooks up. Just clock the coiled-spring bounce of garage jam 'Gas Logs' with its understated, on-point acid bassline and cosmic pads. Try maintaining a moody demeanour while the chirpy, jazzy chords and infectious swing of 'Swingeing Cuts' frolic around your ear drums.
With a modest array of parts Vibert can knock out jam after jam of fluid, funky perfection, staying true to his sound but never sounding tired as he wiggles that frequency and resonance into infinity.
OW
Alex G – God Save The Animals (Domino)
Prolific, lo-fi indie darling, Alex G, has been a reliable source of bedroom folk-pop and experimental soundscapes for over a decade now. Following a yearly output of self-released full-lengths starting in 2010 (all of which have since been reissued by labels) it was 2014's seminal, 'DSU', that would garner immense praise and lead to a subsequent, enduring relationship with Domino Records.
The following year saw the arrival of, 'Beach Music'; an expansive, meandering, endlessly endearing project that would wind up on several 2015 end of year lists, with many being introduced to the writer's self-produced, primarily self-performed methods of methodical, lethargic whimsy.
Following 2017's, 'Rocket', and the seminal 2019 effort, 'House Of Sugar', this ninth full-length, God Save The Animals, will be a familiar experience for those already well versed in the G mythos, weaving its way through minimalist, folk centric balladry and more experimental fare, reflective of the modern era.
While cuts such as lead single, 'Runner', and the delicate hues of, 'Mission', sparkle with simplistic chord structures, led by equally emotive and cryptic lyricism, the darker material's embracing of vocoded, effects-laden vocals might not be a new trick, but it feels far more indicative of modern emo-trap motifs, especially on the strange, 'S.D.O.S.', and the hypnotic, 'No Bitterness', with its tinkling keys and uncertain atmosphere.
Elsewhere, the distorted drone that opens the ambient no wave noise-rock outlier, 'Blessing', is a typically "what in dafuq?" moment shoehorned into the proceedings to remind all that this project is, ultimately, whatever Alex G perceives or desires it to be at any given time, from track to track, or even within the same 3 minute song.
Trust the final two pieces, impassioned acoustic ditty, 'Miracles', and the lush, indie fuzz-pop closer, 'Forgive', to redirect the course for a smooth landing following the captain's atypical indulgences into the more questionable, unique sonics of his personal headspace. Perhaps, familiar terrain for the die-hards yet still as fresh, eccentric and touching as ever, while an ideal entry point for newcomers, God Save The Animals, is the sound of an artist utterly in tune with their own craft, but still aiming, and succeeding, to surprise listeners and themselves.
ZB
Jura Soundsystem – Return To The Island (Temples Of Jura)
Kevin Griffiths resumes his Balearic-minded Jura Soundsystem production pursuits with a gorgeously atmospheric long-player, serving eight mesmerising grooves on 'Return To The Island. If the sublime Jura Soundsystem 'Transmission' compilations tickled your musical fancy, you'll likely find plenty to admire in Griffiths' latest selection of original compositions.
The album follows on from 2020's 'With You' EP, charting stylistically similar territory if veering a little further toward sunset horizons. Beginning with the enchanting piano swells and bird song of 'An Interlude In Paradise', the music gently drifts into the marimba-led mystique of 'Linn Fun' before landing in the acid-soaked highlight, 'Crystal Voyage'.
Here, subtle 303 refrains are interwoven with sumptuous pads and mischievous marimbas while the heads-down machine drums keep the heads-down tempo. 'King Of Aldinga' sees growling synth bass combine with muted guitar riffs as sparking synths and celestial pads enhance the introspective gaze, before the care-free harmonics of 'Whatever Happens, Happens' glide over rolling congas and shuffling shaker rhythms.
'Freediving In The Tropical Zone' arrives like a soft summer breeze, with mystical pan pipes and evocative synth sweeps soaring across hypnotic drums and solid bass notes. The soul-soothing melodies continue into 'Love Always Wins', making way for the meditative waves of the entirely blissful 'Inhale Exhale'. Sublime sundown material, ripe for Balearic lovers across the board.
PC

Gaerea – Mirage (Season Of Mist)
On their third full-length, Portuguese post-black metal outfit, Gaerea, push their approach further while somewhat returning their expansive sonic palette to its root foundations.

Combining the ethereal soundscapes of post-rock with a raw meshing of tremolo picked guitar work, pummelling blast beats and malevolent rasping vocals; there's a delicate balancing act on display that doesn't necessarily align itself with the more commonly accepted aura of blackgaze outfits such as Deafheaven or Alcest.

Rather than the disparate styles coalescing in a similar vein to the aforementioned artists, the brazen dichotomy is an integral aspect of what elevates, Mirage, to a place of beautified spectacle, even whilst enveloped in its macabre motifs.
While, 'Salve', begins as a torrent of cascading blackened noise, methodical melodious elements such as the lush lead guitar lines slowly creep in, to redirect the crescendo to a place of horrific beauty, whereas the momentous title-track's slow ascent from minimal, doom-laden atmospherics to an abrasive assault is made all the more impressive by the subsequent dissipation into a tranquil, nuanced hush, led by meandering keys. The quiet is then lambasted with another crushing close of wailing howls, before, 'Mantle', careens from shimmering haze to caustic abandon.

Sporting iconographic masks in a guise not far removed from the aesthetic of blackened jazz trio, Imperial Triumphant, what separates Gaerea apart is their openness to the cathartic forms of melody that can complement the ugliness of extreme metal. Where 2020's, 'Limbo', opted to marry the opposing forces; 'Mirage', is a more compartmentalised affair, bolstered by its purposeful separation of light from dark, pain from purity and hate from acceptance.

Gaerea have a sense of knowing their listener and guiding their emotions through their own gilded, nightmarish visions. While it may not reach for the blackgazing heights so many peers strive to attain, there's an integral focus and calculation hidden amidst the towering concaves of frenzied aggression, with the utmost delicacy paid to the quieter segments, offering respite just when it's essential, not when merely desired.
ZB
Miles Davis – The Bootleg Series Vol 7: That's What Happened 1982-1985 (Sony)
In the eyes of the music press, most of Miles Davis' career is a near-faultless tapestry of innovations. During the mid-to-late 40s, he enters the arena of bebop. He would then prove instrumental in the creation of cool jazz. Later, he'd venture into the nascent hard bop idiom before helping to craft the revolutionary modal style. In the late 60s and early 70s, Davis has a controversial and wildly ambitious series of records, challenging the boundaries of acceptability in jazz. Up to this point, it's a staggering career.
But we then reach a strange period for Davis. The 80s are seen as Davis' least interesting period, often encountering accusations of "selling out". Now, in another addition to the fascinating Bootleg Series, we have a compilation to expand and perhaps complicate this narrative. Over a three-and-a-half-hour runtime, The Bootleg Series Vol 7 dives into this period of Davis' work. The results, containing studio sessions and a live Montreal performance, often unfurl as strange, warped deconstructions of the era's popular music. From the brilliant 'Speak' to the enthralling recording of 'It Gets Better', Miles' trumpet slithers through a variety of R&B, pop, and funk arrangements. It's a must-have for those willing to reconsider this period.
NS
KEN Mode – Null (Artoffact)
Canadian hardcore experimentalists, KEN Mode, return with their utterly punishing eighth full-length, and follow up to 2018's acclaimed, 'Loved'. In the near half-decade since their absence, the world has become a far darker, unwelcoming place, and, 'Null', is the abrasive, sonic reaction; complete with caustic, metallic venom.

Expanding their industrial-tinted mathcore indebted sound to draw on influences beyond the given comparisons to the likes of Dillinger Escape Plan, Converge and Botch; there's an increase in the electronic clanging atmospherics, pushing ever further to the brink of harsh-noise rock, evoking the ugliest aspects of Swans or Einsturzende Neubauten.

On the blistering, near-six-minute opener, 'A Love Letter', frontman Jesse Matthewson repeatedly shrieks, "It was a mistake to ask me for help", over a melting pot of distorted noisecore fusion, less bubbling over and more spilled upon the floor and subsequently burning the house down. It's a harrowing statement of unbridled aggression to mark their return, before the mangling riffs of the brief, pummelling, 'Throw Your Phone In The River', bombard the senses with audible despair.

From then on, it's an endurance test of claustrophobic machinations, dissonant tonal shifts, and trudging, sickeningly hefty grooves, that elevate cuts such as, 'But They Respect My Tactics', to a warped place of torturous endearment.

By the time the minimal, doomscaping, nihilistic abandon of mammoth closer, 'Unresponsive', rings out from its cavernous depths, and the declarative statement of, "A ruthless simplicity of which we've become detached, to usher in our greatest fall", sinks in, there's a harrowing sense of negation and disgust at our own self-aware inability to cause the changes we as a species are so desperate to manifest. With this crushing realisation comes a modicum of hope; a glimmer of purpose that can only be truly realised once plumbing the abyssal nihility of the modern age.
ZB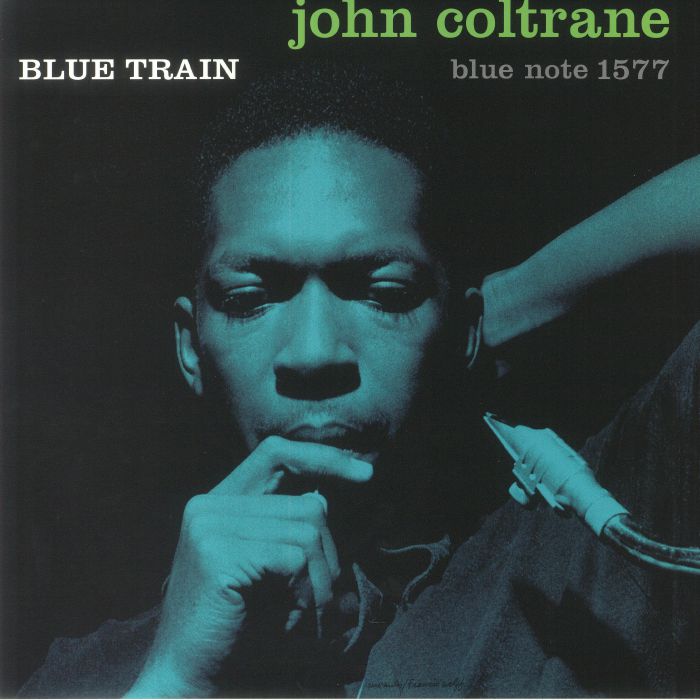 John Coltrane – Blue Train (Tone Poet Series) (Blue Note)
Given the legendary, historical status of Blue Note, one might expect there to be a long history of collaborations between the record label and the sainted John Coltrane. But, excluding dates featuring Coltrane as an accompanist, Blue Train remains his only outing as bandleader with the label. Luckily for Blue Note, Coltrane's effort was successful both critically and commercially, selling upwards of 500,000 units in the United States. Nonetheless, for the remainder of the 50s, Coltrane returned to his first label Prestige before moving on in the 60s to Atlantic and Impulse. From this late-50s stretch of his career, Blue Train is perhaps the highlight; a confident, fast-swinging LP comprised almost entirely of original Coltrane compositions. From the iconic title track, Coltrane's penchant for driving, complex melodic lines reigns supreme.
The only respite from this complexity comes with the beautiful rendition of Jerome Kern's 'I'm Old Fashioned'. With Lee Morgan on trumpet, Philly Joe Jones on drums, Curtis Fuller on trombone, Kenny Drew on piano, and Paul Chambers on bass, the musicianship is reliably faultless. With Blue Train, Coltrane and his band crafted an enormously important work in the sub-genre of hard bop.
NS

Silencer – Death, Pierce Me (Lupus Lounge)

While the Scandanavian black metal scene has always been rife with its own share of edgy controversy, there's arguably no more questionable, unsettling branch of the genre than that of the "depressive suicidal" variety. One of the quintessential projects from this alcove of sonic despair, was the sole full-length from Swedish duo, Silencer, who in 2001, imbued the already deeply macabre aspects of the craft with a truly unbridled, harrowing, seemingly sincere focus on self-harm, nihilism and suicide.

'Death, Pierce Me', was originally released literally the day before Halloween (although a likely coincidence), and carried with it an overbearing sense of looming dread, as if listening to the project in full had the potential to open portals to caverns of chaotic anguish and grief. This atmosphere was surely conjured, in no small part by elusive vocalist, Nattramn, whose real name is thought to be Mikael Nilsson, though this hasn't been confirmed. Nor has the surrounding conjecture regarding his apparent admittance to a psychiatric hospital not long after the recording process had ceased.

Shrouded in mystery and misery, this collection of distorted, cavernous walls of oppressive noise, blistered by the shrieking howls of Nattramn, who is said to have carved broken glass into his palms and arms while performing vocal takes, is an ugly staple of an outlier work in a scene already well recognised for its outsider status as an artform. Enter at your own risk.
ZB
Ella Fitzgerald / Louis Armstrong – Ella & Louis Again (Verve Acoustic Sounds Series) (Verve)
When one imagines a collaboration between Ella Fitzgerald and Louis Armstrong, it's reasonable to be concerned about a potential mismatch. While Armstrong's voice is famously croaky and coarse, Fitzgerald's tone is smooth and pure. Indeed, if Fitzgerald is like silk, Armstrong is gravel. Nonetheless, on this follow-up to 1956's Ella and Louis, the pairing seems to work for this very reason. As the similarly idiosyncratic Björk claimed of the first record, "they were opposites in how they sang, but were still completely functional together, and respectful of each other".
This feeling holds for the sequel. The two singers are backed once again by the magnificent Oscar Peterson Trio, only here Buddy Rich has been replaced by Louis Bellson. The record is a wonderful reminder of the breezy, cheerful feel of this era of popular jazz music. Like most popular music of the time, any hint of emotional turmoil is reserved only for romantic concerns. Next to comedic standards like 'Let's Call The Whole Thing Off', sit stirring, wistful ballads like These Foolish Things (Remind Me Of You)'. For fans of their first outing, and indeed fans of this era of pop music, Ella & Louis Again is worth adding to your collection.
This week's reviewers: Zach Buggy, Oli Warwick, Noah Sparkes, Patrizio Cavaliere.