The best new albums this week
The short list of long players
Orbital – 30 Something (London)
Orbital's Paul and Phil Hartnoll have a well-documented sticky sibling relationship that has blown the band apart more than once. They've worked on their own – Phil as a DJ and Paul recording under various names, with various people – but neither brother seems complete without the other and it's only when they come together as Orbital that the magic happens.
Which bodes well for 30 Something, a series of brand-new in-house mixes of classic Orbital cuts supported by remixes from a raft of contemporary artists who've been inspired by the Kent duo. It was due for release to mark the 30th anniversary of 'Chime' in 1990 but, oh you know, Covid. So '30 Something' it is.
The collection – which comes as a double CD or (licks lips) quadruple vinyl set – feels very much a team effort. You'd wager Paul took the lead on the new mixes, with Phil marshaling the impressive list of remixers, crucially both working to the same end of celebrating time very well spent over the years at the coal face of rave.
Let's start with those new versions, the "30 Something Years Later Mix" as they're calling them. While they are new mixes, they're not radically different versions. How so? Anyone who has seen Orbital live will know that the hits aren't delivered with a straight bat. They're improvised versions that are constantly evolving, changing and developing, even on consecutive nights no two outings are the same.
In a stroke of typical Hartnoll genius, they've headed into the studio to document the current live incarnations of the mainstays from their set, a process that has led to yet further tinkering. The result is all-new yet instantly recognisable box-fresh takes on 'Impact', 'Satan', 'Chime', 'Halcyon', 'Belfast' and 'The Box'. Before you ask, no, the new version of 'Halcyon' doesn't feature the show-stopping Belinda Carlisle/Bon Jovi mash-up. That remains the preserve of live show. The pick? Ask me to choose my favourite child why don't you – I love Orbital's greatest hits equally.
Over in remix land we're coming at the tracks from a completely different angle with total overhauls galore. What's great here is the respect on show from the impressive crop of remixers –  the way they retain familiar Orbital sounds will surely, erm, chime, with fans. So the house-y chops of Logic1000's 'Halcyon & On', which keeps just the haunting vocal, is very effective. You need balls the size of the Home Counties to remix 'Chime', but Detroit's Octave One, who uses those chimes as repetitive stabs, and Bristol house head Eli Brown, who embraces the distinctive melody, both turn in versions that compliment the original masterpiece.
Special mention should go to Jon Hopkins' remix of 'Halcyon & On', which is so Hopkins it hurts. The tinkling piano, the layers and layers of the original vocal, the ambient drop out halfway, there's some serious reverence on show there. And the genius of asking David Holmes to remix 'Belfast'… his 12-minute version feels emotional. Brazilian techno maestro ANNA also comes up smelling of roses with 'Belfast', serving up a 'Techno' and 'Ambient' mix. The way she wrangles the 'Techno' version is spot on, with the clattering beat and huge stabby chords giving it a very 'Born Slippy' feel. Her 'Ambient' mix closes the album with a dramatic flourish of haunting ethereal vocal and bright keys. Both mixes are highlights in a package of highlights.
30 Something is a welcome reminder – should one be required – that these tracks are very much the crown jewels of rave.
NM
The Balek Band – Medecines (Abstrack)
Nantes-based quartet The Balek Band follow up on a pair of alluring singles with the release of their debut long-player, 'Medecines'. The group are formed by band leader (and Abstrack label head) Vidock, alongside Samuel Creach on bass, Zeppo on percussions, and Ludovic Gagnepain on guitar. Their first release – part of a dual-header combined with compositions from DJ Solange – contained the extraordinarily vibe-rich track 'Superbia', and was followed two years later by a striking EP on London's Beauty & The Beat label. Continuing the fine work they've accomplished until now, 'Medecines' bursts with imagination and intrigue.
The descriptively titled opener 'Introspection' sets the tone with hyper-atmospheric instrumentation building cinematic tension before 'Charbon Alcool' busts in to penetrate the dense audio fog. 'Balek Zouk' blends Afro-charged rhythms with mysterious melodies, exploding into life via expressive guitar licks and infectious portamento bass. It's by now apparent that the band revel in far-flung musical influences, and the rolling jazz drums of 'Blanc Nuit' are entirely arresting as they power a trademark exploration of evocative nocturnal textures. Unfettered dub is the next stylistic undertone onto which the band's deviant swirls are loosely pinned, with wobbly synths and alien sweeps darting across the sinister, sub-heavy landscape of 'Hagen & Again'.
The disparate fusion continues into 'The Balek Bad', as piano-led dubstep meets stripped drum & bass to create a fascinating 3 am mood. The jagged rhythms of 'Lenteur' propel off-kilter synths and hypnotic marimbas over throbbing bass and stirring percussion, while 'Cosmic Barry' dives even deeper into the psycho-acoustic abyss with its deviant pads and unnerving swells. Finally, 'Kenesam' completes a thoroughly engaging collection, as Afro guitar dances over glassy chords and scattered drums as, once again, the deepest of bass lines solidifies the groove. Eminently creative, highly original and overflowing with emotion, this remarkable album offers plenty to get one's teeth into, with each cosmically-spun composition imbued with carefully hidden secrets just waiting to be unearthed.
PC
Veil Of Maya – Matriarch (Sumerian)
The fifth full-length from Chicago deathcore entity, Veil Of Maya, was quite the hot button topic within the scene upon its initial release in 2015. The first project to feature current vocalist, Lukas Magyar, following the departure of Brandon Butler after 2012's underrated, 'Eclipse'; the lineup shift brought with it a sonic change.
Progressing from their more technical, vicious early work, 'Matriarch', saw the band begin to absorb outside influences from close peers such as djent pioneers, Periphery, while Magyar's dynamic vocal range introduced cleans to the formula; originally to the chagrin of a notable percentage of the established fanbase.
Produced by Taylor Larson of early noughties post-hardcore legends, From First to Last, the expansive project would pay homage to influential, fictional women from various forms of media that have inspired founding guitarist Marc Okubo, hence the apt titling of 'Matriarch'.
Cuts like the X-Men tribute, 'Phoenix', or the clear Game Of Thrones nod, 'Daenerys' (this was before the end of the series in all defence), bounce and groove with the precise devastation of their preceding material. It's the more nuanced inflections and tweaks like the aforementioned clean vocals of Magyar and Okubo's textural programming and intricate, shimmering muted melodies hidden within the chaos that imbue the cuts with a gravitas and maturity admittedly lacking from its predecessors.
While 2017's 'False Idol', would push the new dynamic forward in a rewarding fashion, there's no denying the brazen self-belief and striving for change of vision that gave 'Matriarch' such a controversial reaction, while the exceptional genre-twist has gone on to garner a legacy status in its latter years. This reissue opens the door to revisit Veil Of Maya's triumphant rebirth in all its hefty glory.
ZB
Laura Allan / Paul Horn – Reflections (Fact of Being)
An all-time classic in the genre, 'Reflections' is likely to be one of the first tapes or vinyl LPs you'll find in any dedicated new age collector's stash. Not least because it features the visage of '70s singer, songwriter, string polymath, and beauty Laura Allan on its cover; but also her endlessly angelic vocals and zither playing, which fuse together in easy symbiosis.
This reissue looks back at what is arguably her most defining release, long since Allan's death in 2008. It was repressed in 1984, so there's also something of a bubble being burst here. Out of the vapors of said explosion comes an HD CD digipak version of 'As I Am', the lead track, and a lyrical contemplation on the self in relation to the universe. "I am a distant spray flying from the sea… oh, but my heart is grateful just to be and nothing more…" Allan is clearly grateful to be alive, not resistant to her speck-of-dust humility. It's an attention-freezing 10 minute dirge, commanding a gravitas that says, "you are in the presence of something divine, and you'd better listen, or else."
Arranger and flutist Paul Horn makes his presence known on the ensuing beauties. 'Waterfall' operates in a higher-pitched and more flourishy register, and Horn's echoic silverwinds could rival the scope of even Marshall Allen's EWI undulations. 'Nicasio' is a true fan favourite for those who prefer two-minute mindfulness meditations to long chunks. 'Passage' rounds things off on the longest note yet, introducing electronic lyricon, twinkling percussion, and synths to a song so spine-tingling it seems nigh unbelievable that it was performed in reality.
JIJ
Slipknot – .5: The Gray Chapter (Roadrunner)
With the continuing onslaught of back catalogue reissues from Slipknot, alleviating the anxiety of fans who had feared they would never track down a copy of the ferocious self-titled, or harrowing sophomore triumph, 'Iowa', without coughing up at least a few hundred quid, there's been hushed query of why now? The slow drip-drip of each subsequent album receiving a glossy, new (affordable) repress, as well as frontman Corey Taylor's cryptic comments regarding "the beginning of the end", make it all but plausible that we could be approaching the final chapter of the 9.
Their fifth full-length, '.5: The Gray Chapter', released in 2014, saw the collective channel the shared grief and inner turmoil of losing their bassist and founding member Paul Gray to a tragic overdose, as well as the murky firing of drummer Joey Jordison (who would tragically also pass some years later). Looking inward, both emotionally and musically, led to a dynamic, vicious fifth full-length that served as a twisted, complicated follow up to 2008's global success, 'All Hope Is Gone.'
Harbouring some of their darkest singles in over a decade, such as the blistering, 'The Devil In I', and, 'The Negative One', or the claustrophobic assault of, 'Custer', many may consider the project to be the outlier within the 9's canon, but before the rebirth of 'We Are Not Your Kind', this work served as a complicated reflection of artists lost in a deep state of bewilderment and trauma; utilising their connection and artform to process and heal in ugly, chaotic abandon.

Bridging the gap between the classic Slipknot era, and the newer, malodorous yet intrinsically accessible compositions that still allow them to fill arenas around the globe, 'Gray…' might just be the most unsure, uncertain and displaced offering the metal behemoths ever crafted. Darker than its two predecessors, yet exuding the control and cohesion learned only over time, there's never been a more ideal opportunity to reassess a misunderstood triumph. 

ZB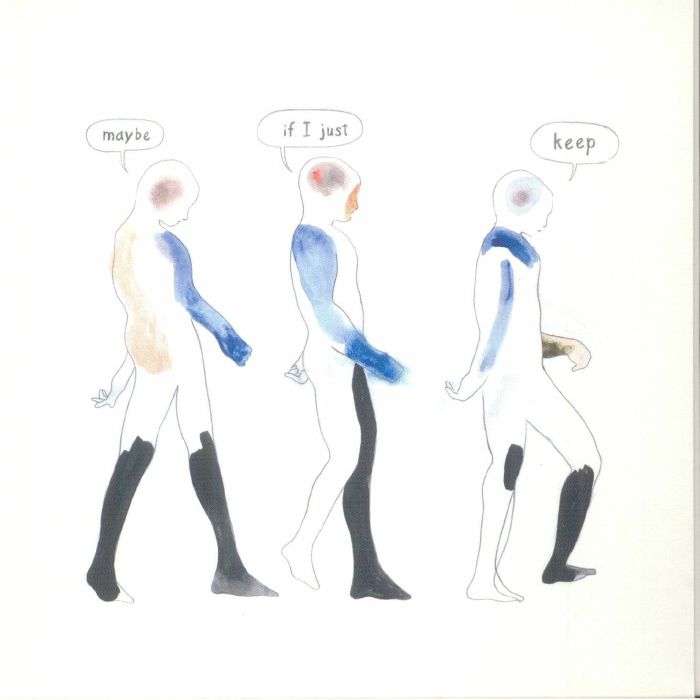 Felicia Atkinson – Image Langage (Shelter Press)
Over the past 15 years or so, Felicia Atkinson has remained a staple of French ambient, new age and modern classical music, and has linked her corner of the European audience for this music to the world beyond.
Atkinson's latest LP 'Image Langage' has the effect of 'linking' our attentive ears to our bodies, much like a focused yoga session or a conscious 'scan-down' meditation. Through intimate ambient music, blended with self-recorded vocal snippets in French, she takes this concept to its extreme, regarding the album as the first to 'bind' her body to her home while simultaneously forcing it to step outside. 
That might sound nebulous, but now, before you ask questions, we ask you to take a listen to 'The Lake Is Speaking'. This standout piece is both intimate and expansive, a paradoxical effect achieved via the use of a dry yet legato-shifting organ drone. The lake on which Atkinson meditates – "the lake is silent, the lake is speaking…" – refers to the Swiss Leman Lake, which served as the outdoor foil for her home on the coast of Normandy. Equally, the ensuing tracks oscillate between outdoorsiness and indoorsiness, expansiveness and contractuality, communicating two polemic ways of relating to the world via our bodies. 'Our Tides' is a highlight, its piano sounding as though it were played on a veranda bigger in overall area than the home it envelops; its immediate outdoor surrounding is a wild and stormy vista, conveyed by a breathy drone and distant drums.
JIJ
Artificial Brain – Artificial Brain (Profound Lore)
On their third full-length, and follow up to 2017's caustic, 'Infrared Horizon', Long Island, New York progressive brutal death metal auteurs, Artificial Brain, aim to close the circle and complete their trilogy with this self-titled opus, which began back in 2014 with the crushing, cosmic debut, 'Labyrinthine Constellation'.
Known for their ludicrous compositional craft and expansive, narrative driven, cerebral sci-fi horror lyricism, the final project to feature vocalist, Will Smith, radiates melancholic dread, as if accepting one's fate before being devoured by Lovecraftian creatures deep within surrounding forests.
Part grinding death metal assault, part melodious, doom-tinted death-gazing, the material shifts and shrieks with inhuman fluidity, while the decrepit, squelching, utterly unintelligible vocals make for some truly challenging, despicable fare. Take note, this is one of the most vital, uncompromising and layered extreme metal projects of the decade thus far.
The harmonic dissonance and perplexing beauty of mutilated tremolo guitar passages weaving, meandering and ultimately fusing together, conjures dizzying sensations of deformed familiarity, which are only further distorted and complimented by the morse code blast beats of drummer Keith Abrami.
Even the impressive roster of guest features highlights the credence the band have garnered over the past decade, with appearances from the likes of Mike Browning on "Celestial Cyst", Luc Lemay of tech-death legends, Gorguts, on "Insects And Android Eyes", and frequent collaborator, Paulo Paguntalan of Blah, pulls triple duty on "A Lofty Grave", "Cryogenic Dreamworld" and the malodorous grandiosity that is "Last Words Of The Wobbling Sun".
It's hard to escape the sensation of finality this third album from Artificial Brain exudes. Smith's final effort with the band is more cryptic, lyrically and vocally impenetrable, while the increase in melodic textures and array of features as well as its self-titled nature, appear indicative of an end. Not necessarily of the group, but of this era, this cosmic narrative, and the tenure of their original vocalist. It's a fitting, intimidating close to a cycle, likely to open their future to much broader horizons with its unique, alien approach to familiar genre tropes.
ZB
The music of Kyiv-based composer and artist Arthur Mine rests somewhere between the sounds associated with the following: a dissolved self; a sanitized, new age vision of the ideal beach; and a MIDI keyboard languishing on the edge of 3D space.
Cue the surfable sine tones of 'Holytech Corporate Memories', and we're in. Between its slowly resonant chords and slippery echoes, we're careful not to lock out of this sonic pocket, else we'd lose the barrel and face wipeout. And – far from conjuring the vaporwave-adjacent scene that its title implies – this lead track to Mine's new eight-piece LP, 'Urania', carries with its crispness a genuine sincerity. There's not much 'corporate' about it, or so we've been convinced. No longer is this vaporwave tinged with irony, nor nostalgic. Rather, it gazes into the stars, with the earnestness of two cassette spools made in 1964.
Mine was formerly the keyboard player in the Ukrainian band Blacklazer, credited by some outlets as the first band from the country to produce their music on videogame consoles and perform them live. 'Urania' is Mine's third intentional step away from the band, following up the solo 'Dispersed Mind' and the Nikolaienko collab 'Nostalgia Por Mesozóica', a lo-fi meditation on the concept of 'ghost tropics', or haunted exotica.
'Urania' (named after the Greek goddess of astronomy) is rather different. Full of out-of-space, digi-synthy colour, it contrasts well to the slack monotony of 'Nostalgia'. This is music for ego-dying, lulling between triumphant montage ambiences ('The Ship) and cheerful library ditties for synth ('Mr. Nobody'). Even disembodied voices crop up on 'Infowaves', the final track, representing the last ditch efforts of a dying self-concept. Vangelis is an obvious point of reference, while lesser-known inspirations might be Reinhard Lakomy or Sven Grunberg. From pixellated rainbow roads, to sound-reactive puzzle-racers, 'Urania' points its ears outside of the box of reality.
JIJ
This week's reviewers: Neil Mason, Paterizio Cavaliere,, Zach Buggy, Jude Iago James