The best new singles this week
The must buy singles from the past seven days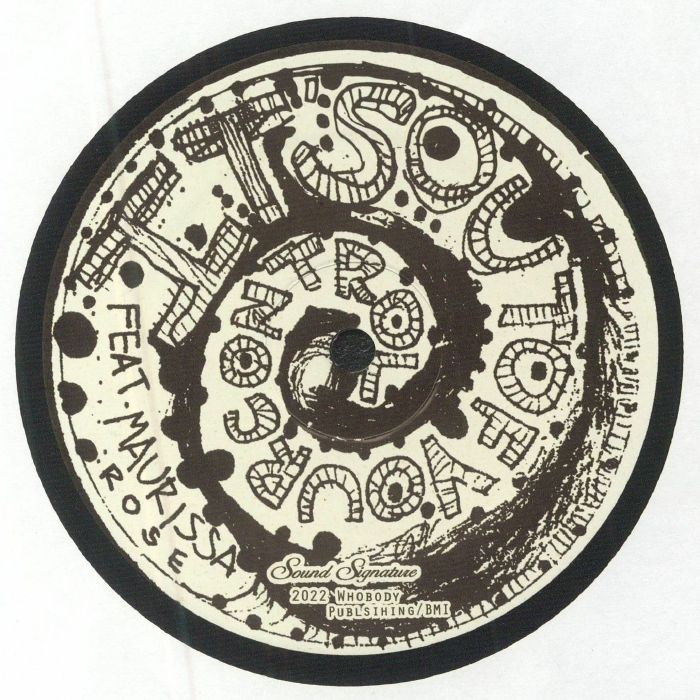 SINGLE OF THE WEEK
Theo Parrish – It's Out Of Your Control (Sound Signature)
Theo Parrish fans have plenty to purr over this summer, with a flurry of titles arriving from the Detroit maestro in quick succession over the milder months. 'It's Out Of Your Control' arrives hot on the heels of last month's brilliantly off-kilter 'Weirdo', and an intriguing collaboration with Marcellus Pittman is set to follow imminently. Add to that his surprise appearance on UK label Wolf Music with an inspired remix of Tone Control's deep house classic 'Illusion', and it's fair to say that the muse has been gracing Parrish with her gloriously bountiful presence in recent times.
But then, from the outside at least, it feels like she rarely, if ever, ventures too far from his powerfully magnetic musical epicentre. Though his sound is often distinct and recognisable, one of the wonderful characteristics of Theo's work stems from the stylistic variation his musical adventuring enables. Though familiar themes and sonic stamps permeate his catalogue, one can never be quite sure what pearls will arrive from one release to the next. Coming on like a cosmic leviathan, the gargantuan bass of 'It's Out Of Your Control' quickly grabs the headlines. The original version features haunting vocals from Maurissa Rose, seductively swirling over ad-lib chords as driving percussion and stealthy synth textures complete the sonic tapestry.
On the reverse, the instrumental version sees rhythm take the lead, with the unrelenting bass and irresistibly free-spirited percussion gently embellished by grainy chords and analogue refrains. Stripped to its barest essentials, the music comfortably survives with its floor-focused intention firmly intact, with this deep but powerfully forceful cut surely ready to be counted among Theo's most club-centric. Highly recommended.
PC
In the rigour of Berlin's techno scene, Michael Fiedel has always displayed a heartening cavalier attitude which makes a lot of his music so memorable. Rather than pursuing the boiled down boomy minimalism a thousand Klubnachts are made of, he favours noisy riffs from errant synths, a little boisterous attitude that in some ways feels more aligned with a UK 'avin it approach to dance music than the more measured and austere intentions of so many of his peers. This is especially true in his MMM project with Errorsmith, responsible for an all-time electro classic in 'Donna' but with plenty of other rambunctious club gear to their name.
Fiedel's solo work has been on a patient but steady pace since 2012, largely self-released but with the odd diversion to Ostgut Ton amongst others. Now he's minting a new label called KIAS, a label derived from a party called Kiss Klub in Nürnberg. What is clear from the get go is that Fiedel does Fiedel wherever he is and whoever is steering the ship.
'Filmriss' comes on two forms on the A side, with the primary 'Full Version' coming on strong with a lead hook which stomps out like a footie chant. This is proper pints in the air, body jacking gear, even if Fiedel subtly edges finesse in around the edges of the rowdy main features. 'Dirty Deeds' turns the lairiness up even further, riding on a motif which could quite reasonably come from the era of electroclash or perhaps the golden age of the Ed Banger stable. It's purposefully brash in the drums too, all boxy 707 blasts moving in tight formation.
'Incheon' has a different way of being upfront to the prior tracks, catching a kind of off-key anthemic note as a sentimental melodic lead interplays with a nagging arp. What becomes apparent here is how vital Fiedel's sound design is to making these tracks land. The kind of base level composition that would sound cringe-inducingly cheesy in the wrong hands instead becomes absolute gold dust thanks to the inherent griminess he injects into the music. No matter how close he dances to that crossover edge, Fiedel can't help but be Fiedel.
OW
Earlier this year, Alex 'Omar' S dropped his eighth long-playing collection, 'Can't Change', and here he presents novel versions of three standouts from the album on the 'Miss Hunn'nay' EP. It would be impossible not to admire the apparently effortless prolificacy with which the Detroit maverick fires out his ever-growing release catalogue. Almost invariably hitting the target with each manifestation, his sound periodically veers into rough and ready street soul, ghetto r&b, and blunted machine funk.
It's for unpretentious motor city house for which he's best-known, and each track here is an unabated slice of dance enlivening four/four fire. Opening proceedings, the instrumental version of 'Money Hit The Floor' is perhaps the deepest of the set, with brooding synths enveloping rave-igniting chord stabs as low-slung bass and crisp machine drums drive the pitch-black groove. The original version benefited from the distinctive vocal swagger of both Supercoolwicked and Amir Hassan, but the music flows along equally compellingly in the duo's absence.
Next, the majestically raw bump of 'Ice Cream' is given the instrumental treatment, with its jacking bass, fierce kick drum and glistening analogue threads embellished by grainy synth strings, with each element purposefully woven to forge a kinetically-charged and powerfully propulsive dancefloor rhythm. Finally, the mischievously feel-good refrains of 'Miss Hunn'nay' arrive in extended form, with UR legend Mad Mike Banks ushered in to add his knowing flex to the sample-based cut. Looped keys provide the hook while whimsical vocal bursts and harmonic stabs intertwine over dusty drums and held-down bass.
Each new version stands up proudly, offering enough weight to comfortably warrant seeing the light of day outside of the densely populated album from which they were plucked. Omar S, once again, proving himself among the most reliable and abounding sets of production hands operating on the deep house underground.
PC
Soreab – Bound To Origins (Pseudonym)
London-based Pseudonym Records are working deep in the reeds of modern age multi-tech club gear – that's indicative in the productions of label co-founder Slacker as much as the initial VA releases. Now they're following up with another promising, hard-to-pin-down operator who has left an intriguing trail of works behind him so far. Soreab is based in East London but hails from Italy originally, and he's affiliated with the Baroque Sunburst label which also serves as home to Big Hands. In this particular pocket, techno, dubstep, drum & bass, jazz, dub and trip hop all seem like touchstones of inspiration, but at this point is it even worth breaking down the component parts? What matters is that it's heady, physical club music with a sound palette which looks to organic sources rather than mining iconic drum machines and synths for all their worth.
On Bound To Origins, Soreab has plenty of space to stretch out his ideas, and indeed there's a crackling energy around the in-the-room drums which tickles a similar primal impulse to those early DMZ records. It's not tribal in some hackneyed pattering bongo loops way, but rather a hand-wrought groove played at a slant which urges you into bodily response. Around these drums, Soreab sounds comfortable and mature in his approach, weaving soft, atmospheric touches and turning up the intensity with patience. There are moments where 'Serac Fall' starts to become a lithe, psychoactive weapon, but it's steady enough to pull back into meditation without jarring. Heads down is the overriding mode here.
Even when the record gets a little more 'electronic' in its demeanour on 'Decisions ft. Nativ', it's still rendered in a manner which feels comfortably free from gridded-out dogma. Industrial feels more instructive here than the more established realms of bassweight dance music. It's interesting to hear Pugilist step up as a remixer in this context, given the producer's more overtly synthetic sound. He's proven himself to be a versatile producer edging into jungle territory but not beholden to it, and so it goes on the stealthy remix of 'Myth', which successfully channels Soreab's path-less-travelled vibe while projecting it through a more crisply sequenced prism.
OW
STL – Partial Light (Chateau Chepere)
Stephen Laubner's discography is that of a true auteur. A kind of impenetrable fortress where only the true believers dare to tread thoroughly. Many DJs into weirder house styles cop a 12" here or there, but to know the depth and breadth of his grainy craft takes some serious work. It's funny really when on the surface many of his tracks can seem so understated – another cool variation on the minimal house method – but Laubner has a touch which absolutely requires that minimalism as a framework. It's the subtle magic of his pads, the crunchy finish on his drums, the strange mindstates his music puts you in. Ask any STL true believer and they'll start explaining it to you in exultant but ultimately vague terms.
Take 'Eargrind' on this new double pack for Chateau Chepere – it's a wholly simple premise, and yet it really takes you somewhere. The quiet surrealist soul of the vibrato bed underneath the lead hook has a giddy quality just crying out for daybreak on a weathered dancefloor. 'Light Up' deals in equally mysterious tones, even if its bassline sounds like it would be a massive peak of the night party starter if the filter wasn't turned down so pointedly low.
Therein lies the magic of STL, where you can very explicitly hear the ways he works to make his music more obscure than the average cookie cutter minimal house joint. It isn't made to play nice with other stuff – the mixdowns operate according to their own fuzzy logic and create a vibe unto themselves. This doesn't mean the tracks won't go down well in the club – 'Fly Fly' and 'Unlike Dislike' are both stellar dancefloor joints as well, with the latter bringing some low slung electroid freakiness into the mix when you least expect it. Never underestimate these jams, not least until you've had the chance to pump them over an appropriately nasty system.
OW
Il Mare Di Fronte – Il Mare Di Fronte (Flankup)
The latest release from Italian label Flankup arrives in the form of an all-new project by label co-founder, Paolo 'Discojuice' Russi. Operating under the newly-formed 'Il Mare Di Fronte' moniker, he presents an eponymous EP featuring four sumptuous originals alongside a remix from the always reliable DJ Rocca.
Russi has been DJing on the Milanese underground since the turn of the century, with his first releases arriving in 2014. 'Il Mare Di Fronte' finds him in gorgeously Balearic mood, serving luscious instrumental jams steeped in cosmic jazz sensibilities.
The blissed-out title track overflows with Mediterranean charm, with glassy chords, psychedelic synth solos, crisp machine drums and spirited percussion elegantly combining for a hazy summer saunter. A few degrees further reclined, the melancholy tone of 'Synthonia' echoes of bittersweet reflection, with analogue bass growls and yearning synth leads pouring over head-nodding drums.
'La Notte' picks up the pace, with tropically-charmed synths cascading over jazzy breaks, rolling toms, and charging chords. Next, DJ Rocca steps up with his 'Salsedine' rework of the title track, re-framing the instrumentation over driving drums, embellishing the cut with dainty jazz flute solos and wondrous overdubs for a golden-age Italo-house interpretation. Finally, 'Feel The Vibes' bursts into life with positively-charged vibraphone strikes dancing over irrepressible percussion and a neatly woven tapestry of hypnotic FM synth motifs.
PC
82J6 – Offen Im Sturm (Offen Music)
Cologne-based Patrick Keuthen has skirted around various collaborative projects in between his graphic design work, but since 2019 he's been on a steady run of intriguing club tracks with his solo 82J6 moniker. Moving on from self-released digital tracks, he now makes his way onto a 12" for Vladimir Ivkoic's Offen Music label, and the sound carved into the grooves takes on an appropriately deeper, more exploratory mode befitting of the label's tendencies.
As is often the case with Offen, there's still a pragmatic DJ-minded approach even if we veer away from generic dance music routines, and so 'R228' comes in three different forms depending on how you want to use it. The 'Maison Mix' is solidly structured despite the dominant patter of hand drums and the lilt of Middle Eastern flutes, plotting a course for meditative hypnosis as you might well expect in one of Ivkovic's sets. Over 10 minutes the energy undulates, bringing in peak bassline thrills as it progresses without shaking off the fundamental loop at the heart of the track.
For those wishing to reframe those sounds in a different context, there's a beatless tool which simply shears back some of the more prominent drums to allow room for your own blends to jostle into position. There's a touch more filter riding too, but the effect is subtle rather than drastic. The record comes described as "Bryn Jones on steroids", but perhaps that's a bit of a leap even if the sound sources call to mind the palette of Muslimgauze. It's certainly a more forthright approach to blending Middle Eastern musical motifs with Western electronics, and there's no doubt it has the power and versatility to do very interesting things to any dancefloor it gets deployed on.
OW
DJ City – Giuda Iscariota (CockTail d'Amore)
Johan Norling has been sneaking out some great, punchy club workouts over the past six years. A large portion of this has been via mighty Munich machine Public Possession, but an early drop of note was his Teenage Sexdrive record on Born Free, a Swedish label which excels in carrying the kind of weirdo house and techno that helps make the genre(s) still relevant and engaging after all these decades. This isn't music designed to break new ground or blow your mind, but when you want a 4/4 get down you still want it to feel fresh in some way, and DJ City is a dab hand at that.
This release for CockTail d'Amore comes as something of a love letter to the Berlin party the label sprung from – sadly no longer in operation due to shifting factors in the city's nightlife, but certainly an icon of the queer party landscape which still stands for a certain attitude. Sexiness comes as standard, and Norling knows how to tap into that energy in the throbbing bassline of 'Giuda Iscariota' and the staccato jack of 'Sophies Theme'. There's moodier fare as well in the smoky after hours lull of 'Nattens Tysta Timmar', but only a slight notch down on the pitch fader without losing that endless disco pulse. It's a mode DJ City can operate in without sounding tired, and as long as the vibe stays sexy who's even keeping score?
OW
Chisako & Junta – (Kon'nan) Difficulty (EM Records)
EM Records always provide a fascinating window into Japanese musical culture as much as sounds from other parts of the world. Part of the fascination lies in the fact there's no discernible genre restriction to measure against, but rather a personal commitment to quality and individuality which guarantees you'll be surprised and impressed in equal measure. So it goes on this lovely little 7" from Chisako and Junta.
The duo responsible hail from Osaka and have affiliation with a spread of other groups and projects. Chisako (also known as MTG) sings in Casio Toruko Onsen, while Junta also records as BIOMAN and forms part of the Neco-nemuru collective. There's a distinct J-pop lilt to their work, but Junta edges some wildcard layers into the production which make the songs jump out at you. On '(Kon'nan) Difficulty' especially, the light touch of Chisako's voice and mellow lilt of acoustic guitar is disrupted by monster bass growls, resulting in an off-kilter end result which will get even the most casual of background listeners looking up from their screen.
Junta also excels in creating a tension between chaos and calm, using negative space to great effect and creating bursts of madness in the fills at the end of each bar. But equally, the pop dimension of the production is no joke, as harmonious and luxurious as any major label affair. It's just that the ideas here are far more daring than you'd get from the mainstream.
OW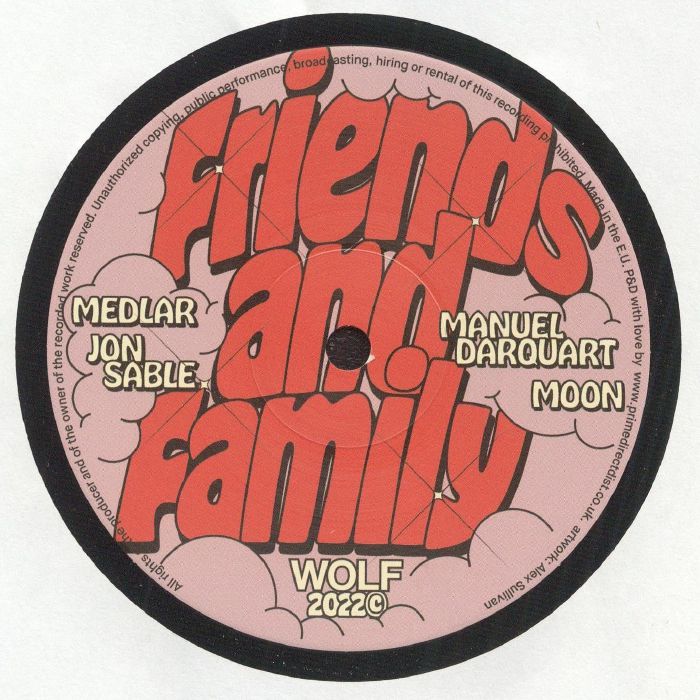 Medlar, Manuel Darquart, Jon Sable, Moon – Friends & Family (Wolf Music)
We haven't quite finished catching our breath following Wolf Music's miraculously curated Theo Parrish rework of Tone Control's 'Illusion' earlier in the summer, yet here they are again with another cleverly assembled release on the multi-headed 'Friends & Family' EP.
As the name suggests, the record sees a select assortment of the label's best-loved artists share the wax, with each player providing respective interpretations of the deep-but-floor-focused sound we've come to expect from the Wolf massive. First up, we find the label's most frequently featured artist, with Medlar representing in typically wigged-out style via the psychedelic swirls and irresistibly stripped house drums of late-night burner 'Bandit'.
Next, Kiwi duo Manuel Darquart resume their Wolf adventure with the retro feels of 'Euphoria', with its gated sirens, twinkling pads, and throbbing dancefloor groove. The flip features a pair of debutants that each feel like an eminently snug label fit. First up, New Zealander Jon Sable, steps in with the gorgeously hallucinatory 'Infinite Care', where agile synth motifs weave their way through spacious broken drums and deep-rooted bass. Finally, Moon arrives with a subtle future garage flex on 'Handmade', inviting Tamu to lace the shuffling groove with his UK-flavoured lyrical flow as thick portamento bass, dreamy chords and mischievous bleeps and bloops fill the stereo panorama. Plenty to enjoy here, highly recommended.
PC
This week's reviewers: Patrizio Cavaliere, Oli Warwick