Live review – Tool: London 02 Arena 09/05/22
Our writer witnesses the long overdue rerun of prog doomsters Tool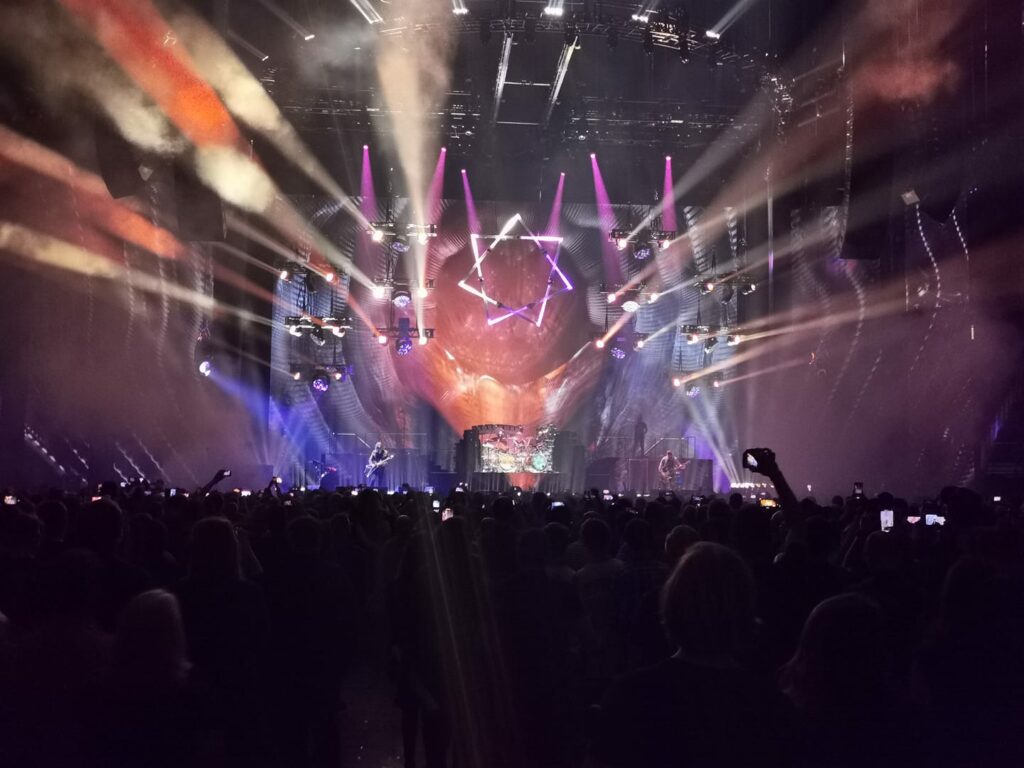 Tonight, the 02 plays host to arguably one of, if not, the biggest metal acts of all time, almighty prog giants, Tool. While there has been the odd festival appearance once every few years, it's been well over a solid decade since the veteran four-piece have toured extensively, with tonight's first of two London dates marking their true return to the city.
Known for their handpicked support acts, it shouldn't come as much of a surprise to longtime fans that YouTube sensations Brass Against were chosen to accompany the band on this outing. The collective have made waves with their brass heavy reimaginings of classic nineties and early noughties cuts such as Rage Against The Machine's 'Bulls On Parade' and 'Cochise' by Audioslave (both of which receive rapturous reception from the unfamiliar in attendance).
Ironically enough, however, it's their Tool covers that most likely led to their inclusion on this tour, and they make the brave choice to flex them with utter bravado. Ignoring the spoiler factor that neither of these cuts will be part of the headlining setlist, the big band rendition of 'Stinkfist' and the hypnotic, sultry bombast of their 'Forty-Six & Two' cover succeed on two levels: winning over the impatient masses whilst managing to feed into their anticipation like fuel to a flame.
Brass Against may have made headlines a few months ago due to frontwoman, Sophia Urista, urinating on a willing fan's face whilst on stage midset, but thankfully no watersports activity takes place, and in all seriousness, their ascension from that cool YouTube act with the urinating vocalist to arena support couldn't feel more earned or executed by the end of their exuberant performance.
While the hype sets in, the elaborate stage design begins to slowly reveal itself. Tool are infamous at this point in their tenure for grandiose sets and light shows, with a very understandable request for people not to spend the entirety of the proceedings staring through their phone.
As the eerie, 'Litanie contre la peur', interlude rings through the arena, a collective energy seems to rift through the crowd. Fans of every generation and walk of life have convened here, some only just recently discovering the band while the older heads could be simply adding another notch to their Tool-belt. Regardless of age, the thousands in attendance are immediately ensnared once the opening percussive springs of the 'Fear Inoculum' title-track set their hallucinatory tone.
This first ten-minute opus alone, accompanied by the 3D curtain lighting, crafts a transcendental atmosphere that's rarely disturbed for the following three hours. U-turning from latest album to debut EP, the band rip through the recently released re-recorded reimagining of 'Opiate', which sees many more nuanced passages interwoven around the original grunge anthem's chugging aggression.
The set then becomes a war between the immensely lengthy pieces from their 2019 return album, and plumbing the depths of the Tool canon for deep cuts and fan service, but the balance is meticulous.
'Pneuma' and 'Descending' both take the shape of total spectacle when witnessed within a live setting, with complex, psychedelic animations complimenting the dizzying material played with the machine-like expert precision one could only ever expect.
The 'Aenema' fan favourite 'Pushit' has been revived for this tour, and it's frankly remarkable how effortlessly frontman, Maynard James Keenan, belts out his inhuman vocal lines that were originally recorded almost three decades ago.
Longtime set staple, 'The Pot', still makes the cut, with bassist Justin Chancellor slamming down chunky interlocked grooves in perfect tandem with the octopus-like drumming virtuoso, Danny Carey.
Now, while every Tool fan is their own person, there's an almost communal telepathy that 2001's 'Lateralus' is, and always will be, their crowning achievement. It appears the band are more than privy to this factoid, as no album apart from the current one being promoted receives as much care and devotion tonight.
'The Grudge' sounds as intricate and head-melting as it did over twenty years ago, while going directly into 'Eon Blue Apocalypse' and 'The Patient', following the record's sequencing to a tee, makes for the closest many will ever get to hearing the seminal album in full.
Dusting off the criminally overlooked, 'Ticks & Leeches', has to be the greatest surprise of the proceedings, forgoing many anticipated and potential older cuts for the fidgety, vindictive banger. Complete with some of guitarist Adam Jones' sharpest and most jagged riffage while Keenan splitters and spurts under echoes of vocal effects, adding ever further to the alien nature and hallucinogenic ambience of the evening.
Toward the evening's end, Carey gives in to full abandon on the 5-minute drum solo clusterbomb, 'Chocolate Chip Trip', that sees almost every inch of his ludicrously elaborate and gargantuan drumkit be put to use. The delicate, understated 'Culling Voices' provides quite the atmospheric respite before Keenan makes his thank you speech in a manner so very him, and so very Tool.
The wig-sporting, leather jacket rocking frontman stays constantly engulfed in shadow on either side of Carey's kit and far removed from his other bandmates. It's from these shadows he admits to being "58 thinking that I'm 48 trying to be 28", before going on to admit that "I nearly shit myself on stage in Dublin last week, true story."
It's the perfect anecdote for a band so renowned for their musical technicality and proficiency, profound and emotive lyricism, but all attached to an endearing sense of absurdist humour and attitude. Closing out the show with 'Invincible' feels rather apt, with Keenan bellowing about his desire to remain relevant and consequential in the face of aging.
The twelve minutes disappear in a flash of spellbinding lights, interlocked grooves and mathematical chugs, all tempered by monumentally powerful and earnest vocals. While one may argue that's more of an assessment of the entire show rather than the closing track, it's not hard to realise they're essentially one in the same. An expertly crafted, perfected, profoundly uplifting and unifying musical experience.
Zach Buggy