The best new singles this week
Container's visceral punk rock techno takes the honours…
SINGLE OF THE WEEK
Container – Creamer EP (Drone)
Within seconds of hitting play on the latest EP from US-born, UK-based noise maker Container you can tell things aren't going to go quietly into any good nights. 'Creamer' opens the scoring on four tracks of madness and mayhem by boring a hole directly into the centre of your brain by way of screeching synthesis, before half-time broken beats drop, capped with enough cymbal to invoke images of broken windows and smashed glass. It's harsh, abrasive, unforgiving and uncompromising, but then we really didn't expect anything less from the producer in question.
Real name Ren Schofield, if you've ever seen Container live and in full effect then the intensity with which he plays will be familiar. For those stumbling across his work for the first time here, let's just say he has long-since mastered the art of devastating ears and minds in a way that is still weirdly danceable. So while there's plenty here that borders on terrifying, the sense of rhythm is such that you can't help but tap, nod, and stomp about to the frenzied sounds coming out of the speakers.
From that raucous and unarguably loud introduction the record only takes those ideas further. From the staccato high BPMs and whirring loops of 'Rippler', to the distorted and dysfunctional ode to electro that is 'Sniffers', there's scarcely a spare moment to collect your thoughts before the next metallic, machine-driven section of industrial sound erupts. Intense enough to make you picture what this would be like in a club or other gig setting, it's the kind of stuff that would leave you reeling when the chaos finally subsides. More importantly, though, it's the kind of stuff that brings out the masochist in us all: hazardous, and yet oh-so-compelling, repeatable, and satisfying.
MH
Cygnus – 100 Perfect (Central Processing Unit)
Phillip Washington is somewhat out on a limb in Dallas, Texas, but he's carved out his own electro sphere in a driven, inspired fashion. Perhaps the other obvious reference point from that part of the world would be Convextion, and it's not an unreasonable parallel to consider the two artists in tandem – they both undoubtedly come from the same source of machine soul inspiration inherent in the electro and techno pioneers of the 80s and 90s. But where the Convextion sound favours melancholy and minimalism, Washington's sound is lithe and vibrant, bristling with kinetic energy and distinctively funky in nature.
CPU has been a faithful port of call for the Cygnus project, reaching back to 2012 and touching on one album and four prior EPs before this one. In the mean time, Washington has also landed on labels like Craigie Knowes and Breakin' – the latter feels particularly relevant when you listen to the playful vocodered vocals on 'CPU Records'. It's a tongue-in-cheek approach to put out a dedication to your label on a release, but it speaks to that area of electro that shrugs off po-faced machine music and celebrates the human irreverence which sits behind the sequencers.
Don't mistake that for 100% Dope being some kind of joke record though – it's as serious as anything released under the Cygnus banner. The other standout vocal cut, 'Float Back To The Surface', is as sharply produced and heavy-hitting as it is fun. The vocoder celebrates the man-machine interface in the same way as Aux 88, Cybotron, Man Parrish, Egyptian Lover and the many pioneers that paved the way for the contemporary electro scene. Washington stands apart from today's electro-by-numbers crowd for this reason – his personality comes through first and foremost, vocals or not, and gives the music vitality which his surly, knob-twiddling contemporaries struggle to reach.
OW
Todh Teri / Kone Kone – Deep In India vol9 (Todh Teri)
Todh Teri Indian re-edit specialist Todh Teri is back in action with the latest chapter of his wildly enjoyable 'Deep In India' series, this time serving up volume nine of the ever-expanding inventory. The man behind the music keeps something of a low profile, preferring to let his carefully assembled reworks speak for themselves. It's abundantly clear, however, that his commitment to revitalising forgotten sounds of the Sub-Continent is a driving force behind the vibrantly colourful project. Teri has made his mark by digging deep into the vintage Indian and Bollywood archives, tapping into a rich vein of bubbling source material, apparently taking great pleasure in re-introducing the music to appreciative new audiences at home and abroad. On top of this dutiful digging, his edits go far beyond the realms of simple cut and paste, elegantly blurring the line between the re-edit and the full-blown remix by adding discernible layers of complimentary production.
The latest instalment features a guest appearance from Kone Kone, who first appeared on wax via Get Physical back in 2019. It's his 'Sampadan 30' that gets the ball rolling in particularly energetic style, as driving Euro disco-tinged bass props up hypnotic chants, yearning vocal motifs and synth sweeps before breaking for a fist-pumping, psychedelic build-up. Next up, Teri assumes the controls on 'Sampadan 31', where mid-tempo chug grooves under infectious guitar licks, atmospheric vocals and dramatic synth arpeggios. Next up, we find the bouncing bass and crisp electro rhythms of 'Sampadan 32', with its imaginative arrangement allowing room for quasi-scat stabs, hyper-infectious vocal loops, and surprising horn fills. Finally, the script is flipped on its head as we arrive in sunshine reggae territory. Syncopated rhythm and heavy dub delays characterise the ocean-side sun-downer 'Sampadan 32', with distant vocals, cosmic synths, and deep sub-bass combining for a delightfully unexpected change of pace.
PC
Cryptobitch – CrPE 017 (Planet Euphorique)
Sooner or later, we'll all end up bitches to crypto. Unfalsifiable digital currencies are all the rage today, and their power and influence over our lives will only grow as time marches on and the Kurzweilian technological singularity nears.
Such future excitements and anxieties are exactly what the mysterious artist Exael aims to pinpoint in her music, whether it be pressurized illbient as Ghostride The Drift with Ambien Baby, or her abstract techno experiments with Arad Acid. And as is the case with artists who rise to power so quickly, Exael wants it all.
But have you ever heard her make breakbeat hardcore and donk? Likely not. Cryptobitch is Exael's debut for Planet Euphorique, the Berlin hardcore label whose repertoire spans new music from the likes of Sleep D, Reptant and Roza Terenzi. From the breakscientific ambient tensions of 'Double-Flux Honeytrap' to the trembling droid bloops on 'Cafe Can', this EP justifies the tech-pocalypse, a scenario that donk and hardcore have always endorsed.
The influence of amoral cyberculture is strong with this EP. The 10-second-long skit 'I Heart Hacking', for example, asks us to enter the letters 'shesawitch' into our Internet search bars. From there, this concept EP morphs into fittingly uncharted, techno-occultist terrortories; the standout is the humorously titled 'DDoNK CrySyS', in which an offbeat donk has an unusual existential crisis. When paired with hissing, smouldering breakbeats, it doesn't take centre stage – a donk has been put on it, but we're not fascinated by said donk; like childhood internet addicts so used to the miracle of technology, we're not surprised at the miraculous inclusion of certain familiar sounds.
There's pumping, unabridged techno in there too. 'Zero-Day Demon' sounds like a piece of chatbot spyware, scouring the depths of Facebook Messenger's backend to relentlessly unearth only the best furry cat photos. This is Underground Resistance meets Gossip Girl; embrace the cryptographic revolution, or watch your reputation get tarnished.
JIJ
Fred P – Private Society Vol2 (Private Society)
Professor of the deep Fred P presents the second in his freshly birthed 'Private Society' series with four typically profound sonic explorations. The term deep house means different things to different people, but there can be few artists who embody the fundamental essence of the spiritually motivated core of the sound more completely than Fred Peterkin. The New Yorker turned Berlin resident has spent a lifetime immersed in the purest forms of house and techno – dancing to the movement's pioneers, expertly crafting engrossing DJ sets, and, of course, supplying a consistently dazzling and prolific frequency of captivating studio productions. The man behind Black Jazz Consortium has appeared on the likes of Mule Musiq, Ibadan, and Finale Sessions among many other fine imprints, and his refined work has won him countless admirers among the most discerning of selectors.
While his sound – particularly when flexing behind the turntables – sometimes veers into forceful techno territory, it would appear that the 'Private Society' label is reserved for the more jazz-leaning and spiritually-inclined end of his expansive repertoire. Surprising us all by commencing the EP with a reprise, the first phase of 'On The Beach' eases us into proceedings, with blissful pads, intelligent chord progressions and hypnotic ocean waves cascading over a near beat-less arrangement. The full version of the track then bursts into action, with subtle drums adding weight to the emotive instrumentation, with gliding synths and life-affirming organs providing texture to the 10-minute epic. On the reverse, the reshape version of 'Mystical Sunshine' powers over discreetly Latin rhythms, with psychedelic synth leads unfolding over lush chords, infectious percussion, and provocative strings. Finally, the 'Tribal dub version' spaces out the instrumentation, vastly increasing the openness of the cut as reverb-soaked percussion adds implied mystery to the brooding musicality. The heavy rhythms propel the cut here, but the exquisite musical flourishes and cultured arrangement render the dub eminently memorable.
PC
Jose Rico – Star Dreams (Downbeat)
Downbeat Records frontman Jose Rico makes his seventh appearance on the label with five gorgeously deep and genre-spanning grooves. Rico has been quietly delivering musically-rich deep house flavoured cuts for over a decade, along the way sharing wax with the likes of Mike Huckaby and Keith Worthy and presenting work from the likes of Juju & Jordash, and Marcellus Pitman via his fine Madrid-based label. Latest offering 'Star Dreams' stays true to Downbeat's refined manifesto, with each track overflowing with luscious sonics and cleverly detailed production on offer throughout. Opening track 'Airlife' meanders through a soul-soothing haze of charmed harmonic layers, with held-down drums granting the instrumentation full license to enchant the listener as they effortlessly evolve.
The low-slung electronica of 'Astrolenguaje' trots at a lazy pace, with electro drums, full-bodied bass, and sparse atmospherics weaving a meditative spell. The B-side launches with the unfettered deep house shine of 'Everybody', with its state-side aesthetics encompassing glassy chords, emotive leads, and shimmery strings carefully constructed over tight drums. 'Our Own Organisation' sees bewildering synth work and abstract melodies interplay over broken rhythms, while title track 'Star Dreams' journeys deep into Balearic territory, with introspective pads, soothing bass notes, and tripped out synths floating over the most horizontal of grooves.
PC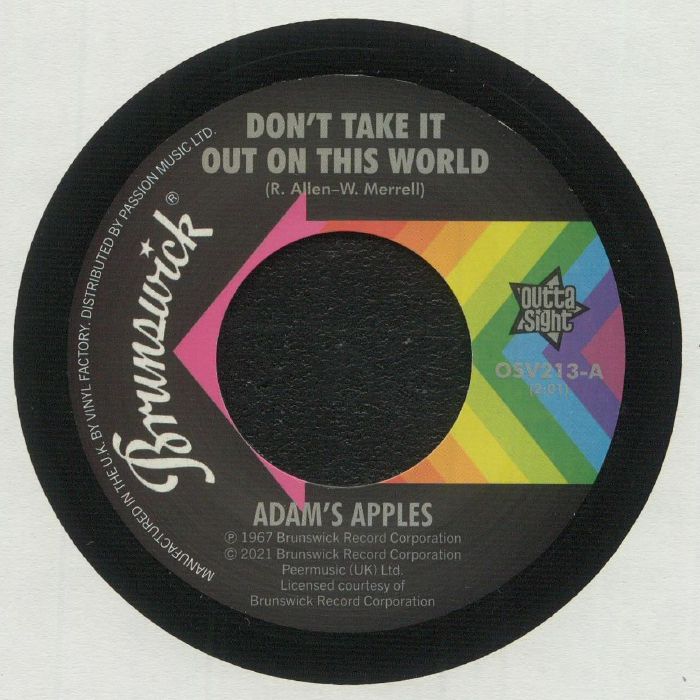 Adam's Apples / The Cooperettes – Don't Take It Out On This World (Outta Sight)
Originally released in 1963 from a relatively unknown band from Brunswick, New Jersey, Adam's Apples had a pretty decent run, even if it wasn't at a home advantage. Pressured to sound similar to pop bands of the time such as The Beatles, they however had a very soulful tone about them with their deeper baritone voices, singing about love. Encouraged to be radio friendly, it's a shame they didn't catch on but guess the airwaves were already full of already similar sounding tracks. A decade later however, they did find a whole new audience surprisingly in the UK.
Following them on the B side is the sweet girl group, The Cooperettes who were sisters also from the area who signed and released their single in 1967. Just like Adam's Apples they too struggled to gain an audience in the states, but found a surge in interest from the UK also. It seems maybe with their playful lyrics and equally groovy tempo they were just too nice for the US audience, but by any means at least audiences in the UK showed them the love they deserved. The record was first reissued in 1977 before getting more attention and having further represses ordered due to their popularity in the UK.
AY
LL Cool J Taro – Subetemaboroshi (P-Vine)
Little is known of LL Cool J Taro, an obscure Japanese alias that exclusively pays homage to the myth of LL Cool J by all manner of chopped, screwed and industrialized delights.
In an Instagram post made by this EP's visual designer a few years back, it was revealed the man behind this EP is the Japanese actor and "funny artist" Jtaro Sugisaku. Besides it seeming to have perhaps come together as the result of an elaborate in-joke – the inner sleeve depicts Sugisaku side-by-side with LL Cool J, piss-takingly emulating the front and back covers of Cool J's hit debut album 'Radio' to a T – the music on this release is undeniably hard-hitting, wrenching us from our comfortable seats and propelling us into metallic hip-hop hell.
The EP consists of both classic LL Cool J instrumentals and original beats, but with a much more aggressive lyrical flair and flow than James Smith's cool-headed delivery. Taro enlists the help of rapper Darthreider for a banging industrial flip, 'Subete Maboroshi', while on the follow up, 'Said Knock You Out', he brings a heightened aggression to the beat of 'Mama Said Knock You Out'. 'I Couldn't Become Robert De Niro', meanwhile, works in a charmingly jarring and bloop-toned beat, while 'I Need Love' turns the J's calm and collected original into a spikier, more turbulent kind of affection.
JIJ
Black Merlin – Scape One (Artificial Dance)
UK-based producer George Thompson dons his Black Merlin cap for his first release of 2021, arriving in suitably dramatic fashion with the epically unfurling and altogether rather stunning 'Scape One'. Thompson had already been making indelible waves with a series of hard-hitting releases recorded alongside Kyle Martin as Spectral Empire for a good few years before he branched out with his Black Merlin solo project. After first appearing on Andrew Weatherall's Bird Scarer label in 2012, he's stayed in character to embark on innumerable nocturnal expeditions for labels including Berceuse Heroique, Boysnoize, and (Emotional) Especial, among others.
With a constantly shifting sound that tends to dwell somewhere within the experimental techno vortex, his music is characterised by an often sinister late-night edge and a propensity to embrace the otherworldly. Here, Thompson displays a typically adventurous inclination, with sonic saga 'Scape One' clocking in at just under 15-minutes. The breathtaking music evolves over subtly modulating synth arpeggios, with dramatic sweeps and trance-inducing textures endowing the track with a distinctly cinematic quality. On the reverse, Gordon Pohl makes the most of the atmospheric waves with his stripped and almost unending remix. While teasing at a resolution, the captivating music instead peters out into the eternal silence, affording the piece a potent sense of ceaselessness that adds to its mystical quality.
PC
This week's Jude Iago James. Martin Hewitt, Patrizio Cavaliere, Ava Yusuf, Oli Warwick