The best new singles this week
The singles that caught our collective ear this week
SINGLE OF THE WEEK
Doildoshi – Invisible Threat (More Rice)
The steamy metropolis of Bangkok might not be the very first place that springs to mind when considering habitats conducive to high grade subterranean misadventure, but amidst the congested traffic, bribe-hungry bent coppers, and belching toxic smog, the Thai capital is home to a surprisingly vibrant crop of jocks, creators, and audio enthusiasts. One of the more discerning among the city's numerous collectives is the More Rice Records crew. Comprising of a label and sexy new record store, and fronted by a freaky triad of committed sonic purveyors, More Rice are playing their part to add a distinctive sense of nuance to the homogeneous Bangkok underground. Based deep in the eclectic chic of the city's Phrom Phong neighbourhood, the team's label arm has already released a notable selection of EPs from some of Asia's most interesting producers – including Mogwaa, Mr Ho, and label frontmen DOTT and Sarayu – featuring well-curated remixes from the likes of Hidden Spheres and Eric Volta. The fifth MR instalment arrives from Korean artist, Doildoshi, who shows up in confident mood with the suitably left of centre 'Invisible Threat' EP. Opening track 'Until Dawn' seduces with overt '80s sensibilities combining with a lo-fi anti-gloss. Intoxicating synth melodies skip over the caress of soothing chords, excitable acid bass, and stripped machine drums.
'Forest Illumination' continues the deviant take on a retro theme, with wonky leads, synth arpeggios and snappy drums playing out an energetic rhythm before rush-inducing power chords propel the track into hands-in-the-air territory. On the flip, the introspective groove of 'The Last Dictator' fuses eastern melodies, affecting pads and driving bass with hard-hitting, Art Of Noise-esque drums for a heads-down backroom workout. Finally, Klasse Wrecks co-founder Luca Lozano mans the console for his rework of 'The Last Dictator'. Upping the energy levels while retaining the impetus of the original, his version strips things back just a touch, embodying the track with a brooding quality exemplified by menacing bass stabs and tripped-out vocal textures.
PC
Taqbir – Victory Belongs To Those… (La Vida Es Un Mus)
Taqbir are a wonderful example of viral notoriety. After their first song emerged from the smogs of YouTube and Bandcamp, this Moroccan punk outfit have turned many a head, and are now tearing their home Taqwacore scene apart with maximalised electro-punk roarers.
Taqwacore has been active since the late '70s, and is punk music that deals with Islamic themes. While largely centring on the UK, its takeoff in Morocco has seen Taqbir nab the helm of the scene. While some Taqwacore bands simply concern themselves with Islam (rejecting traditionalist interpretations of the religion from either within it or outside of it) Taqbir are entirely anti-religion.
Sung in Moroccan Arabic, the sheer anger of 'Victory Belongs Those Who Fight For A Right Cause' is unbound and cathartic, aiming to be without nuance. It is purely, rawly furious. As much is evident from the sound: opener 'Sma3' is so overridden with saturation and clipping that its raucous female vocals sound not unlike shards from the wrecking-balled religious monument on the front cover.
In a recent interview, the anonymous frontperson of Taqbir said "Mecca, for me, is the representation of capitalism." With that thought of financial, systemic and spiritual injustice comes a slew of clangers. Our favourite is 'Tfou 3lik', which contains no end of clippy drumstick count-ins, which in turn signal discordant freakouts and two-tone vomits. 'Al-Zuki Akbar' (an anally-themed play on the phrase 'allah akbar') meanwhile shows off the band's electronic production chops, with rapidfire, glitched kick drums accompanying the sentiment. Like their own name, Taqbir are a subversive rallying cry.
JIJ
K Lone – TASTY 001 (Sweet N Tasty)
Throughout his career to date, K-Lone has thrown us plenty of curveballs to keep his options, and our ears, open. Last year's Cape Cira album was a widely adored benchmark for his more delicate side, revelling in plush, expressive landscapes with less of a dancefloor focus, but across scores of drops on Idle Hands, Soundman Chronicles, his own Wych and the Wisdom Teeth label he runs with Facta, he's swerved from hybridised 140 steppers to minimalist dub, crooked techno and more. The binding agent in the K-Lone discography is a preference for sleek, refined sound design and a firm grasp of melody, all underpinned by an inherent UK swagger.
All those ingredients feed into the garage side of K-Lone's output, too. 2019's DRB08 release on Dr Banana was the first clear indication he knew how to handle the swing n' subs of UKG, but then he followed up with a stunning mix of his own dubs during lockdown that revealed just how prolific he was in that particular field. You get the impression K-Lone has perfected his studio workflow to channel inspiration into fully realised ideas in a streamlined, intuitive fashion.
Following up on the love he received for that 45-minute run of on-point dubs, K-Lone launches the new Tasty label with four standout tracks lifted from the mix. From the second 'One' fires up you know the area you're moving in. This isn't trying to re-write the garage rulebook, but rather paying a heartfelt tribute and wholeheartedly nailing the vibe with personality and flair. That comes through in abundance on 'Bad' thanks to the playful RnB vocal slices, pitch perfect chords and sassy 4×4 bounce. Interestingly, K-Lone's take on the style at times calls to mind the jazzier end of mid-00s micro house as much as MJ Cole and Noodles, linking through to some of the qualities you might well find on a Wisdom Teeth record. In the end, it's all connected, and what shines through most is K-Lone's earnest love for classic UKG, which no doubt informs some of his other more experimental work too.
OW
Colombia Coffee – As Coisas Que Ela Diz (Vigilante Brazil)
Originally released back in 2010, this record is getting some new treatment which is owed to its absolute die hard fans. Relatively unknown outside of Brazil, Colombia Coffee had quite a successful run during a period where indie music was all the rage in Europe, so it's rather baffling they never got picked up in Europe. However it perfectly explains the heavy Brit pop influence on their sound and image. Reigning across all genres from the early 00s, it wasn't hard to associate the music scene at the time with the likes of Kate Moss dating whichever new indie darling was around and bands like The Libertines, The Kills and Kings of Leon were incredibly popular. Indie Brit Pop was reigning, even if on the other side most of their influences came from the states with The Stroke dominating the pack over the pond. However Colombia Coffee came out at the time, guns blazing and ready to show what the South American's could also do.
Starting out with a sound very reminiscent of the Garage band days and sounds, Colombian Coffee keeps their audience transfixed with sweet melodies and hooks in Brazilian. With similar sounds to new band and Eurovision Song Contest winners Manneskin, it's not hard to hear why they were popular, and why Manneskin also now finds popularity. Not knowing the language doesn't make it less catchy and infectious. Even their artwork depicts the famous indie art pop look associated with the time, which still has a buzz even today as part of cultural history.
With not much about the band online, it's rather easy to miss the small buzz it does have in limited capacities. However it's rather saddening to realise we missed out on "One of the best bands that have ever happened in Brazil", according to some.
AY
Seekers – Flash Dynamic Triad Colour Test (Seekers)
Apparently, lengthy manifestos on sensory deprivation and chemically heightened consciousnesses can inspire hard-hitting electro tapes, and we say bring it on! Inspired by the mysterious 'Flash Dynamic Triad Colour Test' – a strange psychedelic procedure devised by Spanish chemist Corrado Malanga involving flashing multi-coloured balls – the Spanish label Seekers this week present their first ever cassette compilation, with new music from label mainstays like Andy Rantzen, 606, and Miki included.
It's refreshing to see each artist credited under their own names, as much of Seekers' former output has been released egolessly, simply under the name 'Seekers'. From the off – Franco Falsini's 'SignatureMovers' – we feel like we're very far off from the sensory deprivation involved Malanga's test, with each beat undercut by lulling summer strings and bright chords. We enter driving breakbeat territory with Alex Picone, Luca Piermattei & Aut0m8's 'Eleven', and from there, a quacking mood of sample-heavy tech house is discovered. As much more emerges from the B-side, where the squeaking, wobbling oddballs 'SystemUpgrade' and 'Rainy Groove' lead the charge. We end on the balearic 'Cavern' by Miki, whose sinewy bells and downtempo, soil-unearthing kicks evoke something not unlike Malanga's floating, multicoloured spheres.
JIJ
34th Floor Experience -Love Will Find A Way (feat St David & Nico Lahs remix). (Mate)
Spanish label Mate are back in action, staying true to their implied statement of intent by serving up a selection of zero nonsense house jams, this time arriving from newcomer (or possible new alias), 34th Floor Experience. Rafa Santos' label has packed a fair few releases into its so-far short existence, inviting deep house luminaries like Javonntte, Garrett David, and Reggie Dokes to present a roundly dancefloor focused catalogue of smile-inducing club cuts.
The latest instalment features studio mavericks St David and Nico Lahs on remix duty, and each of them brings something irresistible to release. Lead track 'Love Will Find A Way' comes in three incarnations, starting with the decidedly feel-good original. Featuring a hooky lead vocal looped (ironically, considering the title, exclaiming 'gotta get away from you, baby') over vintage US house drums and uplifting piano chords. St David's mix layers on some seriously luxuriant harmonics, with thick pads and complimentary strings adding weight while staying true to the track's garage essence. Nico Lahs' version proves a highlight as it veers further from the sheen of the original, mutating the vocals over loose drum loops, dusty percussion and moody chord stabs, Finally, bonus track 'I'm Not Dreamin' continues the authentic deep house intention, with determined vocal chops cascading over chunky drums and rolling bass, enlivened by twinkling piano improvisations.
PC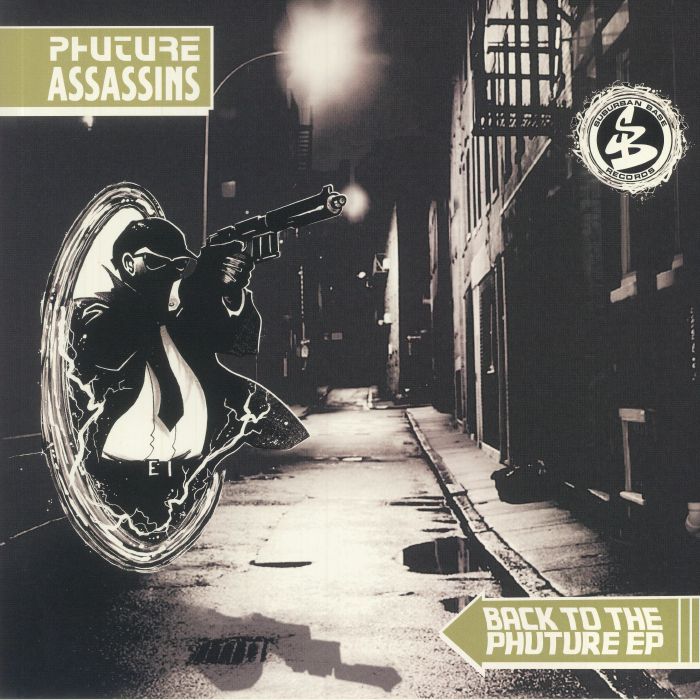 Phuture Assassins – Back To The Phuture EP (Suburban Base)
For those of us – and there do seem to be a lot of us around again – who love old hardcore and early jungle, the re-opening of the vaults of Suburban Base for re-issue and in many cases unheard rarity action is a bit like all our Christmasses coming at once. Take this stack of four mixes of their first ever release, which spans several generations of junglist/d&b history, each represented with effortlessly classy sounds.
We kick off with a previously dubplate-only Dead Dread mix, all chunky Amens and reggae sound system quirks. Then the mighty 2 Bad Mice show their knack for locating a great hook and creating breakbeat madness around it, before the second piece of vinyl brings us a much more modern, sleek versions from Exile & Mark XTC and a similarly streamlined long lost 2002 mix thought lost in the vaults from Cause 4 Concern. Suburban Base's role in the whole jungle movement was slightly written out as the scene matured and progressed into less 'mental' sounds, but they were not only the first but also one of the best. Something this embarrassment of riches distinctly signals. Their cast offs are still in a class above everyone else's finest moments. We can only pray that there's a lot more where this came from.
BW
This week's reviewers: Ben Willmott, Oli Warwick, Jude Iago James, Ava Yusuf, Patrizio Cavaliere.