The Grid on teaming up with Fripp – "a very generous and fun person to work with… with a really filthy sense of humour"
Richard Norris talks Fripp, Moog and surviving a pop smash
If you remember the 90s, or so claims the slightly customised expression, then you probably weren't there. While it's not exactly true to say the decade is a complete blank for The Grid's Richard Norris and Dave Ball, Norris admits that when it comes to the roots of the duo's new album Leviathan, a certain amount of amnesia was involved.
A wonderfully experimental collaboration with veteran King Crimson/Eno/solo artist and guitarist extraordinaire Robert Fripp, Leviathan takes shape slowly as a listen, moving from the amorphous and freeform into the more structured and groove-based almost imperceptibly as it progresses. A fitting vibe for an album that also has taken the best part of three decades to fully come to life.
Fripp hooked up with The Grid in the very early 90s, one of a succession of guests invited in to contribute to the duo's second album 456.
"Our manager at the time was David Enthoven," recalls Norris, talking to his from new home in Lewes, Sussex, having moved down after a lengthy spell in Ladbroke Grove, West London. "He was the E in E.G. (a famous management and label concern in the 80s) and he was your typical old skool King's Road manager – he'd managed King Crimson, Roxy Music, T-Rex, ELP… And after us went on to manage Robbie Williams."
"When we were doing 456, our second album, he got loads of amazing people in to work with us – Andy Mackay (Roxy Music), Phil Manzanera, people from Slap Happy, mainly 70s art rock people which was great because we'd taken a lot of inspiration from them."
He admits that when Robert Fripp arrived for his session, they were rather in awe. "But he was really easy to work with. Having worked with people who had our approach, from art school as well as working with very studious musicians and being a very studious musician himself, he kind of accepted the way we worked. Even though he was this amazing soloist, we could throw concepts at him and he would respond."
Norris recalls the impressively powerful delay pedals he had helped shape the results. "One that went on for over a minute," he says, "he was improvising with and playing on top of himself. So sometimes it would start with our track and sometimes it would just be these mad improvisations.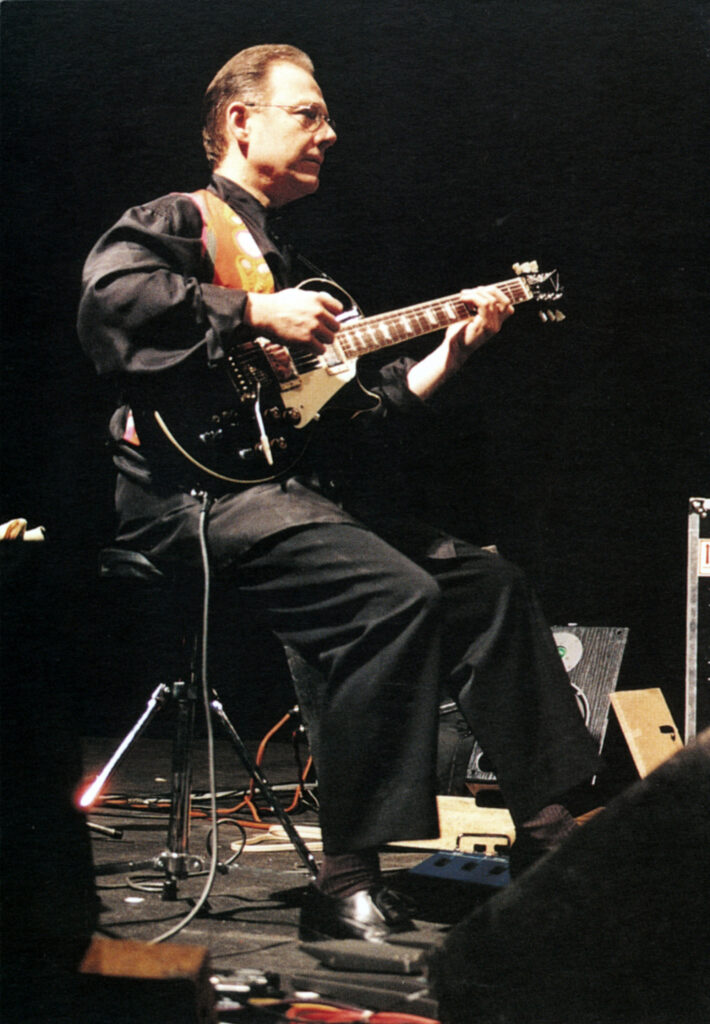 "He was a very generous and fun person to work with – with a really filthy sense of humour. Absolutely disgusting ha ha. Which was great. He said a couple of things and we were like (mimes open mouthed amazement) – did he really say that?!!"
When the 456 album was released in 1992, it included two tracks that featured Fripp – 'Ice Machine' and 'Fire Engine Red' – alongside guests appearances from everyone from Sun Ra to Zodiac Mindwarp. But the pair had been left with a lot of extra material that didn't see the light of day for years.
When the pair discovered DATs years later, Norris admits "I played them to David and neither of us could remember making them I was like 'hold on, have we made an extra album with Robert Fripp without even knowing?!'
"At that time we were in studios non-stop, we were doing a remix a week, we'd kind of forgotten there was all this extra stuff. I put one on Soundcloud and Bill Brewster really liked it and he put it on a Late Night Tales album in 2014. There were a couple more tracks, and we went back to Robert and his management and asked if there was other material from that period that we could use. Then we added our bits to that. So it was kind of a hybrid of old and new."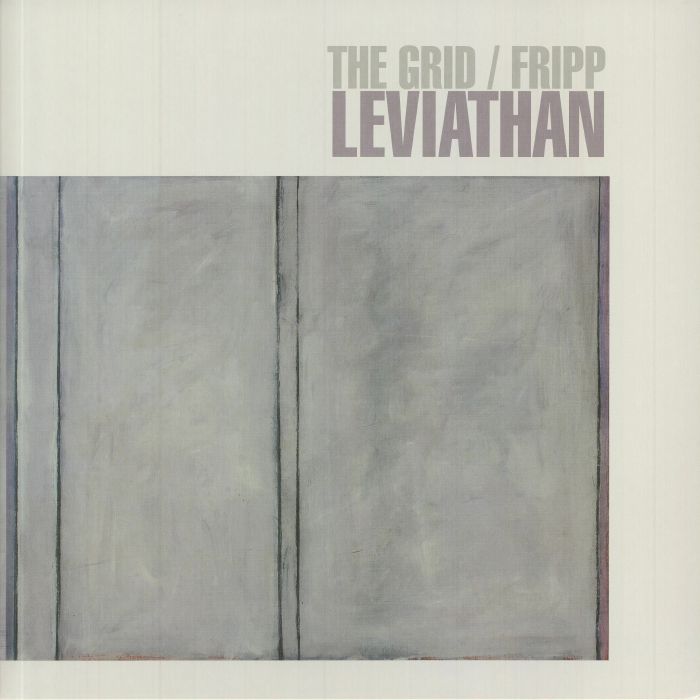 It was the looseness and freeform nature of the Fripp recordings that gave them the space to experiment in earnest. "Obviously there is some stuff on the record that is quite fixed and static" Norris says, "but on other bits you're using chance a bit more, it is experimental because you're experimenting to see what happens and see what works, and it's a very layered approach. It's a bit more like abstract painting than anything really. So you get a bit of that and then as the record develops it's a got a few more beats and bit more structure. We kind of wanted to have that development in the record so it starts very abstract and then moves towards dance."
Norris marvels at the strength of Fripp who, even at the age of 76, has spent the last year recording a track a week, staging some particularly daft videos of many of them on YouTube with his wife Toyah Wilcox often on hand. "A friend of Norris mine, Toby, has just been making a film about King Crimson and I've seen a few early shots of that," laughs Norris, "and that is quite similarly out there. He's a unique individual. I didn't think he would go that far in terms of punk rock make up but he seems have got more unhinged as it's gone along!
"Not only is he doing that every Sunday but King Crimson are off on tour next week and I've looked at the tour dates and they're all across the states, day after day for months. I'd probably last about a month! I think the longest I've been on tour for is six weeks. It's a hard thing to do. He's obviously very passionate about what he does, it's great."
Although he's some way off the age of Fripp yet, the same could very easily said of Norris. He shows none of the cynicism or world weariness that afflicts some veterans of the scene, and seems to have no problem finding new projects to fuel his enthusiasm. The Grid is an on/off project for him and Ball, who in recent years has devoted some time to the reformed Soft Cell. Norris, meanwhile, has had numerous other projects including Circle Sky, The Droyds, Further, The Time and Space Machine, The Long Now and his current collaboration with Erol Alkan, Beyond The Wizard's Sleeve. Among other things he freely enthuses about, he's hosted modular improvisations at 50 screenings of 'Star Wars' by Secret Cinema at the venue now known as Printworks, and played in a spaceship – or a building that looks very similar to one – on top of St Martin's in King's Cross.
But whatever they've been up to individually, he never finds slipping back into the Grid configuration with Ball the slightest problem. "It's the same, completely the same," he says, when asked whether absences affect the relationship. " We've worked together and then had periods where we haven't, sometimes for five or six years. Within one pint we're back to where we were. The in jokes comes out and all the nonsense starts happening again!"
As for the dynamic between the pair, it's definitely a case of opposites attracting. "We're both different – he's very much… well, he likes quite minimal things, quite basic song structure, and the kind of lead tune riffs. Whereas he's not so bothered about the detail. I do more of the textures and the stuff like that, the drum fills. He likes the tune.
"We're quite different personalities but it's quite complimentary in that he's northern, I'm southern,. We're slightly different ages, he's only a few years older than me but we're from slightly different generations, and just different backgrounds. It's an odd couple but it just seems to really work."
They originally met via Throbbing Gristle/Psychic TV maiman Genesis P-orridge, working on the fake acid house compilation Jack The Tab – Acid Tablets Vol 1 – either an opportunistic cash in on the acid house moral panic or a wonderfully Situationist effort to spur on the scene in the UK, depending on your point of view.
"I went to interview Genesis and he said 'shall we make an acid house record next week.; I'd never heard acid house at that point and I'm not sure he had either. When we made the Jack The Tab album we definitely hadn't heard acid house, it more like our idea of what it might sound like really, more than what it actually was."
In typically joyous fashion, he says although he did end up slightly shortchanged in a financial sense – notoriously dodgy in his business dealings, Genesis licensed the LP in numerous countries without being him – his memories of recording the album were nothing but fond. "It wasn't one guy on a laptop, there were four or five of us all playing samples. Which is rare, and I'd really like to get back to doing that again because it's great. I don't know many people who do it. I can imagine Kayne West and some of his records – they sound like they might, you know. just bunging in a sample really loud."
"Me and Gen were going to be The Grid," says Norris, "and were going to sign to Warners but then Gen dropped out because he'd had a dodgy relationship with a big major label before and so he didn't do it. So they basically signed me on my own and said who do you want to work with and I was going to work with six different people and do an international flavours of house thing and do one in London and so on, but someone else did something very similar. So I started working with Dave."
Since then they've made everything from their 1990 ambient-slanted debut Floatation to the delightfully deranged banjo-house anthem 'Swamp Thing', their biggest commercial success., closely followed by 'Texas Cowboys' from the same period
Norris says now that at the stage things may have "way too pop for our own good", during the 'Swamp Thing' period, "That really did kill us. We had to stop for a long time after that. Once you've made a record and it got to number three and the record company is saying 'we want the next record to go to number one' it's quite hard to write that track.
"'Swamp Thing' was kind of a joke anyway. We really didn't mean it to be a massive hit. It was a case of 'what's the least kind of techno instrument we can put on it, for a laugh.. We were on Top of the Pops a bunch of times but – perhaps like a lot of people on there- we felt like we were the outsiders there."
It's certainly a long way – thematically if not geographically – from the corridors of Top of the Pops to the more august, academic surroundings of The University of Surrey in Guildford, where the duo made their last album in 2018. One Way Traffic is compromised of six tracks of library music made for the Moog Recordings Library. When the world famous synth company decided to set up an open access studio of mainly classic vintage gear at the uni, they were the first people to be invited in to use it.
But it's just another example of The Grid's basic but ultimately watertight ethos, namely been guided by the experience on offer rather than where it fits into the career plan.
With plans for the next Grid opus well underway, a typically diverse and ambitious tribute to the many different genres of dance music that have sprung up since the days of the acid house explosion that spawned them, it's a simple but deadly effective mindset that – if the smile on Norris;' face is anything to go on – continues to serve them well.
"You spend a lot of time saying no to things," says Norris in conclusion, "but if someone asks you and it's a good thing, you will do it."
Ben Willmott