Label Focus – Glacial Movements
Who says Glacial Movements have to work slowly? The prolific stable responsible for more than 50 key ambient releases tells us all…
Stalactite droplets, muffled footsteps, ice cap cracks. Releasing with a slew of key players (the likes of Loscil, Murcof and Machinefabriek) – the vision of Italian label Glacial Movements is coldly singular: to share ambient music with an icy, Antarctic feel. In freezing cold temperatures, we caught up with label boss Alessandro Tedeschi to discuss the label's history, upcoming releases, and the thawing power of collaboration…
WHAT'S THE NAME OF YOUR LABEL, AND WHO RUNS IT?
The name of the label is Glacial Movements and this particular choice already addresses the type of sonority that can be expected. In other words, ambient music that evokes and describes Arctic and Antarctic landscapes, and all that is closely connected with frost. The founder and artistic director is Alessandro Tedeschi, (pictured, below) also known as Netherworld, who has composed some albums produced on Glacial Movements.
WHEN & WHY DID THE LABEL START?
The label was born in 2006 and the first record release was the "Cryosphere" compilation in which some of Tedeschi's favorite artists were invited such as Troum, Aidan Baker, Northaunt, Oophoi and others. Love and the strong attraction for silent and snow-covered landscapes, was certainly the main reason that triggered something. The idea was to recreate a connection between cold nature and humanity.
The label is like a hymn to an ecosystem that is slowly fading, unfortunately climate change is inexorably taking over, and every day we read news on the melting of ice, gigantic blocks of ice that are breaking off, or of glaciers that are losing their mass. If this continues, very soon we will no longer be able to see these beauties, resulting in rising sea levels and an increasingly unstable climate. The idea therefore is to create a strong community made up of artists who are asked to share all this, through the composition of a themed album.
GIVE US A BRIEF SUMMARY OF WHAT YOU'VE RELEASED SINCE THEN….
To date I have produced almost 50 albums, all in CD digipack and digital format. The list is quite long, so here is a selection: "Cryosphere was the starting point, then Rapoon Time Frost, Lull "Like A Slow River", Netherworld "Morketid" ," Algida Bellezza" and "Alchemy of ice", Francisco Lopez "Amarok", bvdub " The art of dying alone ", Loscil " coast / range / arc ", Retina.it" Descending into crevasse ", Celer" Without retrospect, the morning ", Pjusk" Tele ", Aidan Baker" Aneira ", bvdub" I Remember " , Yair Elazar Glotman "Northern Gulfs", Chihei Hatakeyma & Dirk Serries "The storm of silence" and " Black Frost", Machinefabriek "Stillness Soundtracks I and II", Philippe Petit "You only live ice", Scanner "The great crater ", Council Estate Electronics (Justin K Broadrick)" Arktika ", Eraldo Bernocchi & Netherworld " Himuro ", bvudb " Epilogues for the end of the sky" Loscil & bvdub " Erebus ", Paul Schütze " The Sky torn apart ", Murcof "Lost in time", Northaunt " Istid III ", Aria Rostami & Daniel Blomquist " Wandering eye " and " Still ", Oophoi " An aerial view".
WHAT QUALITIES ARE YOU LOOKING FOR IN THE MUSIC YOU RELEASE?
The quality of the productions must always aim for the maximum. This is a fundamental aspect. Listening to Glacial Movements productions must make the listener feel a sense of isolation and detachment from reality. The sound must therefore always be engaging, never giving reference points. Each album undergoes a mastering process to make it even more immersive and deep.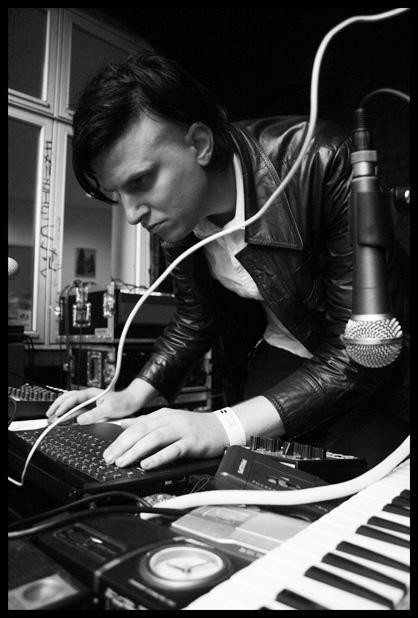 WHAT KIND OF VISUAL IDENTITY DOES THE LABEL HAVE (ARTWORK, VIDEOS ETC) ?
Glacial Movements has a very well defined identity, in fact all the photos of the album covers come from the shots of professional photographers working in the Arctic Circle. The image can represent a landscape, animals or a detail of nature. The artist can choose which photographer and which photo best suits with the concept of his work, after which the whole digipack is designed and created. This process has been managed for several years by Rutger Zuydervelt aka Machinefabriek (who did almost all the designs) and Oleg Galay. I strongly believe that the best format is still the CD in digipack format, sometimes we design special finishes such as embossed parts, metallic colors, posters and booklets and much more.
WHAT'S BEEN YOUR BIGGEST SELLING RELEASE TO DATE? TELL US A BIT ABOUT IT AND WHY YOU THINK IT WAS SO POPULAR.
In reality there would be more than one, but surely the most important and incredible one was "Erebus" by bvdub and Loscil. After producing some records for them, I got the feeling that both of them could collaborate together, because I knew they could explore different aspects at the same time. The album has some really intense and wonderful moments, in "Erebus" there is grace, beauty and a sense of peace. Brock and Scott are two great artists of international fame and importance, and it is also for this reason that the album was so popular.
NAME ONE RELEASE THAT YOU THINK DESERVED TO GET MORE ATTENTION THAN IT DID
I have always been an admirer and passionate of everything that came out of the brilliant mind of Paul Schütze. He really made history, he's a name of absolute respect. After a long period of inactivity, I had the honor of produced and released his "The sky torn apart" an album full of details and created with an impeccable technique that has always distinguished him. Despite this, I expected more interest from the public and also from the press.
IF YOU COULD SIGN ANY ARTIST, ALIVE OR DEAD, WHO WOULD YOU CHOOSE AND WHY?
I state that almost all the artists that I have always admired, I have had them on GM. However, I would very much like to collaborate with William Basinski, he is an artist who has a unique sensitivity and style. His compositions are melancholic poems and have that divine spark that I adore. Another artist I'd like to work with is Thomas Koner. He is the progenitor of glacial ambient music, and his visions are perfectly in line with what I want to explore.
WHICH OTHER LABELS DO YOU ADMIRE AND WHY?
There are many that have accompanied me during all these years, and that have been part of my listening. Unfortunately some are no longer there, while others are still in business: Soleilmoon, Sentrax, Manifold, Sub Rosa, Ventricle, Beggars Banquet, Extreme, Barooni, Cold Meat Industry, Nextera. But what I believe was and still is the most credible and important label with a well-defined identity is undoubtedly is Touch.
WHAT CAN WE LOOK TO FROM YOUR LABEL NEXT?
After Jokel by Erik Levander, then it's John Sellekaers Observer Effect, Charles Richard Sonic Earth, a new album by Netherworld, Serga Kasinec Morana, Amphior Being Haunted, Galati Cold as a February Sky, Philippe Petit Ice Thawing, Massimo Pupillo (Zu) and others.