Steve 'Silk' Hurley & Andrew Emil interview – "House Music is a culture and not just a music genre…"
Steve 'Silk Hurley and Andrew Emil may make for an unlikely pairing, but as Juno Daily discovered when we chatted to them about the current release on Hurley's label – 'The Andrew Emil – S&S Session' – bulging in big names, they have more in common than you might realise.
First things first – how do you know each other?
Andrew: Shannon and I have known each other for a long time and introduced me to his partner, Steve, over the years. It started with a remix here and there, and eventually, it became a more regular thing over the last decade or so. It's just an honor to work with people whose work you respect, but most importantly, are amazing humans!
Steve:
Andrew has always been consistent in releasing music and believe me, the word got out. So it was an organic process that allowed us to one day cross paths. Initially my first face to face with Andrew was when he spoke on a panel discussion that partner Shannon "Skip" Syas and I moderated at a music school. That led to us working together creatively.
Skip is like the ultimate A&R; he believes in not only the music but also the people making the music, so after a conversation, we felt working with Andrew was a great idea, and Skip started getting Andrew involved in our projects on the remix end.
With Steve as an original pusher, and Andrew now at the helm of Chicago house's third wave, you've both grown with the music, but come from different generational perspectives. How has the sound changed over time? Do you both agree on how it has changed?
Andrew: Like any genre of music, especially American Black Music, it starts at the source and by virtue of its spiritual power to unite, it expands and as other cultures, ethnicities, identities, and countries join in and put their perspective into the lexicon. Good, bad, or indifferent this process of global popularity will inherently add to the original genre sound blueprint, creating an ever-evolving approach from its next generation of artists. The most significant ideas of artistic merit will contribute to the cultural sound.
Being that House Music is a culture and not just a music genre, much like American Jazz, there is an ethos of its artistic depth and that societal influence, that will keep it being a vernacular cultural tradition handed down (at least in Chicago). As with any genre, House Music has gone the way of above-ground accessible pop music directions (a few different times), those periods historically have been short-lived.
When I first started buying House Music records in 1996-97, when I was 16-years old, I was being influenced and inspired by the records of already Chicago's second generation of artists. From the entire ensemble of Cajual, Relief, Prescription, Balance, Guidance, Large, and more these were my first introductions to Chicago House.
Later on, I found the works of first generation producers like Steve, Larry Heard, Armando, Jamie Principle, Marshall, etc., and even just the differences in sonic nature, formatting, and artistic scope between these two groups of artists is vast.
As one is built on the other, I feel that "underground artists" or just long-term producers, DJs, vocalists, and the like will continue to evolve the cultural sound of House Music, ancillary to what's happening in the popular music sphere(s).
Steve: The changes in the sound of house music are directly correlated with the changes and availability of technology. When I first started creating music, I was actually at a disadvantage, because I had no equipment, no formal training (other than a few years of piano lessons where i hardly absorbed anything), and no knowledge of how to produce or record music. But what I did have was good taste in music and a knowledge of what people liked, which stemmed from my experiences as an avid music fan, and a DJ. Technology allowed me to "get in the producing game" with no experience.
Early on, I borrowed equipment, which was everything from drum machines to sequencers, 4-track cassette, and synths (until I bought my first synthesiser). Eventually I got a sampler, then the Emulator II when I got my first Major recording contract. Then after seeing Jamie Principle use a Mac Computer with a DAW called Performer, I was hooked, and later moved on to Digital Performer, Pro Tools, Logic, and now Studio one.
So the sound has changed based on the workflow. Now even the most inexperienced producers can put together quality music by utilising loops and algorithm-based software that analyzes chord structures. So the overall quality of what a new producer can create has gone to another level. However, quality is just one part of what makes the music enthusiasts gravitate to a song. You still have to find a way to connect with the audience.
In the past, we were sometimes hindered doing certain things in the studio due to the budgetary concerns. Or we were in a studio that didn't have everything you needed for an idea you may have. Now that has changed. I use technology as an opportunity to do things that were not possible before, which helps take the House Music sound to a different level; by applying the new technology to the skills I've acquired over the years.
House Music is in great shape right now, but there is a plethora of music due to the technology. So you have to look harder to find it. The bar has been raised for what is expected, and it's also a little more difficult to find hidden gems, which is why presenting a remixers's work in an album project puts several gems in the same place so you can see if you like the "Shine" of them!
Andrew, how has Steve and DJ Skip's mentorship has shaped your development as a musician and DJ?
Andrew: Their music has been influential to me long before I met them, so there's just always been a thread of respect for that foundational education. Working closely with them over the years has really been nothing short of one of the best music industry dynamics I have experienced. As they are both artists, as well as businessmen, it's very easy to speak and understand one another very clearly. Beyond that, they are both men of ethics and that is what makes both of them role models.
Steve, you've let Andrew rework some very important music from the S&S vaults over the years. Does this come from a place of optimism in you for newer artists?
Steve: I've always been able to see the potential in people, especially when I recognize that they have displayed a passion for music and a relentlessness to get better, by mastering their craft. In other words, those that are "students of the game", like others I've believed in through my earlier years, such as Eric "E-Smoove" Miller, Maurice Joshua, Chantay Savage, CeCe Peniston, Kym Sims, Jamie Principle and M. Doc (among others.) At S&S we have a roster of artists that have that same drive, which is helping them build their brands. However, we like working with artists based on the music, even if they haven't achieved brand identity at all yet. We believe in development.
Andrew has those traits. He is a classically trained musician that is able to read and write music, while also having club roots. This allows him to reinterpret the intent of the pre-existing music and transform it into something that takes you to a ​whole ​new world. This also allowed him to develop a sound and a brand over the years.
Andrew, what was it like for you to work with those really classic originals? Was it daunting?
Andrew: It wasn't daunting as much as it was exciting. Mainly, as I don't take on remix projects that I don't truly feel that I can add something to that conversation, be it a new song or a classic. The biggest challenge I personally always feel that is one in determining if I have something to add to the conversation is, how to make something iconic, different in a way that makes you feel like you are hearing something for the first time or that feels entirely different and sheds new light on a great song.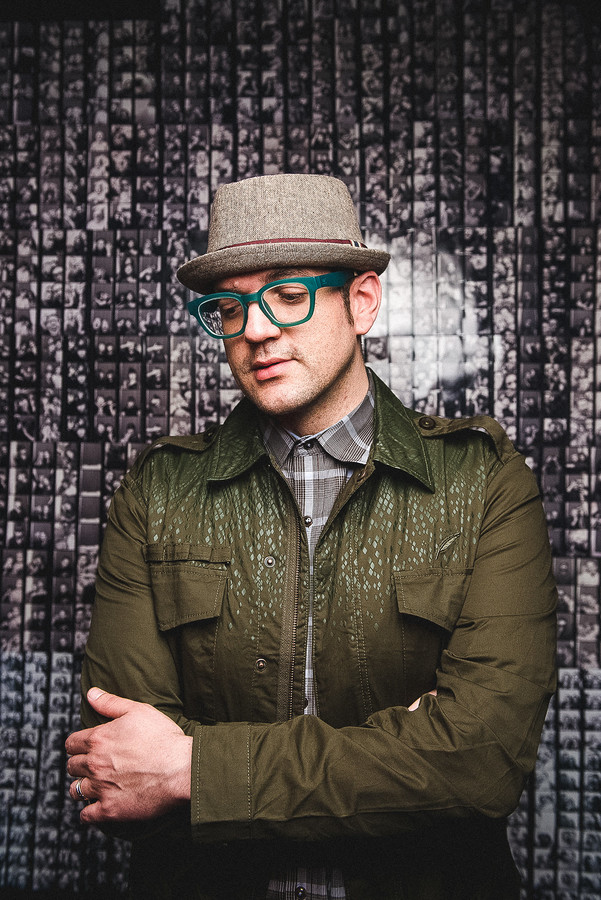 You both describe the release as a compendium of spiritual dance music. Could you go into a little bit more detail as to the spiritual influences on the album?
Andrew: For me, by Spiritual—Dance—Music I mean music that is a source of reprise, relief, escapism, or just a place where you can lose yourself to the visceral and sacred ritual of dance and movement to music. House Music is this, it is a place where you can do this, by its design. Therefore, I am always attempting to create such an atmosphere musically with my dance music production work. Sometimes, I get there, and sometimes I don't, but like with anything, the more you do it, the better you get at it. I think I got there on many of these records featured in this compilation.
Steve: Many of the tunes on the project were originally my creations or music that I supervised the creation of. So I know the stories behind the lyrics, and the intent of the songs. What's cool about Andrew's approach is his ability to create a new atmosphere for a song to live in that is still in line with the original intent of the writers, artists and producers..
Andrew, you also come from a soul and jazz background and often work themes from R&B into your music. Who are your biggest influences outside of house music?
Andrew: This is a tall question, as I have a very vast world of musical influence that comes from growing up in band/orchestra, then academic studies in composition that sees my tastes going far into the avant-garde orchestral stuff, sound design, film scores, and incidental dramatic music.
Then, of course, is the popular musical influence of Jazz, Blues, and R&B, and the entire Black American Musical diaspora in the US. Growing up in urban areas as a musician, this is the music of street currency and will always be a place of high art culturally.
As far as influences in the above-listed genres, a shortlist would certainly include Claude Debussy, Bill Evans, Oscar Peterson, Keith Jarrett, Thelonius Monk, McCoy Tyner, Esbjörn Svensson, Herbie Hancock, Ahmad Jamal, Count Basie, Howlin Wolf, Little Walter, Willie Dixon, Maurice White, Patrice Rushen, Kashif, Jamie Starr, Jimmy Jam & Terry Lewis, James Mtume, Dexter Wansel, Nick Ashford & Valerie Simpson, and most recently, I can't praise what Dego & Kaidi Tatham do enough with their 2000Black crew/label/sound.
Steve, this compilation via remix style is a new move for S&S. Is it intended to be one artist's take on everything?
Steve: Yes, it is intended to be one artist's take on some songs in our catalog. We've actually done a few of these with some of the other talented artists on the S&S label. This is a formula that has been well received for a number of years, so we can't wait until the world hears these curations.
The compilation consists of reworks of both new and classic tracks, like 'Baby Wants To Ride' and 'He Loves Me 2'. Which are your favorites and why?
Andrew: [AUDIO]: DJ Skip Feat. Howard Hewett, Carolyn Griffey – Don't Go (Andrew Emil Clone Dub)
[VIDEO]: DJ Skip Feat. Howard Hewett, Carolyn Griffey – Don't Go (Andrew Emil Clone Dub) – I really loved this record from jump street. I mean, it's Shalamar! Carolyn added a nice aesthetic to the group and I got to have my good friend, Adam Pickrell, play the Clone D synth solo on this dub.
[AUDIO]: CeCe Peniston, Steve Silk Hurley – He Loves Me 2 (Andrew Emil No Doubt Dub) – This song is just memorable from the first note CeCe sings. It's no wonder why this song was directly how Steve got nominated for his fourth GRAMMY Award! I had a nice contemporary soulful house dub idea, which I was happy to find this nice pocket of her vocals to tell this dub story with.
[AUDIO]: Malik Yusef Feat. Kanye West, Common & JV – Wouldn't You Like Ride (Andrew Emil Dub) – When I heard the acapella and remembered the original track, I immediately had this idea—which I was sort of keeping in the scratchpad for some time—which was to present a house track that felt like a golden-era Hip-Hop sampled style beat, a la Pete Rock, DJ Premier, etc. This combination of the three very young MCs would bode well for this idea and this remix came together precisely this way. From start to finish, the vision of the aesthetic was in place.
[AUDIO]: Jamie Principle – Baby Wants To Ride (Broadway & Wilson Vogue Down Remix) – This is a remix that just happened to have cosmically worked out! Right around this time Steve and Shannon were releasing this large "The Chicago LP" and it was the first time I heard the original version of this song that Jamie made famous with Frankie Knuckles. After hearing this, Jamie Principle (Original 1984 Demo) – Baby Wants To Ride version, I had an idea.
At the time, I was just beginning this process of developing the Change Request ReVision idea—a format that I would later go on to recreate records that I chose as studies in sound design—and I was working on a rewrite of Hall & Oates "Crime Pays" at the time with my production partner in Broadway & Wilson, Jeff Bloom.
I got the acapella from Shannon and clandestinely, it was the same BPM and key! So, I then just tossed it on the remake we were working on and the EXACT arrangement of the vocals from Jamie in 1984 and the musical arrangement of the "Crime Pays" fit perfectly! It was a very zen DJ moment that turned into this version of this song! It still blows my mind today, the coincidence of it all!
How did the Kanye West and Common collaboration and record come to be?
Andrew: This was a record that was already in the S&S Records catalog when I started working with them and had already been released previously as a single. I asked to work on this one quite some time after the release, and this compilation is the first time it will be released. Now, for more on how the actual project came to the label, and the relationship, I am going to let Steve answer that one.
Steve: Even though I've known Kanye for many years, that record came about due to our relationship with the legendary poet Malik Yusef (Kanye's co-writer on many of his hits.). Malik had previously released the hip-hop tune, 'Wouldn't You Like To Ride', featuring Common, Kanye West, and J.V., independently. Shannon "Skip" Syas (my partner in S&S Records) and I felt it would be a great idea to put together a House Remix and release it on our compilation The Chicago LP/DVD, a collection of new house music from an all-star, all-Chicago cast of House Music Pioneers, including a double DVD set chronicling the journey of these pioneers. Malik agreed that it was a great idea, and he even graced us with an interview on The Chicago LP/DVD. This is one of the many tunes that Andrew Emil put his touch on for his new remix project on S&S.
More generally, how has hip-hop and rap influenced Chicago house music?
Andrew: I think this question would be answered differently by generation, as there have been times when the two cultures, that both significantly evolved from the same space of their original parents, disco and rhythm & blues. This is first shown by how much of the early Hip-Hop and Rap records used dance-focused backing breaks, and when house music was first popping off here in Chicago, you had the Hip-House movement which was compositionally doing the same thing, but more focused as dance music for dancing.
Once these two spun into their separate ways in the early 90s, clearly hip-hop became a worldwide pop music phenom, and House Music remained more secluded. However, there would always be filtering down from the Pop-Hop world into the dance music world, as generally, the art of House Music DJing is about mixing and presenting things in the context of a House Music format. Things like bootlegs, rap acapella, and the like would be reworked over sets and productions.
Then, of course, almost any major Hip-Hop artist to have come from Chicago was raised with House Music in their life from a young age, and so its influence on their world is immeasurable. This is well documented across interviews with some of the bigger names.
Steve: Hip-Hop and House are like "1st Cousins" to me. I remember when we used to battle New York DJs like DJ Red Alert and Afrika Islam at the Rainbow Disco in Chicago. Farley and I would go at it against them and it was so fun that I don't even remember who won. The reason I say House music and Hip-Hop are like cousins is because they were born in the same way. They both started from a love of breaks, beats, grooves, and basslines that we played as DJs and we wanted to extend. House music was more influenced by uptempo soulful disco breaks and vamps, and Hip Hop more by Funk/Soul/Latin Beats, and early on, funkier bassline driven disco like Chic's Good Times" or Tom Tom Club's "Genius Of Love",.
So I fell in love with Hip-Hop at the same time I was already married to Disco, Funk, and soul. Early Hip-Hop had many Disco influences and I even created a Rap and performed it at my high school talent show. It was a take on Rapper's Delight, using my cassette pause-button re-edit of Vaughn Mason's "Roll Bounce, Rock, Skate."
When I released my first record in 1985, "Music Is The Key," I recorded a rap because I loved the genre, and I wasn't a professional singer. So technically, it became the first Hip-House tune. The rap told the whole story of the song, which would be sung by Keith Nunnally, who had been a singer his whole life.
In 1987 I decided to record a song that I had written 2 Rap Verses to called "It's Percussion." My brother-in law Marc Williams (M. Doc) was a budding hip-hop artist and I convinced him to record my crazy sounding 2 verses and to create a third verse that would be authentically him. This became the first official Hip-House record, but the DeeJays played it as a "House Record" right along with other house music. Despite the record's success, M.Doc was recording a true Hip-Hop album, so we never wanted to put him in a box and say he was a Hip-House artist. The industry wasn't open to you being more than one type of artist in those days. Of course Hip-House exploded and became a great sub-genre of House, and influenced many Pop artists as well, including Marky Mark, Pit Bull, CC Music Factory, etc. One of my favorite Hip House remixes that I did was Mellow Man Ace's "Welcome To My Groove." I also had the opportunity to do Monie Love's "Born To Breed" and Prince's Gett Off."
Will we see similar releases in the future?
Andrew: I always look forward to working with S&S Records, and so I trust that there will certainly be more music we do together, in what way, that's the fun part!
Steve: I'm sure this is not the last Andrew Emil project for S&S Records!
Jude Iago James