This week's best new albums
All the albums you really need to know about this week
ALBUM OF THE WEEK



Shame – Drunk Tank Pink (Dead Oceans)
Drunk Tank Pink may not be on the Dulux colour chart, but its historical backstory provides a glimpse into the headspace of punk five-piece Shame. Used in the 70s for prison cells, it's a colour that psychologists suggest using to reduce hostility and aggression. However, for the infamously raucous band, the colour has inspired an introspective album filled with some of their best work to date.
Following 2018's Songs of Praise, an album which saw post-adolescent angst rage throughout, the new album from the South Londoners sees a new-found maturity. Themes of anxiety and reflection are layered amongst high-octane and thunderous melodies harnessed with the instant fixation on frontman Charlie Sheen's self-awareness.
Tracks are laced with post-punk undertones and textured with gritty rhythms from drummer Charlie Forbes and luring bass patterns from Josh Finerty. The frenzied 'Snow Day' is a chilling listen – an extension of Songs of Praise – while the panicked 'Born In Luton' sees an adrenaline rush of guitar lines from Sean Coyle-Smith and Eddie Green. On 'Human, For A Minute', Steen appears at his most vulnerable, with the instrumentation wrapping his vocals to protect and soothe, whereas 'Nigel Hitter' is punctuated with the mundanity of routine and post-touring existence.
Yet it's the six-minute-plus album closer 'Station Wagon' that produces one of the records best moments. An underlying piano pattern creates a calmness prior to a catastrophic burst of energetic sound – a climatic pulse of anxiety that finishes the record with intent. There's a clear gear shift in artistic choice for this record – for one, there's less shouting. Despite trademark abrasive punk traits, there's also a lightness to this record; an ounce or two of self-consciousness and tenderness. With an influx of 'post-punk' bands over the past few years cluttering the genre, Shame continue to stay a cut above the rest.
PS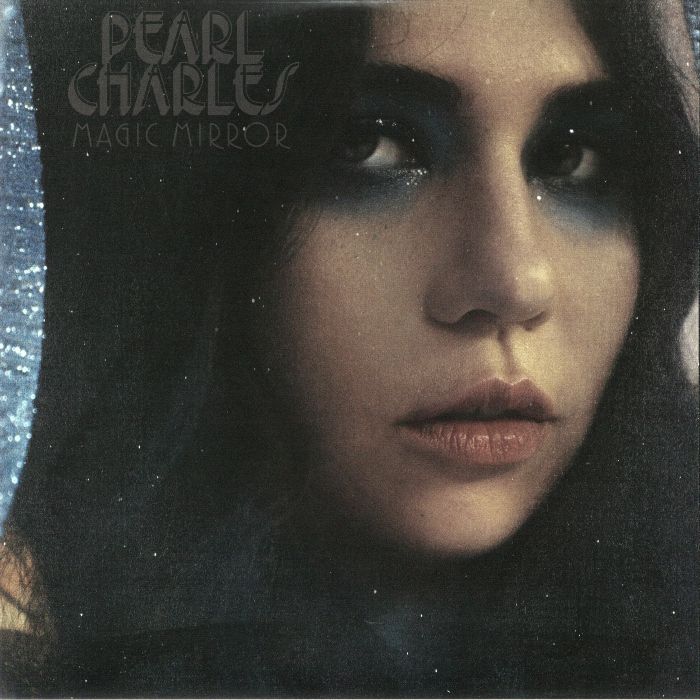 Pearl Charles – Magic Mirror (Kanine Records)
With 2021 starting in the same depressing vein as the year that's just passed, music has become even more important as a tool for escapism. Enter Pearl Charles, the LA singer-songwriter whose hypnotic take on Americana evokes Californian sunshine and the freewheeling spirit of the Laurel Canyon scene. It's well-trodden ground, with artists like Haim and Jenny Lewis presenting us with similar sounds. But like the legends she's inspired by, she conjures a beguiling sense of time and place that juxtaposes the misery occupying the world at present.
The transportive quality of Charles' music carries over onto her new album Magic Mirror. It retains the breeziness, slide guitars and the retro pop-rock sensibilities of her first outing Sleepless Dreamer, but it taps further into its brief flirtations with psychedelia and disco. Unabashed ABBA homage 'Only For Tonight' kicks the album off in party mood, with jaunty keys, irresistible slap bass and vocal harmonies that provide equal amounts of euphoria and blissfulness. 'Don't Feel Like Myself' slows things down, but it's impossible not to get lost in its luminous mix of country twang, elegant strings and its shimmering harpsichord melody.
Good vibes may be the name of the game, but Charles isn't afraid to get contemplative. She often questions her creative purpose, especially on 'Slipping Away', where she deliberates the enduring impact of art on our lives over a 'Don't Fear the Reaper'-esque riff. The title track goes deepest of all, a piano ballad that drives home the album's themes of reflection and growth.
Charles makes no secret of her influences, but it's all delivered with sincere affection. Magnificently sequenced with beautiful vocals and vibrant production, Magic Mirror is perfect listening for those in need of a ray of positivity during the bleakest of times.
MDW

Mika Vainio – Last Live (Editions Mego)
Mika Vainio was a Finnish artist who had multiple artist monikers and collaborative projects; most cited is the industrial noise act Pan Sonic. Vainio was loved for crafting original, physical sounds with hardware as opposed to computers and made the sort of dexterous sonic worlds you can inhabit.
The latest posthumous release is titled Last Live as it's the last ever live recording of the seminal avant-garde producer. Recorded at Cave12 venue in Geneva in February 2017, just two months before he tragically passed away in France, you get to hear four movements that fill two LP's. It's an ambient affair but that doesn't mean it's easy going; the rich dynamic switches are part of the thrill. Experiencing this music is like going into an unknown jungle with no trodden path. There's no way of anticipating where the musician will take you which makes for a breath-taking listen. Moreover, the haunting sonic details mean it feels like a giant mural of a darkly-psychedelic fever dream thanks to the whole body impact it has. By the time you've come out the other end of this concert, you're left feeling shook but renewed and revitalised.
The quality of the recording is extraordinary, which is generally not the case with live albums. The level achieved is testament to everything coming off on the night back in 2017: Vainio's high standards, the quality of modular synth gear he had at his disposal on stage. Plus, the fantastic post-production, which reads as who's who of leftfield gods. To name a couple, Carl Michael von Hausswolff (yep, Anna von Hausswolff's dad) mixed it, and Sunn O )))'s Stephen O'Malley did a pre-edit. With this in mind, and the fact the staunchly DIY Vienna-based label Editions Mego and Cave12 label are partnering on releasing it, it all adds up to portray a truly commendable, excellently done tribute to the legend. Hats off to them.
CT

Sleaford Mods – Spare Ribs (Rough Trade)
Frontman Jason Williamson's ability to expose the ills of Tory Britain through music continues apace on Sleaford Mods' sixth album Spare Ribs. The album title is a metaphor for the way he sees the political class treating ordinary people (himself included): expendable, spare ribs. The title track verses feel integral in this regard, highlighting the reality on the high streets: people on spice in smashed bus stops, which is one of the symptoms of austerity.
Brexit, meanwhile (which Williamson has been a longstanding campaigner against) gets an uncensored takedown as he sings the track 'Out There': "Let's get Brexit fucked by a horse's penis until its misery splits. Ugly rich white men get shagged by it". Another key theme – and a recurring one in Sleaford Mods' back catalogue – is the takedown of bad art and social climbing. It's often seen through the lens of someone getting itchy witnessing disingenuous behaviour in order to be popular: "You're just a mind that's saying and playing sod all," he sings on 'Nudge It'. Poverty tourists also get a lampooning on this cut, which features Amyl and The Sniffers' Amy Taylor: "Stood outside a high-rise trying to act like a gangster".
Instrumentally, Spare Ribs is going to content existing Sleaford Mods fans: simple beats, menacing basslines, dub-y bottom end all gloriously under-produced to bring the listener closer to what it sounds like being in the studio recording live at home, as opposed to a creating an illusion of grandeur. Fitting for a band who are honest with themselves and balk at others' dishonesty.
CT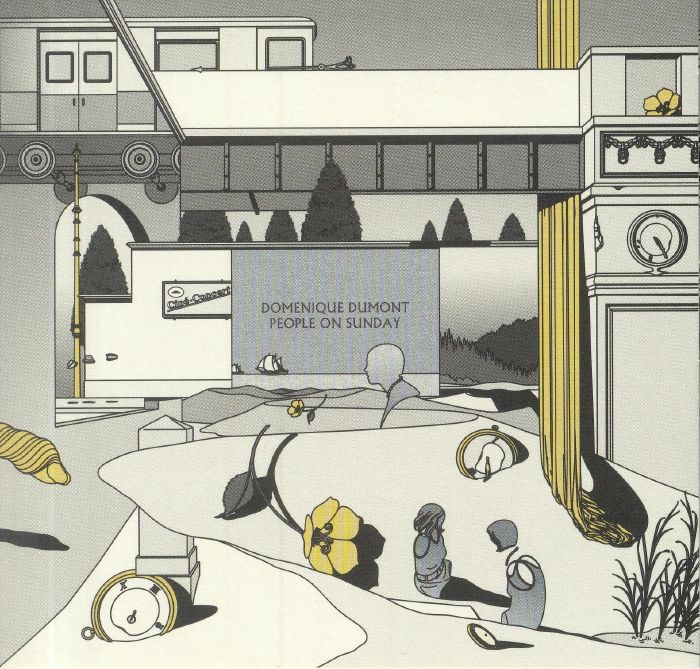 Domenique Dumont – People On Sunday (Soundtrack) (The Leaf Label)
New releases from Latvian project Domenique Dumont are teasingly infrequent. They first charmed their way into our ears with the gorgeous, delicate Comme Ça in 2015, appearing on Parisian label Antinote and sounding to all intents and purposes like a perfect French dream pop curio. Reportedly the line-up has changed over time, and now Arturs Liepins works solo. This new album for Leaf comes in instrumental form.
People On Sunday is a German silent film from the 1930s, which Domenique Dumont was invited to soundtrack for a special screening at the Les Arcs Film Festival in the French Alps in late 2019. With or without the accompanying imagery, People On Sunday paints a beautiful picture that seems to capture the particular spirit embodied in that vague but wholly suggestive title. The Dumont disposition has always been one of wistful idealism, and here you might well be transported to your own lazy day idyll where the sun is perpetually shining, the grass is green and the mood is chipper.
OK, maybe that sounds quite distant from the winter of early 2021, but we can imagine, can't we? If nothing else, this delightful album can serve as a little dose of romantic escapism, and that's something we can all get behind.
OW

Tusken Raiders – Bantha Trax Vol. III (Seagrave)
Of the many aliases Mike Paradinas has graced over the years, Tusken Raiders has to be one of the finest. The Planet Mu boss donned the George Lucas-baiting moniker for the inquisitive broken-beat techno excursion Bantha Trax on Clear back in 1995, but there were just a couple of other releases before he had to shuffle the name up as Rude Ass Tinker to avoid legal woes. The sound has varied over the releases, getting rougher and incorporating more hardcore and drum & bass elements while adhering to Paradinas' penchant for angular experimentation.
Finally in stock after surfacing late last year, Seagrave gathered together some tracks left over from Paradinas' sessions for Lunatic Harness (released as µ-Ziq) which seem to fit the Tusken arc and wayward hardcore stylings of the label perfectly. The combination of gnarly overdrive, squashed breaks and weird spatial drops sound shockingly current for pieces mashed out of grubby hardware nearly a quarter of a century ago. As with the best experimental breakbeat of the era, there's a distinct lack of linearity here as the threads of wanton percussion, lurid bass flex and atmospheric pings meander at will – 'Raiderz Skank' is a fine case in point, but don't mistake them for arty chin strokers. 'Dystopic' could tear up a dance with ease – here's hoping it will some time soon.
OW

Krust – The Edge Of Everything (Crosstown Rebels)
Bristol D&B don Krust has always treated albums as a deeper consideration than his club 12"s. His debut LP Coded Language was a razor sharp excursion into the creative scope within drum & bass and jungle in the late 90s. The Edge Of Everything takes that premise to a greater degree, reflecting personal development beyond the scene and more complex influences feeding into a work that needs some serious contemplation and absorption. After the initial pressing flew out, Crosstown Rebels are revisiting the album for a run of clear vinyl, and it comes at a good time to start further evaluating the epic scope of this masterstroke of an album.
High drama and a bold narrative arc dictate the flow of The Edge Of Everything, as Krust places his decades of D&B excellence in a cinematic framework that leaves the club behind in pursuit of something more abstract. There are cliffhanger gaps, shocking drops and formidable displays of sound design prowess from the off. For the most part, despite the wild sonics and bold arrangements, it still retains Krust's sonic DNA, but at the album's pivotal midpoint, '7 Known Truths', the veteran junglist sounds more daring and inspired than ever before. Don't pass up the chance to immerse yourself in this frankly astounding piece of art.
OW

Cinema – Cinema (Nada Nada Discos)
In 1985, Brazil broke free from its nearly 20-year military dictatorship, ending the mass-censorship of media. Despite the regime's rampant nationalism and torturing, the period saw a rise in economic growth (the "Brazilian Miracle") from 1970. By the end, there was enough freedom and prosperity to cultivate a burgeoning underground avant-garde music scene.
Twenty years is a long time, enough for an album like Cinema collective's self-titled LP to emerge. The group consisted of four mavericks – Alex Meirelles, Annabel Albernaz, Tetê Sá, and Ro Tapajós. if you look at Tapajós' discography, you'll notice a very not-coincidental 12-year gap in it, within the regime's most brutal period from 1968 until c.1980. One of his last releases before this period, 'O Gigante', criticised how "square" it all was.
Now, obscure São Paulo punk label Nada Nada Discos has reissued the album. Undercutting the gargantuan resale value of the original pressing, they've recreated its former glory by remaking the cover and including new interviews from the collective.
The tunes form a crowning achievement in contemporary regional music, having been arguably the first to blend traditional, percussive Afro-Brazilian styles with electronics and synthesised elements. It plays back like the soundtrack to a forgotten arthouse movie, beginning with foggy vocal collages and synthscapes like 'Falando Alto' and 'A Lua, As Estrelas', before revealing a distinct darkwave cum dream pop sound. Cuts like 'Ciência' and 'Sem Teto' alternate between uptempo and reflective moods, but never force them out of the album's surreal haze.
Most tracks sound like they're being performed in a half-remembered concert hall. Breaking from this, though, closer 'SP5 4R' is a synthy detour, consisting of nothing more than a catchy lead melody which occasionally pitch-warps into an uncanny version of the original sound; it's like the lost, lonesome shade of an '80s new wave hit. True to the name, no track on Cinema would sound out of place as diegetic music in a new Lynchian masterwork.
JIJ


Helium – The Works EP: Original And Unreleased Mixes Bundle (Kalahari Oyster Cult)
Kalahari Oyster Cult has been one of the most active house labels over the past half-decade, releasing no end of aquatic bubblers and skittish cuts from the likes of Nathan Melja, Roza Terenzi and Urulu. They also occasionally function as a reissue label, having re-released '90s classics by the likes of DJ Trance and Tapp.
No matter their focus, though – whether they're putting out a tried and true classic from a 50-something-year-old, or something clean and meticulous from a fresh-faced youngster – KOC's music always has a particularly tricky, light-hearted feel. When listening, you'll only ever emote in one of two ways: you're either floating on clouds, or dipping your toes into mermaids' waters.
Now, they continue their year – yes, we're only two weeks into 2021 and this only one of two releases they've announced so far – with a stonking, three-part reissue of YouTube alogrithm cult find 'The Works'. The EP was originally a one-off trance-house excursion from 1993 by Mon 'S Jegers and Rob Verboven, together known as Helium. An outstanding achievement, KOC have not only remastered this odd, flute-laden rarity of an EP, but have also unearthed some until-now unheard remixes of the tracks.

Proving their infectious appeal isn't just down to crackly vinyl 'warmth', the old tracks sound incredible in their remastered form in both digital and vinyl formats. The new remixes, too, take us one layer below – from dream, to dreamer dream-within-a-dream – with new vocal-packed versions of 'Try Me' and 'Out There', as well as a guided meditation-style spoken word version of the ambient piece 'Clouds'. The exclusives set KOC apart; not many reissues come with this level of effort and love poured into them.
JIJ
After a successful 2020 – with beautiful releases from Nashpaints and lastminuteman – mostly-cassette Dublin label Wherethetimegoes returns with a self-titled debut LP from mysterious act Frog Of Earth. Not much is known about the artist, only that they are a designer, DJ and producer associated with the DIY art collective Repeater, and that they make stunning ambient new age music.
JIJ

Frog Of Earth – Frog Of Earth (Wherethetimegoes)
'Frog Of Earth' is an electronic concept album about a humble Frog. On 'Lying Down', our amphibian friend awakens from an innocent, primal slumber, to the tune of dripping rain and whacked-out minimalist tones. It hops about, carelessly frolicking to folk highlands ditties like 'Means', and meeting fellow animals of its kind on 'Newt Dub'. By the time the album reaches 'Settle For Less', the Frog finds itself in total childish equanimity with the world, its satisfaction paralleled by nothing but the sheer crispness of this zither-laden theme tune.
Shortly afterwards, though, the Frog encounters some tribulations which force it to question its purpose in the world. It witnesses a freight train zoom by, and is thereafter struck and burdened by faint existential questions like 'how?' and 'why?'. We reach 'OH SEY UM', which pushes into a strange mood with its trembling dancehall, mournful calls and paradisiacal bird squawks. 'Salamander Dub' is likewise a particularly heavy pit of darkness, a dubby sloshing of chords peppered by nothing else but the occasional sound of an alien rainmaker; the Frog wallows in the swampy ditch of depression the track has dug.
But, hark: as the album nears its end, the bad spell passes. The Frog – after being helplessly bustled about, and having been visited by an angel in the form of a bee – lets go of its absurd musings and fussy ribbits. We feel this sense of rejuvenation on 'The Mouth', a triumphant proto-grime coda on which cinematic, divine pads judder into the mix like sudden, relieving realisations. The final track, 'Settle For Less (Ned's VIP)', is a mature reflection on the first version of the track, letting go of its zither but still marking the Frog's return to its former chill. A protean album with glorious ambition.
JIJ

Wondering O – 0° Heaven's Trumpet

Wondering O is the brainchild of Mihkel Tomberg, a versatile, experimental electronic musician who has multiple projects on the go at any one time. From what we've been introduced to so far, the music under his noise/drone alter ego Ranchman Tiara, and uplifting trance moniker mariana trench is brilliant. Moreover, he's in a duo called Algorütmid and in the Estonian Electronic Music Society, where he performs electronic music from graphic scores.
The musician studied composition at the Estonian Academy of Music in Tallinn, where his hero composer Arvo Pärt studied, which was fruitful in getting him off the ground. He now operates in a studio a stone's throw from his old campus and runs his own indie label Heaven's Trumpet from there, too.
What this musician's achieved with 0° is nothing short of a miracle. This, the fifth album as Wondering O, is an achingly beautiful piano-led affair full of sonic manipulation. The arrangements on the album are generally sparse and played at a slow tempo offering space for contemplation. Each sound in there is a masterpiece. Whether it's one touch of the piano or the atmospheric textures floating around the lead instrument, you can't help but think 'how did he get it to sound that good?' A note on his Soundcloud goes some way to unveiling his magic, stating: "Recordings are sprinkled with wavefolder and FFT manipulation for diamond density."
For all the ideas and techniques shown, Tomberg's ability to self-edit is strong as the album is lean at just over half an hour, and captivating throughout. Tomberg's ability to weave in hard-edged, ominous sounds in conjunction with more plaintive, thoughtful progressions keeps things dynamic. Some thoroughly deep tones are worth plugging in your best audio gear to immerse in, too. 0° would be best heard in the blistering midday sun whilst sitting at the foot of an ambient stage at a festival, or any time at home. Heck, just put it on repeat all day and enjoy discovering nooks and crannies you didn't hear on first listen. You won't regret it.
CT
This week's house of reviewing representatives: Paige Sims, Cai Trefor, Matthew D Watkin, Jude Iago James, Oli Warwick, Ben Willmott.