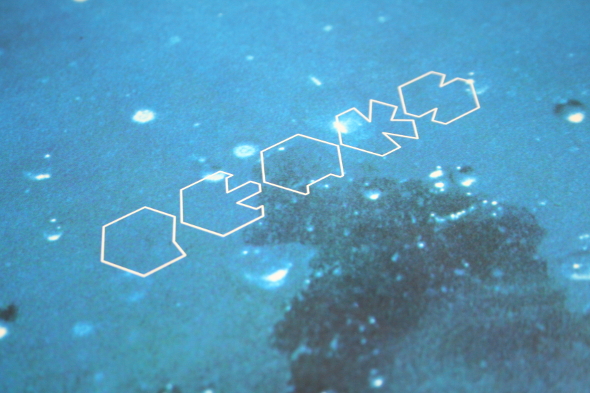 It's a great time to be part of a synth-led group. There is, in electronic music, a prevalence for artists to be lone wolves, betrothed to the inner sanctum of their studios and generally better off working on their own, but since the upwards trend of hardware kicked back in with gusto it's easier to envisage that classic band dynamic in the sexy blinking lights of sequencers and matted knots of quarter-inch jack cables. In terms of collaborative live performance, a bunch of screen-glare victims ignoring each other while jockeying laptops on stage just never seemed that convincing, no matter how worthy the process and sonic performance may have been.
The members of Brain Machine clearly buy into this philosophy. Guido Zen in particular has been involved in many different projects, most notably caught by this writer sharing the stage with Nurse With Wound's Colin Potter and Alessio 'Not Waving' Natalizia at Café Oto. He's also one half of Vactrol Park with fellow Brain Machinist Kyle Martin, now two releases deep on ESP Institute (Martin can also be found on ESP as part of Land Of Light with Jonny Nash). Brain Machine first appeared with an album on THISISNOTANEXIT some eight years ago, and have since popped up intermittently with the odd EP, but Peaks emerges as the first solid body of work from the trio for some time, and it's a powerful return to the fray.
Even if their sound is resolutely defined by their assembled hardware, there exists a variety on Peaks that you might expect from a band of many minds writing different 'songs'. Even if there is some cohesion through whatever signal chain and sound sources the tracks share, each piece feels distinct and loaded with a personality of its own, expressive in a way that some purely electronic albums struggle to be. The guiding principle for all the pieces is a sense of progression, reaching across the plains from an original idea into all manner of cosmic tributaries without losing the initial spirit of a track.
"Light Space" is a graceful example, spinning various harmonious layers of synths on top of a foundational arpeggio across 11 minutes. The management of different phases within the track is impressive, edging elements in and out with a subtle touch while maintaining motion at all times. The fact that the rhythmic shudders remain a constant throughout affords the rest of the sonic content the freedom to roam far without fear of losing the point of the track.
Often it's the loose, live keys played on top of the more sequenced facets that really bring this sense of live, human interaction to the fore. "Mercury Ripples" definitely plays out like a woozy, smoked-up jam, not least when it melts down into a blur of cosmic FX at the midway point, conjuring up mental images of three sets of eyes fixed on each others, head nodding to the half-step beat, locked in the moment and reading the right time to ease the track back into action. The reality might be very far removed from such a notion, but it matters not – the energy remains and sounds all the sweeter as the track builds itself back up again for the second half.
"To The Stars" however presents a different kind of energy, even if the approach is much the same. From a tense, cinematic lead-in a towering bass arpeggio takes hold and sets sail for ominous shores. Considering the hopeful title, this is one of the moodiest pieces on the album, reveling in layering up screechy sweeps and ambiguous leads hidden by heavy filtering in a move that aims to frame a journey space-wards in a more uncertain light. It seems as though the trip reaches a calm resolution on hitting orbit, simmering down and changing tact completely for a soothing balm of astro-pads in a narrative switch-up that borders on prog rock.
Indeed, there is something of the lofty, grandiose gestures of classic prog about this album with its richly defined layers of synths coerced into dramatic storytelling. Of course there's none of the cringey concepts, whacky fantasy lyrics or unbearable solos to suffer so it's far from an unpleasant experience. Rather, this is the sound of three minds locked into a sonic voyage that takes in some stunning scenery using a powerful array of vehicles, with some very steady and able hands on the tiller at all times.
Oli Warwick
Tracklisting:
A1. Alpha Moon
A2. Crystal Cloud
A3. Mercury Ripples
B1. Light Space
B2. Nexus Vox
C1. To The Stars
C2. Traces
D1. Eclipse Predictions