Don't DJ – Future Culture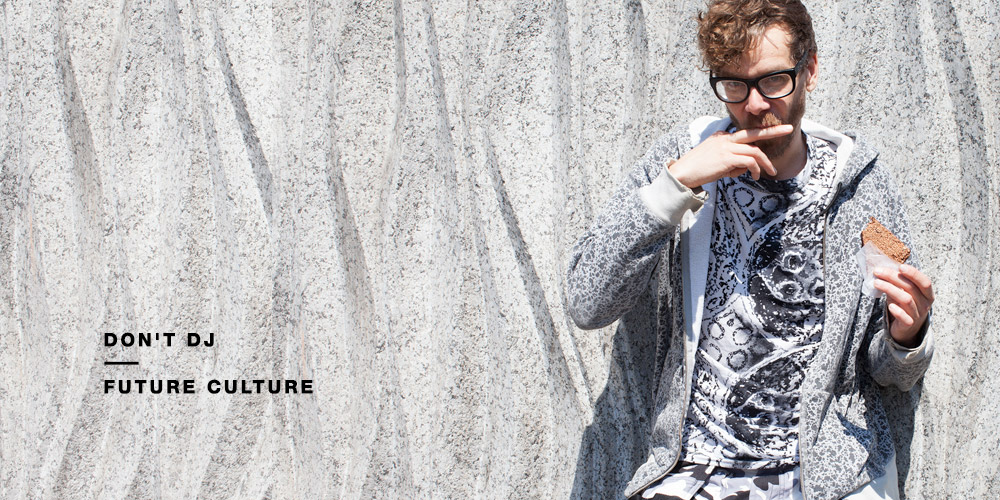 Florian Meyer discusses the themes running through his work as Don't DJ with Nic Tuohey.
After a long cold winter, Berlin's infamous Mayday festivities ushered in some warm weather with records such as Don't DJ's Authentic Exoticism providing the perfect escapist soundtrack. Look deeper into its hypnotic polyrhythms and gorgeously sublime textures and you will bear witness to more layers of meaning. And it's these insights of self-reflection you can gain through listening to the release which are so special.
I caught up with Don't DJ, aka Florian Meyer, at his home in Kreuzberg, overlooking the district's main intersection looking towards the well-known Kottbusser Tor landmark. Our discussion takes place over a few glasses of iced green tea in the working space Meyer shares with his partner, a fine setting to learn more about his long and winding journey through alternative electronic music. Going all the way back to his early days living near the Black Forest region (which were no doubt some of the most formative years in his career thus far) to his new adopted home in Germany's capital.
Meyer has been dwelling on the fringes of experimental electronic music for close to two decades. From the Institut fur Feinmotorik project with Marc Matter, whom he runs the Diskant label with, to their collaborations with Stefan Schwander (aka Harmonious Thelonious) as The Durian Brothers. Here the trio's improvised usage of prepared turntables merges with sound art. As a solo artist, Meyer's fascination with polyrhythmic music led to him forming Don't DJ, a project that explores different techniques for polyrhythmic live and recorded music production techniques.
Born in Berlin, Meyer moved to Karlsruhe in his early youth where he attended University at the local Hochschule fur Gestaltung. There wasn't much of a local scene for electronic music he admits, but being close to the Swiss border had its advantages. "Nearby were major cities like Basel and Zurich where I would socialise and go to techno parties," Meyer tells me. "Actually, Detlef Weinrich (aka Tolouse Low Trax/Kreidler) is originally from the same city; Bad Sackingen too," he continues, "I met him much later on though, through the Salon des Amateurs."
I was interested in knowing more about this club in Düsseldorf that has grown to become an institution of western Germany. Meyer spent his formative years performing at Salon des Amateurs in various projects which hugely influenced his style. "It has been some sort of gravity centre for me in the last 10 years," Meyer explains, recalling his days in Institut für Feinmotorik with Matter. "We never officially split up, so there may be something more from us later," Meyer assures me. Tolouse Low Trax definitely liked what he heard from Meyer and Matter 11 years ago, as Meyer recollects, "I can't remember how he came across us, but he did invite us to play at the Salon, which was actually the first concert there."
There is definitely a lot of hype surrounding the Salon at the moment, but Meyer is confident that it's about time that the crew got some recognition. "They invested a lot of time and energy into that place," he says. "It's hard to calculate that, because it's not just digging through crates and writing emails; it involves a lot of alcohol and stuff, so it also puts a big weight on your body." He adds. "Doing that for 10 years can leave its mark, so I'm glad that they've got something back." He acknowledges that like the all the best of them, the club had hard times in the beginning but now they can just go with the flow. But with such hype it's always an interesting to see how long it will last. "I have confidence in my friends at the Salon, they are all quite conscious and I think they'll be good".
Meyer's main musical output in recent times has been part of The Durian Brothers and it would be fair to say that IFF was its first formation, until they were joined by Stefan Schwander, an accomplished musician of nearly 20 years experience. By that point, Schwander's willingness to push musical boundaries with the duo was invaluable. "I think Stefan first heard Marc and me at the Salon," he says. "Either that, or he just came across the record and he asked us to do a remix." He can recall one particular remix where they played one of his tracks then added their prepared turntable improvisations on top. It all happened in quite casual circumstances and from there they all thought it would be worthwhile to pursue.
A signature of The Durian Brothers sound is their use of turntables as instruments, essentially creating their own sounds out of nothing. They engraved their own grooves into the vinyl, amplifying the often strange results. "The truth is that it didn't feel that innovative to us when we started," Meyer concedes modestly. "When you have these Technics 1210s, they don't have the automation where when it takes off the needle and puts it back on". But when it's in the locked groove, it can play infinitely and this is where Meyer saw the potential, albeit inadvertently. "When you hang about, being stoned and you're too lazy to get up, the locked groove will actually get louder and you adapt to the groove of it."
It felt natural for Meyer because they had two record players already, so they just gathered all the decks and played all their locked grooves. "In the beginning it was actually only using records, so the first concerts were played with huge crates, but only to play the fraction where there was no actual signal in the record engraved." Interestingly, I'm told later on they switched to rubber bands as their preferred canvas. "They were less noisy, plus we used CDs for the locked grooves instead because they're easier to carry" he says with laughter. "So we used that technique, but usually we were just directly applying stuff to the locked grooves, scratching onto them or even sticking adhesives."
More recently his solo work as Don't DJ is making waves, after releases on Diskant and London-based labels Emotional Response and Berceuse Heroique with an album coming on the latter. There is also his new collaborative imprint SEXES which presented his most recent release, Authentic Exoticism. SEXES is a joint creative venture: Meyer created the music and wrote the text for Authentic Exoticism, whilst partners Lotte Meret-Effinger and Marco Buetikofer respectively took care of the various design elements. The website for SEXES really grants you an insight into the philosophy behind what the trio are doing and begs some of the hardest questions regarding some of music's most contentious issues.
The first thing presented on the web page against Buetikofer's psychedelic, 3D rendered theme is a recorded lecture featuring Meyer in conversation with Thomas Schwarz, Assistant Professor at Rikkyo University's Department of German Literature in Tokyo. I was interested to hear how Meyer came to collaborate with Schwarz. "I came across him through reading his book, Ozeanische Affekte, which I loved," he proclaims to me. "Germany had a small period of expansion starting rather late because Otto von Bismarck (German Empire-Chancellor at that time) was very sceptical about the colonial experiments. When he finally changed his course, he proposed a law that would back the bailout of an insolvent German trading company in Samoa," Meyer says.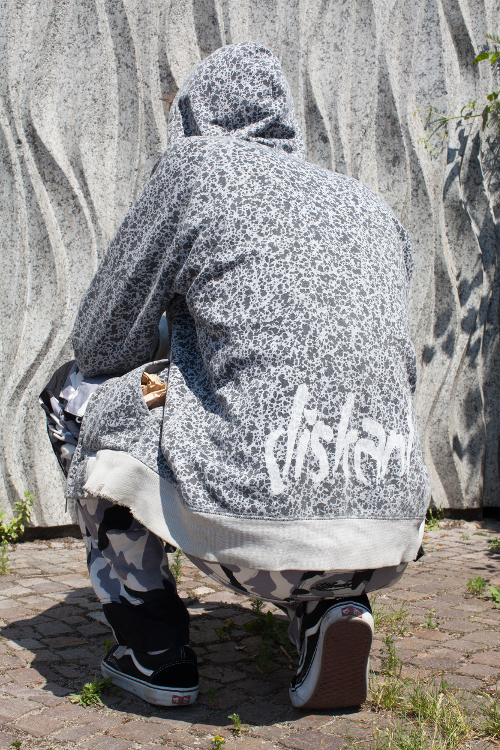 He goes on to explain more about the book's content, albeit in brief so not to prevent others from reading the fascinating insights it possesses. "The affection value, that was the whole reason that propelled this motion, but they motivated people to write romantic essays about Oceanic islands," he recollects. "Also women, and how they were utilised in the whole 'libidinous' aspect; the fantasies of the Oceanic world." For Meyer, that was interesting because of the exoticism theme, "echoing those fantasies and drawing powers." Perhaps some powers were good at attracting daydream fantasies and romanticism on a subconscious level? "I think we're not very conscious of these aspects so far in our psyche," he says, pondering. "Actually, the libidinous energy that was utilised to change the mind-set of the German public are still alive today within our notion of the exotic."
It fits right into this narration but Meyer is wary of keeping it simple, because the problem is more complex. "I do think that cultures are merging anyway," he elaborates. "That's the process we're engaged in, since the colonial times, maybe even earlier since the high cultures declined and now we are entering a state of global culture, with more and more micro-differences". He goes on to explain his theory of new cultures evolving out of taking from varying past cultures, using Vaporwave as an example. "It's a complete internet culture of scraping all different times/cultures and bringing them together under a certain field."
Ultimately Meyer is very enthusiastic of this merging of culture, possibly putting an even finer point on his outlook: hybridization. "I'd say it's not something we can really opt for as it's something that takes place anyway," instead, the question for Meyer is, "how are we approaching this and how we're engaging in it?" Meyer makes a good point, but many often wonder if society is evolving with this in a positive or conservative way. He goes on to elaborate on his theory. "It's like trying to conceal your gene pool, which is linked to other cultures, race and people's delirium which a culturally propelled hallucination." Meyer stresses that in multiculturalism we still try to conserve and re-establish boundaries between races and cultures. "I think all these concepts are delusions in the first place."
So it really begs the question: Were these insights gained from closely examining his own musical perspectives and its own exotic aesthetic? "It certainly did have something to do with it," he admits. Musically he was drawn to the style even if he didn't really understand it in the beginning. Meyer can craft four to the floor rhythms as easily as the next person, so was he possibly looking to get off the grid? "Well I know where the clap has to be, and it's funny if it shifts to one and three instead of two and four; often that is already considered a huge trick," he says with laughter. "But as far as tricks go, polyrhythms go much deeper and it speaks to me on an even different level that is far beyond cultures and traditions". He even claims to have some made up theories about it involving the functioning of the brain. "Like, why do we have music? What is it, actually?"
Perspectives on technology play a pivotal role too; he confesses he's mainly using algorithms to compose music and this feeds into the whole concept, as he can explain better himself. "I see hybridization as a merging of cultures, musically speaking or otherwise, but it also has to do with technology". Overall he believes that the whole thing comes together, closing in on the aesthetics of the machines with culture. A phenomenon that you can see spreading wildly in the last ten years, like in movies such as Her or Ex Machina.
As for the future, Meyer doesn't want to pin down anything right now. With his close associates, he wants to continue on with their new platform, but they want to make it clear that it is not just about releasing records. He points out that that's why the record was in actual fact SEXES 02; the first release being the video for Hexentrix. Their intention is to have the label presented as not being just a musical platform. The aforementioned presentation with Thomas Schwarz on the website was the launch party for the label and featured a small exhibition, plus some other objects. There could well be a follow up to that, because it allegedly sparked a lot of interest. "I'd love to elaborate on the whole cultural appropriation thing: that's going to be the theme," he says. "It is so closely related, but there's still so much more to talk about in that respect."
But does Meyer have an addendum for what he just recently declared on Authentic Exoticism? Some words of wisdom perhaps? "I would not like to answer that question with a certain point," he stresses adamantly. "I would say it's a question that should be answered for every individual release, for every individual listener." He continues, "You can say, 'no, this one goes so far', or, you can engage in a discourse with the producer." But in conclusion Meyer makes a most poignant remark: "I think this is the sort of work we have to do now. It's the shaping of the future culture."
Interview by Nic Tuohey
Photography courtesy of Robert Hamacher