Pauline Oliveros – Listening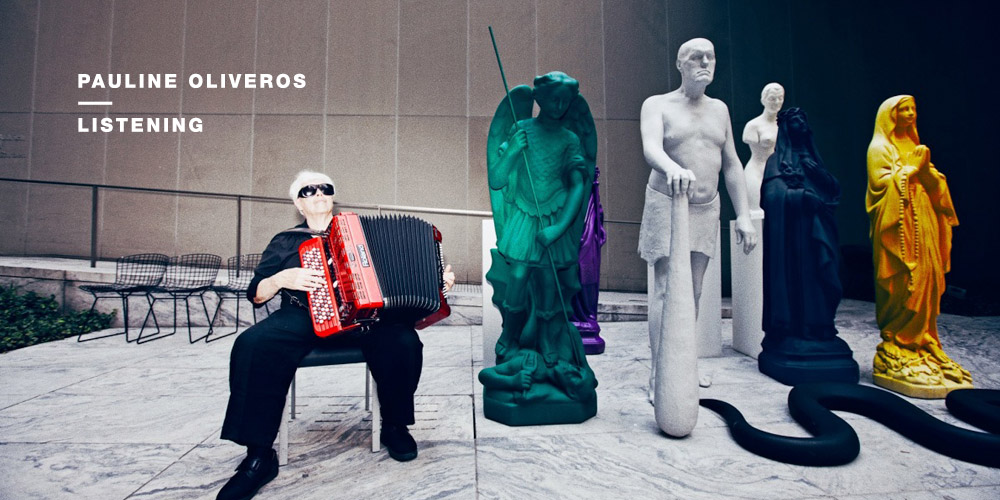 Pauline Oliveros muses on sixty years of experimentation and unorthodox practice and tells Jo Kali why we should be listening instead of merely hearing.
"First I listen," Pauline Oliveros says. "When I perform now, with my accordion, there's no score. There's no thought about what I'm going to do. I come onto the stage and I just listen." There's a welcoming quality to Oliveros; her voice is soothing and her features warmly lit by slivers of sunlight escaping her drawn blinds. "Then I begin to play and I follow what it is I am playing," she continues, "because it is my whole body that's engaged in making the music. It's not just centred in what I might think about it. It's really what I do about it."
Oliveros' approach to music is slightly unconventional. As a composer, performer and teacher, she's not interested in the final piece or her students reading time signatures, but instead the embodiment of a free and inclusive take on music. Although many might know Oliveros as a pioneer of improvisatory music, founder of Deep Listening, or as an original member of the San Francisco Tape Music Center, perhaps her greatest contribution to music is something slightly less precise. As part of the post-WWII generation in music, Oliveros took a step back from the musical realm – or perhaps a step outside – and asked herself 'what is missing?' Her answers: women, community, healing and, most importantly: listening.
Embracing these missing elements has meant dissolving the traditional concert structure of predetermined roles, expected venues and behaviour. "What we've all been trained in" she starts, "is exclusive listening, or attention to content, or streams of sound or conversation etcetera. So I have been messing with that," she states with a laugh before adding, "for a long time." And she is right; Oliveros' career expands to over 60 years of experimentation and unorthodox practice.
"Well I invite the audience into the process of music being made, and also their thoughts and feelings about what is happening. Because listeners are people who have been trained to go to concerts as much as the musicians and composers." She states there is a certain ritual to all this, "a certain understanding that they are the listener, the performer is the performer and the composer is the composer."
Born in Houston, Texas in 1932, Oliveros grew up surrounded by these rituals; "oh my goodness, yes!" she recalls excitedly. "I was always fascinated as a child. Houston is a music town. We went to concerts, symphonies, orchestra, chamber music, recitals, solos – everything. So I absorbed the whole scene when I was very young." Yet, it was not a scene that Oliveros attempted to be part of, her work sits at the periphery; it's experimental, sometimes questionable and often exacting.
"My friend Stuart Dempster took me there for a listening experience," she says, recollecting their first descent into the cistern in Port Townsend, Washington State in 1988 which inspired the Deep Listening project. "The cistern was for the water supply for the army before it was decommissioned. So it was an empty space. In order to access it you had to go down a 14 foot ladder and through a manhole-sized opening." This resulted in the recording released on New Albion Records the following year. "We had to have a name for it – so the name I came up with for it was Deep Listening". She pauses and cracks a smile, "and we laughed a lot because we and Stuart are both terribly incorrigible punsters and we felt like… well, we were 14 foot underground and that's deep!"
The record was a product of the cistern, its reverberations and the improvisations of the musicians. Oliveros took this awareness of everything and built it into the foundations of what is now called Deep Listening. She explains Deep Listening as "a way of opening listening to surround as well as focal. So it's really about composing attentions and forms of attention." Usually when we listen to music, or sounds in general "we identify it, name it. All of those things, but if you can get passed that, so you are just listening and allowing the sound to register in your body, then that becomes a different kind of experience."
To better understand Oliveros' work it's important to first grasp her distinction between hearing and listening. "Listening is a mysterious process still. There's more known about hearing because you can measure it scientifically, but listening you can't measure that in the same way." We can talk about auditory waves that our ears receive and transmit to the brain, but Oliveros feels, "what is less spoken about are the vibrations that are picked up by the body, the skin."  The latter, she suggests is also important in terms of hearing. "It's not just the ears. Then when we talk about ear training, well, I don't think you can train the ear. The ear is just doing its job. It's a sensor for our mentality, our body, our physicality."
"Not only that," she continues, "listening is a compilation of many delays because we have comparisons happen, experiences and memories being drawn upon. The memory is very important when it comes to listening," Oliveros feels. "Listening is a time-based art. There's a practice that is very helpful – to listen to your listening." She goes on to tell me about L-O-J, a principle aspect offered by the teaching of IONE, her partner and fellow Deep Listening director. "It stands for lifting off judgement, and a lot of people prevent themselves from listening by judging. Jumping in and analysing when the body is giving them a lot of information that they are just ignoring." This is all a part of listening as far as Oliveros is concerned, and it's different to hearing. "You could say that listening is hearing plus attention plus… a lot more that we don't know what it is."
A focus on listening as opposed to performing is one which dismisses a prerequisite for musical knowledge. It relies instead on your attention and awareness. "Because I am not following any ordinary or conventional concert ritual, it takes a while for the audience to come into the arena. But they do and I think of it as modelling listening. That's what I'm doing."
"Listening is a mysterious process still. There's more known about hearing because you can measure it scientifically, but listening you can't measure that in the same way."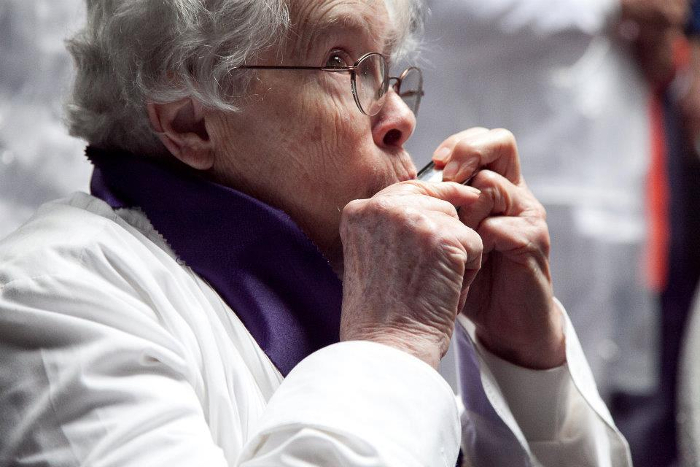 The way Oliveros does this is through composing 'listening,' creating pieces where you're urged to engage with the experience. "Everything is engaged; the whole person, the whole body, whole mind, the whole environment and the audience as well. That's why I feel the audience is a partner there." Inviting her audience into the performance is a way of building up a community. It's an open door to experience what Oliveros herself experiences. "I feel fantastic after a concert because it's been a nice meditation," she says, beaming.
So what kind of listening experience does she want her audience to receive? "Hopefully the whole thing!" Oliveros settles and considers the question a little further slowly adding, "when people are sitting there trying to figure out what's going on or criticising what's happening then they really aren't taking in what's happening. Those kinds of barriers need to be dissolved doing what I'm doing, and I'm either successful or not. Maybe with some and not with others. That's something that can't be felt."
There's an air of compassion around Oliveros as she speaks of forging connections through music, but her humanitarian approach and openness of mind were characteristics sometimes downplayed as feminine traits, from a female composer. In 1970, Oliveros wrote And Don't Call Them "Lady" Composers, a frank discussion on the gender barriers in professional music including the sarcastic, derogatory references often given to females; and a call to achieving equality in music. That same year, Oliveros composed a piece called To Valerie Solanas And Marilyn Monroe In Recognition Of Their Desperation. "In that piece I incorporated some of the principles that were in the S.C.U.M (Society for Cutting Up Men) manifesto that Valerie Solanas wrote, and about community and what the feminist community was." The piece urges performers to be aware of each other in a way which circulates sounding and listening.
Looking back on it, Oliveros admits the piece was certainly coming out of the women's movement, but their focus was really on singer-songwriters. "I was not a singer so my work was really not understood that way because it didn't have lyrics which were delivering the feminist message. But my work was doing it in a deep structural level. And it still does."
A few years later, and continuing to incite change at a foundational level, Oliveros composed an environmental theatre piece called Bonn Feier, a title that is a typical play on words for the incorrigible punster in Oliveros. A pun that takes in the city of Bonn, Germany, for which is was composed and where it was performed; Feier the German translation of festival; and the performance finale with a bonfire. The piece integrated the residents of Bonn alongside artists and was an early example of Oliveros blending art into the everyday. "It can go on for a year," she explains, "the idea in the piece was that each performer performed daily, maybe you would do something to change your appearance, but just a little bit, every day, until finally you were completely transformed."
What is the point of taking note of these practices? "Well, why not," Oliveros exclaims, "people get stuck in their ways and habits and just the way things are. This is a way of affecting change." When people are streaming music from their phones or iPods during their commute to work, "it connects them to their music but it doesn't lead them into perceiving or taking in their environment, and just connecting with others. So it is very isolating." Listening is an act of engagement and connection, if the headphones come off the hour commute becomes an hour of listening, sensing and feeling.
One belief that has stuck with Oliveros throughout her course is to compose pieces for performance: "I think it is just totally important that you actually hear what you've composed. So I always do that," she reveals. "I always compose for someone who I know would perform the piece. That was motivational for one thing, but also important, because you need to know whether your composition works or not".
It's a practical message she continues to pass on to her students at the Rensselaer Polytechnic Institute in New York. "The students know more about digital art than I do," she admits. "I come from the analogue world of things so when I started teaching at Rensselaer I had to relearn quite a lot, had to become a digital immigrant as I call myself." Continuing to teach despite a hectic schedule is important to Oliveros. It's a chance to continue her own learning, she says, adding in jest; "I may still have a few things to impart."
Interview by Jo Kali
Header image based on portrait by Christaan Felber
All other photography courtesy of Aimee Friberg