Kowton – The Essence Of Reductionism
On an afternoon in Peckham, Joe Cowton discusses the motivations behind his new album and the inner workings of Livity Sound with Oli Warwick.
"I almost would love to just do a loop of nothing," says Joe Cowton. "I could just have a kick drum for eternity and nothing would ever happen." We're sat in a back yard turned greenhouse in a café in Peckham, the first whispers of Spring leaving an optimistic expectancy in the air far removed from the black hole of techno minimalism to which he refers. It's certainly a time of new growth for the London-based producer as he prepares to release his debut album Utility on Livity Sound, the label he has helped steer to a global notoriety alongside Peverelist, Asusu, and more recently Hodge.
In between sips of tea he explains why his work continues to reach towards an absolute of effective simplicity, saying the most it possibly can with the least amount of tools, and as he reflects on career that sits some 25 releases deep he sounds quietly assured and focused on where he is heading as an artist. Cowton's approach to reduction comes from a different strand to that of the minimal techno pioneers he nods to as inspiration, imbued as it is with that inescapable UK quality that haunts every producer to have emerged from out of the dubstep diaspora.
"When I moved to Bristol I was a bit of a mess to be honest," Cowton admits frankly, referencing the period when he was emerging as Narcossist with releases on Clandestine Cultivations and Mindset before firing up the Kowton alias. "I guess all the early Idle Hands records I put out were very introverted. They're the sound of someone sat in a room who probably hadn't gone outside enough that week."
There's no doubt that tracks such as "Basic Music Knowledge" and "Drunk On Sunday" plumb depths of bleak, spartan house music that many would fear to dive to, although STL and Kassem Mosse get favourable mentions in this regard. From subsisting in those early Bristol days to working at Rooted Records and then Idle Hands and finding his feet as a recording artist, it's been a steady climb for Cowton that eventually led to a move to London four years ago.
"That was probably when I was trying to prove myself as an angry young man that's spent 10 years of his life wasted on getting high," he considers, referring to records such as "TFB" on All Caps for one. And now? "Everything's alright. I've got a nice flat, a nice girlfriend, and I feel the album reflects that. Maybe it's a reflection of the fact I feel saner."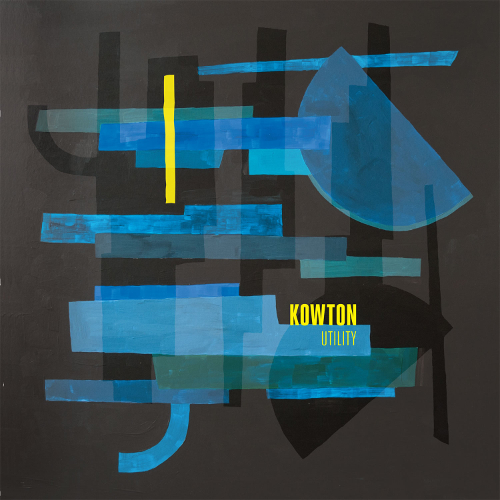 While such secure notions may work at odds with well-worn rock 'n' roll notions of excess and chaos being the catalyst for great music, Cowton instead refers to the work of Mortiz Von Ozwald, and what such a sound must say about the life of the person responsible. In the end, Cowton sounds elated – in his own gruff, North Western kind of way – to have this feeling of control.
Alongside his own individual development as an artist, the presence of Livity Sound looms large. The label launched in 2011 with the Pev & Kowton split 12" Beneath Radar, the first public manifestation of the creative symbiosis felt between the two artists when Cowton was still living in Bristol. By 2013 they had formed a three-pronged live set with Asusu that took in all manner of high profile performances from Fabric to Berghain to Liquidroom in Tokyo, in a reflection of the high estimation with which the label is still held to this day. From Cowton's initial disbelief at being invited to collaborate with Peverelist during the label's inception, the two have gone on to work closely over the years, resulting in multiple split releases and plenty of back-to-back DJ appearances.
Still, the progression to the album format (a first for both artist and label) was not a decision taken lightly. "It took a long time of me nagging Tom to let me do an album," Cowton reveals. "I remember walking round Memorial Park lake in Washington DC almost lobbying him, saying, 'come on, let me do a record. It'll be good for the label, it'll be good for me, it'll be good for everything', and he was so reticent."
Two months later Peverelist had changed his mind, "he was like, 'ok what have you got?' I must have given him maybe 30 tracks, and he said, 'I like four of them'."
Even if it took some time to get the ball rolling for an album, once the process was under way Cowton was certainly not bereft of support from those close to him. He's quick to applaud the patience of Pev in listening to numerous versions of all the tunes that ended up forming Utility, but equally he cites All Caps man Bake as a regular sounding board with a different perspective.
"Bake's got a very deep take on music," Cowton explains. "Whereas Tom's nowadays more like, 'is everything in its right place? Will that work on the floor? Who are you aiming for with that?' Bake will say, 'listen to this ridiculously obscure whatever record, why don't you take that approach?'"
It's been seven years since the Stasis (G Mix) single dropped on Keysound, announcing Kowton's arrival, and in these impatient times that would have been enough time for some artists to have turned out at least three albums. As such, you can't help but wonder why now felt like the right time to tackle the long player? For Cowton, the focus was very much on marking a milestone in his own artistic development, making the next logical step on from the scores of singles and his live and DJ accomplishments.
"I've always been a producer rather than a DJ first and foremost," he explains, "and it's important to reiterate that to myself. While doing an album was kind of hellish, having done that I feel better about what I do and why I do it. Almost regardless of how people perceive it, I've done something that feels cohesive to me and that's a lot more difficult than just doing two tracks."
It's fair to say that Cowton took the album process seriously. He admits to bouts of waking up in the middle of the night with precise thoughts about minute edits and adjustments as the pressure mounted to finish everything last November, before a tour in Australia. In pursuit of a cohesive listening experience, throughout the creation of Utility he maintained focus on the aforementioned notion of minimalism, using it as a set of boundaries against which he could push.
The title of the album is a statement in itself, and quite a bold one that could see interpretations veer from a necessary tool to a characterless unit. In the field of electronic music there is a fine line to tread where club-orientated production is concerned, with some scenes positively thriving on the dissolution of the individual production in favour of spartan elements feeding into a greater, blended whole. Elsewhere the idea of music crafted to serve the purposes of a DJ is treated with suspicion bordering on heresy.
"I feel like I reached a point with music where functionality isn't a negative in any way shape or form," Cowton comments. "There's something very beautiful about music that just does what it's intended to do."
In both this interview and in wider commentary around the album's release, Cowton has made it clear that he hopes that people will find reward in listening to Utility on a more personal level away from the dance. Certainly the album is far from a monochromatic thud of basic DJ tools, but in truth the inspiration and intention for the record seems to be far more geared towards the visceral impact of a live soundsystem experience.
"It's fucking dance music," he asserts. "I'm not one for playing a meditative set unless it's in a pub on a Sunday or whatever. I'm generally gonna go up there and bang it out, but what I like are records that do so in an interesting informed way, and I hope this is nine tracks that do that to an extent."
Cowton reveals discussion with Peverelist during the process of writing the album brought up the names Robert Hood, Shed, Jeff Mills time and time again. "They've stood the test of time for a reason and they make music that's very, very powerful, and that's something to aspire to," he affirms.
Part of Cowton's motivation in regards to this functional mantra he applied to the album comes from revulsion to other elements. He professes to becoming resistant to big pads or having one kick on the beginning of the bar, while in the past he was put off by 4/4 because it felt like too many drums were in the mix. The latter might not be the case now, but it figures that a part of the process of reduction is to purposefully avoid certain elements, in some ways kicking back against some of the tropes of dubstep that informed Cowton's first movements into music production.
"If you're making electronic music you've basically got all the sounds in the world at your disposal all the time," he explains, "and so often you can hear people compensating for a lack of ideas by adding unnecessary layers or little audio garnishes." He hopes it's a sign of maturity that he can recognise this in his own earlier work. "I definitely did things in a lot of earlier records to signify, 'congratulations you've reached another 32 bars of this tune, have a token sound'."
"I'm generally gonna go up there and bang it out, but what I like are records that do so in an interesting informed way, and I hope this is nine tracks that do that to an extent."
It's certainly apparent on Utility that Cowton has shied away from flying in trite sonic decoration, but the sound palette is far from static. As has been evident over the years with the Livity sound live work and the productions on the label, the movement in the music comes from both the dynamic drum programming and live take effects processing. Cowton specifically points out the value in effecting what is already in the track instead of dropping additional sounds onto the existing structure, maintaining the fluidity of the music instead of disrupting it.
Rather than being a hardware evangelist, Cowton states that his approach to outboard equipment follows the spirit of his attitude to composition, using just the few necessary tools that enhance his process without disturbing what already works for him. The pieces that he does use, including saturators and reverbs, get his sound to where he wants it to be while adding expressive unpredictability into the running time of a track.
"I think when you do everything in the box and then just bounce it out maybe it's going to sound a bit too glossy and you can kind of hear the zeros and ones," he feels. "I really like the part of the process of just recording everything out. It makes you sit and listen to it from beginning to end."
From his roots in computer-based production, it's the experience of Livity Sound, both in studio collaboration with Peverelist and the live show with Asusu, as well that guided more hardware processes into Cowton's life. Equally the experience of taking the music of the label on the road left him with a desire to develop his own live set independent of the original Livity trio.
He readily cites one of the challenges as finding the appropriate set up for a one-man-band, as previously the three-strong collective were carting large mixing desks, racks of effects, drum machines, laptops and more besides around the world. Since they decided to take a break from the full Livity show, the chance for reflection has revealed the excess of their initial approach.
"I think we just started that old live set and did it for a long time and never really revised it," Cowton considers, "and it's taken having a break to realise we could have done that more efficiently."
The daunting prospect of entering the solo live arena is being somewhat dulled by an initial test of a more streamlined performance with Peverelist at this year's Dekmantel Festival, but Cowton namechecks inspirations such as Shackleton and Karenn as examples of how he needs to start somewhere and put in the time developing and refining the performance.
Still the challenge holds appeal to him having spent years in the familiar bosom of DJing, citing the relationship with the crowd as a welcome intensity for a performer. "You're witnessing people react exactly as they are to your music and if they don't feel it then they're not going to move," he states, "whereas when you're DJing you just play a more popular record."
In looking at how to downsize the baggage required to deliver a live set, research was carried out to find, for example, a reverb box that would perform just as well as a full size rack mounted unit, and a tidy way of performing prior material without needing to rely on a laptop. As it turns out, witnessing Surgeon working with an Elektron Octatrack and a modular synth was all the inspiration he needed to go down a similar set up route.
He feels a little uncomfortable about dwelling for too long on the modular buzzword, but in truth the same rule of reduction applies here as elsewhere in Cowton's professional practice. It was the simplicity of having a few key modules that do their jobs perfectly that so inspired him when watching Surgeon perform. "I think the way that Tony (Surgeon) was doing so much with just the Octatrack and the modular, it's just incredibly concise."
"I love things being concise," he adds. "I think if I had total control over my flat it would be empty with a chair and a laptop stand, and that would be it."
Interview by Oli Warwick
Header image and profile shot courtesy of Tess Redburn
Utility by Kowton is out this week on Livity Sound