Juno Plus Podcast 131: December
Slow techno, electro and post punk are the order of the day as Parisian Tomas More mixes our latest podcast.
Sometimes it takes a while for an artist to feel fully comfortable with their sound. Under his given name, Tomas More was responsible for a small clutch of 12″ releases for respected European labels Correspondent, Items & Things and Get The Curse at the turn of the decade. However, the Parisian has really flourished in a creative sense since he re-emerged under the name December in 2014. It was Where to Now? that first introduced December with a self-titled cassette detailing More's interest in exploring harsher, less dancefloor focused textures and he followed that with the inaugural release on Blackest Ever Black sub-label A14.
These two releases set the tone for More's sound as December, and the Parisian has gone on to supply a further record for Where To Now? as well as share sides with Kaumwald on the debut Half Cuts 12″ from In Paradisum. Looking over this body of December work so far, it's clear More's music aligns nicely with a constellation of artists, individuals and labels wo share a similar aesthetic and sound centred around Silent Servant, Unknown Precept, Ron Morelli, Mannequin, Veronica Vasicka and so on.
Scheduling dictated our initial plans to publish a December mix in December last year were not to happen, instead we get to enjoy an hour of the Parisian's selections in the all too icy confines of early February. An optimum time for the music we think you will agree. Tomas was also kind enough to provide some detailed answers about Paris, his show on Rinse France, the meaning behind his December name and what else to expect from him over the coming months.
Hi Tomas, how are things?
Good, waking up. It's raining here in Paris.
Can you assess the current state of the Paris electronic music scene right now? It looks quite healthy from the outside.
Yes I think we can say it is quite 'healthy', a lot seems to be happening here but I'm not sure it is as simple as you can think. The first thing – and the one that creates this 'Paris effect' for the media – is that there are at least five times more promoters, parties and festivals. A wider audience for electronic music then.
This change happened for many reasons I guess: long time history of complicated relationship between Parisians and clubs (for years I feel that people 'snubbed' clubs and preferred to party at home with friends / clubs are expensive here / no original spaces – only orthodox clubs, no use of industrial spaces like in Berlin or London), the rise of new parties outside Paris in new places we almost forgot (going across the "périphérique" for a warehouse rave seemed impossible seven years ago, now it's quite common) and a few key places like Concrete that really changed the game bringing a new musical scene to the decks and a Berghain-ish version of parties/afterhours to a city that forgot what partying could be.
In terms of labels and artists now, I'm not sure there is much more than seven years ago. I feel we have more good labels for sure, but not as much as the phenomenon I just described. I feel it's more a "promoter's boom" than an artistic movement. I don't feel there is one clear sound that has been shaped by this small revolution. We don't have one young label or one new artist that is clearly identified as the Parisian "new wave" worldwide. We don't have a guy like Ben UFO (for UK) or Marcel Dettmann (for Germany) for example. I'm not saying there is no good music coming out of Paris at the moment. There is a lot but not as much as we can read here and there.
Any up and coming Parisian artists we should be keeping an eye out for?
I'll be talking about my peeps here. We have a strong crew of very talented people here. DK/45 ACP, Low Jack, Geena/Accem Myomi, Iueke, DJ AZF, the In Paradisum crew, MIND, the PRR PRR guys (living in Belgium but French dudes), Maoupa Mazzochetti (same, French after all) the people from DEMENT3D. And of course Morelli and the L.I.E.S gang, true Parisian now and part of the fam for sure.
If I could choose one project I'd say I'm very curious about DK's live act. Can't wait to see that.
Rinse France seems to be getting stronger too – how has it been doing your show?
Yeah Rinse France is a great place, it's a pleasure for me to go there and do this little radio show. I'm actually really happy about this, that's one of the only place I can play whatever I want, music I rarely play in clubs or never. It shows a part of my influences and musical tastes that I wouldn't be able to show in clubs or festivals.
I'm also trying to invite DJs or producers that I want to promote, like the Unknown Precept crew or my friend Loic Minel.
Do you have much experience of radio broadcasting?
Not really but I'm a big fan of radio, it's always been a fantasy of mine to one day host something on a radio. I love the feeling of being only focused on sounds and voices.
There is quite a specific mood and feeling throughout this mix, was that intentional? Where and how was it recorded?
It was recorded at home, I actually wanted to do it in a studio, I rented one but I wasn't happy with the result so I made it at home. I've collected tracks for a few weeks, thinking about the general spirit of the mix and what I wanted to say with it. What influences I wanted to share and the mood I wanted to build.
Something between slow techno, electro and post punk-ish vibe. Starting with ambient and finished with a lo-fi noise rock track. I think it showcases quite well the spectrum of the music I like.
Let's discuss your work as December. Did you take the name as it conjures up the sort images of coldness and bleakness prevalent in the music?
Of course there is something to do with the winter aesthetics and its coldness. But it is a simpler story that I like to tell. When I decided to move from Tomas More to December, I just wanted to make something a bit different, to allow myself to go towards something deeper and do something a tiny bit "crazier" I'd say. And also to release some of my biggest influences I couldn't express before.
I had kind of a creative block, making music that didn't really fit my expectations for months. And the first time I said to myself "hmm it's maybe that" and was quite happy with a track it was the first day of December. It became quite a sign then.
How did you come to work with Kiran BEB for the A14 series?
I'm a huge fan of Blackest Ever Black for a long time and I always kept in mind the idea of sending something to Kiran one day but I thought I wasn't ready. I sent tracks to a friend to ask her advice (Veronica Vasicka from Minimal Wave) and she just told me "you should send it to Kiran for BEB!" and kindly gave me his email address.
I didn't receive any answer, I thought it didn't interest him and a few months after he wrote me back to say that he liked the tracks a lot and wanted to release them and came up with the idea of a sub-label. Our common interest for Derek Raymond's atmospheres (we talked about this great Gallon Drunk / Raymond record that we both love) took him to name it "A14" as a reference to one of Raymond's book and decided to put a drawing of his face on the label of the record.
I hope I'll make another record for Kiran soon. He's a pretty mysterious man.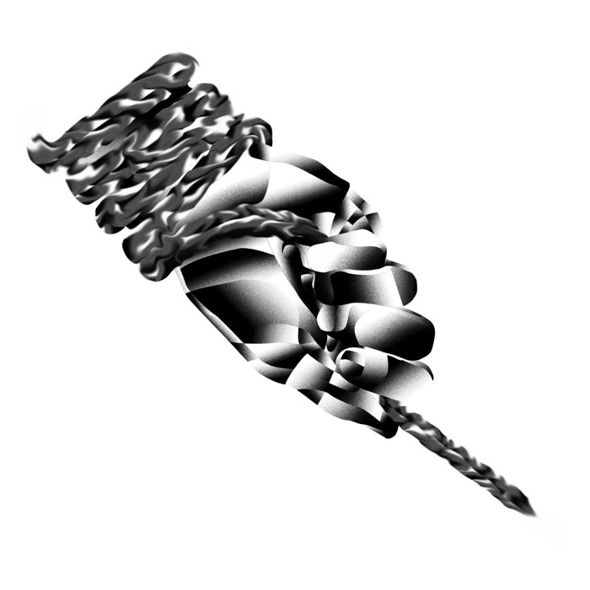 Did you feel like you had more freedom to experiment with your sound on the tape you did for Where To Now?
Yes, I felt it was the beginning again, like my first productions. Changing name really felt like a fresh start. It was so exciting. I felt like I was free to do whatever I wanted. This tape is the perfect example of this feeling. It's playful and diverse, I wouldn't make such music now but at this time it was necessary for me to make it. And Where To Now? is the perfect home for this, James and Matt are really open minded guys, ready to listen to anything, they are creating a very interesting and wide catalogue of records.
It seems like Mondkopf has been pretty integral in pushing a more extreme take on techno and industrial music in Paris – how did you feel to be invited to participate in the Half Cuts series from In Paradisum?
Paul is a really nice guy and what they are doing with Guillaume on In Paradisum is awesome. They don't think about music only but they deeply think about artworks, live performances, side projects, experimental or conceptual releases or events.
We are good friends for years and when I started December we just felt it was right to do something together. I share this goth/industrial raw aesthetics with them and we get along really well so it just made total sense to us to work together. I sent them a few tracks, they liked "XY" and "Behindert" (we have a common passion for films and Stephen Dwoskin's film especially). And since then Guillaume is helping me with the live act and different stuff related to my music.
We hear you might be releasing on Jealous God this year – when can we expect that?
My next release will be an EP on Jealous God yes. I'm really excited about this. It will be out in March. Four tracks going from EBM-ish things to slow industrial techno.
How much of an influence is Silent Servant on your sound?
He's part of that scene that really pushed to make new music. This Jealous God / BEB / Cititrax / L.I.E.S / Downwards / Nation constellation that blurs the lines between '80s deviant post punk legacy and what I'd call "inventive techno".
The evolution of Juan's sound really excited me; that balance between EBM/industrial/'80s atmospheres and techno really encouraged me to go in this direction. He's an incredible producer and a really good DJ.
What else can we expect from December as the year progresses?
My split EP for In Paradisum came out a few weeks ago. Then the Jealous God EP in March and I also have a release coming up on Mannequin. I'm really excited about this one as well. Great label. You'll know more about that very soon.
I'm starting to tour with my live act, the first one was in December (hehe) in Paris at La Gaîté Lyrique and it went really well. I made it in a few other cities since then and I'll continue to do so during the year.
Tracklisting:
1. Tarquin Manek- Fortunes Begun (Blackest Ever Black)
2. Metrist – Speed (Opal Tapes)
3. Ariisk – Le Pong (TSM)
4. Metrist – Kellner changed november for me (Opal Tapes)
5. December – Exponential Growth (Jealous God)
6. 'Secret December edit'
7. Corporate Park – Intimate precision (Sexkrime Arts)
8. Enrique – Roaches (unreleased)
9. Unit Moebius – Redder des noods (Cross Fade Enter Tainment)
10. Psychick Warriors Ov Gaia – Intoxication (Sacred Summits)
11. Amnesia – Celcius (BCM records)
12. Phase Fatale – Castor (Jealous God)
13. CP/BW – Bored Hurt (BW)
14. Eindkrak – Short Vocalisation of Anger (Unknown Precept)
15. Pigeon Religion – Crystallized Meth (Video Disease records)
Header photo courtesy of Keffer