Best reissues and archival releases: October
October's curiosities brought Missing Brazilians, Plastice Dance, Colin Potter tapes, Mecánica Popular and the Zeus of NDW.
Mecánica Popular – ¿Qué Sucede Con El Tiempo? (Dead Cert)
The solemn, resounding drum roll from the archive this month was Dead Cert's reissue of Mecánica Popular's 1984 masterpiece ¿Qué Sucede Con El Tiempo?, undoubtedly one of the pillars of Spain, and everybody's history of the mechanical 1980s music. Eternally brimming with good ideas and good taste, the record is the result of years of late sessions by Eugenio Muñoz and Luis Delgado, two studio engineers whose young but also very skilful minds had the whole 'paradise' of the RCA Madrid Studios to play with. ¿Qué Sucede Con El Tiempo? finds them sampling, looping and processing their way through the night.
Expertly poised on the line between experimentalism, dance-friendly industrial and a synthy dark sickness, the record sounds today like it could have been conceived by American minimalists, Radiophonic Workshop types, or by a particularly fun Groupe de Recherches Musicales. In fact this album belongs in the heart of the Spanish underground – originally issued on Aviador Dro's DRO and later on Diseño Corbusier's Auxilio de Cientos and on Discos Esplendor Geométrico. It's also one of those important instances of learned experimentation taking place in clandestine fashion, not the usual applauded subjects of this world. ¿Qué Sucede Con El Tiempo? (indeed, what does happen to time, it's been 31 years and the album's lost none of its magic) has enjoyed plenty of subterranean fame and it's about time it inspired a new generation. "Plenilunio", "Máquinas y Procedimientos" and the four movements of the "Impresionistas" suite are tracks you'll never forget. Crisp, rhythmic, strange and perfectly staged electronic experimentation.
Listen/buy vinyl
Missing Brazilians – Warzone (On-U Sound)
It isn't too often that we get archival offerings on the same label that originally put them out, but such is the nature of Adrian Sherwood's blissfully enduring On-U Sound. After the launch of the Sherwood At The Controls series earlier this year, October saw two celebrations of the label's relentless work in the Trevor Jackson-compiled Science Fiction Dancehall Classics and the twisted and impossible industrial dub miracle of Sherwood's own Missing Brazilians, Warzone. With all the deserved hype around Jackson's sharply protean compilation, it's worth not letting the Missing Brazilians reissue get eclipsed, because it really contains the nucleus of Sherwood's brilliantly odd, madly generative and influential way of thinking.
This dense record is intelligent, masterful and always entertaining; providing dance and listening interest for almost anyone with some sense of judgement. More important however is the amazing synthesis of two or even three supposedly opposite facets of the British 1980s that it contains. There's this deep, warm taste for reggae making up the angular dub of the record's backbone, and then there's all this neurotic Cold War synthesis going on – sometimes as industrial gloom, sometimes as slow spy story hotel scene, sometimes as synthy dance. How did he do it? We'll never know, however, we have this reissue to try and guess. Sherwood thinks we need more bass now than in 1984, and, of course, we have to trust him.
Listen/buy vinyl
Zeus B. Held – Vinyl Collection (Medical Records)
Busy with the celebrating its fifth birthday and focusing on new artists, Seattle's Medical Records has been quiet of late. As they return to their archival-selves, Medical have a guest of honour, and one who perfectly matches the label's taste for that neon green zone between Italo, cosmic Prog and the more wacky sides of NDW. Bernd Held, aka Zeus B. Held, is well known for his work in crazed Neue Welle act Gina X Performance, but his career as producer and musician tells a longer, more intricate story. Debuting in early '70s Krautrock like many of his generation, he went on to develop a whole range of interesting futuristic ideas by himself, pre and post-Gina, producing three albums at the cusp of the 1980s, from which Medical have curated this retrospective.
The line that emerges from Held's solo ventures ain't straight: we hear him meandering left, right and centre, and there's reason to believe he had a lot of fun. Like Moroder but madder, this Vinyl Collection is mouth-watering ARPs one moment, tender, funky vocoder the next, with almost symphonic electric violin compositions, melodies that sound like TV credits wedged in-between. There's a sleazy and slightly satanic cover of the Beatles classic "Drive My Car", a watery, happy track called "Intermezzo in Acqua", and spacey opening piece, "Enfant Terrible". If the Welle side of the 1980s interests you this is classic bubbling froth from the German wave.
Listen/buy vinyl
Colin Potter – Albums and Rarities Boxset (ICR)
Colin Potter is one of the best examples of British tape culture we have. Unrelenting, ever-searching and richly transforming over the years. He has that gorgeous tape-in-the-mail sound which is forlorn, solitary, which so delicately oscillates between tender industrial and oblique home-made experimental synth. Some of his early tapes, which he released in a box-set last year – such as mythological blog-circulated The Ghost Office and A Gain – have been the subject of legend. Now, another six-tape set chronicles his late-'80s and early-'90s adventures, which are different, more adult, and perhaps also more technically sophisticated but no less alluring.
The set contains Potter's output from 1989 and 1990 and collections assembled or rare or unreleased material from the same era, which he's called Are We Nearly There Yet? and, rather aptly, Hiss Story. There's a more subdued and droney Potter to be found; longer, developing soundscapes, more field recordings, more environment. Less of that early '80s bleepiness and clanginess, and more of a certain tenderness and a taste for a sophisticated, composite, textured kind of ambient. Given Potter's re-emergence with more recent material in his very rhythmic Rank Sonata, as well as his re-surfacing live presence, it's a good moment to appreciate this home-grown maverick's back-catalogue.
Listen/buy tapes
Various Artists – Plastic Dance 1: Domestic Synth Pop & Plugged In Punk (Cache Cache)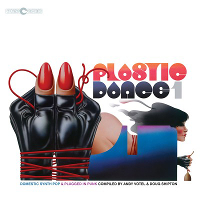 Is there an adjective Andy Votel and Doug Shipton haven't used to describe this music on the press release of this Plastic Dance compilation? "Synthetic squat pop, angular funk, teapot kosmische and fraudulent disco" get thrown together, and any adjective in the English language could appy to at least one aspect of the music compiled here. This record is a riot. Listening to it is like getting into a car with a couple of good friends who start playing you a load of bizarre found tapes with no apparent unifying trait, apart from – as they wonderfully put it – "unreleased, unknown and unwanted reluctant punk and snide synth pop".
In the spirit of punk, there is an 'unwantedness' to these tracks that lends them a lot of appeal. There's a home-made, delirious, 'see if I care if you listen to my record' attitude to the music which makes for quite a refreshing and at times schizophrenic listen. In the spirit of snide synth pop, a lot of the tracks deal humorously, even intellectually, with a sort of charming neurosis.
My pick of the cuts: 'the other' Cybotron's starry proto-Italo "Sweet 16/9th Floor", the fantastically hysterical, unhinged minimal synth of Plastiktanz's "Mir Geht Es Danke Gut", the Mancunian no-wave Biting Tongues' "You Can't Choke Like That" and the excellent closing piece, "Tylko Punk Rock", by long-beloved Finders Keepers gem of Polish film music and underground Andrzej Korzyński. This Plastic Dance is plastic, but never fake – a cabinet of curiosities, rarities, oddities, forgotten epiphanies from thoroughly modern minds.
Listen/buy vinyl
Flora Pitrolo