UMFANG – Another Consciousness
Emma Olson discusses her UMFANG project, exploratory production methods, concept albums, and involvement in the Discwoman collective with Brendan Arnott.
It's the morning of Independence Day when I connect with UMFANG over the phone, just before the Kansas-born, New York-based Emma Olson attends a local 18 hour, all-day dance party. "I don't really feel connected to the patriotism vibe," she admits, "but I do think it's a good excuse to eat food and hang out with people that you like."
It's also a well-deserved break for Olson, whose previous week has been punctuated by a gauntlet of back-to-back shows across the city; playing alongside Ital, Pictureplane and Derrick Carter within the last three days. She's also hosted her Technofeminism night at Brooklyn's integral Bossa Nova Civic Club earlier in the week (a venue that Olson admits she provides an obligatory shoutout to in every interview she's done). Still adjusting from returning from a recent trip to Europe, Olson admits that DJing and playing live nightly "seems like a normal pace for me now, which is crazy. I've put a lot of other things aside to prioritise music, so I've just been preparing stuff and playing live and trying to squeeze normal life somewhere in between."
From opening the Catskills Mountains located festival Sustain-Release last September, to her subsequent self-titled debut tape on Videogamemusic, Olson's musical prowess is reaching new heights on a regular basis. Perched on the cusp of dancefloor legibility, her productions are unsettling, unstable and infectious affairs – like watching chemicals slowly corrode and morph into something unrecognisable from their original shape. Just as Olson's name, UMFANG, takes its meaning from the German word for circumference, each of her compositions feels like they're mapping out the margins and edges of volatile forces, techno cartography if you will.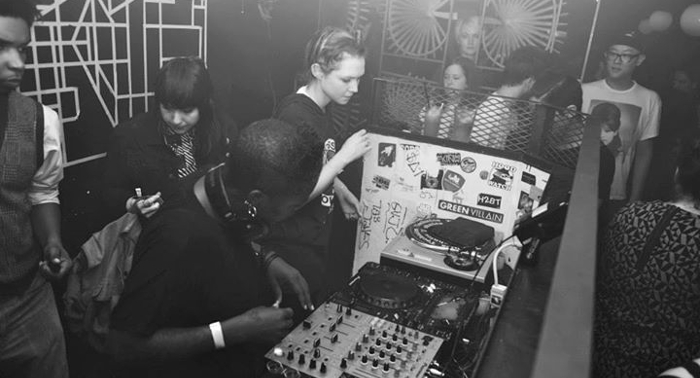 Olson's acquaintance with dance music stretches back to 2008 where she experienced gigantic sound systems set up in empty industrial spaces in the West Bottoms neighbourhood of Kansas. Around the same time, she was handed a stack of CDs from a DJ friend's car that he was ready to discard – music Olson became instantly obsessed with. "I was like 'I've been looking for this my whole life'," she recounts. Even though her tastes have changed from Bruno Pronsato and The Field records she chucklingly admits she was first inspired, Olson acknowledges that "those albums opened up a whole new world for me, and opened the door to me finding more classic Detroit stuff; to do my research in a way." The next few years were spent frequenting online message boards, taking inspiration from fellow community members like fellow New York transplant Huerco S., and absorbing musical histories as she began amassing gigs throughout the city.
Two of Olson's current projects, her Technofeminism night at Bossa and her involvement in the female-representation-based Discwoman collective, both seem to have explicitly political undertones coursing through them. Olson recently returned from a Montreal Discwoman-led fundraiser for Girls Rock Camp, which, while diverging from dance music roots, is still a group Olson sees as important.  "We want to work with groups that are proactive towards young women's empowerment," she tells me, "It's not like we're picky about the genre. It's about getting young people comfortable with playing music, and feeling encouraged at a young age, I don't really care what kind of music they end up playing."
Bianca Giulione, co-organizer for Discwoman Montreal, spoke in glowing terms of Olson's performance and the weekend in general. "Discwoman Montreal was an amazing experience for everyone involved," she writes. "Aside from the obvious showcase of talents, it was an ideal opportunity to share in our triumphs and the obstacles we all face in this boys club of electronic music. Discwoman is not a network to further promote some stupid idea of 'novelty'… like 'oh wow, female DJs, you don't see that very often,' which is shit I've heard before." Giulione instead believes that Discwoman "provides a structure greater than the sum of individual female-identified DJs to show people that we exist, many of us have been doing this for years but don't get booked for local shows or festivals."
I'm curious if Olson feels that her own production persona UMFANG is directly connected to some of the political ideologies she takes part in. She is, however, sceptical. "It'd be a bit of a stretch to say that there's a political edge to my productions," Olson admits. "Obviously, I am the person I am and it's a priority for me in my life, but I'm not thinking while I'm making music 'oh man, I'm being a real feminist right now',". But while Olson's productions may not explicitly address the political world, she believes, "it has been important to me that in learning to produce music that I can talk to other women and be an encouraging force. It's nice to be able to say, "learning this stuff is really difficult… and there was no structure for me to learn that when I was younger. Culturally, I didn't know that it was possible that I could make money sitting and playing on drum machines in my room," she says, laughing.
All of Olson's influences sound as if they have fully cemented themselves in place with the arrival of her new 1080p tape OK, a title which Olson states "captures the idea that however you have created your work it is ok… a play on the negative idea that there is one way to produce music and the attitude that keeps people from trying to make their own way."
Taking shape around more tangible dance floor elements, OK grips you from the opening notes of "Shant", which merges the ambient windswept textures that Olson's previous release for videogamemusic showcased, but now comes with a jittery, amphetamine-fed percussive core,  flittering and shaking like the pulse of a hummingbird. The interplay between crashing noise and soothing ambience, the ways they work together and create tension between each other feels like a prevalent theme throughout OK.
"Cygnus" begins as soothing organ tones, only to pull the rug out from underneath the listener halfway through, cutting everything out but a series of pummelling, kinetic drum beats reverberating in total darkness. "Mica, too, feels like a live electric wire flopping back and forth on a hot concrete sidewalk.
"It's about getting young people comfortable with playing music, and feeling encouraged at a young age, I don't really care what kind of music they end up playing."
Olson states she approached the record in a utilitarian, exploratory manner. "I got a new drum machine last summer that made it really easy to create patterns and save them. Then I learned how to take samples from my record collection and put them into tracks, so the process became linking the two elements together, and that method of working was really fast and moved really smoothly."
Sonically, OK pulses to life with a curious creativity in ways that other techno records don't, which Olson attributes to digging through esoteric rave and trance records that are peppered with "weird little bits at the beginning or end of the track." Regarding oddball samples and loops, or several seconds of surreal equipment noodling that's put on the record at the last minute, Olson adds, "I started trying to find and record them because they're not going to be recognisable." She pauses, and continues with a laugh, "I have a lot of fear about someone recognizing my samples and trying to sue me. There are a few recognizable samples on that record that are incredibly famous, and I'm just kinda waiting to be called out on them."
But just as the album title plays with the idea of dance music authorship, so do the samples in OK. Olson tells me a story about how she believed that she was lifting the vocal loop included in track "shockschockshock" from an Armand Van Helden record, until a random YouTube playlist alerted Olson to the fact that Van Helden had swiped the sample from someone else. "He stole it, and I'm stealing it from his version to make my version," she feels, chuckling.
Another notable element about OK is how compact and focused it feels. With seven of the 11 tracks able to build mood and atmosphere under the span of five minutes, its tracks feel intricate and utilitarian all at once. Even though none of the tracks on OK are edited parsed down, and most are straight recordings from her hardware, Olson acknowledges that one use for them can be functional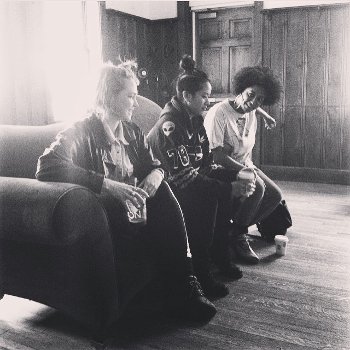 DJ building blocks. "I'm aware that this stuff is more easily utilised than my last tape, and I think of them as kinda DJ tools – I'm not trying to make this in-depth, atmospheric, undulating world, I really want it to be accessible and useful to a lot of genres." She goes on, "I have a lot of older DJ tool records that have really simple, short songs that you can go back and forth with all night, and I want that for this, I want it to be able to mix into a Latin cumbia set, or a techno or house set."
Following her 1080p release, Olson has a handful of vinyl enquiries that she's looking into, as well as a far-out idea for a concept album. "I basically found a track on a YouTube playlist, this incredible, strange rave track that I can't get on vinyl or find a good digital copy of, and I was obsessed with it," she explains.  "I even tweeted at the guy who made it in 1993, and he responded and said 'oh yeah, looks like it's not available, that's too bad'.  I couldn't get a hold of this amazing track, and I couldn't believe it – I was asking everyone I knew." Aurora Halal floated the idea of making a cover version, Olson tells me, which inspired the idea of the album. "I decided to make a concept album breaking down that one song and making my own versions of it."  I remark on how powerful the appeal of unplaceable music can be, and Olson agrees, "I can only imagine the feeling in the early '90s of just hearing a track and being so obsessed, and there's nothing you can do about it."
Making an album that reworks single lost techno track from 1993 seems to be referencing the past and future all at once, and when I think of Olson's output, I'm struck by the balance of yesterday's obscure rave samples mixed in with futuristic dystopian percussion patterns. UMFANG's music plays with time and memory just as much as future and possibility, and having heard that Olson is a fan of science fiction author Ursula K. Le Guin, I ask if thematically there's any kind of connection to sci-fi and futurism in her work.
There's a lengthy pause before she answers. "I'm not quite sure how to put it into words yet, but I think electronic music and futurism have a lot to do with each other, there's something about the nature of synthesizers that make us think about… non-current times, I think that also kinda ties into escapism, and creating other worlds, or connecting with another consciousness. That's something I like about the specific escapism of techno – something we can all share and all talk about and it kinda takes us away from thinking about the tumultuous world that we're in now."
Interview by Brendan Arnott
1080p will release OK by UMFANG on August 4
1080p on Juno