Soundtracking the future with Richard Devine
With a reputation for high-definition sound design alongside his work as an electronica producer, Richard Devine's commitment to the latest developments in audio technology have earned him jobs from designing electric car engine noises to "playing" buildings. Oli Warwick caught up with him in his Atlanta studio to peel back the workings of a veritable sound machine.
It's easy to take for granted just how important a role sound plays in our lives. As a species increasingly integrated with the technology we use every day, we are constantly surrounded by the noise of our chosen devices. Some of those sounds are decades if not centuries old, and some are a recent phenomenon, but rarely do we think about where they come from. To you a chirruping tone from your pocket may simply mean another message to read, but to someone like Richard Devine it is a painstaking process of refinement to make the most effective audible notification in a noisy real world environment.
Such tasks might not have been where Devine predicted he would end up, but it's far from the only concern in his multidimensional exploration of sound. From the mid '90s the Atlanta-born artist has released music that chomps at the heels of music production innovations, eventually aligning him with the electronica luminaries of Warp Records and its pioneering roster. With a sound that sparkled with the wild possibilities of the new, in the late-'90s he drew favourable attention from soft synth designers looking for someone to design patches using their products. What Devine describes as a "snowball effect" has since seen a slew of the most prominent hardware and software manufacturers calling upon his expertise, spreading his reputation into industries outside of music-specific applications.
Before he would become a go-to sound generator, Devine emerged like so many of his generation out of a cultural melting pot that mixed skateboarding with punk, hip hop, industrial and electro in the late 1980s. Bouncing from Meat Beat Manifesto to Aphex Twin until he felt inspired to explore production himself, he eventually acquired a second hand ARP 2600 that taught him the basic fundamentals of sound design. Recognised as the synth that brought a user-friendly interface to analogue modular synthesis, the ARP 2600 gave Devine an understanding of what happens when cross-modulating waveforms to get frequency modulation, not to mention exposing him to the ARP's ring modulation, sample and hold, white noise generator and lag processors.
"I loved that there's no real right or wrong way of approaching it," Devine explains enthusiastically from his studio, "you just patch and sculpt until you get something that's interesting to your ear. I gravitate towards environments where you open up that philosophy."
During the early-'90s in Atlanta, production tastes in the dominant hip hop and RnB scenes had moved towards the realistic PCM samples found on Korg Triton and Trinity workstations, meaning Devine was able to jump on all the 808s, 909s, Jupiters, Junos and others that were being discarded from studios across the city. Scoring most of the equipment for "next to nothing" prices, he could study each machine and work out which ones suited him best before moving on. With a confident handle on the rhythmic side of electronic music, it wasn't until discovering pioneering electronic composers of the '60s and '70s that Devine's own musical character took shape.
"When I started listening to artists like Morton Subotnick and Hugh Le Caine, a lot of them were using tape splicing but were creating this music that was very non-linear," Devine explains. "It didn't sound like it was created in a rigid 16-32 step sequencer. I knew at that point I wanted to infuse the organic fluidity of the electro acoustic world with the machine mechanics of rhythmic programming."
If you listen to the music Devine is known for, it's clear this fusion of amorphous, mutating tones and textures with precisely triggered beats is the fundamental backbone of Devine's signature sound, although it wasn't until he met Don Hassler at the Art Institute of Atlanta that he would discover how computers could be used for more audacious sound generation. Hassler ran an experimental sound class at the college, exploring the potential of programming environments such as Csound and SuperCollider.
"I was looking at the computer just for doing sequencing and crude sampling, very basic DAW editing and composing and arranging," states Devine. "I never heard the computer execute such beautiful, detailed and organic textures that were happening in Supercollider, so I started using it and went pretty hardcore for three or four years, using it in a lot of my albums and creating my own patches."
From these initial steps into algorithmic composition, Devine progressed on to Max and then its widely used successor Max MSP, drawn to the fact that these environments were modular based and thus allowed for infinite configurations of virtual signal paths without the physical limitations of hardware.
"You could hook up object oriented virtual code and manipulate the objects, add more math operations, logarithmic operations, change input and output dividers, toggle switches," Devine explains. "It was very similar to working with modular synthesisers because you could create crazy patches that would never happen normally."
By 1999, Devine's music career had seen him move from some early forays into hard techno through to dynamic, glitch-riddled electronica on Miami-based label Schematic Records, eventually culminating in the Lipswitch LP that was jointly released by Warp in 2000. Typifying the rapidly increasing complexity of experimental electronic music at the time, the expressive sound design that zipped around the mix of his tracks started to catch the ear of software developers. The first to approach him were Native Instruments who asked Devine to design patches for their software, forging the first of many lasting working relationships within the technical side of the industry. Reaktor was moving from version 2.0 to 3.0 and Absynth was soon to be developed, and so Devine's sounds were packaged with new versions of these programs and hence landed in studios all over the world. From there, companies such as Clavia Nord stepped forward and requested Devine's signature touch on their hardware, opening up a career path as a sound designer in parallel to his own musicianship.
While the expectations of manufacturers can sometimes be a challenge to meet, ("'oh Rich we need you to design x amount of sounds that utilise these features and parameters but also tell a story by hitting one key',"), Devine is candid about the benefits he reaps from taking on the work.
"I'll design sounds for a lot of synthesiser companies and software companies in between big commercial jobs just to keep up with all the new tools," he says.
Aside from personal gain, Devine equally takes a philanthropist view on his patch designs, happy if any shred of inspiration passes on to someone else's creation. He readily admits he can often hear where a patch of his has been used, although equally he has been surprised by how another artist can reinterpret his initial design.
"I made a patch for Absynth called the RY30, emulating one of my old Yamaha FM drum machines from the early 80s," Devine explains. "It used the break point envelope functions in Absynth to create these rhythmic synthesised textures. I remember being at the NAMM show and Robert Heinke from Monolake came up to me and gave me his CD, and said, 'oh Richard I was so inspired by your Absynth preset that I made an entire song ("Tetris", on Monolake's 2003 album Momentum) out of that one patch on my new album,'" Devine remembers. "I listened to the song and I was so blown away with what he was able to do. I could hear the basic structure of the patch underneath all the rhythmic textures, but it was just so cool that he was inspired to take my patch in this whole new direction to what I had envisioned for it."
As Devine's distinctive sounds started to creep beyond the borders of electronic music production the requests for his skills started to come in from further afield. Having already seen the powerful emotional impact music could have on people, and once phone-based companies and electrical appliance manufacturers started to approach him, Devine became fascinated with how sound could affect people's psyches down to a molecular level, which his clients were no doubt equally aware of.
"Media, TV commercials, video games," Devine lists. "In a span of 15 years of all the companies I've worked with, I've realised just how wild things can get. I never would have dreamed that I would have been doing such crazy projects, and a lot of the craziest projects I work on I can't even tell people about."
Of course working to a brief such as designing user interface sounds for a mobile phone brings a whole different set of parameters compared to the world of music. When a speaker the size of a peanut has to be heard whilst competing with the sound of a busy street and the muffling of a pocket, the process can be painstaking to get the desired result.
"You have to adapt the sounds to the hardware," Devine explains. "They (manufacturers) always have to send me prototypes and then I do months and months of testing and mastering, tweaking sounds so that they're getting the optimal quality on that device. A lot of people think I'm playing with toys all day but I'm actually working on quite boring, frustrating jobs that pose really unique problems."
One of the most intriguing aspects of Devine's commercial work came in the summer of 2014 when he worked with an undisclosed car manufacturer to design the engine sounds for two hybrid electric cars which are now on the market. Legislation has been introduced to stipulate that all hybrid vehicles must emit sounds up to a distance of 150 feet as a safety measure for those who are hard of hearing or visually impaired. As part of his brief, Devine had to create an engine model that reacted to the actions of the vehicle, from idling to acceleration. Of course the most pressing question is; what did the engine need to sound like?
"They were giving me a little free reign to make it sound futuristic," Devine reveals. "Their references were the race pods from Star Wars and the Tron light cycles. They wanted something that gave you the idea of electrical futuristic power."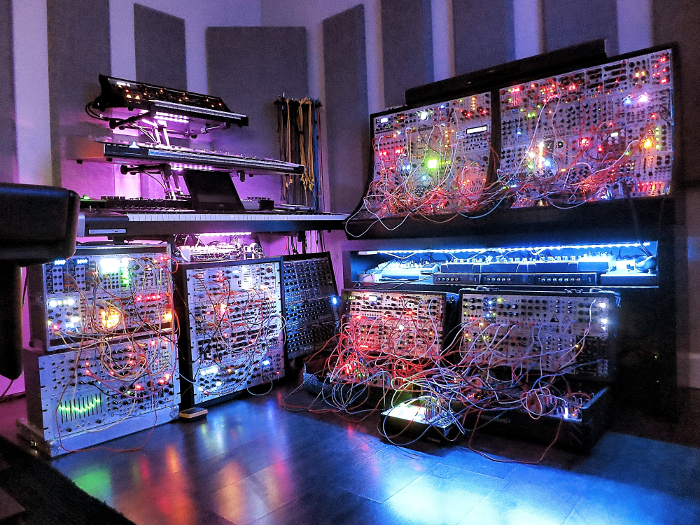 Aside from soundtracking the future, Devine has recently been called upon by Roland to advise their Aira division on the recently announced series of modular synth equipment. The System-1m and System-500m have followed the approach Roland took with the TR-8 drum machine and TB-3 synth, combining the functionality and sounds of their classic equipment with the increased potential of modern technology. While this approach divides the more purist sections of the hardware market, Devine speaks highly of the accessibility the System-1m affords to those curious about dipping their toes into the world of modular synthesis. At one extreme its digital integration promises the chance to record CV information and patch remotely using a tablet device, while it still operates at the same voltage and audio rate as existing Eurorack modules, ensuring all manner of analogue exploration can be undertaken.
The System-500m is arguably more suited to those who want a more pure modular experience, and Devine worked closely with Joshua Holley from Malekko who was enlisted to build the modules that would make up the finished product.
"We looked at the original System 100m and the System 700 and asked what five modules would be best to get some instant results just patching within itself," Devine recalls. "We came up with everything in dual format, so you've got dual VCO, dual VCF, dual VCA 530, you've got a modulation source, LFO, envelope generator, and then we have a multi-effects module, and that can all work as one unit, or they can be patched into a bigger system if you want to. I wanted to stress to them you still need a centerpiece that can hold its own weight."
Of course interest in modular synthesis has been on the rise in recent years, and the buoyant scene for Eurorack manufacturers as well as Roland's recent return to the marketplace has given Devine increased impetus to develop his own modular rig. If you happen to catch him performing a live set, the chances are he will be burrowing away amidst a nest of cables, subverting the somewhat staid and steady pitfalls of so many live modular performances with a sound that logically continues the dizzying approach to textural and rhythmic work that one expects of Richard Devine.
"There are newer modules that allow me to do much more complex things than I had before," he explains, "so I'm able to take the performance up to new levels without using any drum machines or computers, trying to see how much I'm able to do with a patch."
The roots of this article were in fact laid in one of these very performances at Bloc. 2015. Devine was part of a modular showcase curated by the London Modular Alliance, and any expectations of a more stripped down sound were swiftly blown away by the complexities of his set. With the rig laid out flat on the table in front of him (as depicted below), Devine bristled with energy both visual and audible, while seeming completely in control of the progression of his show.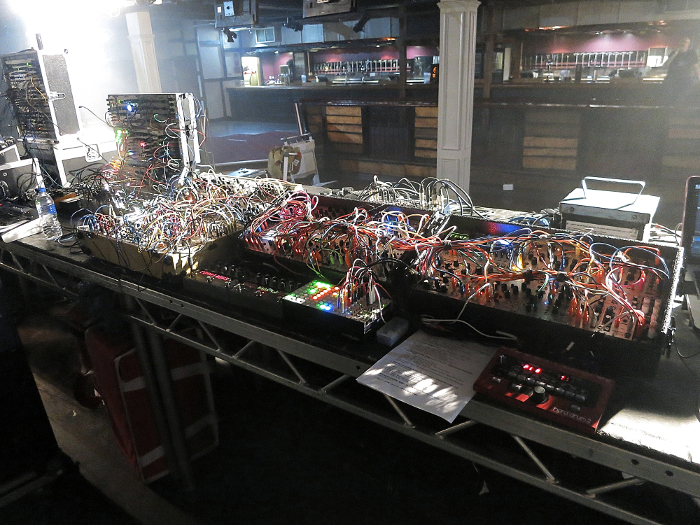 "I want people to know that it's not just hitting the space bar and making it run," he points out. "I'm doing everything. I can control the tempo, I can make it go from zero to 1000 bpms or slow it down to complete meshy craziness. It makes the performance much more risky."
As if proof were needed, the following weekend Devine took the very same patch to Berlin, and ended up with an entirely new performance that he argues, through human error, would not have been possible in a laptop-powered set.
"You have all these variables that are floating around operating in this space with a (modular) patch where, if you make one adjustment to one thing, that can alter the course of everything else in the patch," he explains. "There was one part in my set I just played at Berghain where I switched to the wrong mode in my sequencer, but it sounded so cool playing the wrong sounds that I started improvising around this one weird hook," Devine says. "The crowd went nuts!"
In between touring, working for car manufacturers and helping develop music production tools, the next of the many strings to Devine's bow promises to be one of the most mind-bending. Working alongside a trusted collaborator, a plan is in motion for an installation in an abandoned Dutch jail this July that's aimed at "playing the building" with a mixture of different modular systems and a range of contact microphones. The microphones will run from the different systems out to various objects that make up an innate part of the space, varying between glass, metal, and any other materials the building is made out of. The systems will then emit frequencies that collide with the chosen surfaces to create extra acoustic found sounds that feed back into the patch in real time. The patches themselves will be designed to be self- composing and regenerative, ensuring that the piece will never repeat itself once it has started running.
It's an ambitious project, but one that feels like a logical continuation of the futuristic realms of sound that Devine has always drifted towards. As such, it's surprising to find that he's a man just as concerned with exploring inherent sounds in nature as much as synthetic ones, from using a hydrophone to record shrimp feeding through to ultrasonic audio of bats using triangulation to find their prey. "I always tell people some of the coolest sounds I've ever gotten wasn't from some piece of equipment I bought or acquired," he enthuses. "It was just something that was already there in nature, right underneath my nose in my backyard."
Interview by Oli Warwick