Auntie Flo: Livin' the Highlife
The Huntleys & Palmers man discusses drums, music distribution, cultural appropriation, and recording his new album with Matt Anniss.
Things are looking up for Brian D'Souza, the DJ, producer, promoter and noted global fusionist behind the Auntie Flo moniker. In many ways 2014 was his breakthrough year, with a trickle of releases on Permanent Vacation, Autonomous Africa and the Highlife Edits series he co-runs with friend Andrew Thomson complimenting a packed schedule of DJ gigs and live performances.
It's not hyperbole to suggest D'Souza and Thomson have been pushing a distinctly 21st century clubbing phenomenon – a kind of dancefloor-minded cross-cultural pollination celebrating those musicians, artists and DJs who blend Western dance music with indigenous styles from around the world. Certainly, the duo's Highlife parties and Thomson's Huntleys & Palmers label – a vehicle for releasing the kind of music they've long championed at their events – have been hugely influential since their early days in 2011.
When this is put to him, D'Souza is modest about their achievements. In fact, he's keen to point out this kind of global dancefloor fusion is nothing new. "I've heard the argument before that it's a current trend, but it's always gone on in some form or other," he says. "We picked up on the more house and techno side of things before we started Highlife. It was going on then, with the Cómeme sound and so on, but people weren't picking up on it. We just spotted a niche and did it. Now I guess more people are into it, though it's hard for me to say whether that's true or not. There definitely seems to be a lot of records that fit the remit, that I continue to buy and play in my sets, which is cool."
He pauses for a second; seemingly deep in thought about the slowly expanding scene and sound he's done so much to champion. "I guess there's an exoticism and fetishism attached to what we do that's good and bad," he muses. "I'm a big believer in the power of music to bring people together and to help people to experience new cultures," he says, before positing it's a sort of gateway to new music. "If we're able to do that in our own little way and people are now discovering music from Africa and Latin America  they've never heard before, and that's then given them an insight into other cultures, or brought them together with others to exchange ideas, that's the best thing ever."
D'Souza's enthusiasm for what he does is infectious. While he's only reached the 'celebrated' stage in recent years, he's been plugging away at the margins of music – mostly in his home city of Glasgow – since the turn of the Millennium. During that time, his musical focus has shifted on numerous occasions. He began DJing and promoting as a student, putting on events that seem a far cry from what he does today.
"We used to put on loads of Warp acts," he says, amused. "Our first night we had Manitoba. We were also the first club night to book Ricardo Villalobos in the UK, and we also used to book people like Jamie Lidell, Baby Ford and Amon Tobin."
It was around this time he first came up with his now famous production alias. "I came up with the Auntie Flo name in 2002 when I first started messing around with production software," he says. "I produced some stuff but didn't do anything with it. I performed live and formed a band around it, but nothing ever got released. It was pretty short lived and died a death," D'Souza says. "The name went into hibernation for quite a long time before I brought it back for Highlife and Huntleys & Palmers."
Many of these early electronic experiments were tied in with his studies in sound design, which formed the foundation of his studio education. "I did loads of experimental stuff – I was very into doing sound installations, because I did a sound design course," he explains. "I was very into doing lots of electro-acoustic compositions, some field recordings and some film sound. I guess I was producing, but I wasn't producing to make music for clubs, or to be released. I was just fiddling around with weird sounds."
While his recent productions bear few hallmarks of these early explorations, it was nevertheless an integral part of his education. "What I learnt from doing that stuff is that sound is what you make of it," D'Souza says. "It can come from anywhere. It doesn't have to come from an analogue bit of kit, or a computer – it can come from anything. I also like quite a lo-fi method of production."
For a period of time, music production took a back seat as he grew more in love with DJing, first at his own nights, and later as part of the Slabs of the Tabernacle crew (famous not just for their events in Glasgow, but also a suitably nerdy blog). "We started doing that in 2006 or 2007, I think," he remembers. "At the time, I was playing mostly Detroit techno, Chicago house, disco and Italo. The parties were amazing. I didn't have too much say in the bookings and the direction of the night, but I used to love it. Those guys that run it like Jonny, Andrew and Joel, they taught me so much in terms of music – especially about Italo disco. They're like walking encyclopedias."
It was in 2011 that D'Souza decided to join forces with Thomson and launch the Highlife parties. It was the cue to expand his horizons considerably, more specifically by seeking out curious records from around the globe. "Looking back at the collection, I've always done it a little bit," he says. "I guess I started doing it seriously when we came up with the idea for the Highlife night in 2011, or just prior to that. When we came up with the concept, we started getting really into it."
The initial spark was the music of Matias Aguayo's Cómeme label, whose early releases made a huge impact on D'Souza. "To me, the first six Cómeme records are so fucking good, and so different, unique and fresh sounding," he enthuses. "I was blown away by them collectively. It was exciting those guys are Chilean, Argentinean and Mexican, and they're giving me loads of interesting ideas in terms of music. At the same time, I also discovered South African house music, which I'd never really listened to before. Then there's all the other stuff – UK or Western acts doing stuff sampling African or Latin American records. I thought there was really something going on there, in my head at least."
This musical re-awakening gave D'Souza the impetus to head back into the studio and record his debut EP as Auntie Flo, Goan Highlife. "I was inspired by a lot of the music we wanted to play at Highlife," he says. "I wanted to make music that worked at the night, so I made the tracks to play at the night. These were then released. I didn't know at the time whether anything was going to happen, or whether anyone was going to listen. That first single did OK, and led onto some more releases. All things work hand in hand."
That first single appeared as the debut release on the freshly minted Huntleys & Palmers label, and introduced D'Souza as a maker of densely rhythmic, energetic and exciting music for the dancefloor. In hindsight, lead cut "Highlife" sounds like a loose blueprint for the many subsequent Auntie Flo productions. It's a blend of heavy African drums, tribal chanting, expansive-but-off kilter synthesizers and clear house influences that still sound fresh three years on. While the influences, inspirations and styles explored on his releases continues to expand – check out the myriad of South American, African and Asian sounds explored on his 2012 debut full-length Future Rhythm Machine – D'Souza's commitment to urgent rhythms and lo-fi synths remains.
"I like drums," he enthuses. "I love polyrhythms. I think they're interesting and nice to dance to. I like music that feels real and a bit more… I guess organic, or raw. The essence of a track is nicer if you have rougher edges around it. For example, I've got a massive collection of £10 Casio toy keyboards, which I use a lot – pretty much in every song I make. That's great, because they're really noisy and gritty, but you get some cool sounds out of them. They're also quite limited, meaning you can't fuck around with them too much. They are what they are. You end up having to make the most of what you've got there."
This commitment to taking a relatively lo-fi approach is vital to the success of D'Souza's style. While his records still sound great, there's a dustiness around the fringes that compliments his often live feeling drums and use of traditional instrumentation. This style is certainly his own, and has a different swing than many similar fusions of Western dance music and indigenous cultures.
Interestingly, D'Souza has less interest in some modern forms of global dance music – think kwaito, baile funk and kuduro, in particular – then you may expect from someone whose DJ rider demands a sound system with particularly heavy bass.
"There are elements that I do like but in general I haven't bought into them massively," he admits. "Maybe things like kuduro and kwaito are too young for me. I don't want to dismiss these musical cultures – it simply comes down to taste," D'Souza feels. "I've played some kwaito stuff and I've played some baile funk, now and in the past, but I'd never have it after my name that I play those styles," he adds. "I think I'm trying to find music that fits in between the gaps of all of these styles. Maybe a track by a musician who's heard a baile funk track, and has been influenced by it, but has fused it with something else."
He gives an example for clarification purposes. "There's a guy in Japan called Mystica Tribe. I really like his stuff. There's definitely an oriental, Japanese element to his music, but it's quite dubby and quite techno flavoured at the same time. That's the kind of thing I'm looking for. Normally the indigenous stuff I'll take at face value, and like listening to it, I might even play it, but I don't do too much with it. What differentiates Highlife from a night that's playing roots-based world music, if you like."
Nevertheless, some of the "roots-based" music he mentions – original Afrofunk, Afrobeat, cumbia, and highlife – has been explored on Huntleys & Palmers' Highlife Edits sub-label, to which he's contributed a number of cuts. Those edits are far more reverential to the inspirational source material than some of his wilder, sample-based cuts, and the series overall has been something of a hit, with DJs snapping up each of the first six volumes. This, then, is some indication not only for the current appetite for floor-friendly versions of obscure African, Middle Eastern and Latin American records, but also of their undoubted quality.
D'Souza is naturally happy with the series' success, but admits a certain amount of unease with the idea of making money out of reworks of vintage African music in this way. "It is really difficult," he says. "In the creative process, where do you draw the line? With those edits, we just put them out on a very limited vinyl run, that's all it is. There's nothing more than that to it, and we don't promote them massively at all. They're mainly for DJs to play, to have that flavour there."
Given he's made a career out of drawing together disparate musical cultures from around the world, it's no surprise D'Souza is tuned into the thorny and particularly current issue of appropriation.
"It's an interesting debate to have, and even yesterday I saw something about Western fashion currently being influenced by traditional West African outfits," he says. "People are up in arms about that; how it's stealing from another culture, monetizing a tradition, and stuff like that," he says. "It can be quite contentious. I see both sides of the argument. The problem is the way we've structured the world – this capitalist approach. It's set up to try and monetize every scenario, which is really what we don't want to do with Highlife. We're very conscious of that. It's a fine line – the dividing line between appropriation and non-appropriation, or taking advantage of people or not."
It's clearly something D'Souza has given a lot of thought. "What I fall back on is the fact I'm a DJ," he says. "The DJ's fundamental right and privilege is to source music from wherever, and play that to his or her audience in a creative manner," D'Souza feels. "There's obviously a line that needs to be drawn – you can't just rip something off and sell it as your own," he says. "Ultimately, once the music exists, has been published and is out there, that's for everyone to enjoy. The artists would probably agree with that."
Given his thoughts on the manner, it's interesting to note his next release due out on Highlife Edits features original music made in Cuba, with Cuban musicians. It's the first of a trilogy put together by D'Souza and Esa Williams – the London-based South African musician and DJ who is arguably best known as the other half of the Auntie Flo live show – which also features music recorded in Uganda and Kenya.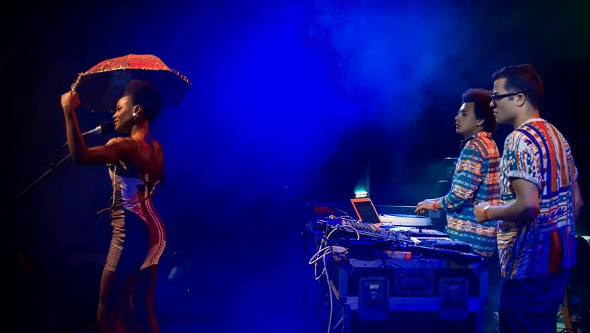 "We were in Cuba in February this year and had some great days working with local musicians there and we came out with quite a strong EP," he says. "I've been playing the tracks out for a while and they're sounding really strong. We want to support the local musicians, so profits will go back to them. We're also going to try to get distribution in their countries, which is obviously difficult, to hopefully try and push it at a local level. We want to do that rather than just taking it from them and releasing it in the Europe and the 'West'". Sometimes there might not be the interest there, but that could be because the distribution structures are not in place in those countries."
Here D'Souza references his discovery at the "underground and independent ways" in which music is distributed in Cuba. "People there tend to use USB sticks," D'Souza tells. "So maybe we'll have to buy a few USB sticks, give them to people and they can just share it and the music will spread like wild fire through that. Then everybody on that island who wants the music will be able to get a copy. That's good enough for me – it's fine."
Working with local musicians has obviously been a thrill for D'Souza and Williams, who are currently recording a second Auntie Flo album – due out sometime in the autumn – with a range of percussionists and vocalists. "When Esa was in Kenya, he told me the local musicians were so happy to be making music and getting stuff out there," D'Souza enthuses. "They weren't really thinking of the commercial aspects of it at all. They make music for music's sake, which is fantastic."
Interview by Matt Anniss 
Photographs used courtesy of Liam Ricketts