Separate Mind: The Winter Collection
A final column of the year from Richard Brophy features discussion with Andy Stott, The Cyclist and Juju & Jordash, reflecting on the common air of melancholy their respective recent albums share despite the apparent difference in sound.
What is it about the last season of the year that makes it such an inspirational time for music? As 2014 draws to a close and the days get shorter, it feels like there's an embarrassment of musical riches in circulation, many of them in the album format.  From Modern Love's Andy Stott to young Irish artist The Cyclist and Amsterdam-based act Juju & Jordash, the winter months of 2014 will be remembered – by this writer at least – as a time when some great musical endeavours were give a public airing. Accordingly, the final Separate Mind column of this year will focus on these works
The arrival of this music in winter time is the culmination of long months of studio work on part of the artists. They may have been conceived in spring and sketched out in the summer, but they are best enjoyed in an environment where there is limited sunlight, swathes of mould brown leaves underfoot and the constant whiff of peat smoke in the air. These albums, while all different, follow in a proud tradition of many great electronic music tropes and styles – from Detroit techno's sense of soul to Italo disco's comi-tragic melodies and personal dramas to Rhythm & Sound's plaintive dub – by being at turns, reflective, ominous and melancholic.
Despite conjuring up moods that could never be described as joyful, it is important to state that none of these albums are depressing or morbid. Given that so many people suffer form seasonal affective disorder – known colloquially as 'the winter blues' – it would be irresponsible in the extreme of this writer to suggest that the affliction of depression is something for these artists to propagate or for their audiences to aspire to. That said, these albums do sound better on gloomy days, when the sun struggles at any point to break through the thick layer of grey clouds and when a thick coat of fog hangs in the air.
Juju & Jordash, a duo adept at pushing conventional house and techno into some unusual places, have rounded off a stellar year with their fourth album, Clean-Cut, on Dekmantel. Compared to its predecessor, the sprawling Techno Primitivism, it feels more concise and contained, but that's not to suggest  the pair have substituted their free-form approach for linear functionality. Even on the dance floor friendly title track, there's a sense that anything can and will happen, especially when those cosmic pan flutes warble over steely drums and disco pulses.
It's a similar story with "Schmofield" and "Whippersnapper". Both tracks are built on insistent grooves fuelled by tight percussive bursts, which affords the duo an opportunity to add mournful, jazzy keys and eerie synths. Given the mood of these tracks, were they, or the album, recorded during the winter months?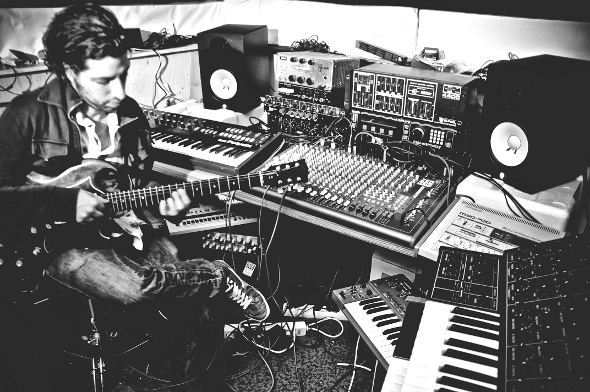 "We were working on it throughout the whole year, so it was a bit of all seasons I suppose," says Juju aka Gal Aner (pictured above). "Our studio is a concrete box in a basement with no windows, so I don't think the seasons mattered too much," he adds, but points out "Amsterdam is mostly a winter city". Perhaps one of the reasons why Clean-Cut feels so reflective, even during its livelier moments, is the jazz influence that looms large over the pair's productions and their approach. Apart from the aforementioned tracks, the atmospheric soundscapes of "Swamp Things" is littered with sax squalls and "Deadwood City" is shot through with jazzy chords and cosmic keys. The overall effect is a swirling, expansive piece of music.
"We are both very big jazz fans, and even met each other through playing jazz," Aner says of Jordan Czamanski, aka Jordash. "So whether we like it or not there is always that influence (direct or indirect), at least in the fact that we rely heavily on improvisation."
This shared love of jazz is audible from the outset, but becomes more pronounced as the album progresses. "Maharaja Mark" is a glorious, chiming guitar-led workout, "Anywhere" is underpinned by subtle back beats but veers off into free-form guitar jamming and "Eventide" is all cosmic keys, sparkling guitars and washes of melancholic ambience .
Did the jazz influence feed into the album's free-form composition – did they improvise and record the tracks live? "We just get bored very quickly with many of the common dance music tropes. We adhere to them often, especially when playing live in clubs, but we almost always end up fucking with the structure simply because it sounds wrong, boring and stale to us. We managed to cultivate a workflow that allows us to ditch traditional structures very easily without having to even think about it," explains Czamanski.
Given that Clean-Cut exudes emotions at every turn, do they think it is diametrically opposed to linear house and techno and explores a range of moods? "We love minimalism and straight forward beats, but I guess we just felt like making something like the dope '80s pop albums that explored many different vibes, but still had a common soul. I would hope that it's from the heart – music that isn't from the heart isn't really music, but more of an intellectual puzzle solving party trick. An exercise in being clever – and we aren't really into that," says Czamanski.
The Cyclist's recent album Flourish on All City marks a significant development in the Liverpool-based producer's production skills. Andrew Morrison, who works as The Cyclist agrees. "Yeah, I believe I've got better at realising my ideas," Morrison says. "Flourish was mainly a positive message, about those music moments that shine through all the rest, whether that is losing yourself at a tiny rave with a backpack full of beer or those moments alone with a track that gives you goosebumps" he explains rather prosaically.
Astute listeners will have already picked up on Morrison's Love Repetitive Rhythmics EP from earlier this year. Recorded under the Buz Ludzha guise and also released on All City, it blended Chicago house rhythms with tape-saturated melodies. Flourish is less direct, but is informed by the same production approach. It also bears a resemblance to some of Lone's work in that it borrows from dance music's early days.
On the aptly named "Tape Grunge Rave", an old hardcore riff lurks behind loud and insistent claps and blasts of garbled noise, while amid the woozy, detuned hooks and cavernous rhythms of "Breathless" an operatic vocal is just about audible. I put it to Morrison that these half-heard elements from the past lend his music a supernatural feeling. "Yeah, I've always sampled sounds a lot. I do a lot of what I call one-shot sampling in that I'll take 1 to 2 second sounds, whether that is a voice, synth, piano or drum and work that sound, through effects and pitching, into another instrument or a rhythm. I feel like it's a good way of referencing my influences," he explains.
"Most of the time the samples are sourced from old tapes and records or gramophone records, so that's always gonna give the tracks a ghostly feeling and the fact that any vocal samples on the album are from people long dead, from the opera singer samples and old gospel/blues vocal samples on "Breathless" and the title track."
Using a wide variety of samples and combining some unlikely elements means that Flourish has a melancholic but upbeat feeling, as the combination of tin pot drums, growling bass and flickering melodic flourishes of "Ripples Through Ice" demonstrates. Combining these sensibilities seems almost contradictory, but Morrison says: "Rather than aiming for a wholly euphoric or darker themed album, I really aimed for a messy, blurry middle ground full of psychedelic inebriation."
Seeking inspiration, Morrison's listening tastes included music as diverse as Boards of Canada, Australian band Tame Impala and Michael Rother's seminal Krautrock act Neu. "I wanted to make sure that the album came off as psychedelic-sounding and felt that giving the tracks a warbling structure, reversed sounds and sudden shifts in tone would help give them that aura and feeling of an overall morphing sound," he says. If this is the case, what does he make of the comparisons to Lone's sound?
"I do love Lone's music, and I can definitely see the similarities in hindsight, say on Emerald Fantasy Tracks or Galaxy Garden, but wouldn't cite him as an influence, I think we just have very similar influences," Morrison says.
One of the main differences between Lone and The Cyclist are the rhythms. Whatever about the kettle drums and stuttering grooves of the Buz Ludzha record, on this new album, it feels like the  backing tracks aren't common to house or techno. "Ripples Through Ice" is a good example. Its clattering drums and scuffled rhythms are lent some muscle via a growling bass, but the arrangement is chaotic and loose, giving the listener a feeling that it's about to break down or implode at any moment. "Breathless" is also notable; here, the rhythm is spacious, hollowed out and stepping, like Morrison was inspired by jungle. It has a really primal, pummeling force, which sets the scene for the producer to introduce those woozy melodic twists and ghostly vocal samples.
"I'd been going to a lot of jungle/bass/garage rave nights in Liverpool all through the recording of Flourish and that had a big influence on a lot of the beats," he says.  "Especially the dubby jungle stuff, I've always been very into jungle and I was actually trying to do my own version of that rumbling bass sound and tried to combine that with the rhythmic elements of deep house/techno and garage," Morrison adds.
Combining powerful sub-bass with techno is nothing new – after all, Kevin Saunderson's Reese project paved the way for many nascent jungle records in the '90s – but on Flourish its combination with rickety beats and morphing rhythms push in a new direction. "I created all the rhythms from scratch on the album, though most of the individual drum sounds are either samples or found sounds," Morrison says. "I try to mix the stable and unstable in my rhythmic and sequencing to give it more fluidity. I feel that having some sounds perfectly on time and others clumsily off beat gives it this ramshackle live appeal."
Given that it is being released in winter, the album's title seems incongruous as it's a time of year when things shrivel and die instead of thriving. The accompanying art doesn't offer any clarity, featuring dancers' arms stretching towards what appears to be a black moon eclipsing the light. Was the album recorded during the autumn or winter? And do the seasons make a difference to the type of music Morrison makes?
"It was mainly made during the cold, rainy weather in 2013, but I think my process has more to do with my surroundings than the seasons," he feels. "I made those ramshackle Buz Ludzha tracks in the crummiest place that Liverpool housing has to offer. I'm nearly always sat pretty close to a radiator or in a big duffle coat jamming away," Morrison says, but admits the most upbeat track on the album, the fragile, melodic "Daisy Spirals", was made in May when the weather was improving.
"You can definitely hear it; I was walking in the sun to pick up some records from the post office after making the beats and chords and I started humming a bassline. I had to just keep humming it until I got back to make sure I could get it recorded."
For Andy Stott, the direction of his third artist album, Faith in Strangers on Modern Love, was shaped by a number of factors, including his gradual shift from software to hardware. While the Manchester producer admits he didn't have a set plan for the album before he started recording, he does feel the changeover to hardware made a big difference.
"I was trying out all of these different types of kit and what they sound like. You can really push hardware much more than software," he believes. The resulting work is Stott's career highlight, a dense, dark and multi-layered album which in places sounds like it was tailor made for gloomy afternoons and foggy mornings. It starts with the sombre textures of "Time Away", which features what sounds like a foghorn steering ships from the rocks. As Stott explains, "Time Away" was one of two collaborations on the album.
"When I was still working in the garage, I heard a girl talking about music and she sounded really knowledgeable," he recalls. "So I got chatting with her and found out that she is in a brass band and plays the euphonium – no, I'd never heard of it before either – but I thought there must be something in that," Stott adds.
It is Kim Hollythorpe's euphonium that blasts through Stott's bleak sonic textures on "Time Away", and the instrument would have featured more prominently on the album if, as Stott prosaically recounts, "my computer hadn't gone tits up and we lost a track".
Despite this, it looks like the pair will collaborate again. Stott enthuses about a recording of Kim practicing the euphonium on a hillside outside Manchester with the noise of a construction site in the background.  "It sounded amazing, but it was recorded on her phone and the quality wasn't good enough," he says.
The other collaborator on Faith in Strangers is Alison Skidmore, Stott's former piano teacher who also contributed to 2012's Luxury Problems album. This time, he says her involvement was more structured and that she had more direction. "It felt like she had more to say this time and she sent me four-minute songs with verses and choruses. She was definitely more involved in it than she was on Luxury Problems," he believes. Skidmore's vocals are all over the album; from the hushed tones of "Violence" to the funereal closer, "Missing" and the mysterious "An Oath", which appears to feature interplay between her and a male counterpart. However, Stott explains that these too were Alison's vocals treated to sound radically different.
"Violence" sees murderous, death-march drums kick in midway through, "Damage" is all distorted bass and razor sharp snares and the psychedelic textures of "No Surrender" are underpinned by killer subs.
Does he feel that he has created his darkest work yet? "It's not intentionally dark, but the thing that is consistent is this undercurrent of violence. Take the track "Violence", it's a slow track but the way it starts to spill over, it becomes quite violent and nasty," he believes, before explaining that "the tracks by other producers that I love are either heartbreakingly beautiful or have an undercurrent that put you on edge. You don't need to make fast tunes to be dark. I have felt that for a long while, but it took me a long while to release music like that, with no compromise."
Whatever about the themes explored on the album, Stott's own life since the release of his last album in 2012 – also in the winter months – has been full of positive experiences. He gave up his job in the garage to focus on music full time, got married in the same week as Faith In  Strangers was released – this writer spoke to him a few days after he returned from his honeymoon – and he also toured the Luxury Problems album.
It is from his experiences on the road that the album title is derived. "You see the people you work with more than your family. I was flying around the world and all these different people were responsible for me, welcoming me into their country and sometimes into their homes. I just had this faith in strangers and that's where the title comes from," he explains.
It's a positive message and one that seems at odds with the dark themes and sounds explored on the album. That said, Strangers does have its lighter moments. "Science & Industry" is a brittle techno groove supported by a resonating bass and featuring a particularly kooky-sounding, Bjork-esque Skidmore, while the title track is a gloriously dreamy affair, with Skidmore's indistinct tones supported by twitchy drums and Stott making his debut on bass.
"I got a bit obsessed with early Cure and John Maus when I was recording the album and they always use a Rickenbacker bass. I ended up buying one and playing it on "Faith in Strangers", but my use of it is pretty limited," he explains.
Does he feel that Faith in Strangers is a particularly wintry album? "It has a dark undercurrent, but it's just an Andy Stott album that's released in the winter," Andy believes. "This is just what comes out when the machines are turned on, there is no plan. God knows what'll happen now that I'm a married man – maybe I'll make some Italo."
Interviews and column by Richard Brophy
The aforementioned excellent albums from Andy Stott, Juju & Jordash, and The Cyclist are all out now on Modern Love, Dekmantel, and All City respectively.
Gal Aner portait by Carolina Georgatou
The Cyclist portrait by Shaun Bloodworth
Andy Stott portraits courtesy of Modern Love