Best reissues and archival releases: October
Scott Wilson rounds-up October's essential reissues, including classic '90s IDM, German tape music from the 1980s and a timeless Italo disco classic.
Monoton – Monotonprodukt 02 (Desire)
There's been something of a surge in interest around Konrad Becker's Monoton alias over the past few years – just a few months ago Becker revisited the alias at the Berlin Atonal festival with a live set of his 1982 album Monotonprodukt 07. A FACT interview with Becker from 2012 offers a great primer for those who aren't familiar with it's concepts, but in short it was inspired by Becker's fascination with the idea of "a 'dehumanized' musician as the producer of denaturalized sounds," and an exploration of repetition. Monotonprodukt 07 is the more well known example of Becker's Monoton material, but it was actually preceded in 1980 by Monotonprodukt 02, which Desire has also elected to reissue.
It's obvious to see why Desire reissued Monotonprodukt 07 first, because it's a much more expansive album than its comparatively basic predecessor. According to Becker, Monotonprodukt 02 was created with a much more simple set-up of a drum machine run through a cheap echobox and monophonic synth-bass, supposedly "augmented by an oil drum standing around in my studio and an old violin." However, this simplicity doesn't make Monotonprodukt 02 any less interesting; if anything the increased restrictions feel like a truer reflection of Becker's original intentions with the project. The glowing tone of "Teil 2" for instance is pure irradiated sci-fi incidental music, while the downtempo beat and sombre melody of "Ein Wort" uses Krautrock's motorik rhythms to create an eerie feedback loop. Monotonprodukt 02 is proof of the old adage that it's not what gear you've got, but what you do with it.
Listen/buy vinyl
Various – Science Fiction Park Bundesrepublik: German Home Recording Tape Music Of The 1980s (Cache Cache)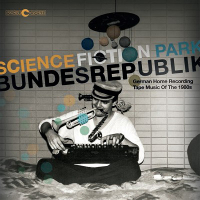 We're certainly not short of reissues exploring the DIY tape scene of the 1980s, but when the compilation in question is exploring the German scene, and comes curated by recent Minimal Wave subject Felix Kubin, it's a fair bet it's going to dig deeper than the average collection of lost tape cuts. Given Kubin's involvement, and of the Cache Cache offshoot of prolific Northern archive label Finders Keepers, it's unsurprising the selections err on the more idiosyncratic side – if you're looking for straightforward synth-pop or post-punk, you're certainly not going to find it here, and it's all the better for it.
According to the sleeve, "everything that isn't nailed or riveted down is used as an instrument" by these acts, including "baking trays, cartons, room lamps, toys, wooden flutes whistles, cans, trays, record players, televisions, a doorbell, a telephone". Whether this is true or just artistic license is unclear, but the music certainly sounds as eclectically realised as the description suggests. The synth-punk of ZSKA's "La Surete Nr 3" sounds as if it's been made by a circuit-bent Stylophone, while Neros Tanzende Elektropapste's "Der Singende Lenorhaushalt" sounds like a collage of cutlery, audio junk and white noise clattering around in a burlap sack.
Not all of the record is quite so obviously home-made; CHBB's "Ima Iki Mashoo" has a more distinctly monophonic sound in common with more conventional wave of the time, and Cinema Verite's "Die Zone" sounds like a trip into the radiophonic ether only someone with a reasonable grasp of synthesis could have created, but there's no getting away form the fact that most of Science Fiction Park Bundesrepublik sounds like it should be soundtracking the rides in a fictional Cold War-era theme park.
Listen/buy vinyl
Charlie – Spacer Woman (Dark Entries)
Dark Entries is undoubtedly having something of a banner year – each month it's a case of not what the label is releasing, but which of the multiple reissues can you actually afford. Earlier this year Dark Entries reissued Severed Heads' Dead Eyes Opened, probably as close as it's possible to get to a seminal work of post-punk electronics. Whether the label has some kind of direct line to those responsible for the classics or it just works that bit harder than every other label is unclear, but its latest reissue is another universal classic.
Even if you're completely ignorant of the history of Italo disco, it's a fair bet you'll have heard Charlie's "Spacer Woman" at some point. For me it first came through a filesharing service in 2006 as part of a compilation called I-Robots, a year or so in advance of the disco revival of the late 2000s. Back then, it seemed to come from a universe as alien as the female alien protagonist at the heart of the song's flimsy narrative, and to be honest, it still does now. While Italo disco undoubtedly mutated into the terrible Euro dance of the '90s, which in turn gave rise to the current wave of EDM, nothing can take away from the dreamlike quality of the genre – and "Spacer Woman" is Italo at its surrealist best.
Listen/buy vinyl
Alberich – NATO-Uniformen (Hospital Productions)
Dominick Fernow's Hospital Productions is another label having a brilliant year in 2014. While it certainly hasn't done anything markedly different this year, albums from acts like Ninos Du Brasil, Clay Rendering and Alessandro Cortini, and a killer collaboration between Fernow's Vatican Shadow alias and Function have made for one of its most diverse years to date . However, the label has also revisited a few choice highlights from its own back catalogue on vinyl this year; Prurient's Cocaine Death was one, and Alberich's NATO-Uniformen is another.
Alberich is the alias of noise and industrial artist Kris Lapke, who spent time immersed in Rhode Island's noise scene before starting the project in 2005 following the break-up of a long-term relationship (his debut was titled If She'd Take Me In Her Arms I'd Weep Like A Child). Speaking to Ad Hoc last year, Lapke explained that the "content has shifted a bit since the earlier tapes, evolving from romance and longing into existentialism and militaristic imagery," and NATO-Uniformen evidently came from this later period; originally released on a set of eight cassettes, limited to an edition of 50, the four-hour, 30-track original sounds as close as you can get to a noise marathon without sitting through the entire Hospital catalogue.
I haven't heard the original, but this abridged vinyl reissue, featuring what is still a hefty 19 tracks, sounds more than intense enough, with tracks like "Gas Mask" and "Europa" providing as much searing mulch as classic Whitehouse. It's also an album that has a lot in common with today's landscape where noise meets with techno rhythm; the near-gabber rhythms of "Skyweeper" and "Limit Mitigate Counteract Transmute" for example sound as punishing as anything Container or Vereker are doing at the moment. However, it's the gentler moments of woozy, irradiated ambient like "Engaged" and "Atlantic Munitions Development" that really stand out, moments of uneasy calm peppering Lapke's landscape of sonic warfare.
Listen/buy vinyl
Boards Of Canada – Hi Scores (Skam Records)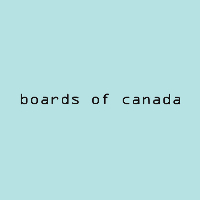 Originally issued in 1996, Hi Scores certainly isn't an essential record in the way Music Has The Right To Children has become, but it's arguably a very interesting one – especially for those only familiar with the duo's later material on Warp. It would be unfair to say that Boards Of Canada's sound has calcified over the years, but there's a sense of knowing what to expect from their music – something not especially helped by last year's beautiful but unsurprising Tomorrow's Harvest. To those (like me) whose BoC knowledge only stretches as far back as their debut album, Hi Scores is something of a revelation – a six-track EP whose jagged textures and occasionally visceral breakbeats are an intriguing counterpoint to the more dreamlike sounds of Music Has The Right To Children and Geogaddi.
Quite why Skam has chosen to reissue it on vinyl now is unclear, but its arrival at the same time as Aphex Twin's Syro feels quite synchronicitous – there's a balance of rawness and joyous melody that feels very common to both. The title track may be slow in tempo, but the blown-out kick drums and snares sound like they could be an example of Richard D. James' jungle experiments. "Nlogax" meanwhile sounds like it could be some classic NYC electro-funk, while "June 9th" sounds like its tapping into the Drexciyan variety of electro for inspiration. Boards Of Canada have always been seen as part of the IDM genre, but to be honest, Hi Scores feels like the closest their music has got to the dance part of the acronym.
Listen/buy vinyl
Scott Wilson