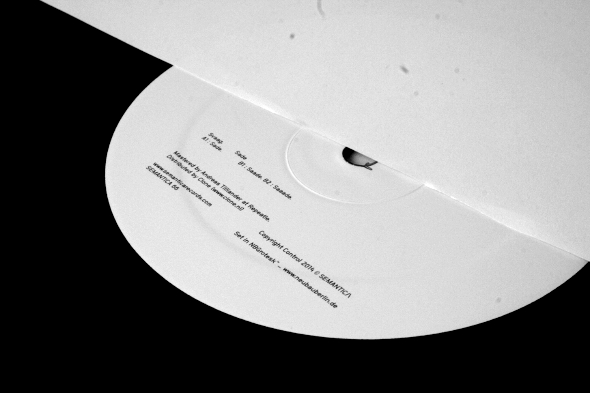 Sweden: so techno right now. Take in Abdullah Rashim and his Northern Electronics crew, Peder Mannerfelt, SHXCXCHCXSH and all that encompasses Planet Skudge (yes, another sub-label is on the way); these Scandinavians are creating a similar stir to what Italians Donato Dozzy, Dino Sabatini and Lucy did back in 2010. But Andreas Tilliander, a techno authority, has always been in the thick of it, most prominently of late making acid-lines and Roland drum machine sequence in new ways as TM404, or trawling the nethermost depths of atmospheric dub techno as Mokira.
Now on Semantica he debuts a new project and it's called Svaag. Going by these first three productions, Svaag, very much like Peder Mannerfelt's solo work, is minimalist power electronics. Each track is raw, un-mapped, and evolving to the point where they peak without losing direction or composure. It's composure which helps this record stand out from similarly processed music. There's power, there's force, snarl, groove and drone, but also, within these dense asphyxiations of gurgling waveforms there's just enough space for the sounds to breathe.
Every session begins with a loop that's fundamental to each production, and on this Sade 12", each track is defined by its crude opening bass rhythm. Beats are either hidden deep within a dense cluster of gnarly tones – high frequency pops the indicator that they're there – or like the B2, "Saade", drums slink into the mix to create a bodily rhythm complimentary to a sound championed by Raster-Noton. The music of Svaag aligns with the current output of Diagonal Music and Subtext to Samuel Kerridge without needing to go extreme as Shapednoise. Techno, noise, experimental sound design?
Like a lot of interesting music at the moment, although not entirely singular, Svaag's is unclassifiable, and remaining ambivalent to where it should be placed is a good way to take it in. Listening to each production in full for the first time is like watching a mad scientist – who for the sake of this review we'll call Professor Svaag – play around with chain reactions and electrodes inside of a sterile Petri dish. This itself adds another discordant drop of cultivation to the wild osmosis of sound thriving in and around Tilliander's homeland.
James Manning
Tracklisting:
A1. Sade
B1. Saade
B2. Saaade