Every creation starts with destruction: An interview with Ekman

The Dutch producer reveals the methods and motivations behind his deranged acid and sewer techno to Richard Brophy. 
Over the past few years, there has been an electro resurgence, with a contemporary wave of artists putting out new and challenging interpretations of this mature sound. Joining impressive new school artists like Versalife, Gesloten Cirkel and The Exaltics is Ekman. Hailing from the Netherlands, Ekman, real name Roel Dijcks, has released a series of records on Panzerkreuz, Solar One and Berceuse Heroique that encapsulate many of the form's best qualities: futuristic rhythms, seismic bass, and a sense of melancholia and alienation.
It's clear Ekman is not just another skilful but unimaginative copyist; he also ventures into deranged acid passages and Bunker-style sewer techno stomp. Roel's also not afraid to have a laugh, as the daft vocals and pounding subs of his recent "Fuck Your Rock And Jack Your Funk" track for Berceuse Heroique demonstrates.
When this writer asked him about his musical background, he explains: "I played tuba in the local marching band." Is this another example of his sense of humour? "No, it was one of the few things I did as a hobby for a kid in the part of Holland where I grew up," he adds, explaining that he is from the 'deep south of Holland' and not the 'west coast' electronic music hub. "There wasn't much else to do, but I think that's where I got interested in bass. After that I played guitar and bass in some punk bands, until I played with a friend's computer. This made the whole concept of making music way easier, there were no other people required and no compromises."
Despite getting turned on to the capabilities of technology, Roel remained rooted in punk rock and explains that he grew up with the Dead Kennedys and Crass before moving onto metal and Goth bands like Immortal and Wumpscut. The grand Dutch tradition of bicycle travel also gave him the opportunity to get his hands on music from across the board. "It wasn't easy, but there was a small record store a good bike ride away. I spent most of my free hours there growing up," he recalls.
"It was the best place for me as they had all the great stories of the '80s and knew about a lot of music. They introduced me to the old school punk bands and more. Later I started working in a record shop, which kept feeding my fascination for music. This is a very good way to broaden your interests and perspective in music. I learned so much from customers and the two owners of the store," Roel adds. "Around the same time, I was starting to go to illegal raves. From then on, my interests were never focused on one genre or style alone."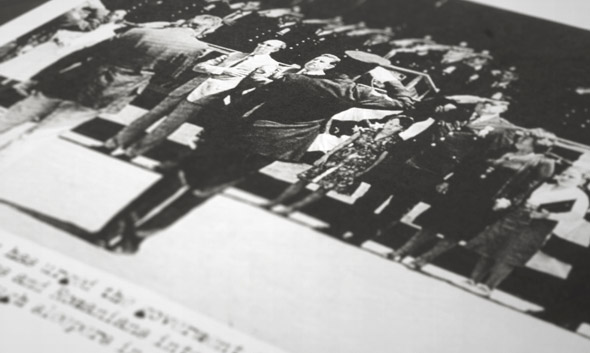 Nowadays, Roel says he still listens to a diverse selection of music, "from classical to Italo disco," which goes some way to explain his unwillingness to pinpoint one style as defining his own musical output. "It always makes me wonder why this would be a question. I was in to electronic music but I was also listening to bands, both still apply," he replies when prompted. "Of course my background influences what I make, I think it's impossible not to. My music is informed by what I consider music and what I like and listen to. This can be in a very wide perspective, and not always directly influenced."
Like many Dutch producers though, he underwent the rite of passage of buying Bunker releases and attending some of the label's fabled parties in The Hague. He cites I-F, Electronome, "and most of the Bunker releases" as being influential, but admits he arrived too late to experience the true madness of the squat parties.
"My first Bunker party was in 2004, so I missed the Acid Planet years," he says, but adds that immersing himself in this world still proved to be a formative experience. "I heard, "I Do Because I Couldn't Care Less", from I-F for the first time at this Bunker party and I was hooked." Like many contemporary artists, Roel says these experiences proved pivotal to his own development. "I love the Dutch sound that was formed in the '90s," he adds.
Unsurprisingly then, once Roel started producing he approached Dutch label, Panzerkreuz, with demos. Despite this, Roel is adamant he didn't use connections to get his foot in the door. Instead, he used the good old fashioned method of trying and trying until label owner Guy Tavares finally signed some of his tracks, which formed the basis of his first Panzerkreuz release in 2012, simply called Untitled. "There were no hook-ups, no connections. It was the only label I was sending demos to. It was my fourth or fifth demo, and it probably would have been the last one, but after almost a year I got an email back from Guy asking if the tracks were still free," he explains.
Thankfully, Tavares finally responded because Untitled – which is now difficult to track down – effectively set out Ekman's sound. Moving from the EBM rhythm and apocalyptic screeches of "Antennas Overture" to the pared back groove, distorted drums of and brutish grind of "Those Were The Days" and "Some Kind of Blue" into the eerie, night-time world atmospherics of "Little Did He Know", it seethes with a bone-crushing intensity. On "The Redshift" and "Weakness is Showing", Roel reverts to a traditional electro sound, which he had explored in greater depth on his M.S.P. album for the Solar One label. Less grandiose than Anthony Rother's epic re-positioning of electro during the '90s but still full of alienated, sinister twists, M.S.P. was in keeping with Solar One co-owner The Exaltics' own approach.
Roel revisited this style for the cold, robotic Tessellation Automata release on Abstract Forms, which came out after his Panzerkreuz debut. Explaining the shift in sound, Roel says: "Most releases are curated by the labels that release them. Both releases are part of my sound; it's just what they choose to release. Panzerkreuz is one of the few labels where I can curate the release myself."
Does this mean that Guy Tavares is a hands-off label boss?
"No, the difference is that I contacted Guy by sending him a demo, which he released. All later releases have been requested by the labels," Roel points out.
Given that Tavares pushes the boundaries of techno, electro and acid on both Bunker and Panzerkreuz, does Roel view him as a visionary, someone with the courage to put out challenging music from the fringes?
"No, I think the word 'courage' doesn't fit. It would mean that the validation comes from others. I think Guy loves the music he puts out. He does what he's good at and works from his own passions and fascinations. In this case you do it because that's what you do, if other people like it that's perfect, but not the main point," he explains.
All the same, it does feel like the Ekman releases fit neatly into what has become the Panzerkreuz house style, irrespective of who is A&Ring them.  So what does he make of the grainy thump and industrial oppression hammer blows that his label mates release?
"I love the stuff that Andreas Gehm/Elec pt1 does on Bunker and Panzerkreuz, same for The Exaltics and the recent one from Helena Hauff," he proffers. The latest Ekman release for Guy Tavares' label isn't too far away from Gehm or even the acid swagger of Mick Wills, and yet it also perpetuates a narrative of noisy distortion that is audible in the Ghettogem vs Black Sites release, or looking further on Gesloten Cirkel's album Submit X .
It's probably the single characteristic common to all Ekman records – and other great contemporary techno and electro records – that they are grainy, flawed and imperfect, the opposite of precision and polished production techniques. Is this something deliberate that he strives for?
"Yes, beauty and perfection are boring to me, no tension, no double layers or paradoxes. It's a dead point," Roel believes.
"Every creation starts with destruction. You break eggs and crush berries to make paint; you cut down and kill plants to make the canvas. The same goes for musical instruments or drum computers and synthesizers. It's an inevitable process in nature. If you try to take out all these elements and don't allow for something unexpected to happen, it will always end up being part of the grey mass," he adds.
Given that his music is in places so utterly bleak and impenetrable, it's also worth asking whether he uses his music as a platform to document experiences in his real life. "Yes, making music is my way of coping with reality and confronting myself with my moods, fascinations and ideas," he says. When this writer follows up by asking if he likes other music that comes from the dark side of human emotions, Roel simply states: "Yes, I love Italo disco."
Similarly, when asked about why he sometimes uses vocal samples in his tracks, he claims it is "because I have a great singing voice". There also appears to be no onus on splitting the private and personal, as Roel explains the reasoning behind his stage name. "Ekman has no background, it's an alter ego. He is part of me, but not me. The name has different connections for me and it fitted perfectly," he says, adding that, "I like the information distortion it creates on the internet for instance, it's counter effective and that's part of why it works".
Nonetheless the artist's dark sense of humour is never too far away and it bubbled to the surface on "Fuck Your Rock And Jack Your Funk" on Berceuse Heroique. The track is fuelled by typical Ekman bone-crushing bass power, but it is also his goofiest, with a daft, nonsensical vocal turning it into something of an anthem.
"I like the track, it works. It was kind of meant as an ironic track, the vocals don't make sense – but probably this proves my point why I felt that I had to make the joke in the first place. Saturday night in a club, the people there don't want to hear interesting or challenging music," he believes. "They just want to hear stuff that sounds familiar, even if it doesn't make any sense."
If Roel had his way, it is entirely possible that "Fuck…" would still be gathering dust in his studio. They way he tells it, Berceuse Heroique had to use their powers of persuasion to put it out as a split 12" with Breaker 1 2.
"Berceuse Heroique mostly picks tracks I wouldn't release myself and the next one is even called "Gizmo Made Me Do It" (named after the label owner)," he contends. "I didn't want to release it at first, but Gizmo was relentless. But it's good to have this counter balance. For me the tracks are connected to the moment and vibe when I made them, so I haven't got an unbiased opinion on them as music for other people."
Roel has also provided, Acid 7, one of the most recent releases on the tireless Berceuse Heroique label. Like 2013's Heimwee record for Shipwrec, it sees him focus on frazzled, acid-tinged techno. Did '90s techno have an influence on him? Roel tries to deflect the question again by claiming the label "selects what to release. I produce a lot of music", but he also explains that this fusion of electro, acid and techno arose out of necessity.
"I played live a lot at small parties and empty bars in the first few years. This influenced the danceable aspect of my music and introduced more acid and techno influences into my mainly electro orientated sound. I wouldn't go as far as calling it DJ friendly. It's meant for DJ's that's why I release on vinyl, but I wouldn't say I make it easy for them," he believes.
With Ekman, his main focus for the past few years, Roel is gradually beginning to pick up bookings. The weekend before we spoke he had just played Moscow and with an agency working on his behalf, he says the requests are increasing. The number of Ekman releases scheduled for the coming year will do no harm to the level of gig offers, with records due out on The Trilogy Tapes and Berceuse Heroique (the aforementioned "Gizmo Made Me Do It", which will feature a Breaker 1 2 remix) as well as an EP for Bedouin and remixes of Dez Williams and Jauzas the Shining. Roel will also release a full album for Berceuse Heroique in the future.
With such a volume of music due out, it would be reasonable to assume that every track Roel makes gets a release, but he claims that only 10% makes it onto vinyl. Is he a perfectionist?
"No, I'm definitely not, I mostly make and record tracks in one sitting. It doesn't work for me to go back in to a vibe of two days ago. I'd rather make a new track from scratch, but I'm very critical of my own work, I think you have to be if you record that much," he believes.
From marching in a band to delivering killer blow electro-techno jams, Ekman's approach has worked wonders so far.
Interview by Richard Brophy