Best reissues and archival releases: March
Records from Recollection GRM, Dark Entries, Into The Light and Hospital Productions are among March's selection of the best reissues and archival releases. 
Columns of this nature are rarely going to be consumed by one overriding theme, yet the number of releases this month which fall loosely into the category of early electronic music seems impossible to ignore. Although taking in analogue and digital techniques, the music of Jean-Claude Risset, Vangelis Katsoulis and Morton Subotnick all loosely fall into a style that increasingly seems to be inspiring a number of contemporary musicians and labels: Daniel Lopatin, Chris Madak and Rabih Beaini have all been releasing music of late that seems to resemble the very earliest examples of electronic music. While it would be wrong to suggest that there is a direct imitation going on, the fact the music of the past is in some cases even wilder than the music of the present, you have to wonder whether things got more conservative along the way, of if the world just wasn't quite ready for the seemingly random oscillations of early synthsisers and computer programs.
Although this month saw a killer selction of honourable mentions in the reissue realm, including Arthur Russell's World of Echo, Blackest Ever Black's collection of early demos from the Young Marble Giants-affiliated outfit Weekend, a reissue of the classic Akira soundtrack and some early industrial sounds from Maurizio Bianchi, it was, on the whole, these timeless examples of early electronic music that stood out.
Jean Clause Risset – Music From Computer (Recollection GRM)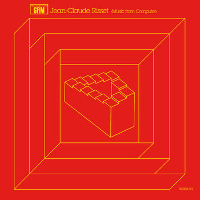 Of all the nodes making up the increasingly sprawling Editions Mego empire of labels, Recollection GRM must surely be one of the most rewarding for those looking to brush up on their knowledge of early electronic music. Since starting in 2012 with a reissue of Pierre Schaeffer's Le Trièdre Fertile, it has dug into the vast archives of the Groupe de Recherches Musicales collective, delivering essential works of early electronic and electroacousic music from Iannis Xenaki, Luc Ferrari and the late Bernard Parmegiani among others.
The label's latest release, which features three pieces from French composer Jean-Claude Risset, is something a little different from the rest of the catalogue, which has primarily focused on Electroacoustic music. As the title Music From Computer suggests, pioneering work in computer-generated sounds is the focus here, and features three pieces composed between 1968 and 1985 by Risset. "Computer Suite From Little Boy" comes from 1968 and is one of the earliest works made entirely with a computer, featuring sounds entirely synthesized using the MUSIC V program. The other two pieces, "Sud" and "Mutations", which come from 1985 and 1977 respectively, are much less basic, the first utilising found sounds, and the second focusing more on timbre, harmonics and tonality. There are many links here between the works of Parmegiani, while those who have heard any of Chris Madak's recent catalogue as Bee Mask will find much commonality between the atomic manipulation of sound going on in Risset's work, making it vital context for many of today's experimental sounds.
Listen/buy vinyl
Vangelis Katsoulis – The Sleeping Beauties: A Collection of Early and Unreleased Works (Into The Light)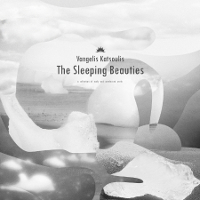 Founded last year by Echovolt Records boss Ilias Pitsios and Tako Reyenga of Redlight Records, the Into The Light label delivered one of the year's finest collection of archival material in the form of Into The Light: A Journey Into Greek Electronic Music, Classics & Rarities (1978-1991), a compilation which highlighted the under-recognised strands of electronic music coming out of Greece towards the end of the last century. One of the most impressive figures covered by the compilation was Vangelis Katsoulis, whose track "Improvisation" was like a strange mid-point between Terry Riley and '80s synthpop, adopting a "classical muzak" style that couldn't be more relevant in the wake of Oneohtrix Point Never's fantastic R Plus Seven album for Warp Records last year.
It's Katsoulis that forms the subject of the second release on Into The Light, and The Sleeping Beauties displays just how brilliant his music was. It's difficult to know exactly how deep his influence runs, but I suspect that Daniel Lopatin must have listened to his music at some point; tracks like "The Slipping Beauty", "Enigma" and "Living Colours" have vivid synthetic timbres that seem almost identical to a lot of the aforementioned R Plus Seven album. Katsoulis' work is considerably less mind-bending, but it still feels wildly futuristic, taking the loop-based composition of minimalist composition and turning it into the kind of thing you'd imagine being piped into utopian dome-based civilisations of the future. If the catalogue of Katsoulis is as rich as this, it bodes very well indeed for any similarly in-depth projects we might expect to see form Into The Light in the future.
Listen/buy vinyl
Prurient – Cocaine Death (Hospital Productions)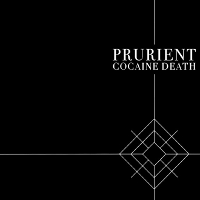 Whether you know him as Vatican Shadow, Prurient, Rainforest Spiritual Enslavement or just plain Dom Guwop, Dominick Fernow has been a difficult presence to avoid over the past few years. Although he has released a staggering amount of material on his Hospital Productions label since he started it in 1998 aged only 16, it was perhaps the Blackest Ever Black release of the Iraqi Praetorian Guard 12" under his techno-focused Vatican Shadow moniker that catapulted him from being an underground noise icon into the wider musical consciousness. Since then he's also brought his noise project Prurient to BEB, and the general interest in his work has arguably snowballed as the boundaries between noise and more conservative electronic forms are chipped away.
Despite this, Fernow's discography remains impenetrable to many, something in no small part down to the numerous out of print cassette releases and his intimidating digital catalogue. For those looking for a way in, the recently reissued Cocaine Death might be a good place to start. A compilation of three of his cassette releases as Prurient, this remastered vinyl version includes material from 2007's Cocaine Death, Caribbean Overdose and Tylenol Murders tapes, eventually compiled as Cocaine Death for a 2008 CD version.
Fernow's material often explores dark themes (just look at the politically-loaded track titles for his Vatican Shadow material for examples), and Cocaine Death is no different. The label describe it as exploring "the relationship between futile pleasure, substance and escape; escape being a myth", with "the glamour and destruction of toxic nightlife" and "the sexual reproductive life of plants" being the main subjects covered. Whether you're willing to subscribe to the themes of the record or not, it's impossible to resist the way in which Fernow layers his sound into something dread-filled yet strangely comforting. It seems to be that engagement with an emotional place unique to Fernow that makes him so revered, and this record is a fantastic example of it.
Listen/buy vinyl
Morton Subotnick – Silver Apples Of The Moon (Karlrecords)
If the flurry of interest in the works of Philadelphia-based musicain Charles Cohen brought to us by Morphine Records last year is anything to go by, it seems like the Buchla family of synthesisers could well be the next piece of vintage musical hardware people will be remortgaging their houses for. Don Buchla's contribution to the world of the synthesiser may not be as widely known as that of Bob Moog or Dave Smith, and may not have been as commercial as anything made with any of Roland's legendary devices, but the music made on Buchla instruments is as easy to identify as anything made on a TB-303. As well as the distinctly piercing timbre, the unique layout of Buchla instruments encouraged a kind of improvisational approach not seen in many other analogue devices since.
In the wake of Morphine's exploration of Cohen's work – who uses a Buchla Music Easel for all of his music – the reissue of Morton Subotnick's Silver Apples of the Moon could not have come at a better time, reminding us that Cohen is by far the only musician to have created such wildly experimental work with one of these devices. Dating from 1967, the piece comes in two parts, and was originally commissioned by Decca as the first electronic composition especially conceived for a vinyl release. The idea the the now Universal-owned Decca would put out a record like this seems almost inconceivable today, and it must have been equally as daring then; despite the amount of LSD that was no doubt being ingested by potential listeners at the time, the improvisational free-form nature of the two pieces is just as challenging now as it was then. If you can imagine an entire 30-minute album made up of audio cues from 60s sci-fi movies, split at the atomic level and rearranged in a rhizomatic fashion, you're probably only half way there.
Listen/buy vinyl
Psyche – Re Membering Dwayne (Dark Entries Records)
Canadian outfit Psyche are no strangers to the reissue – JD Twitch put out All Things Pass Into The Night on his Optimo Music imprint in 2012, which featured their well-known cover version of Q Lazzarus' "Goodbye Horses", highlighting them as a synthpop act worthy of closer investigation. However, the band's history clearly runs much deeper than their catalogue would have most believe, as this brilliant archival release from Dark Entries demonstrates.
Although brothers Darrin and Stephen Huss made up the core members of Psyche, the band's earliest incarnation incorporated their schoolmate Dwayne Goettel, performing for the first time as Psyche in Edmonton, Alberta back in 1981, with a live show that was, according to Dark Entries, "a combination of horror and electronics that was completely unprecedented in Western Canada". Goettel left the band before any material was released, but the earliest recordings still remain, and 19 years after Goettel's tragic death, the Huss brothers have teamed up with Dark Entries to release Re-Membering Dwayne, an eight track LP of visceral electronics shot through with the spirit of punk, something which was in large part due to Goettel's influence.
Regardless of whether you're familiar with Psyche's later material or not is irrelevant on listening to the eight tracks that make up Re-Membering Dwayne; it's fair to say that these tracks will hold as much appeal to those who prefer the cleaner, angular sound of minimal wave as those whose tastes may be a little more industrial, and it seems criminal that these tracks haven't seen the light of day until now. The pulsating synths and distorted guitars of "Torture" rise like an air raid siren, channeling the frenetic energy and improvisational melody of Devo together with the dark electronics of the early Mute catalogue. The nihilistic vocals of "Krieg" are like an alternate reality Erasure, the EBM pulse of "The Crawler Theme" could be a lost Nitzer Ebb instrumental, and the tortured squall of "Screaming Fire" is just as hellish as the name suggests. In short, this is essential stuff.
Listen/buy vinyl
Scott Wilson