Best of 2013: A Best Record Sleeve review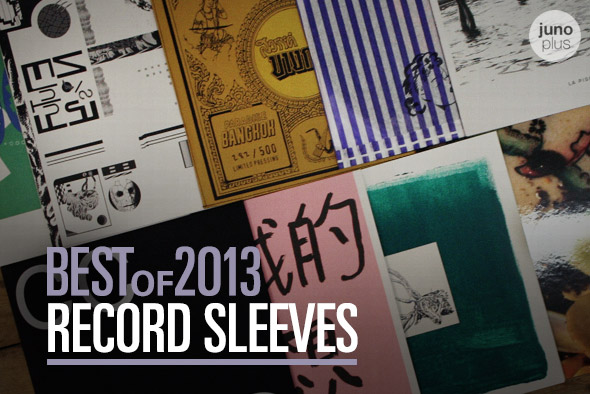 We look back over the past twelve months of the Best Record Sleeves column and pick out the year's most impressive selections and those responsible for them.
Despite the now famous thoughts on the matter from FXHE boss Omar S, presentation is a key part of releasing music on physical formats these days, and the past two years of compiling this column have revealed a few names who excel on a regular basis. Chief among them this year has been Will Bankhead, the Check Morris agency and Adult Art Club's Jonny Costello. Bankhead's role at the head of The Trilogy Tapes has resulted in some of this year's most distinctive sleeves, whilst both Check Morris and Costello have been instrumental in helping establish a visual aesthetic that complements the Antinote and Perc Trax labels they have worked with over the course of the year.
It's hard to single out any individual record for special praise, such were the high standards from all three, and after several rounds of editorial scissors, papers, stone proved inconclusive, we agreed two records from each should feature here. The simple yet bold illustration for Tuff Sherm's Burglar Loops represents the TTT corner along with the faintly bizarre cover art for Come, Hither Pappy from Eomac, whilst Costello's vaguely Cronenberg-style photo visual work on the Matt Whitehead reissue and Perc's collaboration with Truss are chosen. Given the intricate nature of the sleeve design done by Check Morris for the IUEKE releases, we had to include the Alecot 12″ whilst the label's fifth release from Geena was the best example of Mathias Pol and Nicolas Motte's rich screen printing prowess.
This year saw Optimo Music grace us with two wonderfully vivid Golden Teacher releases, each of which was issued initially in some striking artwork and sleeve design done by the band themselves. We're still not sure what the inky abomination that covered the back of their debut 12″ Bells From The Deep End issued back in January, but it remains one of the most memorable sleeves this year, thanks to the hypnotic patterns and the excerpt from The Screwball Asses, Guy Hocquenghem's 1970s radical zine on gay theory that adorns the front. Emerging earlier that month, La Piscine by In Aeternam Vale was the first of countless lovingly presented records issued by Minimal Wave over the course of 2013 and the understated photographic print used by Veronica Vasicka was perfectly evocative of Laurent Prot's druggy brand of early techno held within.
The Streetwalker LP on Vasicka's other label concern Cititrax has already gained recognition in the Best Albums list located elsewhere on this site, and it deserves further plaudits here for the cover art with visual designer Spencer Longo feeding off Beau Wanzer's love of sci-fi comic books which kept the design in-keeping with the hand crafted reconfiguration of the music. Since its launch in February, EPs from Fabric's Houndstooth operation have drawn strongly off the club's logo in a similar manner to Clone's 12″ output – it's striking the first time you see it and the design stays with you. The fact Houndstooth elected to encase Call Super's label debut with a stickered image from the producer's father David – a celebrated artist in his own right – seriously questioned our desire to break the seal.
One of last year's most memorable sleeves was the sweetie bag wrapper the Chips & Sweets 12″ from Apron boss Funkineven arrived in, and the label replicated that magic this year thanks once more to the design skills of Benedetta Sodini with Dreams Of Coke wrapped and sealed in a similarly alluring candy-striped paper bag. The question we ask is did you keep it sealed and untainted to cynically profiteer at a later point or did you enjoy the music within? Those who were successful in fighting the foil wrapped DVA Damas LP on Downwards will have been able to admire the best example of inner paper inserts commissioned this year.
If you have attended Hamburg club Golden Pudel or been a regular consumer of the FACT mix series in 2013 then you should be familiar with the visual skills of Alex Solman, who also excelled with his input on Demdike Stare's Testpressing series, with each of the four records highly convincing replicas of real test pressings rife with humorous misdirection. Scottish design agency Grampian Mountains also impressed in 2013 with visual input on several High Sheen projects complementing the work done on All Caps, represented here with the label's sole release from Kowton.
The utilitarian approach to sleeve design initially adopted by Liberation Technologies was wisely abandoned this year, as the Mute label paid just as much attention to art direction as it did selecting the producers they wanted to work with. The best example of this was the Fizz 12″ from Powell which came wrapped in the kind of visually striking abstract imagery that immediately grabs your attention – a round of applause to former Mo'Wax art director Ben Drury for this sleeve. Zomby's albums might never sound quite as good to anyone else as they do to the twitter loving producer himself, but the rather epic With Love LP did feature some alluring design from 4AD regular Phil Laslett incorporating a self-explanatory floral picture by Danny Evans.
Perhaps the most memorable record sleeve this year was the one that made the least sense. Quite where Chris Madak got the idea to use a close up shot of half eaten seafood obscured by a lime for the sleeve art on Donato Dozzy Plays Bee Mask is unclear, but the execution is sublime and helps to form the opinion the album will remain long in our memories. Adopting a more simplistic approach, Claremont 56 delivered a typically well designed 5LP boxset to conclude their Originals series of compilations. Each of the records came housed in its own individually coloured gatefold sleeve containing detailed sleeve notes pertaining to each volume of the series. Collectively housed in a luxurious cardboard box, the presentation was befitting of what's going to be a sorely missed series.
The visual work of PAM founder Misha Hollenbach was a key component on releases from Golf Channel, Beats In Space and Public Possession labels this year, with the Australian's work for the latter's excellent Bell Towers 12″ our favourite of the lot. More focused in his output but no less impressive, Guy Featherstone's visual touch was an integral part of Diagonal's excellent run of releases this year, best displayed on the bold sleeve work for the Shit & Shine record. Morphine's run
of 12″ releases this year continued the slightly nightmarish monochrome visual approach that started to take effect in 2012. However, the label wisely chose a separate, and decidedly more understated approach from Venice design studio Tankboys for their series of Charles Cohen retrospectives, with some exceptionally smooth sleeves.
Issued with the minimum of fanfare late last month, William Burnett's album of Black Deer material for the LA label Peak Oil didn't quite make the cut for our Best Albums list, but it does feature in this list thanks to its wonderful sleeve design. Peak Oil is apparently run by a 'number of Brians' and this unspecified congregration clearly pay the requisite amount of attention to presentation, with the six track Black Deer arriving in hand-assembled sleeves with silkscreened covers and an insert featuring artwork from Marion Guillet, Burnett's regular creative hand on all things WT Records related.
The least expected release from the L.I.E.S. camp this year was also one of the best looking records released throughout 2013, with KWC 92's conceptual LP Dream Of The Walled City challenging both the Bee Mask and Charles Cohen releases for the top ranking sleeve. London/Stockholm art collective L-v-L were responsible for the sleeve design and they were also behind the script that acted as inspiration for the music from Samo DJ and Maxxxbass. A final early December inclusion that doesn't look like it will be topped is the Paradise Bangkok compilation from ZudRangMa Records which pulled together the series of 7″ records issued over the twenty months and presented them in the most striking of silk screen printed covers.
Tony Poland
[nggallery id=33]