A Sagittariun – Dream Ritual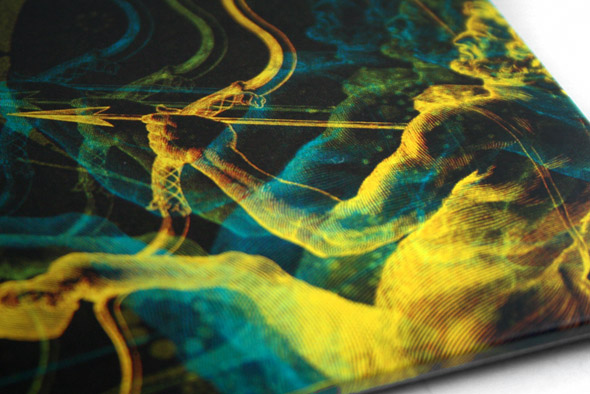 With a single-minded approach that has won him a wealth of admiration amongst lovers of ethereal electronic music, anonymous producer A Sagittariun has carved a distinct niche for himself. Releasing solely on his own Elastic Dreams imprint and reaching out to like-minded remixers such as October, Marco Bernardi and Mike Dehnert in his MD2 guise, A Sagittariun's remit lies somewhere between the heyday of early 90s electronic listening music and more modern house and techno concerns. As such, this long player was an inevitable point to be reached, the extended running time affording the kind of space required for a producer such as this to fully explore his own curious sound world.
Dream Ritual certainly wears its influences on its sleeve, but they range across a rich tapestry that alludes back to the formative guiding principles of techno as a transcendental means of sonic research, inexorably linked to science fiction in all its romance and wonder. The pads come on heavy from the opening strains of "Sundial", energized by a light but urgent shuffle of hats that teases out a danceable beat without ever providing the bottom end thrust one would normally expect. All the optimistic future-gazing you might have felt from classic Future Sound Of London or The Orb is here in abundance, and it's realised perfectly.
Nine-minute epic "Crystallization" goes even further in its embrace of cult electronica tropes, drafting in former Tackhead and Sugarhill session guitarist Skip McDonald to add otherworldly tones to the soothing balm of slow-release breaks and rhythmic pulses. By contrast, "V4641 Sgr" ups the tempo with a measured dancefloor cut that wonderfully taps into the hinterland before trance detached itself from techno. "Conquering Lions" sports a duplicitous context through its deployment of a vintage breakbeat, given the surge in popularity of the well-worn percussive mechanism courtesy of Special Request et al. However this track comes from an independent tangent that sees dusty string samples and esoteric speech deliver a breezier tone amidst the emotionally loaded surroundings of the album.
Like electronic LPs of old, the style gleefully swerves from track to track, and so slow, heavy beat downs ("Seven Locks (In Dub)") can give way to peppy electro techno ("The South Node"), while On-U Sound tinted rasp ("The Age Of Sin") leads into crisp, vintage electro ("Year Of The Ox"). It's also worth noting that each of the twelve tracks is a full-length piece, without a jot of token fillers and noodly interludes that an album of this nature could so easily turn to.
As well as the explicit reference points, the diverse nature and well-defined ideas contained in Dream Ritual makes for the ideal electronica album. It's not easy to make something so varied so consistent at the same time, and yet A Sagittariun has done just that. It's clearly the product of a heart that yearns for a time when electronic artists were rising to the challenge of being taken seriously outside of a sweaty nightclub, and in the rapid fire disposable age of contemporary machine music the point of an album such as this seems as valid as it was back in the 90s.
Oli Warwick
Tracklisting:
1. Sundial
2. Crystallization feat. Skip McDonald
3. V4641 Sgr
4. Conquering Lions
5. Seven Locks (In Dub)
6. The South Node
7. Trine
8. The Age Of Sin
9. Year Of The Ox
10. The Mind Has No Time
11. A Lucid Dream (Original Dream)
12. Network Restoration