Sandwell District – Fabric 69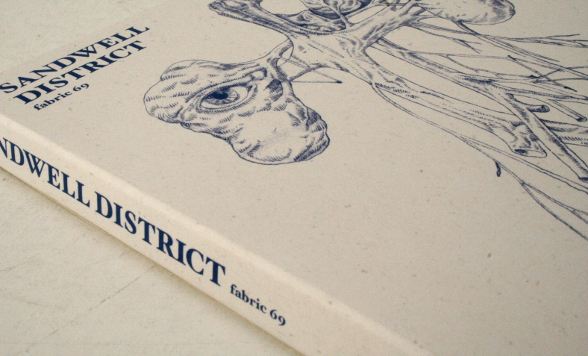 For a collective whose productions defined the tone of post-minimal techno, a mix CD seems like an inauspicious end. Then again, Sandwell District was never given to following convention. In part, they rose to prominence because they didn't play the live tweeting, photo-sharing game that techno has succumbed to, something that they observed when they called time on the label via a blog post on the fascinating Where Next? tumblr site. Of course, Sandwell District would have meant nothing were it not for their music and the sum of the production talent that Regis, Function and Silent Servant brought to the collective.
Rather than celebrating the method, let's celebrate the sound, and Fabric 69 bristles with elements from Sandwell District's past, present and future. There are nods to the collective's source material in the form of tracks from Plastikman – the teased out acid of "Plasticine" – Frank Tobey and Boyd Rice and the bleepy minimalism of Ø (which provided great inspiration for Function and Sandwell's breakout records Isolation and Anticipation) as well as nods to contemporaries – the most impressive being Surgeon's droning, tunnelling "As You Breathe Here Now".
The mix also documents what the trio did next, with Silent Servant's "A Path Eternal" from last year's album kick-starting the mix, the spiky metallic rhythms of Function's "Modifier" from Incubation featuring mid-way through and two versions of "Voiceprint" bookending the mix. Then there's the slinky rhythms and tumbling drums of Regis' remixes of Raime,Vatican Shadow, Ike Yard and VCMG, which provide a bleaker take on his Kalon releases for Sandwell.
Most importantly though, Sandwell's vision for techno lives and breathes on this mix and comes in many different forms –  from the dense Gothic key changes of Mary Velo's "Detune" to the streamlined, stripped back rhythms of Rrose and the dirgy bass of Samuel Kerridge, the collective's influence continues to loom large over techno music. Rather than feeling like a eulogy to past glories, Fabric 69 provides the answer to the ultimate techno dilemma: 'where next?'
Richard Brophy
Tracklisting:
1. Silent Servant – A Path Eternal
2. Function – Voiceprint (Loop/Edit)
3. VCMG – Spock (Regis Remix) (Loop/Edit)
4. Boyd Rice / Frank Tovey – Extraction 7
5. Raime – Exist In The Repeat Of Practice
6. Ike Yard – Loss (Regis Version)
7. Vatican Shadow – Church Of All Images (Regis Version)
8. Fiedel – Andreas (Bonus Beats)
9. Cub – CU2 (UST Funk Mix)
10. Mary Velo – Detune
11. JPLS – Basis
12. Rrose – Wedge
13. Ø – Syväys
14. Rrose – Wedge
15. Function – Modifier
16. Carl Craig – Darkness
17. Markus Suckut – Hunt
18. Samuel Kerridge – Waiting For Love Part 1
19. Untold – Motion The Dance
20. Surgeon – As You Breathe Here Now
21. Mark Ernestus – Mark Ernestus Meets BBC
22. Plastikman – Plasticine
23. Trevino – Uptight
24. VCMG – Spock (Regis Remix)
25. Planetary Assault Systems – Flat Tire
26. Factory Floor – 16-2-16-9-20-1-14-9-7
27. James Ruskin – Into A Circle
28. SS/S – Sicario de Dios: Siglo 2
29. Laurent Garnier – At Night
30. Function – Voiceprint (Reprise)