Versalife – Vantage Point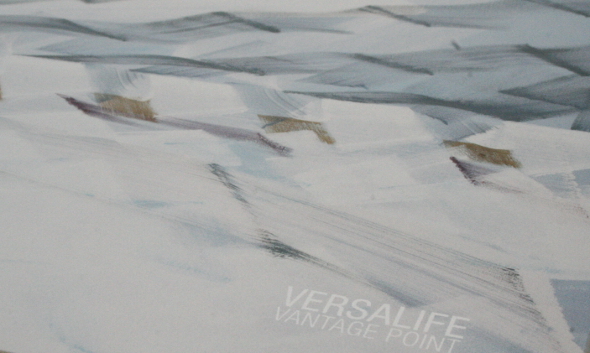 Boris Bunnik is best known for his work as Conforce, but it's as Versalife that he really impresses this writer. The project has already yielded the excellent – and highly collectible – Night Time Activities series for Clone West Coast as well as an EP for Frustrated Funk. While the Night Time Activities records were largely inspired by US electro's esoteric artists – Drexciya and Gosub both spring to mind – the EP for Frustrated Funk and now Vantage Point show that Bunnik has retreated farther and farther down an introspective, and at times, abstract path. 
Like the working methods of Drexciya, whose influence can be heard on the Night Time series, Bunnik shut himself off during the recording process of Vantage Point. Speaking recently to this writer, the Dutch producer described the album thus: "The record is pure self-reflection. The presence of frustration and cynicism is strong on the album. It's a reflection of my imagination… The total vibe of Vantage Point is part of a sound research period. It's more claustrophobic and morbid than the Night Time Activities series. For me the album is a cinematic experience and every track is a chain in that journey. It's a different approach than an EP. I wanted it to sound a bit more coherent than the Night Time Activities series that was partly a dedication to the genre in general." 
If there is a discernible journey on the album, it is one from darkness into light and back again. "Subdomain" sets out a foreboding sound, its industrial textures and cavernous claps supporting funereal chimes, followed by the frozen tones of "Sonic Signals" and at the album's end, the ominous bass and bleak atmospherics of "Pessimism". They sound like the death knell for conventional electro, and are followed swiftly by an ascent into a half-conscious state on the half-heard vocals of "Further Corrections".
But electro's greatest strength lies in its creative pliability or in other words, the ability of talented artists like Bunnik to tweak and reinvent it. To borrow a word from Hardwax's lexicon, a more 'advanced' form returns with the sheet metal riffing and lithe rhythms of "Normal Behaviour", a track that's as deadly as a drop kick to the jaw. Meanwhile, "Emphasis" is all nervous ticks and whirrs and nausea-inducing bass licks –  like hardcore slowed down to a crawl and then smeared with jarring noises – while "Recombinant Creations" is ushered in with a bassline so ominous and rumbling it literally oozes sulphuric malcontent.
A cavernous bass is also at the heart of "Below the Horizon", with Morse code bleeps seeping through its core, but it also houses those swirling, angelic synths that defined the Night Time Activities series, while "Dawning of a New Day" starts with doubled up bass belches only to lead into cascading melodies. The real sign that Versalife is approaching the same level as a producer like Clatterbox or The Exaltics is audible on "Implementation" and "Advancing Capabilities"; stripped back and abstract, yet detailed rhythms house flashes of Versalife's previous melodic existence, while keeping a focus on the dance floor, they show that Bunnik has not completely severed his links with the past but is unafraid of the future. In a form whose defining quality revolves around documenting what is about to happen, that counts for a lot.
Richard Brophy 
Tracklisting:
1. Subdomain
2. Sonic Signals
3. Recombinant Creations
4. Below The Horizon
5. Further Corrections
6. Normal Behavior
7. Emphasis
8. Implementation
9. Advancing Capabilities
10. Pessimism